"Bisarti Janey-ho!" My guide, Pasang, exclaimed for probably the tenth time that day. The Sherpa saying meant 'slowly we go!', and it was one of Pasang's favorite sayings. I laughed. Yes, I was moving slowly. Slowly, behind a train of yaks, loaded down with colorful expedition duffels and climbing gear, making its way towards Everest Base Camp. Slowly, behind other trekkers whom I had shared meals with in the teahouses, swapping stories about adventures around the world. Slowly, with the towering peaks of the Himalayas above me. I mouthed their names as our guide Pasang pointed them out. Lobuche, Nuptse, Lhoste. One stood above the rest, and I knew that it had to be Mount Everest. Sagarmāthā Pasang said, meaning 'Goddess of the Sky' in Nepali. I strained my neck, taking in its full relief stretching impossibly high. In just one more day of trekking, we would be at its historic base camp.
Trekking to Everest Base Camp (EBC) is a challenging yet rewarding goal for dedicated hikers and adventurers. Read on for everything you need to know about trekking to EBC.
Why Hike to Everest Base Camp
The allure of the Himalayas (and specifically Everest) has drawn many to their spectacular peaks. The trek to Everest Base Camp is one of the most iconic in the region; it is a challenging but achievable goal for anyone to undertake. Many hikers and world travelers (myself included!) have it at the top of their bucket list, and for good reason.
The hike to Everest Base Camp combines all the elements of a good adventure. Breathtaking scenery abounds, from lush forests, picturesque river valleys, mountain passes adorned with prayer flags, and the peaks of the Himalayas towering above. Apart from the literally breathtaking views and high altitudes, the trail is also steeped in the rich culture of Tibetan Buddhism and the storied history of exploration and climbing expeditions.
What to Expect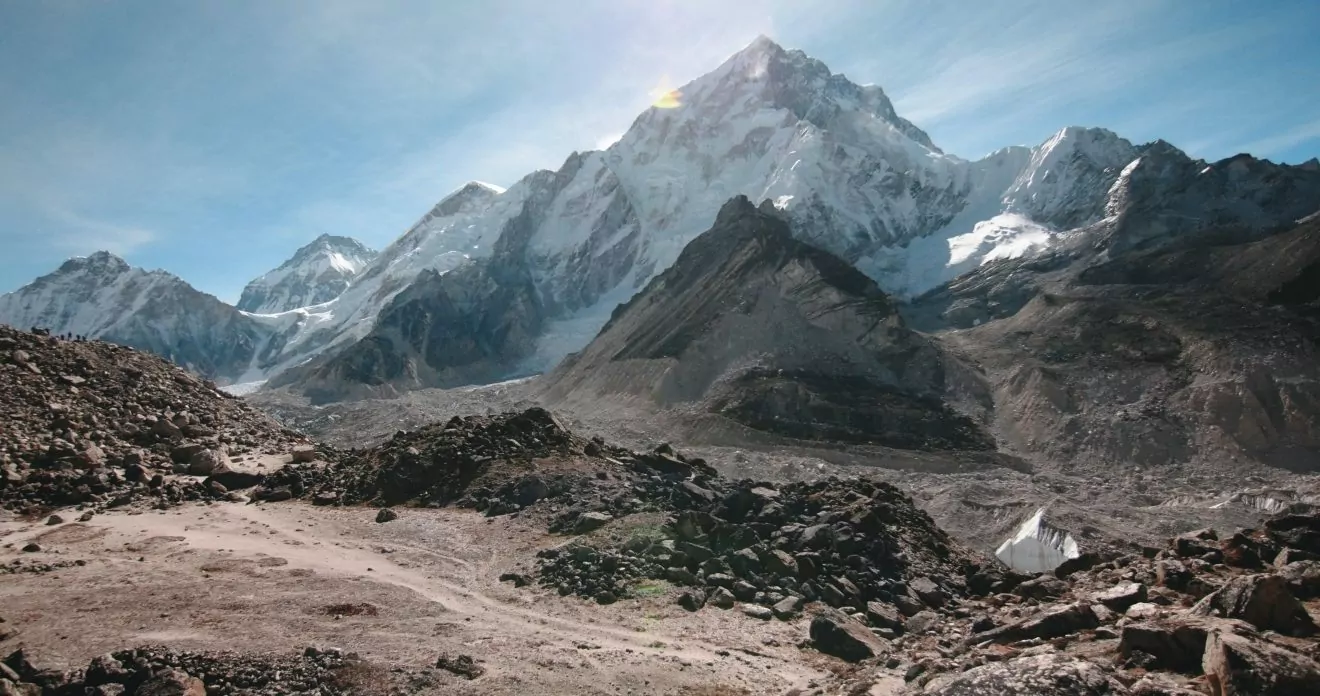 Photo by colour comet on Unsplash
The trek to Everest Base Camp is a 65 miles (105 km) out-and-back trail, and most hikers will take around 10 to 14 days to travel to and from Base Camp. This trip length will allow you adequate time for acclimatizing at a relaxed pace. 
The trail begins in the relatively lush (though still high altitude!) river valleys of Lukla and Phakding, carrying hikers across suspension bridges adorned with prayer flags, before ascending through iconic villages in the Khumbu region of Namche Bazaar and Tengboche. Once past the Tengboche Monastery, a UNESCO World Heritage site at an altitude of 12,687 feet, you'll get your first glimpse of Mt. Everest in the distance. The trail will take hikers through a glacial moraine, an ancient swath of rocks and ice deposited from the receding Khumbu Glacier. You'll gain elevation slowly as you climb closer and closer to the heart of the Himalayas. Along the way, you will trek through Sherpa villages that dot the landscape, stopping for warm drinks and snacks and staying in rustic tea houses. 
We recommend taking at least 10 days to complete the trek to Everest Base Camp, but you can easily extend the trip. Once acclimatized, many hikers will continue on to other treks in the region such as Gyoko Lake or the Three Passes Trek.
Everest Base Camp Itinerary
Pre-trip: Kathmandu
As eager as you may be to get into the mountains, many hikers enjoy spending a few days in Kathmandu to recover from jet lag and experience Nepali culture. I particularly enjoyed seeing Buddhist monks conduct the Kora at the Boudhanath Stupa, exploring the temples of Bhaktapur, and getting lost in the maze of markets and bazaars of Kathmandu. 
Pro Tip: Before trekking, stock up on any last-minute outdoor gear or supplies in Thamel. This area is extremely visitor-friendly, and the many outdoor shops are a great place to cop knockoff down jackets and expedition gear. 
Day 1-3
:
Lukla – Phakding – Namche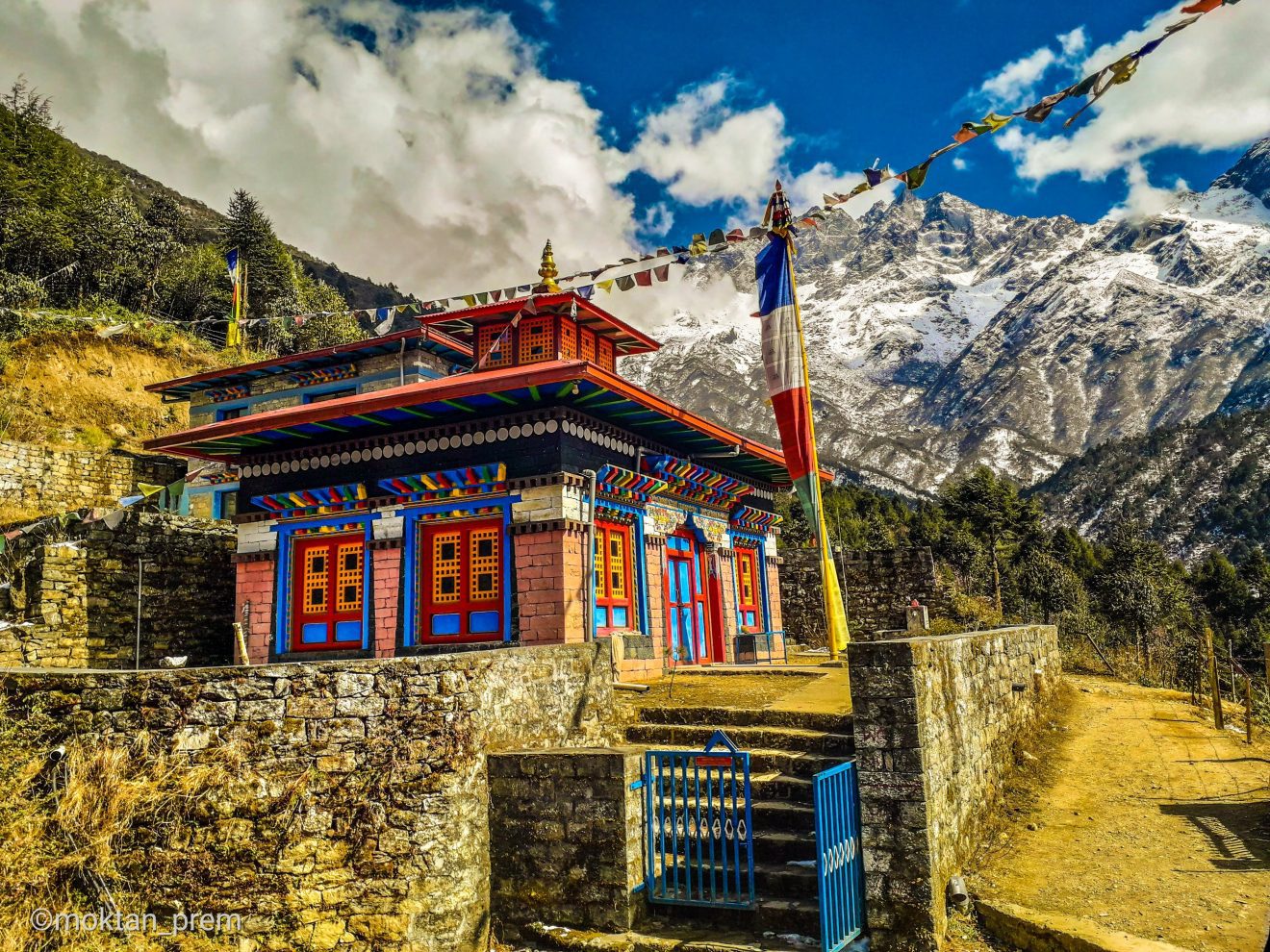 Photo by Prem Babu Moktan on Unsplash
The first few days of the trek are slow, allowing trekkers to acclimatize, stretch their legs, and enjoy being in the mountains. You'll begin your trek by flying directly into the mountains to the small village of Lukla at 9380ft. Here, trekkers will meet their porters and guides, and spend the day acclimatizing to the altitude and exploring the town of Lukla.
The next day trekkers have the option of traveling a modest distance to Phakding, a small village along a picturesque river valley. Alternatively, you could challenge yourself to a longer hike ascending to Namche Bazaar, the gateway to the Himalayas at 11,286 feet. This portion of the trek ascends from the river valleys to the foot of the mountains, ascending steep hills and across staggeringly high suspension bridges.
Day 4-6: Namche – Tengboche – Dingboche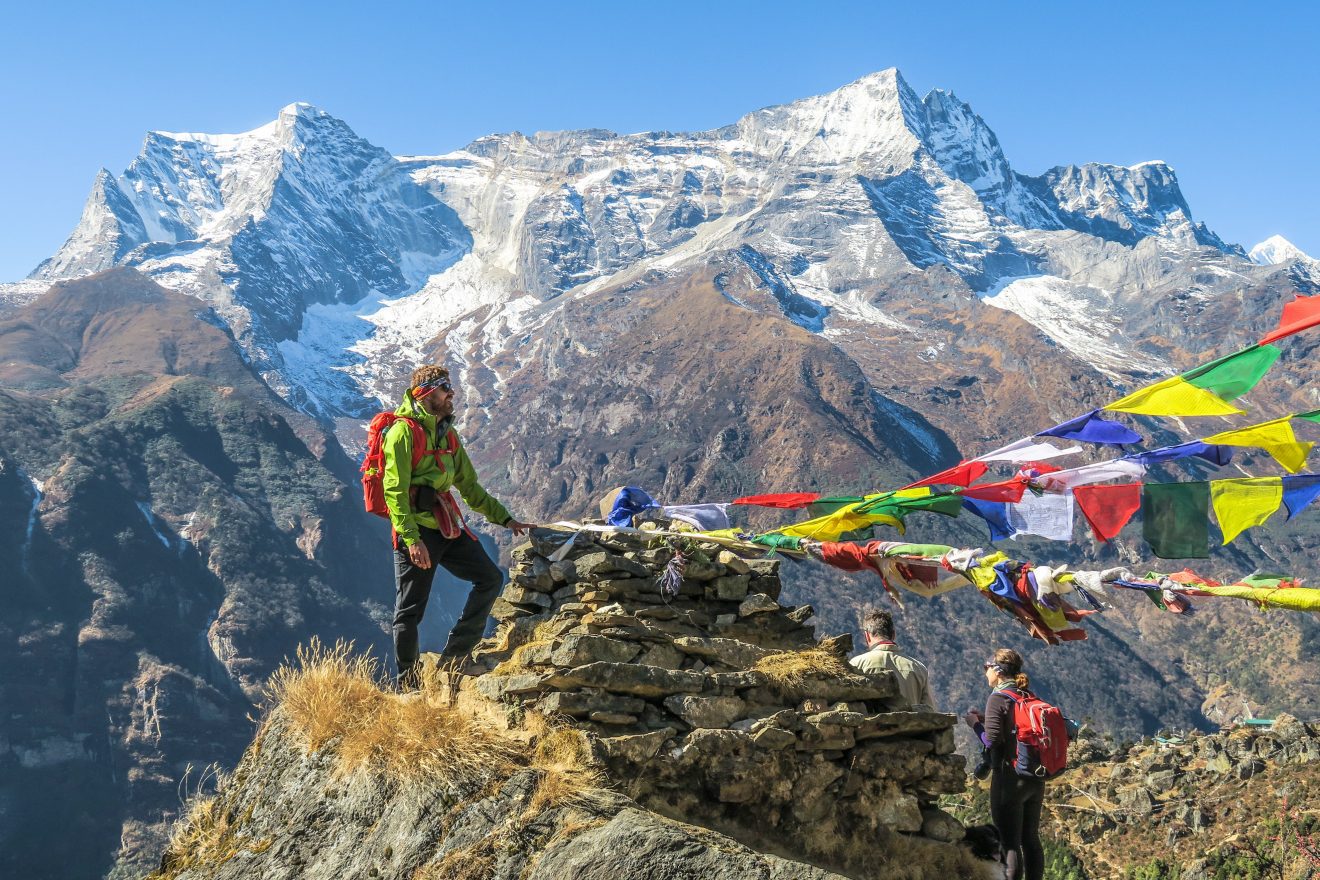 Photo by Sebastian Pena Lambarri on Unsplash
It is common for hikers to spend another day or two in Namche Bazaar to continue to acclimatize to the altitude. There are many trails around Namche that give spectacular views of the surrounding mountains, and trekking groups will hike one of these trails to continue to acclimatize. Namche, the largest town in the mountainous region, is the last place with robust tourist infrastructure like bakeries, internet cafes, bars, a theater, and even an Irish Pub. 
Once you're reasonably acclimatized to the altitude in Namche, you'll ascend higher. The trail here offers the first glimpses of the peaks in the Khumbu Valley like Ama Dablam, Lhotse, and Mt. Everest in the distance. You'll spend the night in a small picturesque village of Tengboche, home of the iconic Tengboche monastery – a UNESCO World Heritage Site. The monastery is available for tours, and, depending on the season, you may be lucky to witness the monks in prayer.
The next day you'll hike to the small village of Dingboche, which is further up the valley and the start of an ancient glacial moraine. You are truly in the heart of the mountains now. From here on out, you'll be in the alpine for the remainder of the trek. 
Day 7–8: Dingboche – Lobuche
Like in Namche, many hikers will spend an extra day in Dingboche to acclimatize to the altitude of 14,100 feet, hiking the short viewpoint trails around the village. From Dingboche, the trail ascends further up the glacial moraine. You'll ascend one of the most challenging climbs of the trek, but be rewarded with one of the most beautiful views imaginable, back down the valley that you had ascended the days prior. At the top is the Chukpi Lhara—a memorial for the Sherpas and climbers who have lost their lives on Everest and other mountains in the region. 
Once past Chkupi Lhara, you'll be hiking alongside the Khumbu glacier all the way until Everest Base Camp. Here, the weather turns decidedly cold, and it's common for blustery winds to blow off the peaks and down the glacier, turning the air frigid.
That night, you'll stay in Lobuche, a small town wedged between two glaciers, sitting at the foot of Nuptse, a 26,000-foot mountain towering above. Here trekkers begin their push to EBC, so it's especially important to be diligent about hydrating and eating well. At an altitude of over 16,000 feet, you are now higher than any mountain in the lower 48 states!
Day 8-10: Gorak Shep – Everest Base Camp – Kala Patar
Today is the day of your push to EBC. You'll wake a bit earlier than normal to continue hiking along the moraine to Gorak Shep, a small, intermediary village. After taking a short lunch in Gorak Shep and refueling on tea, a few more hours will bring you to the destination you've worked so hard to reach—Everest Base Camp. Right at the foot of the mountain, you'll see the camp that is home to thousands of climbers in the spring. Past the camp, you can see the fabled icefall that mountaineers ascend, and the impossibly high summit of Everest stretching above. After a few group photos and celebrations, you will return to Gorak Shep to stay for the night. 
The next day, trekkers will have the option of hiking Kala Patar, a small peak nearby for sunrise. Though the climb to 18,500 ft is challenging, the vantage from Kala Patar is unparalleled. Watching the sunrise over the tallest peaks in the world is often the highlight of the trek for many. 
Day 10-13: Pheriche, Namche, Lukla
From Gorak Shep or Kala Patar, hikers begin the long, gradual descent back to the luxuriously lower altitudes. It is not uncommon to trek from Kala Patar in the morning back to Pheriche, a small village at 14,000 feet in altitude, and then from Pheriche all the way to Namche, eclipsing many of the villages you may have stayed in during the ascent. Typically, celebrations will be held in Namche, and it is a great opportunity to revel in that experience that you and your fellow hikers have had together.
EBC: Know Before You Go
TRAIL CULTURE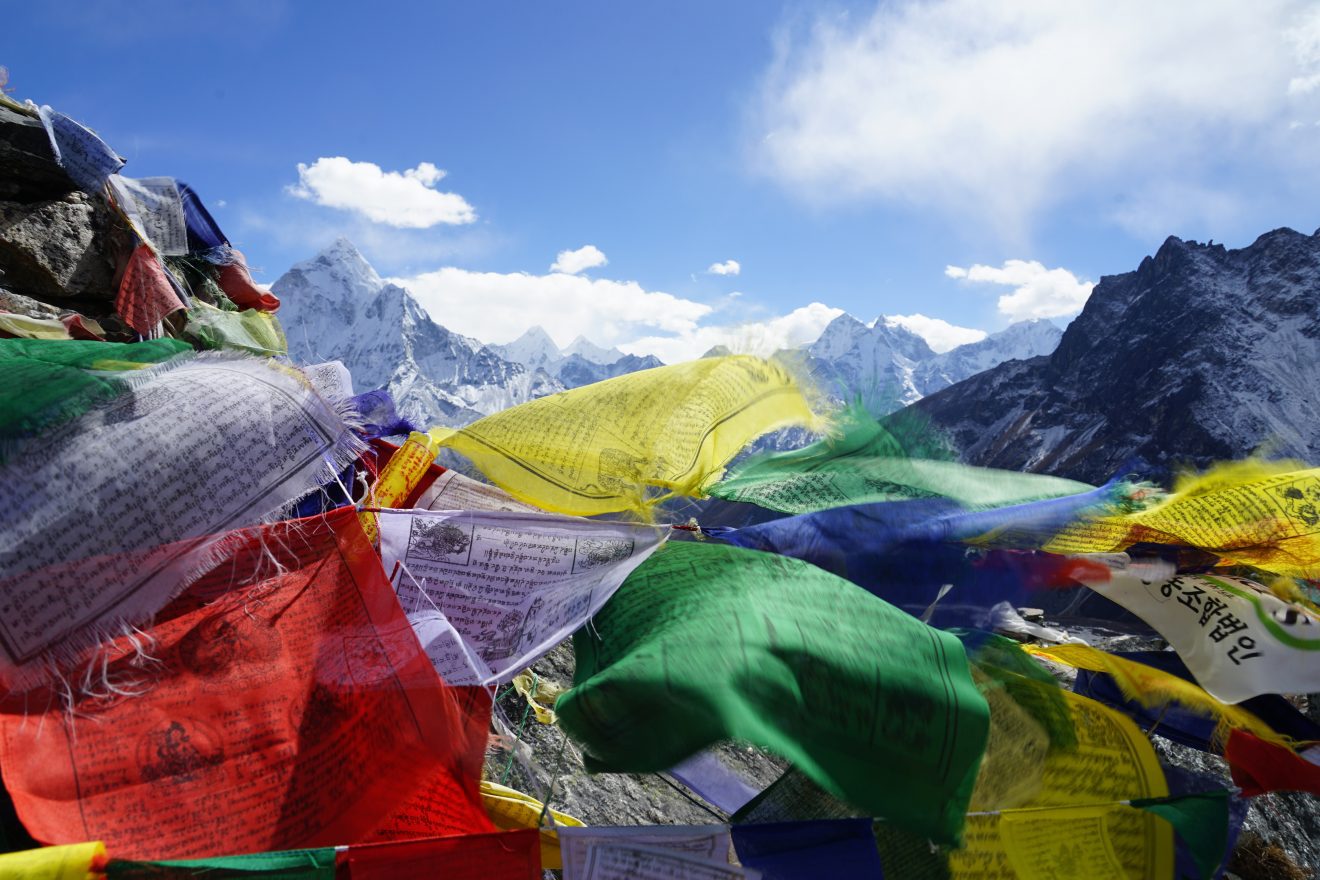 Many may view the Everest Base Camp Trek as being a remote journey full of solitude, but this is actually far from the truth. Instead, part of what makes the Everest Base Camp Trek so memorable is the people that you will meet along the way including Sherpas, porters, and other hikers. It is common to form hiking 'bubbles,' and as you move towards EBC, so too will other groups with whom you'll cross paths. It is common to celebrate with others in the teahouses, share conversations over meals, and meet hikers from all over the world.
Additionally, it is highly recommended to learn about the Sherpa and porter cultures, and spend time with your guide (if you choose to hire one) to learn about their lives. All the Nepali people that you will encounter are friendly beyond measure and quick to smile. 'Sherpa' denotes a caste of Nepali people (ethnic group), whereas porter describes their job. Porters are often from all over Nepal or even other neighboring countries.
WEATHER
There are two common times of year to trek to Everest Base Camp: the spring and the fall. Spring is ideal as it lands before the seasonal monsoons. This is also when most major climbing expeditions are held, so you'll be sharing the trail with climbers, Sherpas, and porters readying themselves for their expeditions.
In contrast, the fall is often a little quieter on the trail, with fewer climbers but more hikers. Many of the locals say that the Fall is a better time for photography and to truly get the most spectacular views. The snow-capped peaks offer dramatic contrasts with the barren valleys, and the air is clearer of pollutants after months of rain and snow.
No matter which season you go, the weather in the mountains is always unpredictable and varied, especially at higher altitudes. The sun can be quite strong during the day, however, you may also experience blowing wind, rain, and snowstorms as you ascend higher along the trek. The nights can be cold, and heating is limited in the teahouses. Expect to wear t-shirts and pants in the valleys, and full down jackets and thermal layers in the mountains. 
WHERE TO STAY
Most hikers choose to stay in the many teahouses along the route, which are very well established to cater to hikers on their way to Everest Base Camp. The teahouses vary in services and comforts, but most have private rooms with two single beds (which you can push together if you're traveling with a partner), communal dining rooms, and modest bathrooms (not always Western-style!) Sometimes, you'll get the occasional shower. The tea houses also offer food for hikers with comically extensive menus, from chow mein, lasagna, pizza, and burgers to local favorites like Momos and Dal Bhat. Generally, the further along the trek and higher in altitude you go, the more rustic the tea houses and food options become.
Camping is possible, but not often done. Some guided groups will choose to camp in tents that are carried ahead by the porters and set up next to the teahouses.
PRO-TIP: Dal Bhat, a mixture of curried lentils and rice is a staple food for the Sherpa people, and is cooked in large quantities in each tea house. Ordering Dal Bhat in the teahouses often means bottomless refills, so eat up!
WHAT TO BRING
What to pack will depend heavily on if you choose to go guided or unguided. If the latter, treat the Everest Base Camp trek like any remote backpacking trip, with adequate warm clothing, a large backpack, four-season tent, sleeping bag, and personal toiletries.
If you trek as part of a group, we recommend you pack a medium-sized duffel for your porter to carry ahead each day, and then carry a light daypack for yourself with everything you need for a day of hiking. Though your porter will carry your overnight pack, it is recommended to pack as light as possible to lighten their load. 
It is also recommended to bring a small number of Nepali Rupees with you on the trek, as there are small convenience stores along the way to purchase snacks, refreshments, trinkets, and other small items you may have forgotten.
GUIDED OR INDEPENDENT?
There are various options to trek to Everest Base Camp to suit all hiking styles. Due to the unique challenges of the trek such as remoteness, language barriers, and altitude, most will choose to go with a guided group as well as porters. Guides are an invaluable source of information, fun to be around, and always keep a watchful eye in case you need assistance or an emergency arises. 
Wildland Trekking offers a 17-day Everest Base Camp Trek that includes acclimatization days, transportation, meals, and accommodations. 
Alternatively, do not let the guided groups dissuade you from trekking independently—just be aware of the challenges there are to this. You will have to carry all of your own equipment, and you're hiking at altitude. Take some time to learn about acclimatizing so you don't get into trouble when you get into higher elevations. Additionally, you'll need to secure accommodations in tea houses, which can often be full of other hikers or guided groups that have pre-arranged their stays. Camping is not recommended for self-guided treks.
Wildland Trekking Guided Hiking Adventures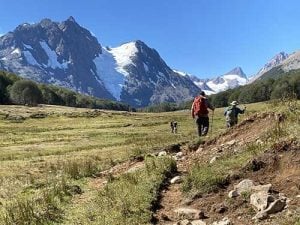 Wildland Trekking is America's premier hiking and backpacking adventure company. Since 2005 we have been helping facilitate wilderness experiences for our guests across the USA and the world. With all-inclusive trips, expert guides, comprehensive risk management systems, exceptional online reviews, and nearly 100,000 guests accommodated, we have something for nearly everyone who likes to travel, explore and hike.
Wildland ADVENTURE TOURS
GUIDED BACKPACKING ADVENTURES: these are for people interested in an authentic wilderness adventures away from roads and crowds.
PORTERED TRIPS: on these innovative trips, guests hike with light day packs and camp in stunning backcountry locations.
INN-BASED HIKING TOURS: these tours are all-inclusive hiking packages with lodging, amazing daily hikes, expert guides, meals, transportation and more!
CAMPING TOURS: camping-based hiking packages provide all-around hiking experiences of of premier destinations on wonderful outdoor vacations.
LLAMA TREKS: unique, wilderness-based hiking/camping adventures on which our friendly llama trail companions carry the bulk of the gear and supplies.