What is a bikepacking frame bag?
A Bike packing bag that slots and secures within the bike frame's triangle space. Choosing the perfect bikepacking frame bags can be tough because they come in a variety of sizes and shapes. Even more, they come in several sizes in order to fit various bike frames types, from your favorite road bike to your mountain bike.
If you think about it – this is such a great space to be utilized for loading up your loose camping cycling items. What's more, some bike frame bag options will run the full extent of the frame space. To load out and secure a full frame bags you would have to remove your bottle cages.
But, if you want to keep your bottle cages where they are normally, bolted on to the down tube then a half frame bag option will be what you are hunting for.
Always ensure its a proper frame bag fit for your frame type, the bike bag frame choice should not restrict your cycling movement.
Types of Bike frame bags:
Custom Bikepacking frame bags
Full frame bag – Utilizes the full extent of your bicycle frame cavity.
Half frame bags – Frame bag option when your frame space is restricted or you want to keep the lower section of the frame cavity with standard bottle cage configuration.
Full suspension frame bag – The frame bag is particularly designed to accommodate the suspension system and is usually smaller in size.
Corner bag (Triangle frame bag) – A smaller type of frame bag that is wedged-shaped and slots between the top tube and head tube.
Top tube bags – Secures to the top tube, a smaller bag ideal for snacks.
Stem bags – Also known as a Snack bag ideal for items that you use often 500ml to 650ml in size.
Down tube bag – Located at the bottom of the diagonal tube above the crank aids in additional storage capacity.
Saddlebag – Secures to seat tube and seat rails used for packing clothes.
Handlebar bags – Secures to the handlebar, Cylindrical in shape ideal for a sleeping bag, tent storage, or bivvy sheet.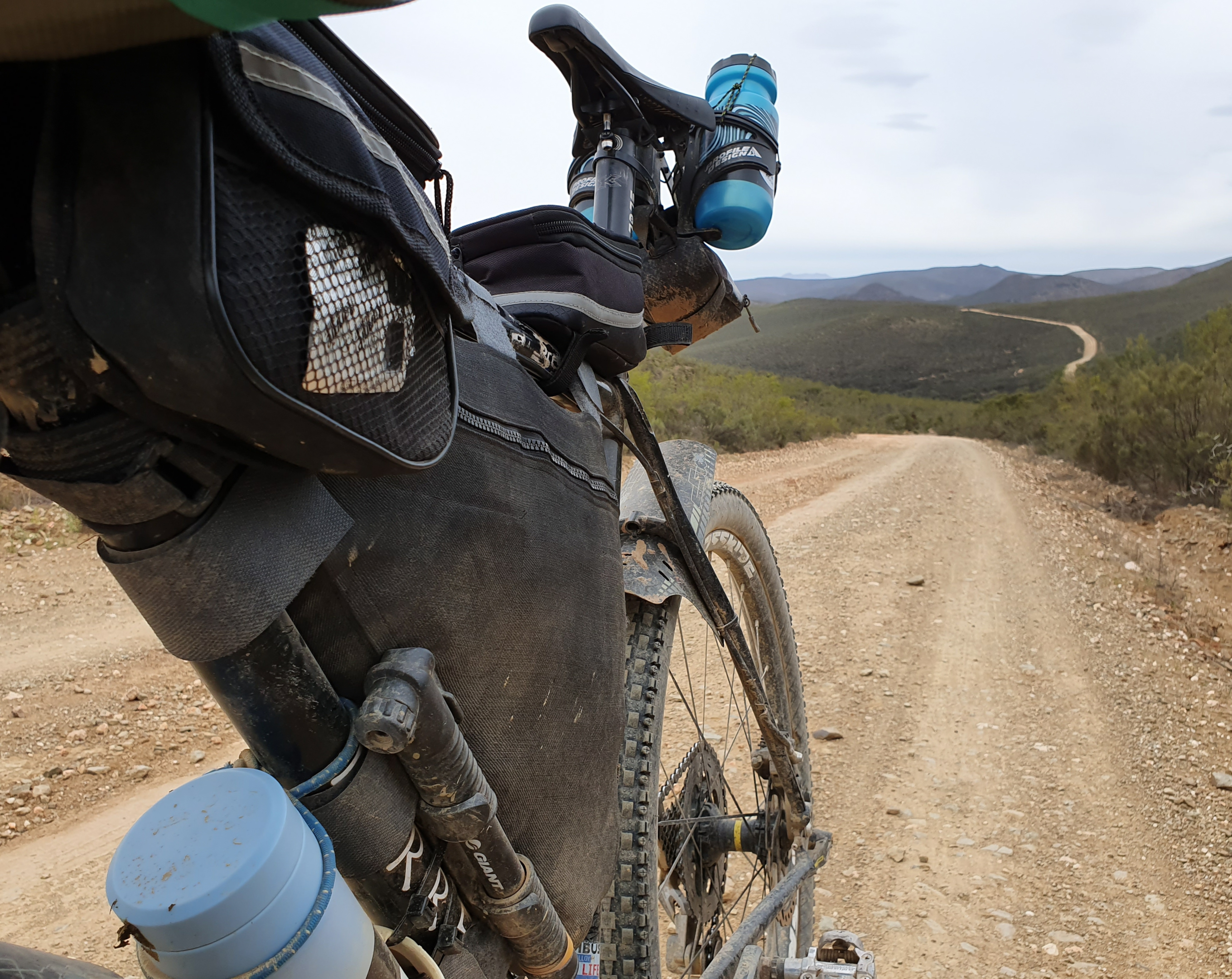 Choosing your bike packing set-up, consider the following:
What do you want to pack
Check beforehand if all camping and bike items will fit into the frame bags
Ensure your bike frame bag system properly fits within your bike's frame
Securely fastened onto your bike and needs to allow for little movement while out riding the trails
Frame bag setup should be simple in design and easily accessed
Enough storage space for camping stoves, sleeping bags, and internal pockets to allow for food and water storage
Streamline in-frame bag design and product durability
Weather resistant to keep your gear dry and protected on your bike packing adventure. Once you have loaded up your bike for the first time and see that sometimes the simplest bike setup might be the best bike packing frame bag option.
This is when you realize that research and planning go a long way in aiding you towards picking the best bikepacking frame bags. To be honest, all the gear that I am currently using on my gravel bike, are custom frame bags made or have been put together by a friend, who is also an experienced cycling nutter.
Saying that – there are plenty of great bike packing products I have reviewed for your next bike packing adventure.
Let's delve into the different types of frame bag options. Importantly, see how the above points can be answered when choosing your frame bag set up for either your mountain bikes or gravel bikes.
If you going off-road in your full suspension bike, then the storage space cavity would be smaller due to the area where the shock absorber is situated. Also, you would most definitely be in the market for a smaller frame bag setup.
Securing your Bikepacking Frame bags
My personal opinion is to look for a bikepacking frame bags that makes use of Velcro straps and loop fasteners as a means of fastening. This allows for frame bag fitment to different styles of bicycling frames.
Ensure that the bag design does consist of adjustable Velcro straps. The adjustable straps will allow for adjustments for a proper fit when you don't feel the need to load out the bag to the top.
If the bag design allows for a roll-top closure, then you can load different items and loads. The roll-top frame bags also tend to not have a Zipper which removes a potential area for bag failure. The downfall is there is no quick access to the bag while out cycling.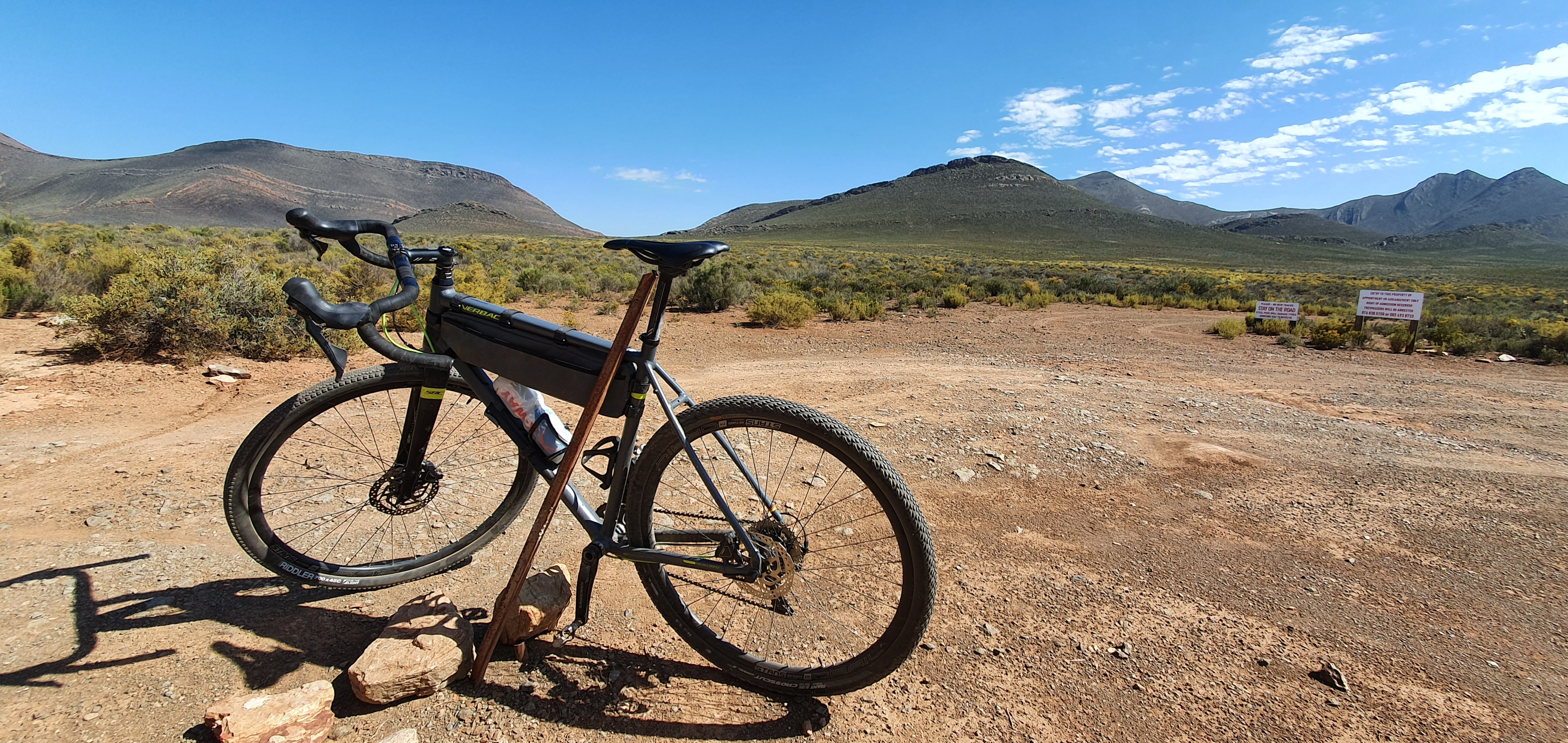 Pro Tip: To protect your bicycle paint coat either stick clear vinyl strips where the velcro straps will be positioned. The vinyl will protect your paint coat and allow that there is no rub through when the bag is loaded out especially when you are traveling over those badly corrugated gravel sections.
Storage Capacity
The storage capacity of your frame bag will most definitely be dictated by the bike type and frame size. It is best to ensure before purchasing a frame bag, that it's a good fit and does not obstruct your cycling movement once loaded.
It's beneficial to look for a frame bag that is manufactured from waterproof material and with a waterproof zipper. Good stitching and quality manufacturing are key.
Materials and Durability
The quality of the materials used for the frame bag manufacturing would ensure a quality product and it would stand to keep all of your items dry and protected on your bike packing adventure. Welded seams are another key point to be on the lookout for. To get back to the zipper – ensure that is of a worthwhile quality, as zippers are the weakest part of the frame bag. Overstuffed frame bags can lead to potential zipper failure when least expected.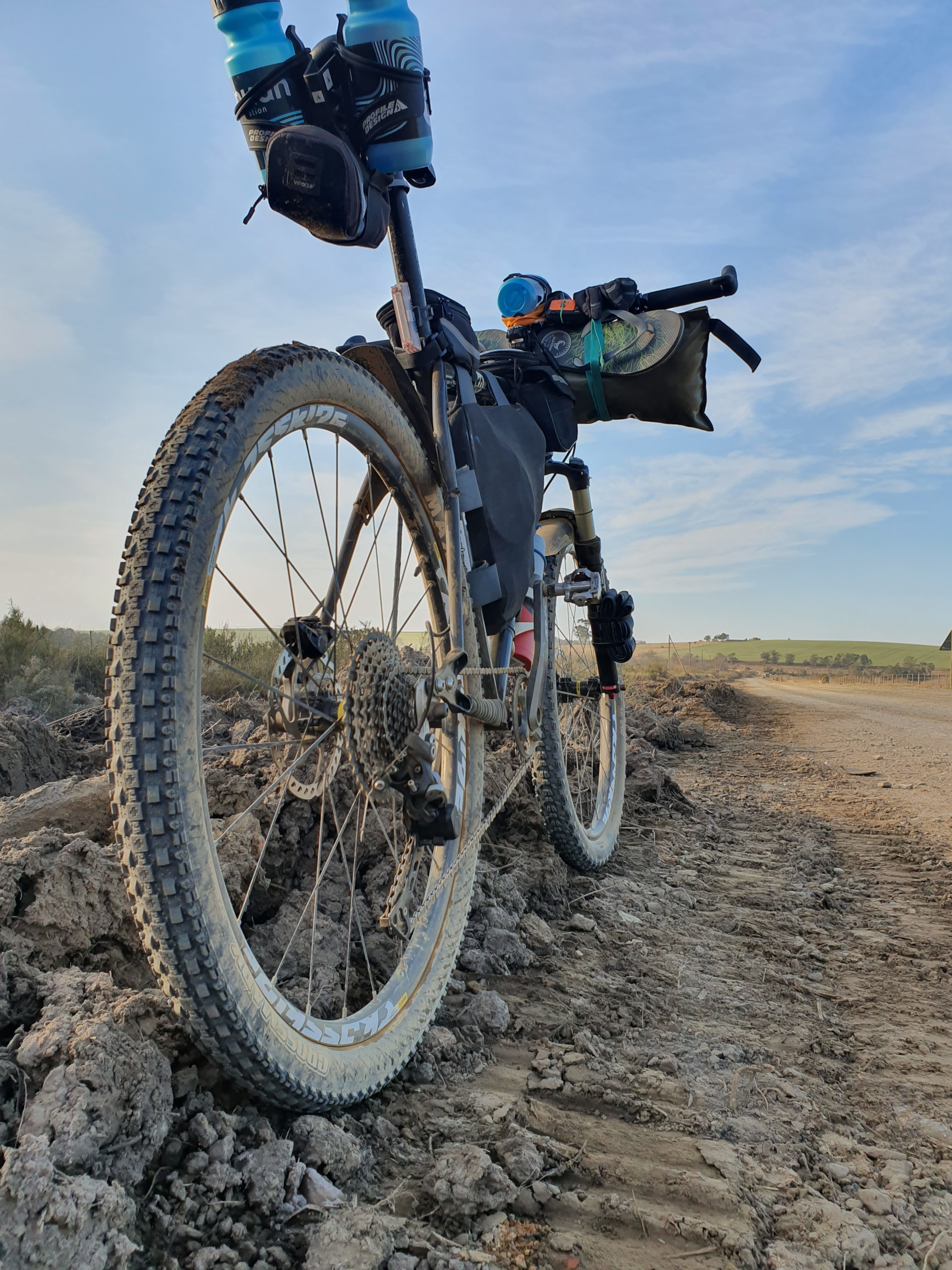 Packing your Frame bags
When loading out your frame bag, ensure that heavier items are packed in the bottom of the main compartment. Camping gear such as your camping stoves and other items that you won't need until you are setting up camp.
What's more, a great added bonus is to have additional storage space for a water bladder. Also, the weight located in your frame bag can only aid in the load out and weight distribution when packing.
If your pots/ pans are loose and rattle in the slots, cut up a small piece of sponge and wedge it between the them. The sponge both stops the rattling and used to clean the cooker or pot/ pan after each meal.
Pro Tip: If you are unsure of the frame size and what frame bag might fit your particular steel steed lay your 2-wheeled partner on its side – please not on the side of the derailer for obvious reasons…Then trace the frame cavity (bike triangle frame) The traced triangular shape can then be measured and shared with a custom frame bag manufacturer or company to make up your full or half frame bag. Many companies now have templates that can be downloaded to ensure you choose right bag option.
Some Bikepacking bag manufacturers –
I have rated a couple of bags purely on design, durability, and why I would love to own a set myself.
Blackburn Frame Bags – ⭐⭐⭐⭐⭐
Ortlieb Frame Bags – ⭐⭐⭐⭐⭐
Mooci Frame Bags – ⭐⭐
Revelate Frame Bags – ⭐⭐⭐⭐⭐
---
One of the best bike frame bags, amongst many product types that stands out for quality, versatility, and multiple bag fitment options is Blackburn design. One particular option from them is the Blackburn Outpost frame bag which does come in different sizes.
What I like about the Blackburn Outpost Frame Bag:
Great design/ durability
Hook and loop straps
Adjustable mounting system
Removable straps
Water-resistant
Welded seams
External pockets with drain holes
Hose Port allows for hydration pack fitment
Sturdy zippered pockets on the non-drive side
Lifetime Warranty – Very few products can say this!
What I don't like:
Nothing at all great quality product with loads of available frame bag packing options
All round great product and loads of thought has gone into their design and layout
---
Ortlieb frame bags are known for durability because they use superior quality products when manufacturing their frame bags. They have a great option on their website where you can download a frame bag template, then measure to see what fits on your current frame triangle, thus ensuring a good custom fit.
Ortlieb frame bags come in either grey or black, which won't show dirt very easily or scuff marks. One of their best bike packing bags is their Ortlieb RC Top-Tube Frame Pack. Ortlieb offers roll-top bags which is a great design feature and limits potential zipper failure.
What I like about the Ortlieb Frame Pack:
Simplicity in their bike bags design
Ortlieb is German Engineering at its best
Guaranteed Waterproof frame bag
Offer a Zipper lock on the main bag compartment
Lightweight design with 4L and 6L frame bag options
Single bag design less areas for zipper failure
Velcro straps for frame bag attachment
Reflective logo each side is a nice safety feature
Durability
What I don't like:
That I don't own any of their products but absolutely love them.
It's pricey if you have a limited budget
---
Mooci bike frame bags are affordable, but in my opinion, manufactured from a lesser durable material. I do not think that it has the same durability as Ortlieb or Blackburn. Although, there is most definitely a market for their products.
Since they're affordable, this makes getting outdoors and setting up your bike packing on a tight budget. I would advise you to be careful with the zippers on their frame bag because they're not as robust and aggressive in design as the other bags previously mentioned.
What I like about the Mooci bicycle frame bags:
Its an affordable product
Simplicity in design
Lightweight
some Water resistant materials
Great product return policy
What I don't like about the Mooci bicycle frame bag:
The material used in bag construction is not hard working
Zipper teeth are to fine and won't take much abuse
Material and seams are not Waterproof
---
Revelate frame bags are bold in their design and the team at Revelate has taken into account that the guys that ride mountain bike has the same need as the gravel bike brigade. Just look at their options ie. Ripio Frame bag, Carbon Mukluk Frame bag, Ranger Bike Frame Bag, or Hopper Frame bag.
Just love these tough rugged frame bags. Frame bags are manufactured by bikepacking pioneers that know what you need as they are all big into their bikepacking trips.
What I like about Revelate Designs frame packs:
Love their Zip Stretch construction = Durability
Moulded tooth zippers
Hydration pack tube port design
Off the shelf designs fits most frame sizes (size chart available from website)
Great variety of Frame bag designs available for different types of Bike frames
Lightweight in frame pack design
5 Star rating on most of their frame bags with Gear of the year Awards!
---
Other Bike frame bag options to consider for bike packing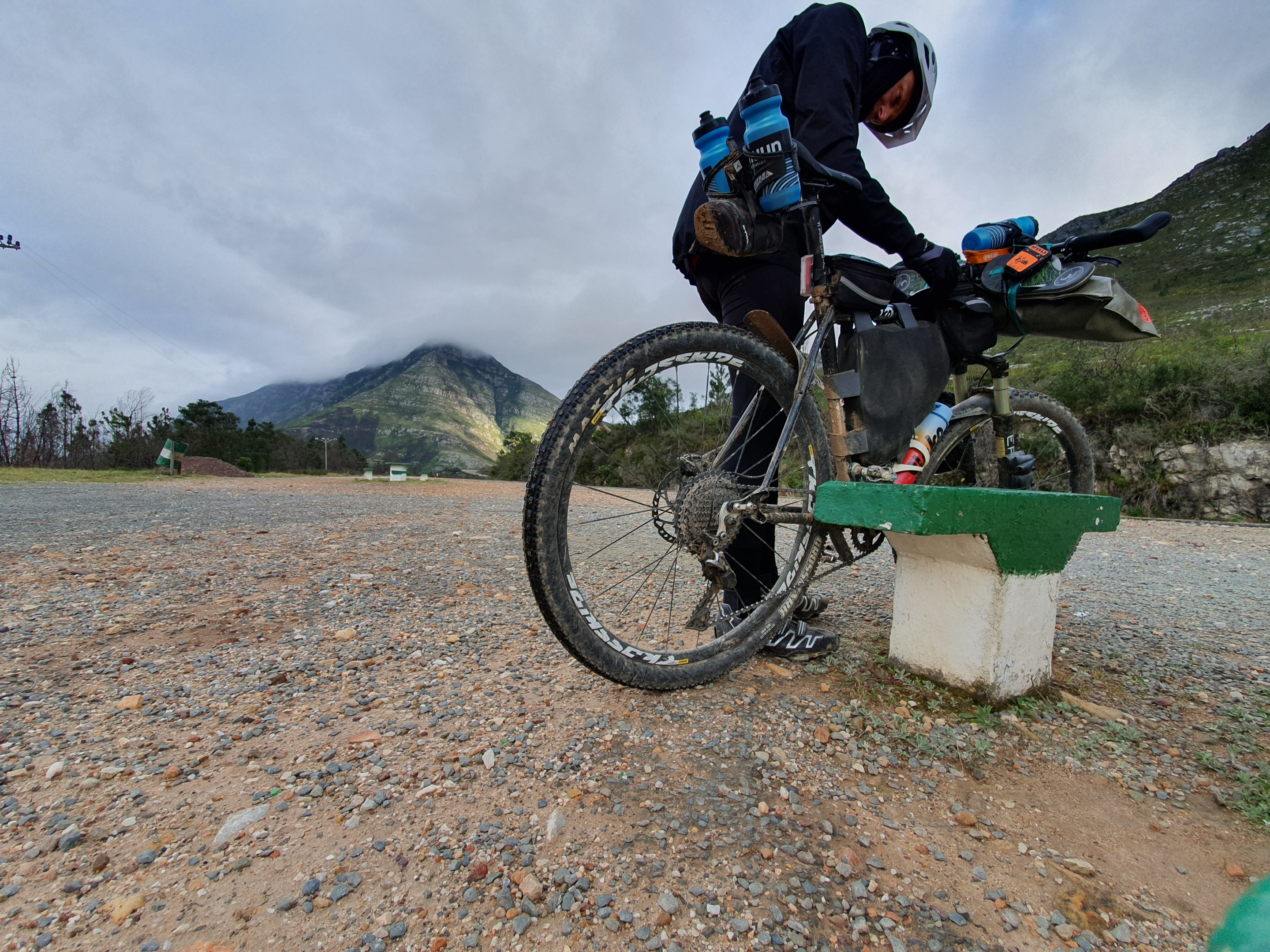 Saddle bag:
It's all in the name – a pack or bag that fits below your seat post. The seat pack attaches or is fastened onto the seat tube and seat rails. There is a bit of discussion between saddlebags and seat packs.
You might ask which type would be the best option for your multi-day adventures. If you are touring the old country or the cobbled streets of Europe, then saddle bags are fine and you can load lots more – anything but the kitchen sink…lol
But, if you want to tear down the trails and head into the woods, then a seat pack is the way to go. Conical in shape and much more aerodynamic in design, these beauties range anywhere from 3 to 12 liters. I have seen even bigger. There is a magnitude of bikepacking frame bags on the market.
Do note – they are not meant for carrying heavy items.
The seat pack holds clothes, towel, your favorite puffer, and soft bulky items. Some designs do have a dry bag that slots into the conical cradle which allows for quick release and removal while out on your cycling escape. Again when choosing your seat pack ensure that the material is of superior quality and water-resistant.
The Seat pack bag tends to be caked in mud and dirt if you are not running a smaller mudguard. Luckily with the dry bag removable design, the bag will always stay protected and dry.
Handlebar bag:
Not to be confused with a handlebar mustache…lol. The handlebar bags are positioned as the name suggests. On the handlebar and fastened with adjustable straps. As with all of the other types of bag designs you can choose either a roll bag option or a harness design. The harness is designed to fit the handlebar and holds sleeping bags, shelter, and tents can be slotted into and then secured by loop fasteners.
I normally like to strap my bike packing tent to my handlebar bag only if harness design allows for multiple longer items to strap in. In addition, I'll roll in an additional groundsheet or tarp, with my tent and sleeping bag.
Pro Tip: Don't overload or over pack your handlebar bags. Make sure that your cables and levers are not obstructed or rubbing through, once the handlebar bag is secured.
Top Tube bags:
Small in design and a slim fit but such a necessary addition to your bike packing setup. So you might think, "why would I need a smaller bag on top of my frame?" The frame pack top tube bag is ideal for stashing some extra snacks, a charging bank/electronics, or a tire repair kit. There is a great article I recently came across where they have reviewed 50+ different Top tube bag designs from different manufacturers.
See Link – Top tube bag review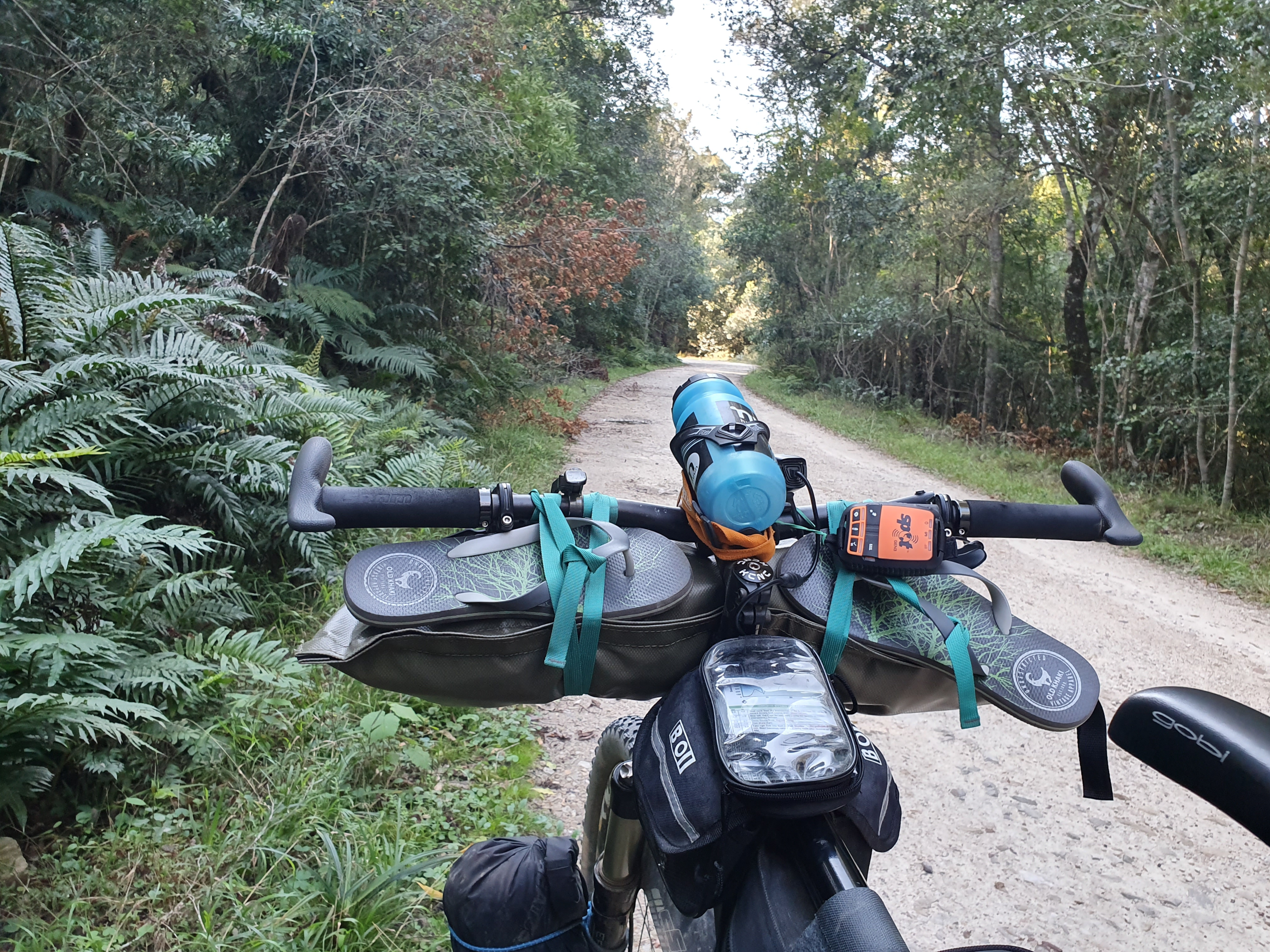 Snack bags
Also known as stem bags which have multiple uses. They are both lite and very easy to fit because they secure to the handlebars and stem with a looped strap. The snack bag can be filled with your snacks for the day or even another water bottle if needed. Also, the snack bag allows you to free up one hand and grab a snack without stopping or missing a beat, while you are chasing down your FKT.
How to Install a bike frame bag
First, free up the Velcro straps and fasteners which make up part of your chosen bike frame bag setup. Once the frame bag is empty, secure the Velcro straps around the top tube by working systematically around the frame until all fasteners have been fastened.
Do not fully secure and take up all the slack yet. You might need some movement in the Velcro straps when you have loaded out. Ensure that your Velcro straps and fasteners don't pinch the cabling. Ensure your water bottle cages can be accessed when using a half-frame bag.
Packing your bike frame bags for a successful trip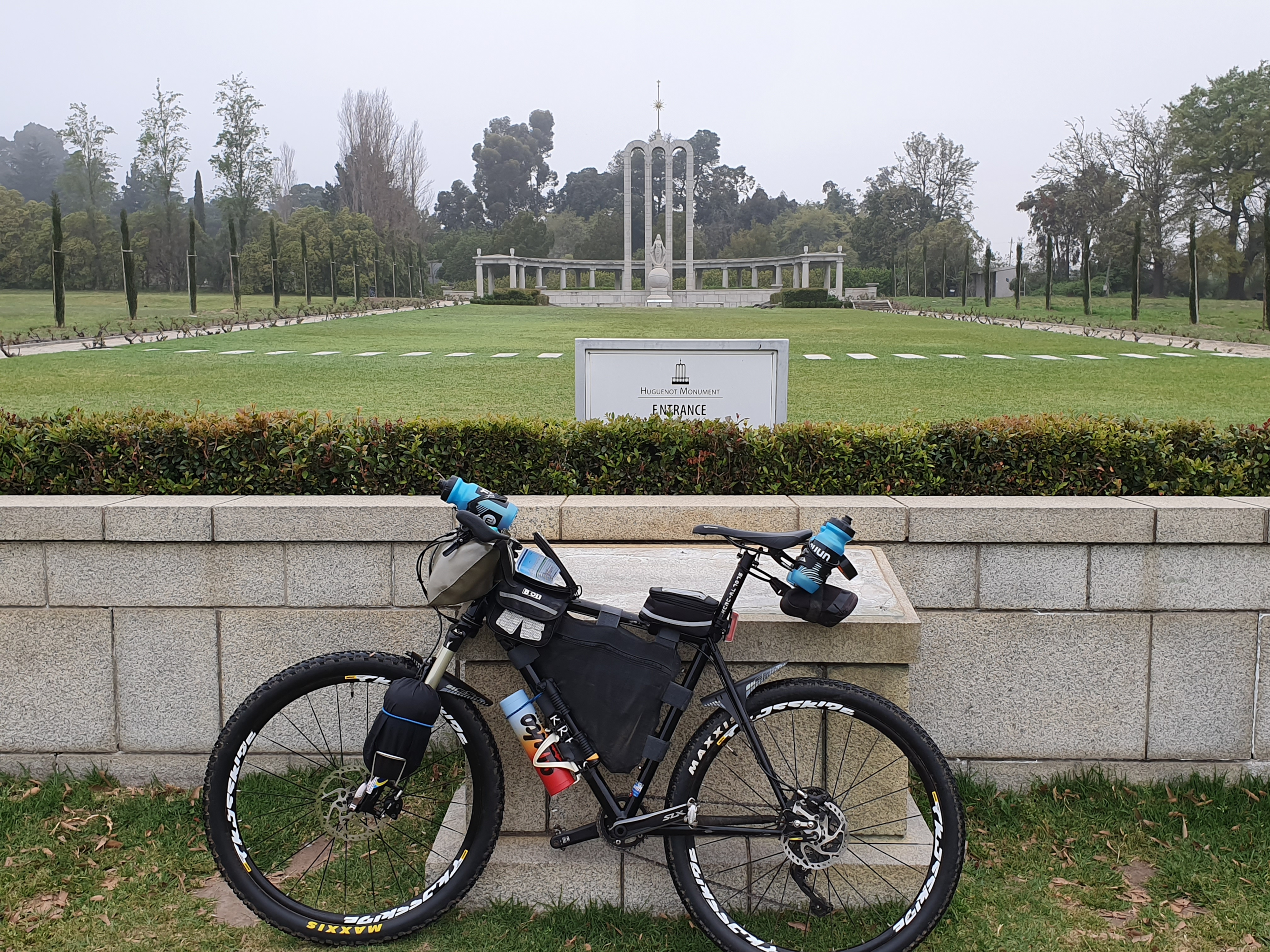 I would first pack out everything I am planning to take, to see if it would be a good fit for the frame bag or other smaller bags. This is generally part of my bike packing setup. You can call it a dry run if you want. Then, empty the bike bags and secure them to bike frame. The heavier items would go in first at the bottom of the frame bag. Therefore, keep your weight down and lighter items on top.
I would pack my food into Zip lock bags around the backpacker stove and heavier tools/ spares. I tend to pack and plan backpacking meals in advance. Meals are, therefore, pre-packed for breakfast, snacking, and dinner. Once you have set up camp you can go straight for your meal of choice.
Smaller bags can be stuffed in and around the bigger items. As a result, this limits the rattling and movement of loose items inside the frame bag.
Next, when I load my seat pack, I tend to roll up my Down jacket, towel, shirt, shorts, and additional clothing. Items take up less space, due to being rolled up. Next, pack the portable battery bank, rechargeable headlamp, charging cables, and wallet. These will go in the Top tube bag in order to for easy access at any time.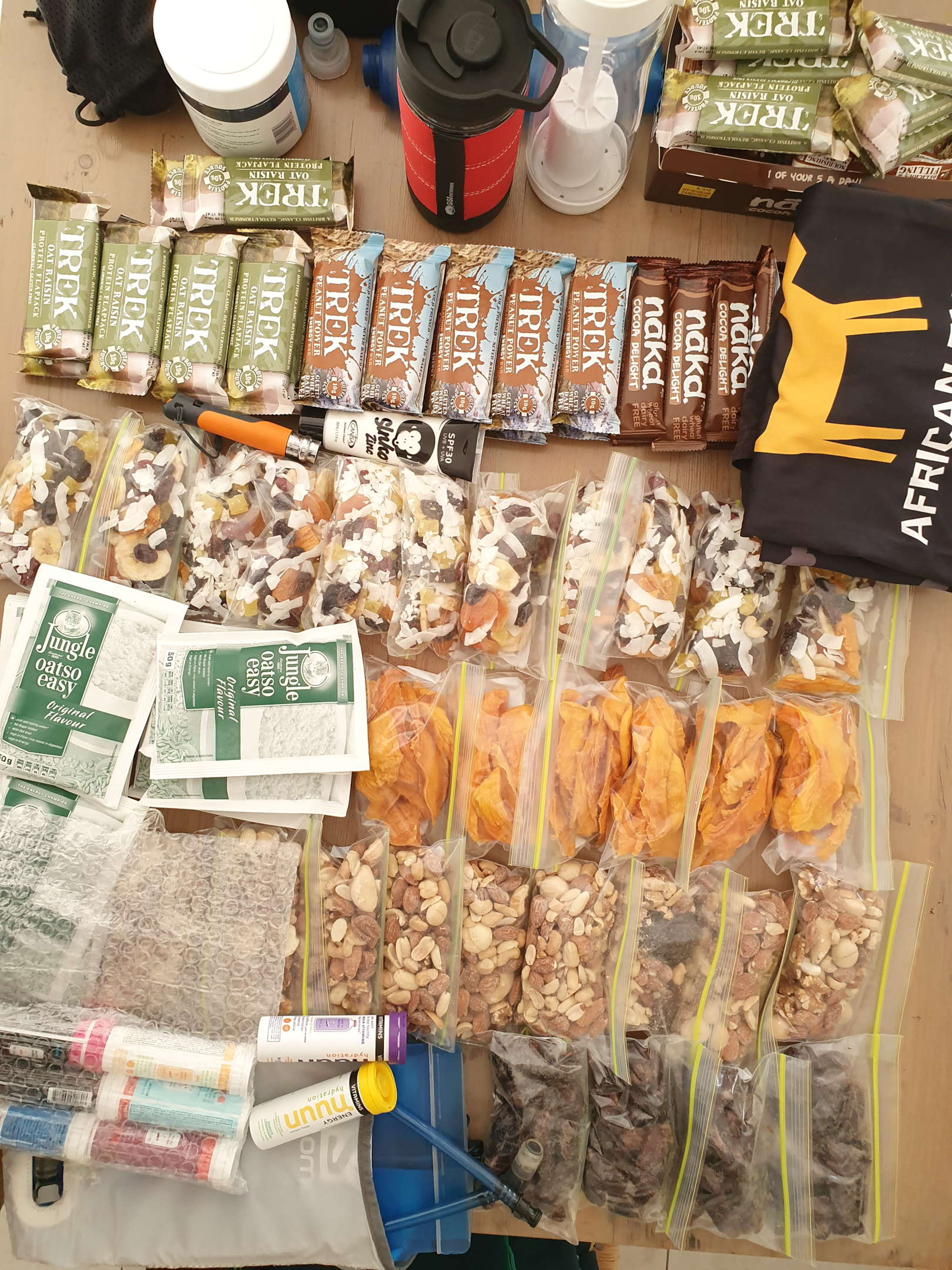 Map is folded up in a Ziplock bag to keep it dry if you use an old-school map. Any daily snacks, fit into the Snack bag so I can nibble away.
I would advise you to look for a lightweight tent, that won't strain your handlebars. Keep it lightweight on top. Some great ultralight tent reviews and tent advice can be gained from the that article.
If your climate is warm enough and a tent is taking up to much space, then look into tarp camping. What's more, using a tarp can save a lot of space when Bikepacking. The bonus is – you would save loads of dollars and you don't need to pack a bulky tent on your handlebars. Money saved can be spent on your bike.
Pro Tip: A great item to own that will serve multiple purposes are Viole straps they will help you secure and bind any item to your frame or bike where needed. They are such a basic item but is definitely worth it.
Caring for your Bike packing bags:
Never over-stuff your frame bag or bike packing bags, it is not good for the stitching
Overstuffed frame bag will put additional strain on your bag zippers
Clean your frame bag & gear after each adventure
Ensure its dry before you pack it away for storage
Check frame bag for rubbing marks and areas of potential failure to prevent product failure
If a strap, binding or zipper has an issue resolve the issue before your next bike packing adventure
If the bag stitching is fraying or unraveling don't pull on it – cut the frayed end short and then burn to fuse it the frayed end.
Bag maintenance checks will ensure loads of happy miles and great bike packing adventures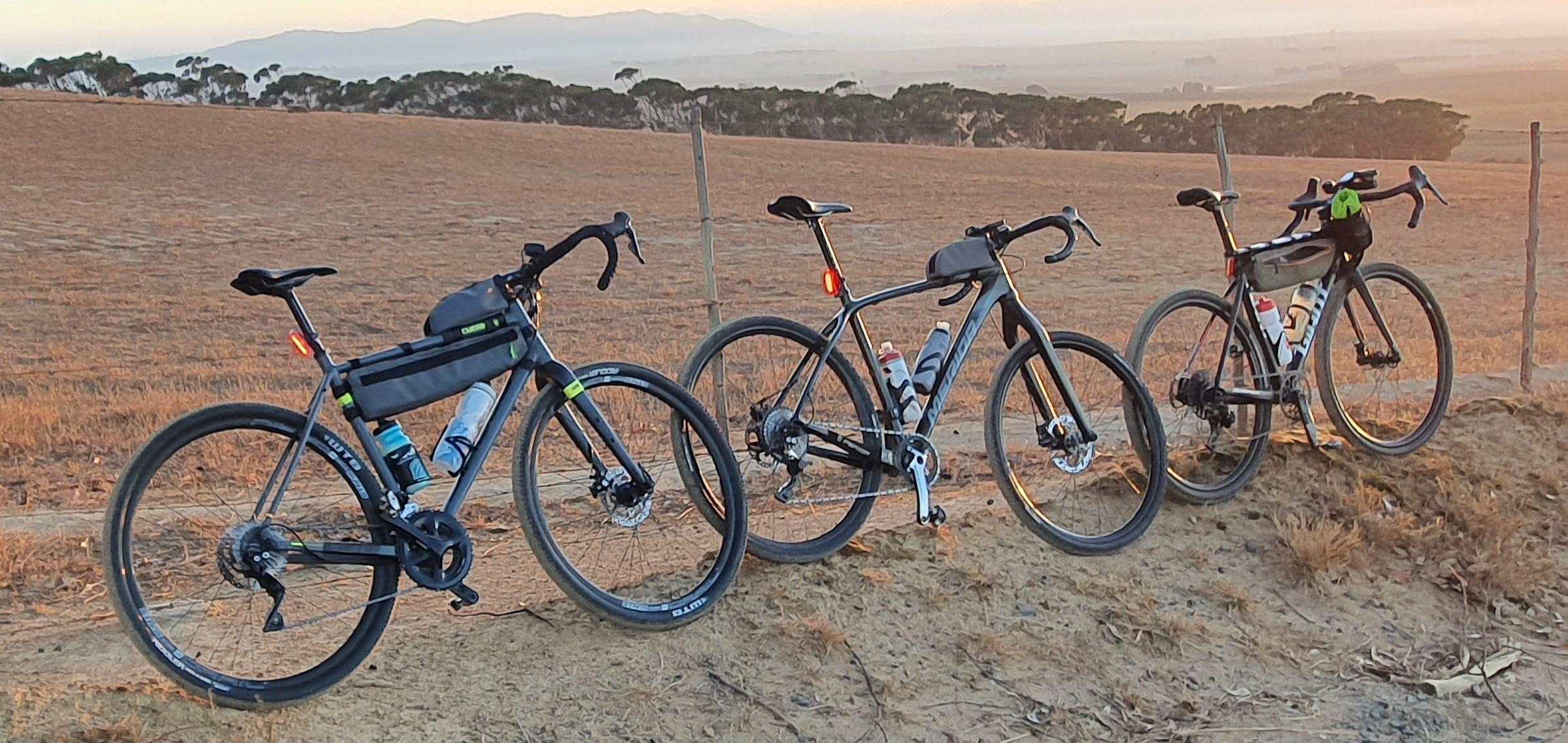 Zipper Care for Frame bags
Wash frame bag zippers with soapy water if dirty
Lubricate zippers with: chapstick, crayon wax, the end of a graphite pencil, petroleum jelly, or any other waxy products or lubricants
Store frame bags unzipped
Never force a stuck zipper on your frame bag. Be gentle.
Bike packing kitchen
While putting your Bike packing kitchen together remember that everything you have used previously on your hiking trips can be used on your Bikepacking trips. The hiking gear you own is already compact and lite. If you are looking for some food packing ideas or what stove to buy some great product reviews and articles can be found at FOOD & DRINK – The Hiking Adventure website.
Making your own frame bag setup
If cost is what is holding you back from your bike packing adventure or bike packing dream setup, then do what I did. I purchased some industrial denim material from our local material shop. Made a cardboard template of my frame cavity, and asked my neighbor to assist with the stitching and voila, I had my very own custom frame bag.
I still have this particular denim frame bag in use. It has provided me with some epic adventures and cycling memories.
I know it appears to look like a bike-packing minefield, but make the bike bag choice and bike packing setup part of your adventure, you will learn through time and eventually have a foolproof plan in setting up your mountain bike or gravel bike.
There is no right or wrong and remember it is all about escaping and heading outdoors. Go and explore those gravel roads that are calling your name.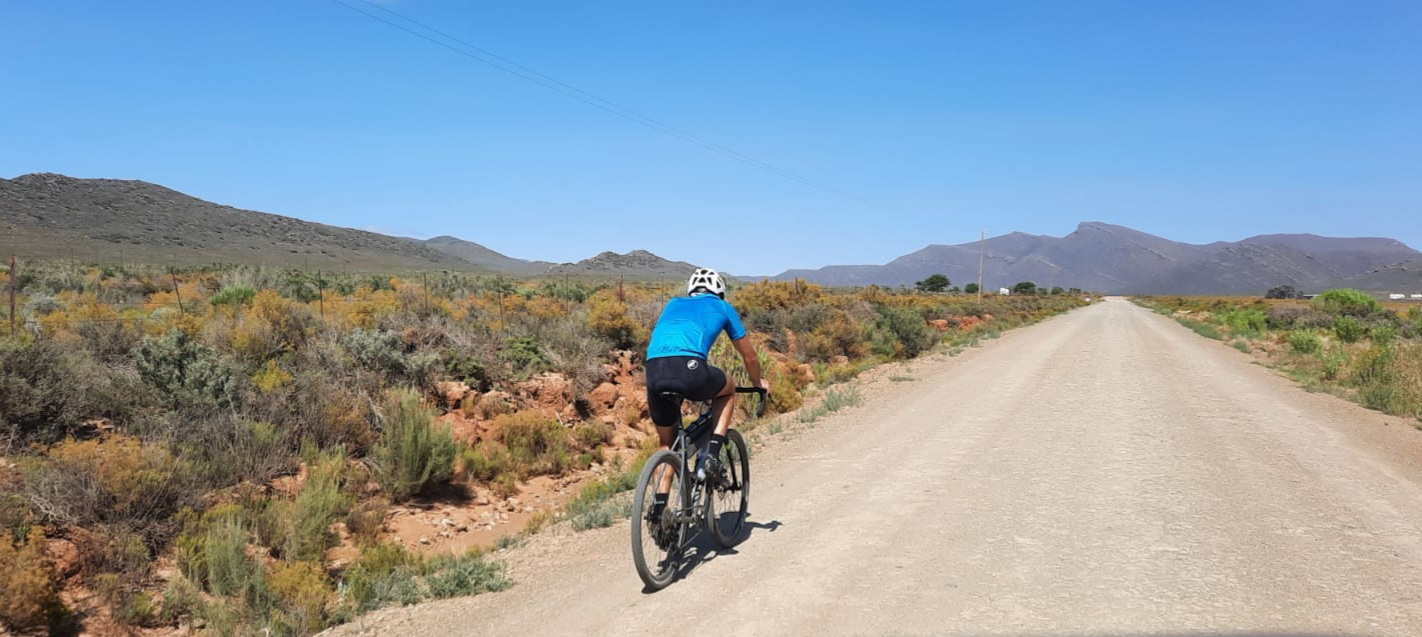 Don't sweat the small stuff load up your bike packing bags and #GetOutThere
Leave us a comment below about other bikepacking frame bags you like!
---
Here are some links to our most popular articles:
Join our Facebook Group – Outdoor Gear Reviews, Deals, Hacks & Advice- Backpacking, Hiking & Camping to get the latest reviews, deals, and discounts on backpacking, camping, and hiking gear. Share tips, and advice and to show our love, we also give monthly gear giveaways.