Photo by Clay Banks on Unsplash
Choosing the right pair of hiking boots is one of the most critical gear purchases you'll make, whether for everyday adventures or extended backpacking trips. To make matters harder, the perfect pair of hiking boots for one person might be the entirely wrong pair for another hiker. There's nothing worse than a great hiking outing ruined by a pair of boots that are too tight, too loose, or ill-matched for your outdoor activity.
The good news is that you can choose between a few options to ensure you purchase the perfect shoe — and we'll help guide you through how to choose hiking boots. 
It can be overwhelming to select the right hiking shoe. Trust me, I've been there and done it wrong. The purchased my first pair of hiking boots by considering the price and how they looked, which led to blisters and squished toes after I spent an entire summer suffering with them in Colorado's West Elk Mountains. It'll take some trial and error to find a comfortable pair in the store, but hopefully, we can clear up any confusion you have beforehand to get you looking at the right boots from the start.
In this post, we'll help you choose hiking boots by selecting the right style for your planned outdoor activities and the right material for your needs. Plus, we include a few tips about trying them on in the store to make sure they fit correctly. 
go Backpacking with Award Winning Guides
Choosing the Right Type of Hiking Boots
Low-Profile Hiking Shoes
Old-timers might scoff at the idea of wearing hiking shoes on the trail, but don't knock it until you've tried it. Ultralighters and day-hikers love the comfort of a low-profile hiking shoe. They have a few benefits compared to hiking boots: 
a flexible midsole for added comfort

lighter than hiking boots

better ventilation so your feet don't overheat
While low-profile hiking shoes (and trail runners) are light and flexible, they sacrifice the support and protection you'll get from boots. So, hiking shoes are great for well-maintained trails where you don't need ankle support for rugged terrain, but if you're new to backpacking with a heavy pack, you might want something with more support and stability. If you do make the switch, be sure you've tried them out on day hikes before setting off on a long backpacking trip with them.
Day-hiking Boots
Day-hiking boots have mid- to high-cut ankle support and are made for day hikes or shorter backpacking trips. Here are some key features: 
ankle support to provide stability and protection

a stiffer sole will help you glide over uneven terrain

a higher cut to keep trail detritus out of your boots
Modern day-hiking boots don't require nearly as much time to break in and offer a "goldilocks" zone of support and flexibility for many strenuous day-hikes or easier backpacking trips.
Backpacking Boots
Backpacking boots are specifically designed to help you cross rougher terrain (including off-trail) while wearing a heavy pack. You can expect to see a few key features:
a very rigid sole

tough materials & few seams to stand up to the elements of multi-day treks

thick outsoles for protection

a lip on the sole for crampons or snowshoes
You'll likely have to break these in for a week or so before setting off on a trip with them, but you'll be rewarded with a long-lasting backpacking boot that softens with age.
Mountaineering Boots
Mountaineering boots are designed for tough conditions in high-alpine environments. They usually have:
even more ankle support than hiking boots 

ultra-stiff soles and great traction 

minimal seams and materials for impermeability

insulation.
These boots can be very heavy and definitely require a break-in period. So although they may seem like a good option, they are only really necessary on certain adventures, like glacier and snow travel. 
More Resources
Hiking Boot Materials: What to Look For
The materials a hiking boot is made out of drastically affect its weight, durability, waterproofing, and breathability.
Leather
Leather has long been one of the most popular materials in hiking boots thanks to its breathability and durability. Not all leathers are created equally, however.
Split-grain leather is usually made out of both leather and synthetics, which enhances ventilation and is cheaper, but it isn't as good for water resistance or durability.
Full-grain leather is usually used for backpacking and mountaineering boots because it's much more durable and has better water resistance, but you'll sacrifice breathability and can expect it to be a little heavier. 
Nubuck leather is simply buffed full-grain leather, so it shares full-grain leather's characteristics and is a little more flexible, too.
Don't be overwhelmed by the different types of leather. Split-grain is lower-cost, more ventilated, and lighter-weight, which makes it great for day-hiking boots. Full-grain is more durable and water-resistant, making it often used in backpacking boots.
Synthetic
Synthetic materials like nylon and polyester are commonly used in modern hiking boots. Synthetic boots are usually cheaper than leather hiking boots, and they also have better ventilation, dry faster, weigh less, and have a shorter break-in period. However, they're usually not as water-resistant or durable as leather, so you may wear through them more quickly.
Waterproof
Many hiking boots and shoes that are billed as waterproof have a membrane of GoreTex or eVent material that repels water. The trade-off is that they're usually less breathable, which is something to consider if you're in hot environments. A non-waterproof boot might be better in the desert or for summer hiking where you're not expecting to encounter rain, but waterproof boots are your best bet for multi-day trips where you'll likely encounter water on your hike.
How to Try On Hiking Boots
Walking around in your hiking boots and ensuring they are comfortable is essential to getting the proper fit. More specifically, you want to make sure your heel feels snug and your toes have room to wiggle. A good boot fitter will help walk you through this.
Here are a few more things to consider when trying on hiking boots:
Bring your hiking socks with you to the store.

Seams and sock thickness will affect how boots fit and if there are any pressure points.

Some stores like REI have

a ramp that you can use

to ensure your foot doesn't slide forward or backward when ascending and descending, too.

Make sure your heel is secure and snug in the boot.

A floating heel that rubs upward while walking is a sure path toward blisters

, which you want to avoid at all costs.

Remember to wiggle your toes.

As the day progresses, your feet usually swell slightly and take up more room, so a cramped toebox from the get-go is a red flag. A cramped toebox isn't something you can really fix later (and speaking from personal experience, this will force you to ditch an otherwise great pair of boots).

Pay attention to how the laces feel.

A padded tongue should allow you to comfortably tighten the laces without feeling like they're digging into your foot and ankle.

Don't worry too much about the size number on the boot.

Your hiking boot size might be a different number than your normal shoe size, but that doesn't matter. What matters is that the boot fits you correctly.

Take them for a test run.

After purchasing them, take them to a local trail, wear them around town, and pay attention to how they feel as you break them in. If something doesn't feel right, bring it back to the store to get help with a better fit.
How to Care For Your Hiking Boots
Once you've picked out your trusty pair of hiking boots, it's important to take care of them so they can serve you for many trips to come.
Here are a few ways to care for your hiking boots:
Rinse them off with water after using them

. Getting mud, dirt, and stuck pebbles from the boots keeps them looking and performing well. If you do use a footwear cleaner, double-check that it can be used on your boots as some additives can hurt leather and/or waterproof layers.

If your boots have full-grain leather,

use a leather conditioner

to keep them moist instead of dry and cracking. Suede and nubuck leather don't need conditioner.

Waterproof your boots

when you start to notice water isn't beading on them anymore — which might be more frequently than you think. You'll notice a big difference in not only how dry your feet stay, but the boots themselves will be more supple, too.
While choosing the right pair of hiking boots is essential for enjoyable day-hikes and backpacking trips, it's important not to overthink it. The hiking footwear you already use will continue to help you get outside and enjoy the great outdoors, and you can upgrade as you begin to take on longer, more rugged hikes and backpacking trips. 
Wildland Trekking Guided Hiking Adventures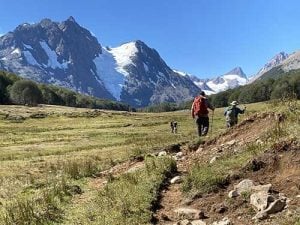 Wildland Trekking is America's premier hiking and backpacking adventure company. Since 2005 we have been helping facilitate wilderness experiences for our guests across the USA and the world. With all-inclusive trips, expert guides, comprehensive risk management systems, exceptional online reviews, and nearly 100,000 guests accommodated, we have something for nearly everyone who likes to travel, explore and hike.
WILDLAND ADVENTURE TOURS
GUIDED BACKPACKING ADVENTURES: these are for people interested in an authentic wilderness adventures away from roads and crowds.
PORTERED TRIPS: on these innovative trips, guests hike with light day packs and camp in stunning backcountry locations.
INN-BASED HIKING TOURS: these tours are all-inclusive hiking packages with lodging, amazing daily hikes, expert guides, meals, transportation and more!
CAMPING TOURS: camping-based hiking packages provide all-around hiking experiences of of premier destinations on wonderful outdoor vacations.
LLAMA TREKS: unique, wilderness-based hiking/camping adventures on which our friendly llama trail companions carry the bulk of the gear and supplies.