The Cathar Way is a 260km trail in Languedoc, Southern France, a little bit North of the Pyrenees.
It starts in Port-la-Nouvelle, near Perpignan, and links nine ruins of Cathar castles all the way to Foix.
The Cathars were a Catholic sect, that was particularly strong in Languedoc.
The Christians then started the Albigensian Crusade against them in the 13th century.
Day 1
Yesterday I visited a friend I worked with in a watermelon farm in Katherin (Australia) 11 years ago, and haven't seen since.
That was pretty cool to reminisce about that crazy time.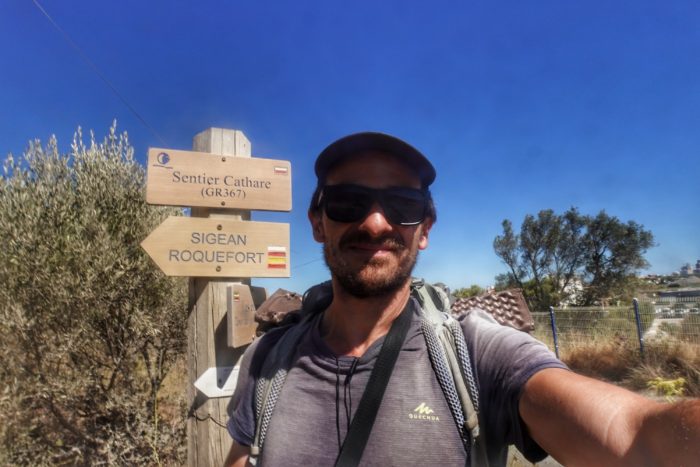 I leave his place, near Perpignan, in the morning.
I take a train to Port-la-Nouvelle, where the trail starts.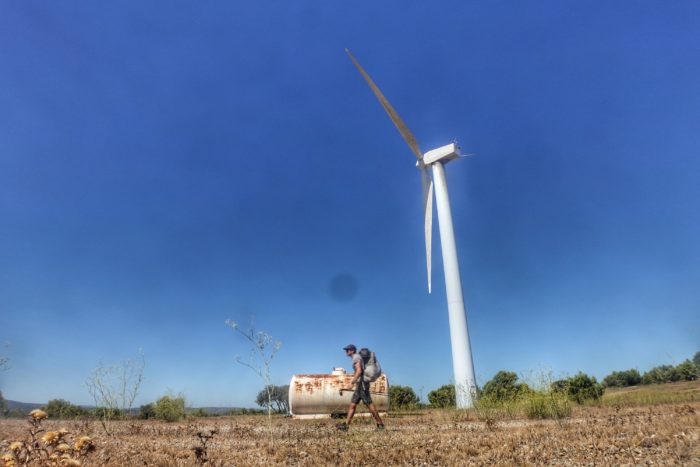 I start walking after lunch but I'll still manage to hike ~30km as it's pretty easy terrain.
I walk through what we call garigue (basically a dry Southern environment) and grapevines, and it's nothing special for most of the day.
But I'm still enjoying it.
I'm pretty rested and the easy terrain makes it easy to daydream while listening to music.
Though it gets really hot around 4pm.
At the end of the day, I pass Curban and pitch my tent just after the village as it's already dark.
---
Day 2
Well, it's pretty hot and humid as soon as I get up.
The perfect recipe for some fun chafing…
The sky is pretty menacing too.
The bugs are all over the place today so I keep my head net handy.
I make really good progress in the morning, arriving at Aguilar, my first Cathar castle at lunchtime.
I move on to Tuchan, my next ressuply, but it looks like when you get closer to Spain, you get Spanish opening hours.
That actually happened to me last year a few times in this area.
I have to wait till 3.30pm so I get a beer at a bar just before it closes (Spanish hours too?).
One thing I didn't think about is that I need to work around the castles opening hours.
Which can be tricky if you don't want to waste half a day or skip a castle.
If I arrive at a castle at 5pm, that means that I can't get in before 9.30 am the next day, making my hiking days much shorter.
Nothing that a bit of planning can solve hopefully.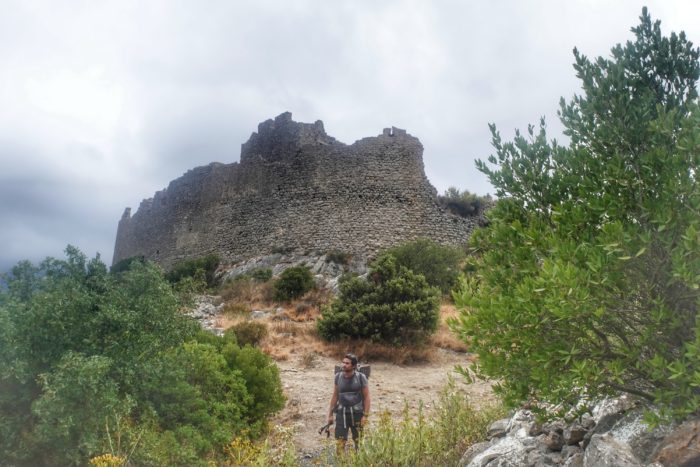 Hard to believe, but it didn't rain today, even though the sky is still pretty dark when I pitch my tent.
---
Day 3
Another hot and humid day with a lot of chafing and sweating.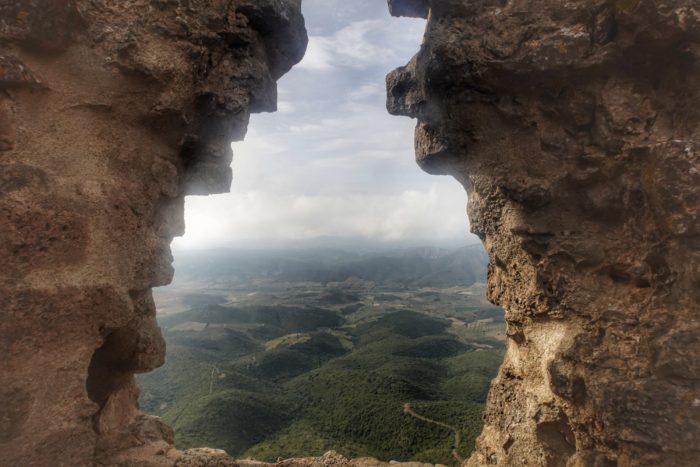 As the Quéribus castle opens at 9.30am and I'm not that far, I have a late start.
But apparently I still didn't get enough sleep because I somehow miss a junction and end up walking an extra 40 minutes.
The castle is really cool and the views are awesome.
With Peyrepertuse castle, it's one of the most famous Cathar castles and you can see why.
I head towards the lovely village of Cucugnan where I have lunch.
I'm joined by a hiker I met yesterday.
He can't believe my backpack is "only" 7 kilos.
Which is definitely not ultralight, but still on the light side I guess.
Especially in France where it's hard to get ultralight gear because it's crazy expensive. He's also horrified that I only have one set of clothes.
I move on to Peyrepertuse and it's a pretty big off-trail climb to reach the castle.
I am completely soaked by the time I reach it.
It's a very impressive place.
The views themselves are worth the climb and the ticket, but the castle is beautiful.
I was actually here last year on my thru-hike across France but there was torrential rain, so I couldn't visit it.
The sky is still menacing now but somehow it's still not raining.
To finish the day I have a really beautiful walk on top of a small moutain, with amazing views and gloomy sky all around.
I then have to chose from the main trail and an alternate taking in more castles.
I decide to go with the main trail for now because I'm out of water and it's where the closest village is.
I'll be doing the alternate too anyway, because I'm collecting data for a hiking app.
---
Day 4
Well, it's a pretty easy day that's a bit meh… I knew the Northern alternate isn't that sexy and mostly a shortcut.
I'm finishing the day pretty close to the other junction with the Southern alternate.
I'm still undecided about what to do.
Hitch back to where I was yesterday and then hike the alternate, or hike it and hitch after.
I'm pretty tired and my brain doesn't work, so that's a decision for tomorrow me.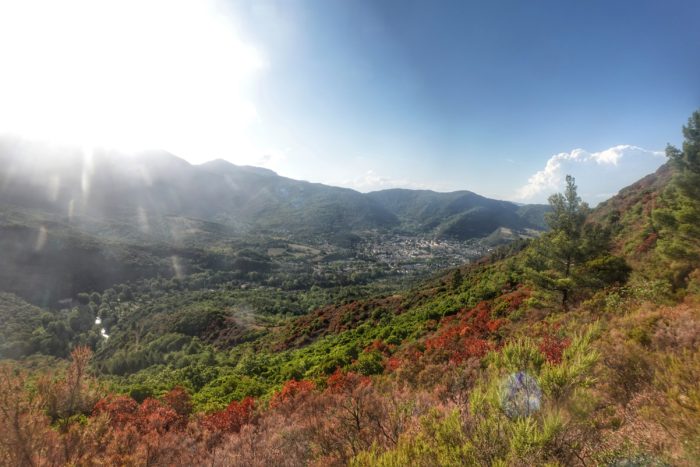 ---
Day 5
Another pretty easy day.
I reach the junction with the Southern alternate and decide to keep hiking on it.
It's not as hot as before and pretty flat so I make good progress.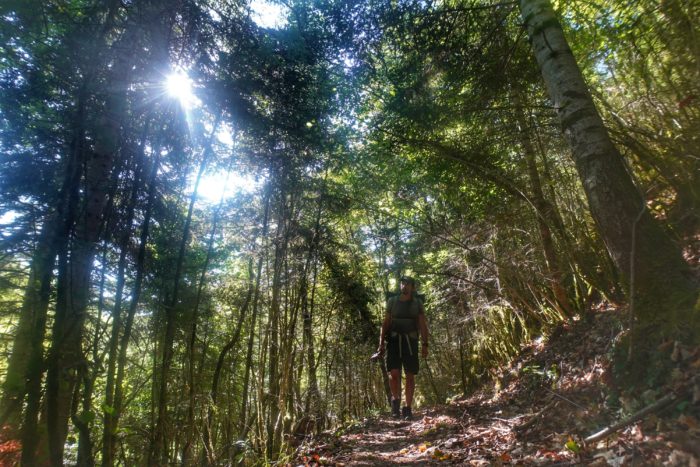 I notice that some trees already turned completely red, which seems very early this far South, but I guess this summer heat wave messed all that up.
Just an hour before closing time I manage to visit Puilaurens castle, that has a pretty cool location.
I hike two more hours, just before it starts pouring down.
Day 6
Last night I got a visit from boars.
They were noisy but staid at a distance.
It also rained quite a bit.
I think it rained every night since I started but not once during the day.
Knocking on wood.
I just walk half an hour before reaching a junction for a side trip to Fenouillet to see some more ruins.
As I climb up and enter the village, I have a strong déjà vu feeling.
That makes sense because I was here a year ago (almost exactly) when doing my big thru-hike across France.
But I went through so many places and villages, I have a hard time remembering names, even though it's recent.
The place looks really good in the morning light.
I then keep hiking on more trail that I hiked last year.
I go through Caudiès, which I remember from last year.
I was hoping to ressuply here but the shop had crazy opening hours.
It got even worse this year!
They close between noon and 5pm!
Today I don't need to ressuply, but as I am here during the 5 minutes the shop is open, I get some biscuits and a drink.
It's drizzling at lunchtime but nothing too bad.
In the afternoon, I come across an interesting hiker…
He's in his 70s, with long white hair and a big bushy white beard, pretty pale and wearing nothing but small black undies.
He's using trekking poles though.
But the strangest thing is that he doesn't even have a day bag or water.
It's the South of France… It gets hot.
Anyway, after a while I turn around and see him 100 meters away, not walking and staring at me (or in my direction).
I keep hiking for a few minutes, turn around again and see that he turned around and walks now in my direction.
But after a while I don't see him anymore.
Anyway, I hope he did put a lot of sunscreen on before his walk…
The rest of the day is beautiful, all the way till Saint-Paul de Fenouillet where I stop at a camping.
I was planning to pitch my tent, do grocery shopping and then keep hiking till the end of the Southern alternate I'm on, then hitch back to the village.
But shopping takes longer than I thought, so I decide to be lazy and get some Belgian beers instead.
---
Day 7
I leave all my gear at the camping and hike for two hours through Galagus Gorge.
There's quite a bit of road walking in the gorge but there's no traffic and it's stunning.
A little bit down the gorge there's the beautiful Saint-Antoine de Galamus retreat.
It's too early to visit it, but it's beautiful.
At the end of the gorge I reach the Eastern junction of the alternates and hitch back to town.
I pack my stuff and start hitching again to get back to the Western junction, where I was two days ago.
Hitching goes well and I'm there at lunchtime.
According to the lady who gave me my last ride, the next castle is the most well preserved and they also shot the end of The Ninth Gate there.
But when I get there they don't take credit card and I have no cash left.
Bummer.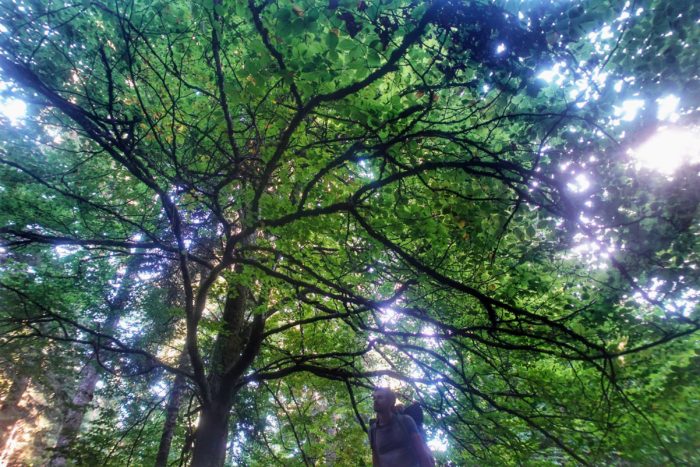 The rest of the day is pretty easy and I make good progress.
I reach Espezel where I go to a cheap and nice campsite.
Two showers in a row…
One could get used to that.
---
Day 8
Boy, it's freakin freezing when I wake up and it's gonna stay super cold pretty much until 11am.
Which is weird in Mid-september this far South.
Last year I was hiking the GR 10 across the Pyrenees between Mid-september and Mid-october and it never got this cold.
It did get cold and I even got snowed on, but nothing like today.
But this is probably the most diverse day on trail.
Some little mountains with great views, a nice gorge, beautiful forests, nice villages and a castle with great 360 views.
---
Day 9
Today is a really easy one.
I go visit the ruins of the Roquefixade castle where the views are great.
It's mostly flat until the end where I go down towards Foix and finish with a 5km roadwalk.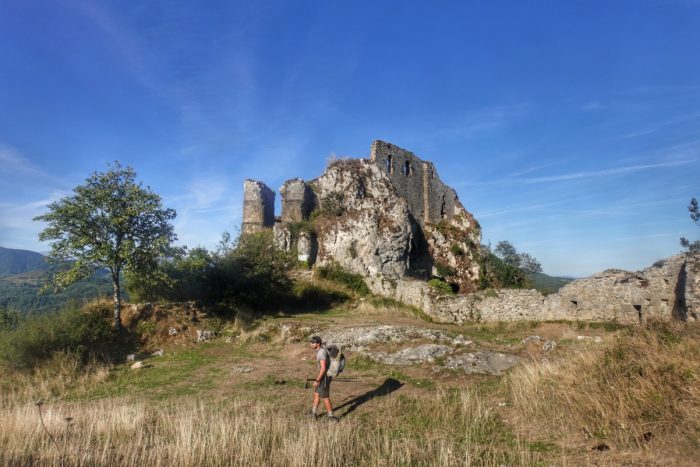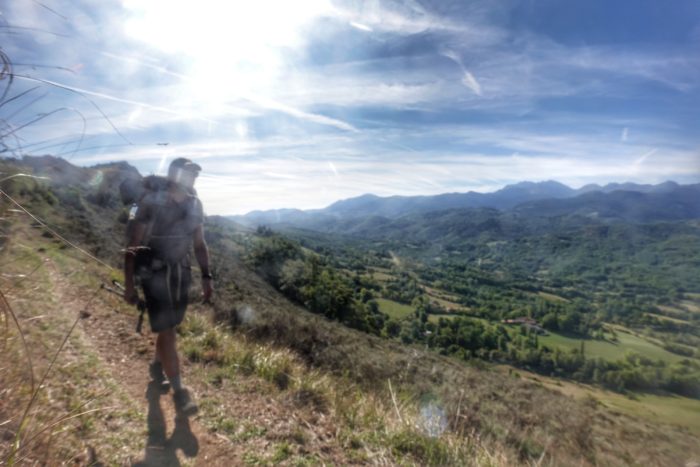 The castle of Foix is pretty impressive but it's closed today.
Before going to the train station I go to the pharmacy to get some cream to help with some chafing issues on my feet.
I always use the same cream and it works wonders.
They don't have it and try sell me another one, that's twice the size.
It is clear they think I am crazy when I say 40 grams is waaay too heavy compared to my 20 grams one.
Anyway, I was hoping to get a train to Toulouse, have a night there and take a bus tomorrow to Grenoble for my next hike, but all the cheap and central options in town are gone when I check, so I decide to take a night bus instead.
Not the best way to rest in between trails, but it is what it is.
Hopefully I'll be able to buy new shoes and socks in Grenoble because it's about time.