The Katabatic Alsek is an ultralight quilt built with cold sleepers in mind. I've always wanted to make the leap from my heavy mummy bag to a more streamlined quilt. But as the human embodiment of a popsicle (and a very acrobatic sleeper), I've never been able to find one cozy enough for my needs.
Knowing that Katabatic is hiker-famous for its generously-stuffed quilts and conservative warmth ratings, I thought the Alsek might be worth a try. At just 21 ounces, the weight savings compared to my 36-ounce mummy bag were hard to argue with. Was the Alsek the quilt I'd been looking for all my life? Keep reading to find out.
MSRP: $360 – $465 (mine cost $420)
Weight: 20.9 – 27 oz (mine: 20.9)
Fill:
850-fill Hyperdry (water-resistant) goose down
900-fill Hyperdry goose down
900-fill regular goose down
What I tested: 950f Hyperdry
Shell material: Pertex Quantum ECO
Circumstances of Review
I tested my short, regular-width Alsek from July through early October in Colorado's San Juan mountains, Wyoming's Wind River High Route, and Washington's Olympic National Park. Nighttime conditions ranged from low 30s and incessantly windy to high 40s and calm.
I slept on a Therm-a-Rest NeoAir XTherm inflatable pad, wearing wool and synthetic base layers and a wool hat. My primary shelter was a Six Moon Designs Gatewood Cape, a shaped tarp that I mainly used without bug netting (I mention this because, without a mesh insert, the tarp trapped much less heat and had more wind exposure than a regular tent). I also used the quilt on joint hikes with my partner in a shared Big Agnes Tiger Wall tent.
Quilt vs. Sleeping Bag
Ah, the age-old debate. Traditional sleeping bags are, well, bags, meaning you're completely encased in an insulated sack. Most backpackers prefer mummy bags, which taper toward the feet to save weight and have full hoods for maximum warmth. Mummy bags have been the standard for years. However, they're relatively heavy, and many people find them claustrophobic.
Quilts, in contrast, are like backless mummies with an enclosed footbox. That means no hood, no zipper, and no insulation underneath you—where the compression of your body weight would render it basically useless anyway.
Quilts are smaller and lighter than sleeping bags. However, because they're not fully enclosed and lack hoods, they can let in drafts along the edges—especially if you move around a lot at night or are a side sleeper. Thick draft collars and pad attachment straps can be used to mitigate these issues.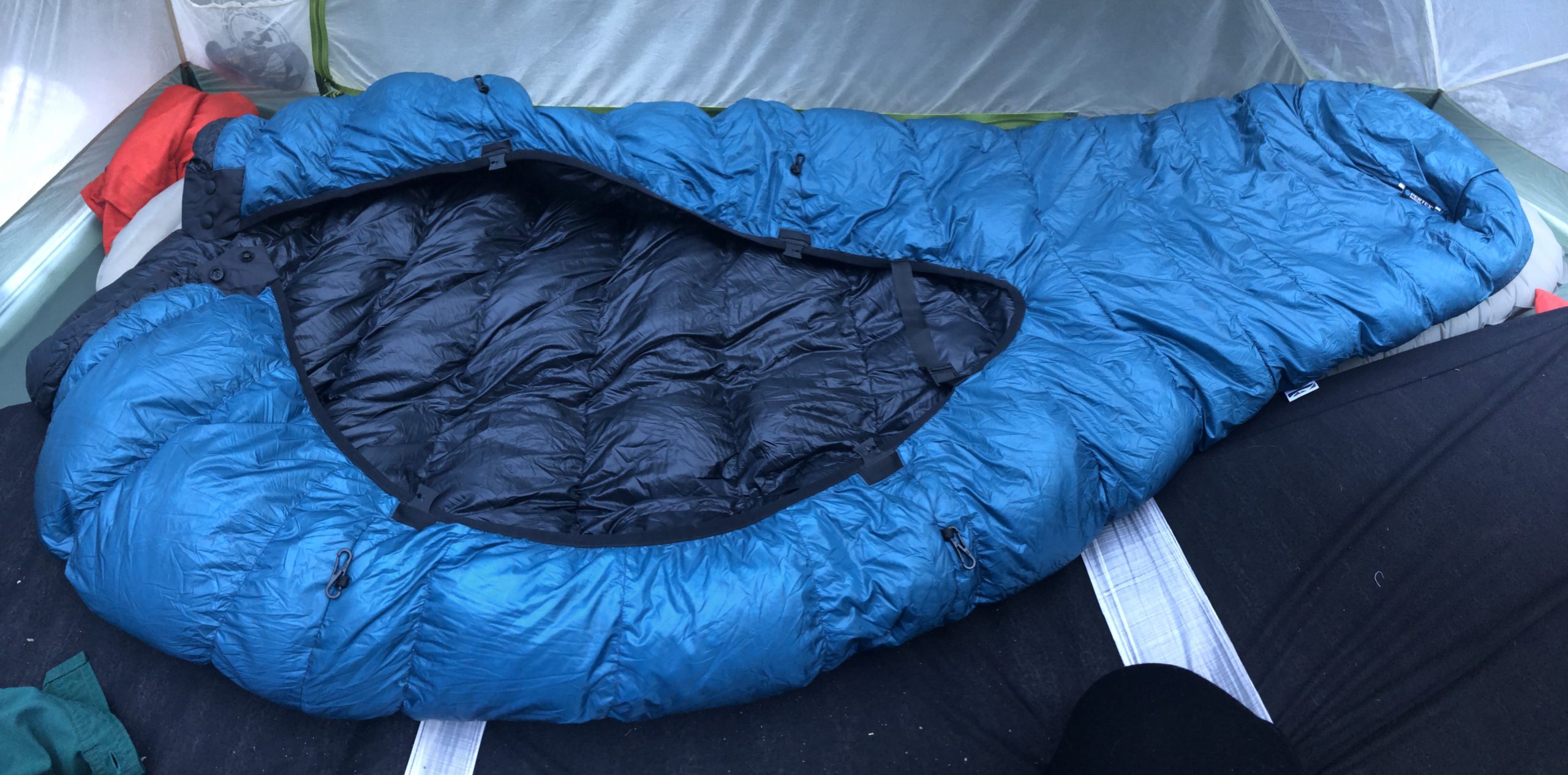 What's new with the Alsek in 2022?
The Alsek has been a staple of Katabatic's quilt lineup for years, but it got an update for 2022. This year's Alsek is two inches wider (across all sizes and widths) and features an internal stash pocket for your phone or water filter. It's also now available in a short/wide size for the first time. The Katabatic Palisade and Sawatch both got the same upgrades as well.
Temperature Ratings
Katabatic creates their own temperature ratings in-house. The advertised temperatures on their quilts reflect the temperature down to which most hikers can sleep comfortably without getting chilled.
Katabatic's ratings are widely considered more conservative than the industry standard. Many users can stay warm into the teens and below in a 22-degree Alsek. Not that that's a guarantee—I don't think I would be able to use the quilt below 22 degrees, for instance. You should always bring a quilt or bag rated at least 10 degrees below the lowest temperature you expect to encounter.
READ NEXT – The Ultimate Guide to Backpacking Sleeping Bags and Quilts for All Budgets
Fit and Comfort
The Alsek is available in a variety of lengths and widths (54 to 58 inches at the shoulder). I am 5'4″ and ordered the short/regular-width quilt, which is 54 inches wide at the shoulder and long enough to fit someone as tall as 5'6″ (the quilt itself is about 69 inches long). I was happy with the length and width, even though I'm an occasional side and stomach sleeper. I used the pad attachment straps and collar snaps almost every night to keep the quilt in place while tossing and turning.
The footbox on the Alsek (and other Katabatic quilts) is longer than most quilts on the market. I really enjoyed the comfort and security this provided.
Katabatic Alsek Features
Stash Pocket
The stash pocket is a new feature this year. I had a hard time even finding it and initially thought I'd been sent an old model, but it turns out it's just very subtle. It's on the interior (black side) of the quilt near the left hip, people.
It fit my iPhone 8 easily and seems generous enough to accommodate larger phones as well. No zipper, but an overlapping envelope-style fabric closure keeps the contents secure inside.
Draft Control Features
The Alsek has a variety of features to keep cold air from getting into the quilt.
Katabatic's patented pad attachment system is included with your purchase. It consists of two yellow cords that you slip over your sleeping pad and cinch tight. These cords couple with four corresponding plastic clips along the edges of the quilt, which can slide along the cords to fine-tune the fit and then be adjusted to lock into place. The system works well with most inflatables but wouldn't be very effective with a foam pad.
If you want to keep the quilt around you but not attached to the pad, you can use the two webbing straps on the back of the quilt to cinch it down instead.
The generous draft collar can be secured around the neck via two sturdy snaps and tightened further with a drawcord.
Finally, elastic binding around the edges gives the quilt some structure and helps to keep it snug around you without feeling constricting.
Continuous Baffles
Baffles are the internal chambers in the quilt that hold the insulation in place. The baffles on this quilt are horizontal and continuous. That means there are no internal separations within each chamber to keep the down from migrating from the top/center of the quilt to either side.
Some manufacturers use vertical baffles or internal separators inside horizontal baffles to stop down from migrating side-to-side. In contrast, Katabatic deliberately uses a continuous horizontal design that allows the down to move freely from the top to the sides. That way, the user can pile it all on top on cold nights or shake some off to the sides when temperatures are mild, making the quilt versatile across a wide range of temperatures.
Overstuffed Footbox
Many people lose a lot of heat through their feet, so the footbox of the Alsek has extra down insulation to combat this. The footbox is 23 to 26.5 inches long, depending on the size. This is longer than average and helps to keep the whole lower leg area warm and keep the pad in place.
Customizable
You can customize the length, width, type of down fill, and even add one to eight ounces of overfill.
Katabatic Alsek Pros
Ultralight
So light it's almost freaky. How can something that barely weighs more than a pound keep me warm on a subfreezing night? And yet it does. Although the Alsek isn't quite the lightest 20-ish degree quilt on the market, it's pretty dang close. The Alsek is almost a full pound lighter than my mummy bag, making a huge dent in my pack weight.
I normally packed it loose in the bottom of my bag, but on rainy days, it fit easily in a 1oL dry bag, leaving plenty of room to spare for other gear.
READ NEXT – The Best Quilts for Thru-Hiking
Warm
The one time I struggled with warmth in this quilt was when I was sleeping in direct, sustained winds above 20 miles per hour. With that level of windchill on top of real temperatures in the mid-30s, I figured I might not be giving the quilt a fair shake.
Other than that one windy trip in the Winds (called that for a reason apparently), I was always warm or too warm in the Alsek. It's worth noting that I found that the quilt took a bit longer to come to temperature than my mummy bag. It wasn't instantly toasty on nights in the 30s, but after about 30 minutes, I would be more than comfortable.
Comfort / Draft Control
I liked the tapered fit, long footbox, and general squishiness of the Alsek, all of which made it feel great to sleep in. The fit was perfect: plenty of room to move around without having a lot of dead air space.
Even for an active sleeper like me, drafts were pretty much never an issue (except when directly exposed to high winds, which is fair). I liked the tucked-in feeling I got from the elastic binding, collar snaps, and pad attachment system. They kept the quilt snug regardless of where I was on the rotisserie wheel of sleeping positions that defines my REM cycle. The 23-inch footbox added lots of warmth and kept the quilt securely in place.
The pad attachment straps did give me strong Gulliver's Travels vibes, which I address below. But, you know. Trade-offs.
Sustainability
I have to give any company props that makes an effort for the planet. Katabatic uses recycled materials for the shell fabric (Pertex Quantum Eco) and storage sack. All fabrics are bluesign-approved, and the insulation meets the Responsible Down Standard.
Katabatic also details several strategies they use to reduce their carbon footprint and waste in the office, in their products, and in shipping (you can read about it all on the product page under the Sustainability tab).
Made in the US
Katabatic makes their quilts in-house in Salida, CO. More specifically, the Pertex shell is imported, but the bags are designed, filled, and finished in the US.
Katabatic Alsek Cons
Stash pocket throws quilt off-kilter.
My heavy phone in the pocket drags the whole quilt off the pad to one side, creating an air gap. After trying the pocket several times, I went back to putting my phone, fuel, and water filter (the Three Fuhs!) in a small bag at my feet. This problem is not unique to Katabatic—it's an issue with all quilts and bags that have stash pockets, in my experience.
Pad straps can feel restricting.
In general, I liked the tucked-in feeling of the elastic binding and pad attachment system on the Alsek. Even so, I did get strong Lilliputian vibes from being strapped to my sleeping pad via the pad attachment system. Many hikers switch to quilts after struggling with feelings of claustrophobia when zipped into a mummy-style sleeping bag, so I feel this is a drawback worth mentioning.
For what it's worth, I discovered that the pad straps did tend to detach fairly easily if I sat up suddenly in the night, though the snaps around my neck were a bit more of a fumble to disengage.
The temperature rating is accurate and no more (for me).
Not sure if it's fair to put "accurate temperature rating" in the Cons category. But just know that not everyone finds Katabatic's warmth ratings conservative, despite what the internet may tell you. For me (a cold sleeper), the 22-degree warmth rating feels accurate, but I wouldn't expect it to function well below that.
Some hikers sleep comfortably in Katabatic quilts ten or more degrees below the advertised temperature, a testament to their conservative ratings. Sadly, that wasn't my experience. Even in the low 30s, I was on the edge of needing my puffy more than once. The pad attachment straps and collar snaps were an absolute necessity most nights.
Horizontal continuous baffles not for everyone.
Katabatic uses horizontal continuous baffles deliberately so you can manipulate the down to your liking. This versatility is great, especially if you want one quilt that works across a wide range of temperatures. However, you do have to take the initiative to actually work the insulation. Otherwise, you'll end up with unintentional down migration and cold spots.
Katabatic designed the heck out of these baffles. They do work when you use the quilt the way it's intended, but some of us are just lazy and would rather not have to think about the positioning of the down. Since I toss and turn at night, I had to shuffle the down frequently to keep it evenly distributed. Also, I find it easier to just stick one leg out of the quilt if I'm overheating than to shift the down to the sides.
Price
Katabatic is a small company that custom-makes all of their quilts using premium materials. Their pricing is also on par with other custom quiltmakers in the industry. So the price of an Alsek isn't unreasonable—it's just still dang high. Fair or not, the $360-$465 price tag on one of these bad boys will likely be the biggest sticking point for potential buyers.
Overall Value
Despite the price, the Katabatic Alsek is a great value considering the premium materials and attention to detail in its construction. The continuous baffles weren't my favorite, but I've learned to live with them, if not embrace them. This quilt will stay in my lineup for moderate shoulder season conditions, though I'll stick with my mummy for any trips where I anticipate nighttime temperatures below the 20s.
If ultralight warmth and comfort is your goal, you can't do better than a Katabatic quilt. But for a cold sleeper like me, you might be better off with the 15-degree Sawatch if you plan to use it for deep shoulder season or winter trips.
Comparable Quilts
MSRP: $340*
Weight: 20.3 oz*
*20-degree quilt, 950-fill down, short/regular
Enlightened Equipment Revelation
MSRP: $395*
Weight: 19.4 oz*
*20-degree quilt, 950-fill down, short/regular
MSRP: $460*
Weight: 23.3 oz*
*15-degree quilt, 900-fill down, short/regular
The Katabatic Alsek was donated for purpose of review.