A cowbell sounded in the distance, echoing off the vertical rock walls now cast pink in the sunset. The trail was well-worn from nearly a century of foot travelers in the area, the gravel crunching underfoot. A slight chill was in the air as the sun dipped behind the mountains, casting sun rays across the lush green valleys far below. Just around the corner, I knew that a fire-warmed Rifugio awaited, along with a heaping bowl of pasta, a warm shower, and a soft bed.
I was just two days into a trek of the Alta Via 1 – a historic point-to-point trail through the heart of the Italian Dolomites. My brother and I were hiking as an ode to reconnect with our Italian heritage, as well as wanting to experience an international hiking trip with an extensive network of rifugios (mountain huts) and the conveniences they brought. 
With light packs carrying just the essentials, we were able to traverse the 120km route through the mountains in 6 days. We felt nimble and free with light packs, able to travel more freely from rifugio to rifugio without the burden of backpacking gear to hinder us. 
During that time, we fell into a wonderful rhythm that permeates the Dolomites. We would wake up in the mountains to a steaming hot cappuccino – bones and joints aching slightly but loosening after the first steps on the trail. A few hours of hiking, following a meandering trail through vast green valleys that felt like we were in the Sound of Music brought us to the next rifugio for lunch – a time to rest our legs and bask in the midday sun. 
The afternoons were usually punctuated by gradual climbs into the alpine, through passes in the mountain that looked intimidating from afar. Passage through narrow rock canyons offered panoramic views of the valley we had been a few hours previously. A plume of smoke in the distance indicated the next small rifugio and we'd soon find ourselves in a warm dining room sharing conversations with other hikers from around the world who came to experience the majesty of the Dolomites.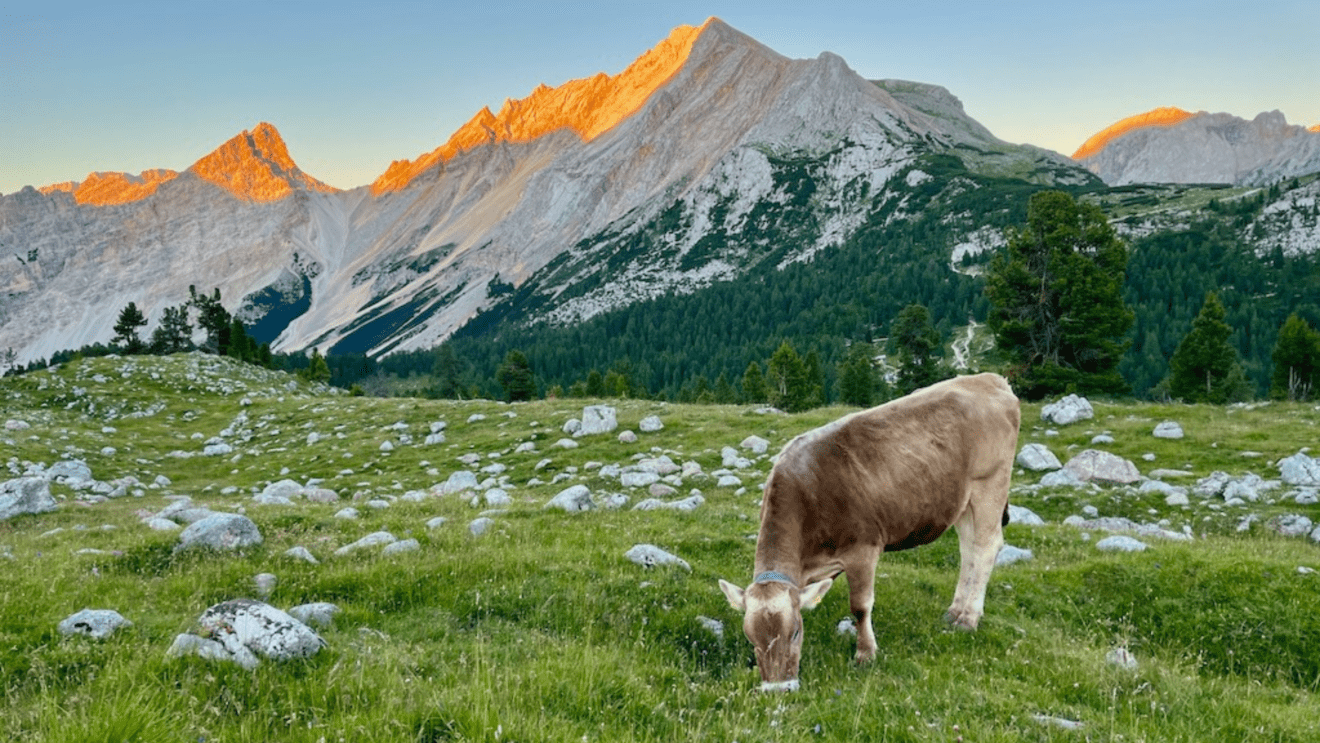 WHY HIKE IN THE DOLOMITES:
Located in Northeastern Italy, the Dolomites are one of the most spectacular mountain ranges in the world with scenery unlike anywhere else. The stunning limestone cliffs are geologically unique, with dramatic towers stretching thousands of feet above lush, alpine valleys. 
Across the landscape, towns nestle in the green valleys, and at higher elevations, rifugios offer warm and convenient refuge for hikers and travelers. With a rich history of Tyrolean mountain culture, breathtaking scenery, and regional cuisine, the Dolomites make for an unforgettable hiking or traveling experience.
What to expect in the Dolomites
The Dolomites are a great place to visit for any level of hiker or traveler, whether day-hiking, sightseeing, or hiking from rifugio to rifugio over the span of many days. The Dolomites are perhaps one of the most accessible international destinations for traveling for the purposes of outdoor adventure and hiking. 
Unlike North America, the infrastructure for getting into the mountains and accessing a vast network of trails and rifugios is outstanding, with well-developed roads through the mountains, as well as gondolas that go from valley-bottom to the alpine in a matter of minutes. For this reason, hiking in the Dolomites is also a very social affair. It is very common to see locals catching up with friends and family during a hike or meal at a rifugio.
The trails themselves range from being well-maintained and traveled to being moderately technical, some even requiring the use of technical climbing gear known as "Via-Ferrata" gear. Generally, it is best to avoid these without special knowledge. 
It is important to note that the Dolomites are relatively high in altitude. While the towns and valley bottoms are at 3000-4000 feet, the trails often travel well above 7000-8000 feet. For this reason, it is important to be aware of the effects of altitude by acclimating gradually, staying hydrated, and using adequate sun protection. One day, I became very unexpectedly sunburnt because I neglected to take into account the strength of the sun at higher elevations.
BEST TIME of year TO HIKE:
The best times to hike in the Dolomites are generally late-June to early September. Depending on the severity of the previous winter, the trails should be clear of snow, and the weather is warmer and days longer. 
In the summer, especially during the warmest months of July and August, thunderstorms are common in the afternoons in the mountains. While hazardous, they are often localized and predictable, meaning as long as you check the weather the morning of, and are off mountain peaks when the storms are building, they are relatively easy to avoid.
The fall is also popular for hiking, as it tends to be quieter for tourism, and the more dramatic weather is great for photography and sightseeing. Many locals I met also recommended visiting in the winter. Though hiking opportunities are limited, there are many ski resorts in the area; in fact Cortina D'ampezzo will be the host city for the winter Olympics in 2026.
Where to stay in the italian alps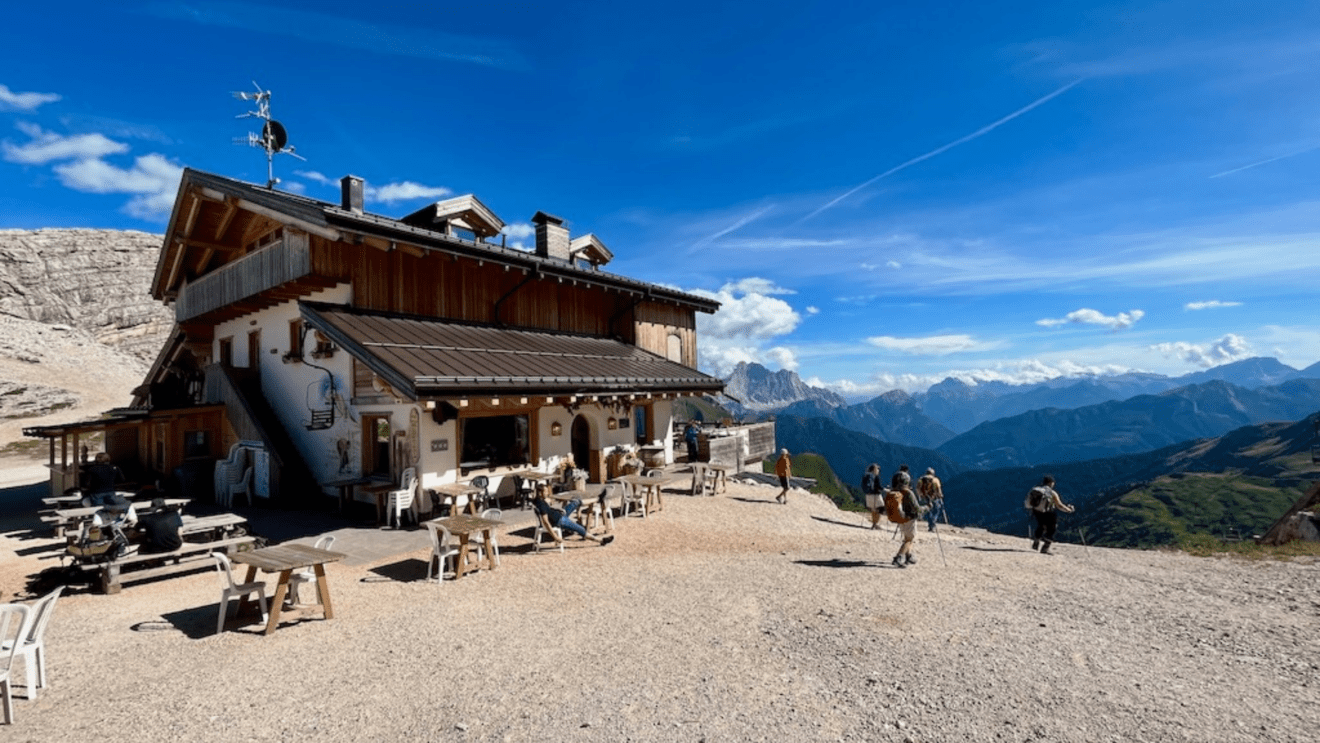 Most trips to the Italian Dolomites start by flying into Venice or Milan, then traveling northwards into the mountains via a short bus ride, arranging transport, or renting a car. Before traveling or arranging a hiking tour, it is important to choose what town to base yourself in: Cortina d'Ampezzo, Bolzano, Trento, and Merano are the main hubs with the most tourist infrastructure such as hotels, restaurants, and trailheads nearby. Town names are listed in both German and Italian on maps, and this can lead to some confusion when planning logistics!
Once in the Dolomites region, many travelers will choose to stay in the towns listed above while embarking on day trips nearby. Most hikes are just a short drive outside of town, and oftentimes there are also gondolas that allow for quick and easy access to scenic vistas, alpine trails, and rifugios in the most spectacular settings. 
It is commonplace for locals to ride gondolas into the alpine to access trails or have a meal at a mountaintop rifugio, and then hike back into town for dinner. Local transit is often quite good, but it can be helpful to rent a car or book a guided tour to maximize your time on the trails and take advantage of local knowledge.
Lately, it is becoming an increasingly popular option to rent a campervan to travel through the Dolomites while staying in regional campgrounds. However, camping in the wilderness, or "wild camping" as it is known in Italy is technically not allowed, though there are some exceptions in the case of emergencies.

ALL YOU NEED TO KNOW ABOUT RIFUGIOS:
For those who want to stay overnight in the mountains, there is a seemingly endless number of rifugios or mountain huts dotting the landscape, even in the unlikeliest of places like on top of mountains, cliffsides, or nestled in quaint alpine valleys. These mountain huts are part of the allure and uniqueness of hiking in the Dolomites, providing a comfortable stay for hikers and travelers right in the heart of the mountains.
Generally, rifugios will offer half-board rates, which is a dormitory or private room, often accompanied by a three-course dinner and continental breakfast for €60-70 a night on average. Booking from afar can be difficult, as the wifi in the rifugios is limited and there are sometimes language barriers. Here, arranging your trip or hiking itinerary through a group hike or tour can be very helpful.
PRO-TIP: Not all rifugios are equal, and the experience differs greatly between them all. When booking rifugios it can be useful to read reviews to get a sense of their unique experiences between them. Some rifugios are known to have spectacular views, perched on top of mountains or precariously on mountainsides. Others are known for their rich history or offer a special cuisine.
WHAT TO BRING:
The same equipment and clothing you might use for day-hiking at home will be more than acceptable for hiking in the Dolomites. As always, it is important to pack warm layers and rain gear in case of inclement weather in the mountains, especially during the shoulder seasons.
If staying overnight in rifugios, it is possible to travel very lightly for the duration of the trip with just the essentials such as clothing, personal toiletries, and a few extras like a sleeping bag liner and a small pack towel. During my trip, I saw locals traveling between rifugios with just a running vest, light jacket, and some snacks, but most chose to hike with a 25-40L pack.
Finding a guide and logistics in the dolomites
Trekking in the Italian Dolomites can be done independently or guided, and each has pros and cons. It may be helpful to book a guided trip to maximize your time and make planning and logistics straightforward. There are many services available that can arrange any number of options for you as well as make recommendations for trips based on your desires and ability level. Guides are also an invaluable resource for providing natural history and cultural interpretation of the region. This trip is a great way to explore many of the highlights of the region, with prearranged accommodation, transport, meals, and the company of a local guide.
While it is reasonably straightforward to self-organize a trip to the Dolomites, it can be difficult to arrange logistics such as transportation to and from trailheads, knowing which towns to stay in, and locations to go to. Most importantly, it may be difficult to book rifugios to stay in, as there can be significant language barriers when contacting each rifugio, and availability can be very limited during the peak season.