Day 110
The rain and wind picked up overnight pounding the shelter walls.  We were warm and dry inside and had the shelter to ourselves. We'll mostly. Another visitor was also in the shelter with us trying to stay warm, a mouse. These little creatures are notorious for chewing through gear, packs, and looking for food bags. Whenever we stay in shelters we make a peace offering of a few handfuls of toilet paper stuffed in the rafters.  This mouse gratefully accepted and throughout the night collected all the TP to make a warm nest for itself.  Our gear and food items remained untouched.
Rain lingered in the morning.  We decided to get a later start and enjoyed our coffee in the dry shelter. Luckily the rain subsided just as we needed to get going. We met some little friends on trail this morning!
We made our way through central Virginia, enjoying the switchbacks and folliage. It was nice to have the trail to ourselves. There were barely any other hikers of any kind. We kept a steady pace then saw a lone hiker heading north towards us…there was something familiar about him. It was Maui! A flip flopper we met on Day 20 just south of the Bigelow's. It was at an overlook of a beautiful lake and we had only spoken for 10 mins at most. His Maui Half Marathon shirt jogged (pun intended) our memories and we were flooded with nostalgic feelings of those early days in Maine.
Maui had started in the middle of the AT and headed north to Katahdin. Once he reached Katahdin he would flip back down to Springer Mountain (the beginning of the AT) and finish where he started in the middle of the trail. Most people who do this choose Harpers Ferry or somewhere in northern Virginia. Maui remembered us and took our photo, he had been trying to keep track of which SOBOs he met when he was heading north to Katahdin and met again on trail heading north from Springer. He said it best when we met in Maine…if things are going well for both of us we will see each other again. We were happy to find things certainly were going well for us and for Maui. We exchanged some information on the upcoming trail for us and about Stanimals hostel for him and then we parted ways. Just like that the AT provides moments that make you smile and leave you amazed at this small world.
Aside from running in to long lost flip floppers, there is not much to report on trail.  We continue to cross the Blue Ridge Parkway and enjoy views along the ridgelines.  Our day becomes fairly routine but enjoyable to be out in nature.  Get up, eat, walk, eat, see something beautiful, walk, set up camp, eat, sleep and repeat.  We focus our thoughts on the trail and listen to the sounds of the forest, water sloshing in our bottles, gear shifting into place, and our feet crunching leaves all while taking in the surroundings.  We love being in nature and the freedom it provides.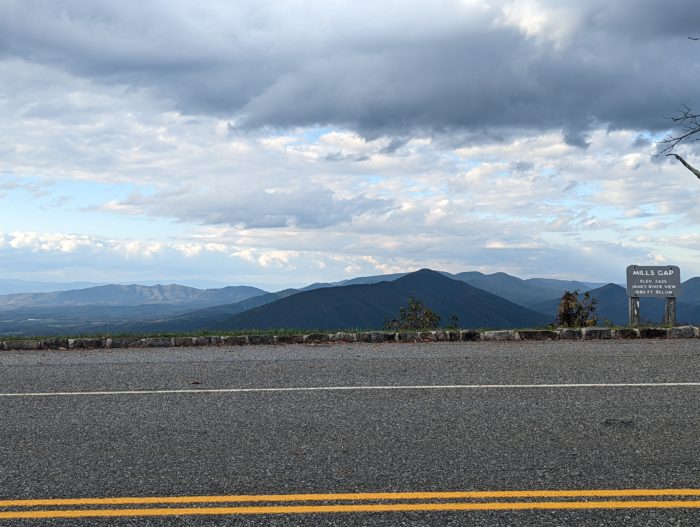 We rolled into camp a little before 6PM and decided to stay in the shelter.  We gathered a lot of wood, still wet from the rain but were still able to get a fire going.
Day 111
Our second night in the shelter and all too ourselves again! Today we are again at an awkward milage for town.  We either hike 19 miles and arrive late in the next town were we are planning to resupply or somehow break 19 miles into two days. We opted for an 18ish mile day today and a mile hike into town the next day so we have a full 24 hours in town. It's very similar to what we had chosen to do for Stanimals part 2. Since we had a full day ahead of us we got up and out early.
We had another day of amazing weather and beautiful vistas. We walked along and across the Blue Ridge Parkway again today. This time of year in Virginia really is the best and we cannot say enough great things. While the foliage isn't as bright as we are used to in New England, the muted colors create a really beautiful pastel effect that is so enjoyable to walk through.
Today, we reached an interesting milestone: the halfway point of Virginia. Virginia is by far the biggest state on the AT and to put it in perspective…the halfway point of the trail in Virginia is longer than the entire length of trail in Maine (the second biggest state on the AT). At this point many hikers may experience what is known as the "Virginia Blues" and this is where the mind is tested. Often hikers face monotonous days with very few milestones, they grow tired of being in the same state, hiking through the "green tunnel".  The green tunnel is just hiking under the canopy of the forest, rhododendron thickets, and popping up above treeline every now and then for a view. It can also be a very lonely stretch of trail if hikers aren't with a tramily or a partner. Eric said in 2011 he was completely alone in Virginia for 2 weeks after leaving trail days in Damascus. However the Virginia blues aren't effecting us, we're excited to be here.  There are still many great things ahead and we are loving every minute. It's definitely a huge advantage hiking with a partner, it makes the psychological challenges much easier to cope with. We just cannot believe we are halfway through Virginia, time is flying!
We stopped for lunch at one of the shelters on trail. Just as we sat down at the picnic table about to tuck in Eric had an oh sh*t moment. Where is the stuff sack with all our spare batteries and charging cables?!?!? We immediately tossed everything out of our bags and it wasn't there. Please don't let them be at the shelter we had left that morning 7 miles back. We rechecked our bags again and then Eric remembered he had taken them out about a mile away when he refilled his water bottle at a spring on trail. He sprinted back to the spring and found them where he left them. Phew…that was an unpleasant lunchtime scare and an additional 1.5 mile trail run for Eric.  His legs felt a little jellyish for the rest of the day after that run.
We had another scare just after lunch where Hayley nearly stepped on a massive 3 foot black snake. We were on a roll moving quickly down some switchbacks with the trail covered in leaves and somehow she just didn't notice the snake who had coiled up in a ball in the middle of the trail. Eric starts shouting and Hayley somehow managed to step/spring over the snake (think cat scared spring reaction). The snake immediately slithered off the trail. What a day…
We finished up our day with the 2/3 mile marker. We only have 1/3 of trail left! Time is just flying! We camped outside of town, near the highway but with nice views of the farm below. We watched the sunset and enjoyed some nice colors peaking over the mountain ridge. We are very excited to be in town tomorrow. We will have been to 3 towns in the last 9 days. We remember back in Maine it took almost 9 days to get to 1 town. We are liking this southern hiking.
Affiliate Disclosure
This website contains affiliate links, which means The Trek may receive a percentage of any product or service you purchase using the links in the articles or advertisements. The buyer pays the same price as they would otherwise, and your purchase helps to support The Trek's ongoing goal to serve you quality backpacking advice and information. Thanks for your support!
To learn more, please visit the About This Site page.