Day 15
Another day spent mostly in nice forest.
It's flat and easy, the sun is shining, it's one of those cruise control days.
Which I enjoy.
I have to say though, it is the 16th of October and it is really weird how warm it is.
No beautiful villages today but I go through Labastide-Murat around lunchtime and am hoping to get my hands on some famous Rocamadour goat cheese.
I find some, but there's no more bread.
Which is exactly what happened yesterday when I was in Rocamadour.
Well, hopefully tomorrow when I'm back in Cahors I should be able to find both.
In the evening I reconnecting with a section I already hiked when starting the Célé alternate five days ago.
But after 5km or so I'll be doing an alternate within the alternate, so I won't be re-hiking too many kilometers.
---
Day 16
It's a really nice walk along the Lot river before getting back to Cahors.
Finally, I'm back on track and on the GR 65, after hiking three times the portion between Figeac and Cahors!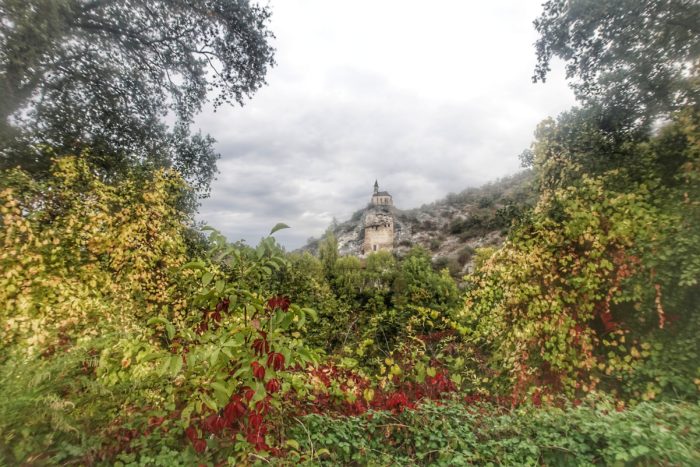 As I leave Cahors, I spot a very familiar sticker on a pole.
It's the one used as a marker on the Shikoku pilgrimage of the 88 temples, in Japan.
Not sure how that sticker ended up here but that sure brings back some memories from hiking that trail back in 2015.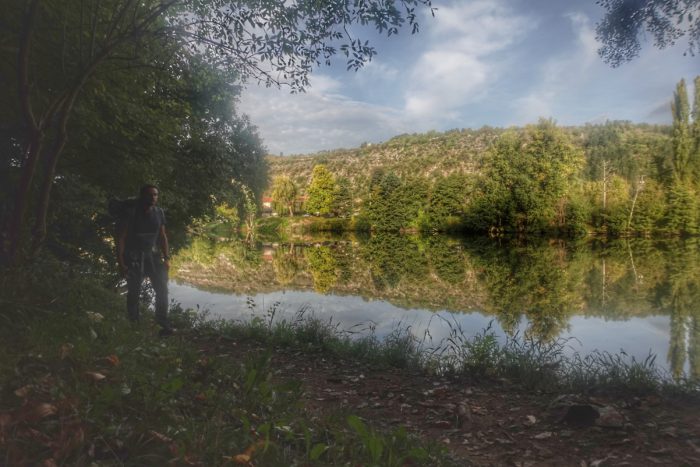 There are some pretty dark clouds and of course, it starts raining when I stop for lunch. And stops when I finnish.
It clears up and gets actually really hot.
Which again, is insane on the 17th of October.
I realise that yesterday was my first day not seeing a single pilgrim and I haven't seen one either today.
Until I see one in the afternoon entering a grocery shop with the biggest backpack I've ever seen.
Not judging, we've all been there.
But man, this is big.
As I am looking around to spot accommodation places for the data on the hiking app I'm working on, a lady asks me if I'm lost.
I tell her what I'm doing and right away she agressively says that people shouldn't spend so much time on their phones and talk to each other.
I tell her that while this is a valid point, I'm not sure how it's relevant regarding a navigation app and what I'm currently doing.
She keeps on bitching, so I bid her good day, put my headphones on and keep hiking.
Life's too short to talk with aggressive idiots.
As I'm ready to leave Lascabane, I see that a gîte is open and ask if they have a bed left. They do.
It's only four pilgrims in the gîte.
And out of four, two are Swiss.
Swiss sure love to hike.
I remember how amazed I was on the PCT that I would meet many more Swiss hikers that from any other country (apart from the US obviously)
It's nice to have company for the evening.
---
Day 17
What a day.
It feels like a proper summer day.
I think it's getting warmer and warmer every day, this is so weird…
I arrive in a town famous in France… for its name.
It's called Montcuq, which translates as Myass.
Every joke possible has been made about this place and it is indeed hard to have a sentence that doesn't sound weird if it has the name of the town in it.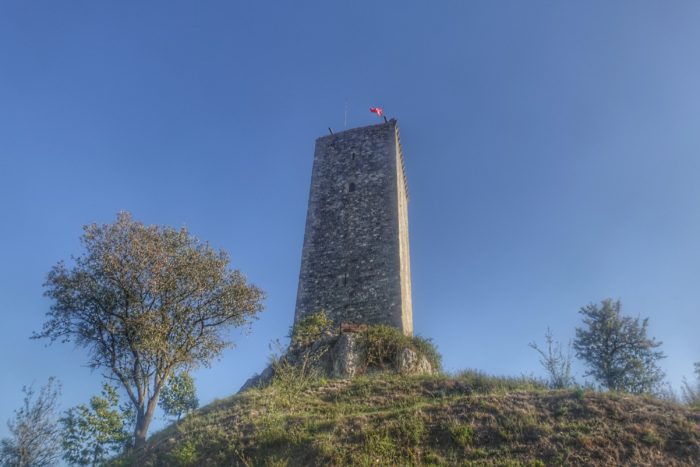 Montcuq is actually really nice. You could say that Myass is definitely not a crap hole.
Sorry about that… Had to do one.
But it is actually a nice place.
The lady at the tourist office is super chatty and I stay there for quite a while.
I try to go to one tourist office a day so I can have my pilgrim passport stamped.
Then I meet quite a lot of pilgrims.
I finally leave town planning to have lunch at the next one, Lauzerte.
On the way, a nice farmer gives me small capsicums, perfect for my sandwich.
Then I meet a Kiwi pilgrim that I mistake for an Aussie from the accent.
It's a big no-no and I should know better as I lived in both countries.
We talk about trails in New Zealand and Australia, and soon realise that we lived in the same place in Australia.
And of all places, Katerine is a small, random, in the middle of nowhere town.
We're so amazed at that coincidence that we miss a marker and walk a good 20 minutes in the wrong direction.
I finally arrive in Lauzerte, which is another stunning village, for a late lunch.
In town I meet more pilgrims and chatty people.
Everybody seems to be lovely and in a very chatty mood today, maybe it's the sun.
It's great and it's definity the most social day I had since starting.
I see more pilgrims after that, including one going to Santiago by bike.
After not seeing a single pilgrim two days ago, today is the day I've seen the most, which is surprising because I thought a lot of people stopped in Conques.
---
Day 18
As I am walking on the side of a small road in a forest, I see someone walking his dog, coming my direction.
I can see that something is off, but I can't put my finger on it from the distance.
As we come closer, I see that he has his hoodie on and is wearing a kind of paper plate as a mask.
He's acting a bit strange too.
I have my hiking sticks ready to hit him in the face if need be, but he just keep walking, with some weird body gestures.
I'm now 50 meters away from him and I can hear the weirdest maniacal laughter possible.
Imagine the worst actor in a Z movie trying to laugh like a psycho.
That's it.
There's no point speculating on who this guy is and what the heck he's doing, but after an hour or so, I regretted not reporting him to the police.
I can't even imagine what a 12 year old kid would think bumping into this guy in the woods.
And just to be clear, that was definitely not a Halloween costume.
Anyway, that was diferent…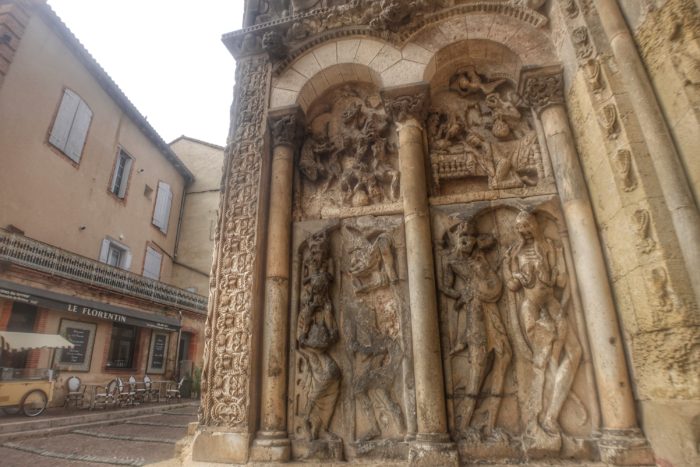 The rest of the day is just me trying to get over that weirdo.
Oh and the Cathedral in Moissac is stunning.
And the trail is back at being more quiet.
Only saw one lost pilgrim from Quebec today.
---
Day 19
I start the day with a visit of the beautiful village of Auvillar.
Some villages in France get a label " One of the most beautiful villages in France", and it's one of them.
Well, it kinda feels like you're going through one of those a day, which is really cool.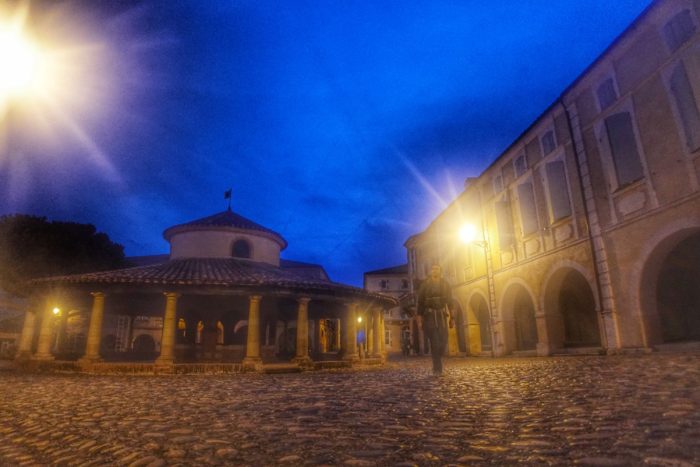 The rest of the day is through plowed fields, which might sound like the worst landscape to be hiking through.
But somehow, with the beautiful autumn light, there's has a kind of beauty to it.
I guess I'm just easily pleased on trail.
As long as I don't bump into a boogeyman out of a John Carpenter movie, I'm happy.
I decide to stay in a gîte in Lectoure.
I join Louis, another pilgrim for dinner in town.
Some restaurants have a pilgrim menu that is copious and cheap, and I haven't tried that yet.
It is indeed a really good deal.
Louis started the Camino on day 1 of his retirement, which is a great way to start a new life with a good start!
Then later on I meet my first Camino addict, an Austrian guy who's done many different Camino ways, and also hiked the Via Francigena, another pilgrimage going from Canterbury in England, to Rome (and further if you want)
This one I'd love to do one day.
It looks like a great way to explore Italy.
---
Day 20
A bit of a boring day today.
A few showers, no pilgrims and it's mostly road walking.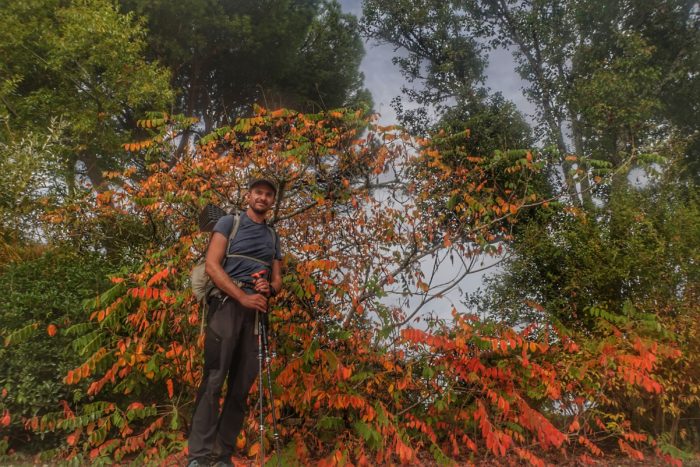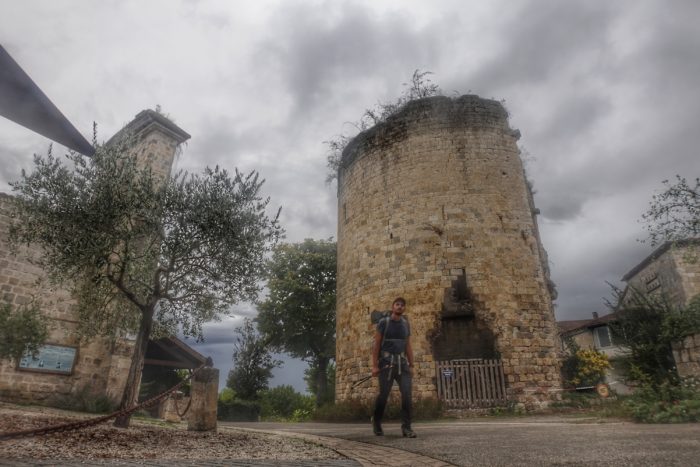 I make it to Condom in the afternoon.
It looks like the Camino has an endless list of towns with funny names.
It doesn't stop here.
When leaving town, you go across the Baise river.
Which translates as… well, Google translate it.
Condom has no water spot or toilet, and no grocery shop in town.
I have to make a big detour just to buy a water bottle for the evening.
---
Day 21
I start the day with a wee detour to visit Larressingle, the smalest fortified village in France.
It is indeed very small, but very pretty.
And it's pretty cool to be there at dawn.
The trail is closed for a good section, making for a long and boring detour before reaching Eauze.
It's so freaking hot that I go on an ice-cream eating spree.
Which is my go-to treat in town, but I wouldn't have thought I'd still be eating ice-cream on the 22d of October.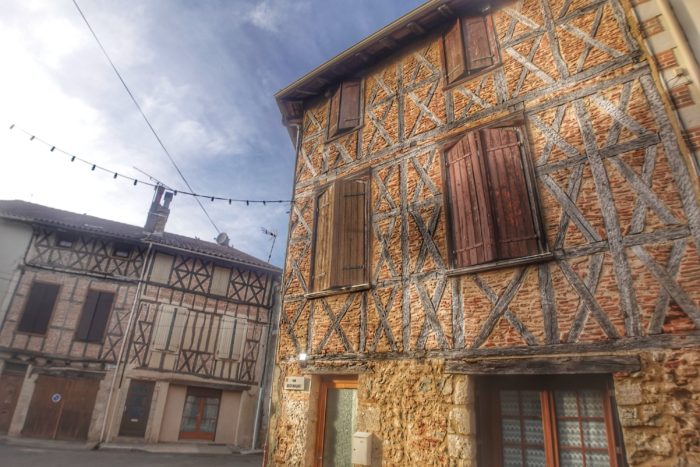 I keep hiking till dusk and I'm pretty much ready to stop and pitch the tent, when I see a sign about a pilgrim stop just five minutes away.
I'm expecting some picnic tables with room for tents, but it's actually a donativo, a gîte where you're free to pay what you want.
The couple of hosts and their kids are already eating, with a neighbour and a pilgrim.
I have to say, I wasn't expecting that and am not quite sure what to do, but they tell me I can join them for dinner so that's what I do, then tell them why I was a bit surprised not to just find a picnic table.
They think it's funny I had no clue this was a gîte and realise that the sign might be confusing.