Mount Rainier National Park!
We're off into our next National Park! It's a little late start out of White Pass, but the trail is so well graded that the miles are easy. I love entering these sections because of how well maintained everything is. We even pass by a few trail crews as we head towards Rainier. It's because of these hardworking individuals that this trail is even possible. A few weekend backpackers are out and about, you can tell we're in a park. It's going to be a fun section.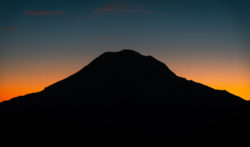 It's a long day and a few switch backs are left to get through before making camp. The entrance of the park reveals itself, and behind us Goat Rocks is visible. The sun is setting, not enough miles have been completed today. I turn the corner and Mount Rainier is right there in front of me, it's majestic. I'm in awe and rather than hiking on I decide to set up my tent right there at the trail junction that enters you further into the park. It's a tight little makeshift tent site, but the views are incredible, with Rainier, Adams, and St. Helens all visible.
I awake late. A large group of weekend hikers had stopped right there in front of my tent. The plan of getting up early and pushing big miles was not successful, but it's okay, the trail always works in mysterious ways, there's always a reason for the late starts. Quickly my stuff is packed, off I rush into the National Park. Rainier on my left, the views get better and better. We're so close you can see the detail of the giant glaciers.
It's Chinook Pass day, and on a Summers day, it's going to be pack full of visitors. With such a late start again, I must focus and get in as many miles as possible. On the way down, I reunite with an old friend, YO-YO! A SOBO section hiker who I had previously met in Sisters. We chit-chat for a bit, as much as I am in a bit of rush today to get in some extra miles, we take a moment to catch up. I'm off, a long climb and descent into Chinook Pass awaits.
All around me day hikers start to crowd the trail. We're definitely in a National Park. As I make my way down, I watch one day hiker throw a can into a bush. With no hesitation I stop him, he didn't realize I was there. I immediately scold him and tell him to go pick it up. He's a bit aggressive about it. Practicing Leave No Trace is so important, and especially in a National Park visited by millions each year it's important to keep the trails clean. We were less than half a mile from the nearest trash can, which really just pissed me off even more. He puts the can in his backpack and I hike down to Chinook Pass. My time in Rainier National Park was over.
Snoqualmie Pass, Family Reunion
I start my climb out of Chinook Pass. The switch backs up aren't too bad, and the farther up I go, the more distance I make between day hikers and myself. This section of trail today was crowded. I pass the last of the park visitors, it's just the trail and I now. At the top of the climb, another incredible view. It's endless out here. The other side of Rainier is visible and with only 30 minutes from sunset I decide to stop and enjoy it. There are still many miles to do today, but this spot is too perfect and while doing big miles is important, it's more important to enjoy every second of trail.
The sun sets, the break was worth it, as it always is. With more miles to do, a long night of hiking is next. The moon is bright, no headlamp is needed. It's more burn area and with a long water carry I stop at the first possible tent site, its full. I keep going forward, the trail is not ideal to sleep on, so more miles are necessary. I don't mind night hiking. Not many hikers push into the night as much and the trail is quiet, the air is warm. I reach a good stopping point, it's nearly midnight, I exceeded my miles planned, I'm two days away from Snoqualmie.

Finally an early morning start. A little rain is in the forecast in the next 48 hours. I have to push far today. There's a rather long climb today, the plan is to go as far as I can so that so my day into Snoqualmie isn't too difficult. There are so many berries on the trail, it's hard to focus. Every bush I can, I forage a nice little snack. More SOBO hikers are now on the trail. Even in a bit of a rush, there is still time to enjoy some chats. There are still many miles to go today, I pass some incredible potential tent sites, but it's too early. The views of Rainier are like no other. It's so hard to not stop for the night early, but I have to make it to Snoqualmie in the next 24 hours.
With one more climb, the exhaustion gets to me, I have no other choice but to stop before my planned tent site. In the covered forest now, I reach a small little spot to cowboy camp. It's pitch black, it'll do for one night. Small drips of rain wake me up early. Thankfully the cover of the forest around me make it so I stay dry. I realized if I had kept on going the night before I would have camped on an exposed hill. I made the right choice to stop where I did.
With 27 miles to do today to reach Snoqualmie, there's no room for error today. A little bit of rain helps make it so I don't stop. The trail is pretty well graded, and after the longest day, I reach the final stretch before reaching the highway. The stormy sky lights up above me as the sun starts to set. The sound of cars below push me faster. I'm running late, as I have a special reunion down at the trail head. Finally 10:30pm, my favorite trail angels who I hadn't seen since Truckee, my parents were here. I can finally rest.
A Zero, Sleeping on a Cliff, and Fighter Jets
Snoqualmie Pass has been on my mind since I started the trail. I have family in Washington, so the support they are able to provide is amazing. I am home now, a much needed reunion and zero is taken. This is the laziest zero on trail so far. With the end near, I start to plan ahead. Trail Days is only a week away. At this point there's no way of finishing before Trail Days unless I push massive miles every day. Is it possible? Yes. But enjoying every minute of the trail is more important, rushing to the end would not be as satisfying.
Rather than stress the end, I make a plan to get to Steven's Pass, the second to last highway on the trail, and then return back here with my family for a week off before then heading down to Cascade Locks, Oregon for Trail Days. Trail Days is such a fun event to go to especially as a hiker. I would much rather take the time to reunite with old friends in my favorite trail town, in doing so extending my time on trail a bit longer. The plan is set.
I return to trail refreshed. There are 75 miles between Snoqualmie Pass and Steven's Pass. There's no rush whatsoever, as once I get to Steven's Pass a whole week off is planned. With 4 days planned I can take as much time as I want. It's actually harder than you might expect, I generally like to walk until past sunset, I rarely end my day before 9pm. Slowing your pace down is a challenge, but I am excited for the amazing views I get to enjoy.
The trail consistently ascends and descends, the Cascades are a true roller coaster, the incredible scenery makes it all worth it. As I make my way across a ridge, the sun sets and the tent sites become less available. Down one switchback though, a small flat surface perfect for one person to cowboy camp, right on the edge of a cliff. It's pitch black all around me. There is enough room for just my sleeping pad. It'll do for the night.
I awake to one of the most beautiful views of Mt. Rainier. Also on a side of a cliff, where I can now see a sheer drop on my right. This is by far one of the best spots I have camped at on trail. The vast landscape is like a painting. All of a sudden I hear a rumble and across the sky, fighter jets fly through. They came in so close I could see the pilots. This is a common occurrence out here, as these mountains are a training ground for the Air Force. All packed up now, I'm off for a casual hike in the Cascades.
Friendship in the Cascades
It's time to cross over more rocky ridges. The higher up the trail ascends, the more incredible the views. Mt. Rainier in far distance now. I always find it crazy to see how far we have gone. Seeing these vast mountains up close one day, and so far away the next really puts the whole trail into perspective. The trail starts to flatten out, and enters into small forested path. I'm in no rush these next few days, so I take a nice lunch rest at the top of the climb, and of course with an incredible view to enjoy.
As I take a nice nap a few hikers pass me. Two of whom I have not seen since California, it's Cucumber and Bloom! I genuinely thought they were ahead of me. It's a nice surprise and after a quick reunion we're all off. It's a big descent now. What goes up, must always come down. The switch backs down are always more difficult for me than going up. We cross some beautiful waterfalls and more weekend backpackers.
I reach a junction and take a small break. The next climb is going to be intense. A new face approaches. A young hiker named Courier stops next to me. This junction gives you two options. Stay on the PCT and go up the climb, or take the shortcut around. He had hiked 60 miles the day before and wasn't sure if he could even do 10 today. His friends were ahead of him, and he planned on finishing the trail before Trail Days in order to reunite with them there. We talked about the shortcut, if it was worth it or not. In tears, contemplating whether or not he could even finish in time, I consoled him. He chose to stay on the PCT and continued. I stayed at the junction for bit longer.
It was finally time to start the climb. Surprised, I see Courier sitting on a log. He was waiting for me. Together we pushed the climb. Doing big climbs, constant switchbacks with another person makes them so much easier and enjoyable. In that moment, we both needed each other. We were strangers but no one is really a stranger on trail. The constant switch backs are almost over, I didn't think I had any more energy to put out, but the motivation we had made it possible.
A SOBO hiker appears, it's none other than Red Riding Hood! A friend of Joshua Perry, who was days from completing the FKT! She herself was after the FKT for south bounding Washington. We all a took a mini break to talk about the trail experience. She was on a mission, and so were we. Off we went in our separate directions. Finally we reached the top of the climb. An incredible sunset welcomed us to camp. Absolutely worth the push!
Steven's Pass, Pressing Pause
I awake to Courier packing up. He again waited for me. We were both on two different missions, I was going to take my time the next two days while he had a big push ahead of him. So we parted ways, but before saying our goodbyes, he thanked me. I'm an optimist, and I like to spread as much positivity on trail. This hike is a difficult mental battle. We should always be supportive of each other, and give each other strength when we are in need of it. Neither of us were motivated to do the climb the night before, but together we were able to push it.
The trail starts to flatten out a bit, the biggest climbs of the section were over. With no rush, I cruised. Again to my surprise I reunite with another SOBO hiker. This time it's Star Lord, who had already finished, but was now off to SOBO Washington. A lot of my friends have completed the trail this week. The motivation to reach the end really pushes me forward. It's a beautiful day, and in the distance the Northern Cascades are a beautiful site.
A long day of hiking proceeds. While I have been on a more relaxed schedule the last few days, I'm still trying to push as many miles as I can so that my final day into Steven's Pass is a breeze. I reach one of the most difficult and dangerous water crossings in Washington. It's a cascading river. I had been yo-yoing with Ninja all day and I arrive at the crossing a little late in the day. I wait for him, there's no way I am letting myself or anyone else cross this alone. This waterfall had almost taken a friends life weeks prior and I wanted to be cautious.
Obviously the later you cross, the worse it's going to be. I always recommend doing any water crossings earlier in the day. The optimal path to cross was covered in water. We took time to look at all the options. Ninja went for it. He slipped but caught himself. I was definitely not going to go that way, the risk was too high, so I descended down stream where a log path was available. It was a little extra work but it felt safer in the moment. Finally camp is reached. I'm exhausted, that crossing definitely was a lot more work than it needed to be.
An early morning start is a must in order to reach Steven's Pass at an optimal time. I quickly get moving and with no stopping I am able to get through this final section with little effort. I reach the ski lifts at Steven's Pass. I have skied these back bowls before and being here again is exciting. Up and over, I can see the lodge. The switch backs down go by quick. I reunite with my family who are waiting for me. I say my goodbyes to my friends, I won't be finishing with the Oregon/Washington tramily. It's time for a week off and a small roadtrip back to Cascade Locks, Oregon!