Estimated reading time: 8 minutes
The list of possible hiking gift ideas you could get for your loved one or a friend who's a hiking enthusiast is almost endless. That isn't the issue. The problem is almost always how different hikers are from one another.
What one hiker might consider a "must-have" in their hiking gear repertoire could be something expendable to another. For example, some hikers today love wearing a hiking hoodie.
That wasn't the case in the past, nor is it with every hiker. Many hikers would rather stick to a t-shirt when they are out day hiking.
However, money is the biggest barrier to accumulating ideal hiking gear. Whenever we start a new hobby requiring the purchase of gear, clothing, or equipment, we often don't have the budget for everything we need.
As such, you will find that most hikers create a list of what they prioritize most.
They might get a nice pair of hiking boots and decide that the leggings or hiking pants don't merit as much spending.
They could buy a high-quality day pack and skimp on the hydration pack.
Maybe they have an awesome pair of binoculars for birdwatching but no first aid kit.
The list could go on.
The trick is to figure out what kind of hiker you are dealing with and then find the best possible hiking gift ideas in that person's particular category. You could even check out what they already have and maybe buy them an upgrade on their favorite hiking gear.
Some of this research might require taking a hiking trip with them if you are that committed. If not, you could ask them to send you a wish list of what they might want.
With that in mind, here are some of the best gift ideas for hikers to get you warmed up.
---
Best Hiking Gift Ideas for Hikers
Gift Cards
There's a reason gift cards are so popular—they let the person being gifted choose their own best hiking gift. Getting your hiker friend an REI gift card or one from their favorite outdoor gear store is not only convenient for you, but it's also thoughtful.
With this gift idea, you are essentially letting them get what they think they need the most for their next hiking trip instead of getting them something they might not think is necessary.
Hiking Socks
Hiking socks are always a safe gift idea for a hiker, second only to gift cards. Your hiking buddy could never have too many hiking socks, so you don't have to worry about giving them something they won't use. The trick is finding a good, reliable pair of wool hiking socks. These Darn Tough Hiking Socks are always a great idea.
They are high-quality socks and all-weather, meaning that your favorite hiker can use them at any time of year. They feature wicking fibers that keep their feet dry as they trudge along, and they are made out of merino wool, which resists odors. Basically, they don't have to worry about their hiking boots or shoes on their outdoor adventure.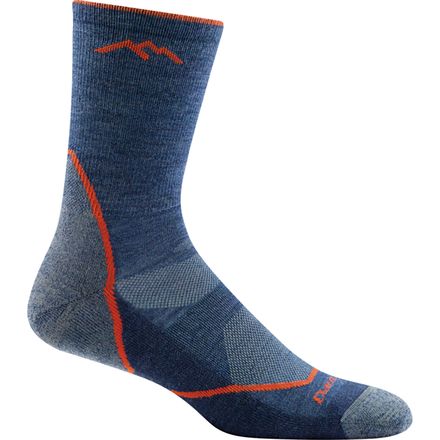 Hiking First Aid Kit
A hiking first aid kid is another dependable option and the perfect gift idea for any hiker and outdoor lover. Whether or not the avid hiker in your life already has a hiking first aid kit doesn't matter because those medical supplies aren't going to last forever. The more they take that kit to the hiking trail, the more likely they will deplete the medical supplies therein.
As such, getting a new hiking first aid kit is one of the perfect gift ideas. They can put it aside for future use or use those supplies to replenish their old kit if they are attached to the casing. Either way, this is by far one of the most practical hiking gifts you can get them.
Trekking Pole
We are now veering away from safe territory and venturing into more adventurous lands. While a hiking or trekking pole is often a great gift for avid hikers, too much might go wrong with this option.
For starters, not every hiker is fond of using a trekking pole. However, if you have had a chance to observe your outdoorsy friend and realize that they use hiking poles from time to time, this gift might work.
Secondly, hiking poles come with an added caveat that requires your friend to have a hiking backpack with loops or straps to which these trekking poles can be attached when hiking. If they don't have such a backpack, that's one more thing they would need to get before they can comfortably use your thoughtful gift.
All those issues aside, if you are going to get trekking poles for the hiking lovers in your life, then you might as well go all out and get them high-quality poles. Something like these TrailBuddy Lightweight Aluminum Trekking Poles is an excellent choice.
Not only are they made out of lightweight material, making them easy to use on the trail, but they are also built to last and collapsible, making them ideal for almost every hiking experience.
Portable Power Bank
This is yet another dependable and practical gift that can be repurposed into their day-to-day lives. A reliable power bank is an excellent gift for anyone, not just for an outdoor lover.
We rely more and more on our handheld devices daily, whether our cell phones, GPS, DSLR cameras, or headlamps. All these things need power, and they often run out the more we use them.
A high-powered power bank can be a lifesaver on a backpacking trip or day hike where you might not have a readily available power supply to plug in your devices.
Local Trail Guide Books
Almost every hiker starts exploring their local hiking trail before venturing towards more adventurous options such as the Appalachian Trail. A great gift for beginners would be to get them a copy of all the local trail guide books. The information contained therein is practical and could also help increase their interest in their newly chosen hobby.
While digital apps are available, traditional guidebooks tend to contain more information on the local flora and fauna than these apps and digital options do. This is a great way for your hiking enthusiast buddy to discover new trails within their surroundings. What's more, they learn a bit more about their natural environment and what they can do to help preserve it even as they enjoy their hikes.
Zippo Matte Pocket Lighters
This is one of the most best practical hiking gifts on this list. These Zippo Matte Pocket Lighters are ideal for every kind of hiker, whether they enjoy summer or winter hiking or even if they only do day hikes.
You never know what could happen on the hiking trail. If you have to spend the night out there, then you'll need a way to start a fire to keep you warm, boil water, and maybe even cook something. These Zippo Matte Pocket Lighters are highly portable and come with a flashlight, fire-starting tinder, and a high-temperature lighter. All in all, these make starting a fire easy.
SOL Thermal Bivy
Most day hikers don't like carrying a sleeping bag in the name of "being prepared for any eventuality." It's often bulky and inconvenient.
Unfortunately, sometimes things happen, and your hiking friend might be forced to spend the night in the wild. They'll have a very difficult time if they don't have any shelter or fire.
With this SOL Thermal Bivy, you will be giving them a lightweight alternative to a sleeping bag to keep them warm through the night.
Black Diamond Carabiners
Although climbers often use carabiners, hikers can use them by securing most of their outdoor gear when hiking or camping. These Black Diamond Carabiners are quite dependable and affordable.
Bear Spray
It's definitely not the most exciting gift, but it's necessary for hikers who like hiking in bear country. Bear Spray is not only practical but also easy to use. When used correctly, your hiking buddy can help you avoid an encounter with a bear while on the trail.
Conclusion
This list can be tailored specifically to your hiker friend and what they might like or need. However, if you don't have that information, any of these hiking gift ideas can come in handy.
Most are things that almost every hiker needs to have at some point. So it's a safe bet that they'll appreciate the thoughtfulness on your part. Furthermore, these are gifts that they can actually use.
Last update on 2022-11-20 / Affiliate links / Images from Amazon Product Advertising API