Day 50
I leave the very quiet albergue (only 3 of us) early and don't see a lot of pilgrims during the day, if not for a stop in Samos, in a bar where pilgrims take a break from the constant rain.
It's still really pretty though, cool villages and beautiful forests.
I bump into Charlotte and for five minutes I think she's French but she's actually Finnish.
And speaks six languages.
I just hate those people who effortlessly do that when you're struggling to learn one…
But she's cool and we'll meet again.
I finally make it to Sarria, which is an important place on the Camino as it's the place where a lot of people who just want to hike the last 100km start.
So I imagine the trail will be somehow way busier from here.
Later on I meet with some friends in a bar and the Football World Cup is playing its first game.
It's Ecuador/Quatar, Ecuador wins, which makes a Ecuadorian pilgrim very happy.
I personally don't know the first thing about soccer and couldn't care less if France wins or loses.
So it's pretty boring for me for a while, and I don't like at all having a screen on when in a bar.
But when the game is over, random pilgrims join in, including Charlotte and an American guy doing his fourth Camino, but that has to finnish tomorrow for flight logistics.
The evening is eventually a lot of fun.
I'm very aware of the reputation of the Camino for "hardcore hikers" (meaning too crowded, not wild enough, too easy, you name it…), but really there's not another trail in the world where you can have such a blast with an international crowd.
The PCT and the Te Araroa would probably be the other trails with an international crowd, but it doesn't even come close to the Camino experience.
---
Day 51
There's some serious heavy rain and strong winds today.
I feel like my hiking season has come full circle and that I'm back in Scotland.
It doesn't help that I have the worst hangover.
Leaving town I consider getting breakfast in a café, but if I stop I'll never leave, so I keep walking.
I have a snack break in a pilgrim shelter where I meet a French guy who also started in Le Puy-en-Velay a few days before me.
Today we pass the marker indicating 100km left to Santiago, which is cool, but Santiago isn't the actual end of the Camino, so there's still 120km to go after that.
I arrive in Portomarín just before 2pm.
Karen and Joe, that I've seen pretty much every day for while now, are here too.
We go out for dinner and are joined later by other pilgrims, but everybody is tired from last evening, so it's an early one.
---
Day 52
It rains all morning but nothing as bad as yesterday.
The trail is nothing special today, so I just push until Palas de Rei, where I stop at lunchtime and find an albergue that's not great.
Some albergues can really be worse that others.
This one has nothing in its kitchen, no cutlery, plates, glasses, pots, nothing.
I don't even understand why there's a kitchen.
And no internet or signal, which is bad for me as I need to work on my phone every day.
And I also want to book a flight back since I now know when I'll finish.
I have 2 days to Santiago and 4 more to Muxía.
I go to a bar to do my work and meet Jesus, a French guy that owns a gîte for pilgrims on the French side, near Le Puy-en-Velay.
He's a really cool guy and it's nice to hear about what it's like to own a gîte.
After that I meet everybody for a beer.
---
Day 53
We're treated to some unexpected good weather today.
It feels great after having so many crappy days.
I usually start to walk early, but considering the weather hasn't been great for sunrises and that I'm now walking short days, I leave at the latest time possible, 8am (it's usually when you're kicked off albergues)
And it's definitely different.
I usually don't see a lot of pilgrims until lunchtime, but it's very busy all day.
I walk with Jesus for a while ( the guy I met yesterday, not the other one) and make it to Arzúa where I stop for the day.
At the albergue I meet a French lady that's shocked at the number of pilgrims.
She's arriving from another Camino, the Primitivo.
It's the first one and also supposed to be the most beautiful.
But it's much quieter than the Francés, or even the Norte.
Especially in late November.
---
I go out for dinner with the 4 Italians and an Aussie joins us.
Speaking of Australia, there's been a lot of gumtrees recently on trail and surely made me reminisce of my time living there.
I even caught myself looking up for koalas and birds, which was what I was doing when hiking there.
But no koala spotting in Spain. Just the occasional drop bear.
---
Day 54
The trail is now definitely packed, with a lot of Caminos joining here.
I stop with the Italians for lunch, and even though it was nice, I'm not sure it was a great idea to get this much wine… and shots, considering I have not only to walk but also work on the app and collect data.
I'm definitely struggling when comes the first city and I need to walk around to collect the data.
I'm the last one arriving at the albergue, in the rain.
Most people in our group are here tonight, which is nice, because it's the last night on trail for some.
Santiago is only 10km away.
It's only 3 of us who keep going to Finisterre and Muxía.
The Italians fight over who's making carbonara, and we all have a nice dinner together.
---
Day 55
A short and easy walk for the 10km left to the Cathedral of Santiago de Compostela.
And quite magically, it's a beautiful sunny day, which hasn't happened in a while.
That definitely makes for a special day.
I make it to the cathedral, where I see a lot of familiar faces.
It's also time to say goodbye to some.
I get my Compostela, a certificate you get after completing your Camino, then realise I have only 20mn before noon and the beginning of the pilgrim mass.
And you can't get in with a backpack.
I go to the closest albergue, drop my backpack and go to the Cathedral just in time.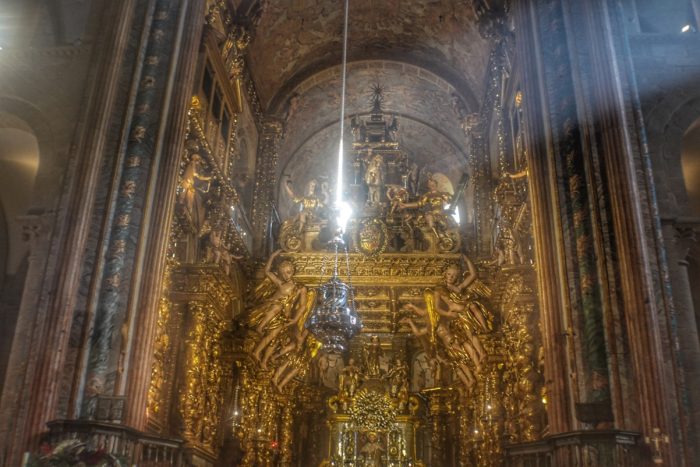 It's a great moment and we're even lucky enough to get the traditional Botafumeiro, a large incense thingie swinging at the end of a rope.
What I didn't know is that it's doesn't happen all the time.
Someone tells me they only do it when someone pays 450€ (!!!!), which usually happens when big buses come and share the fee.
After that I meet everyone for lunch and it's again a time for goodbyes.
I spend the afternoon doing my app thing, before meeting everyone for a beer.
It's a bit weird to have 3 finishing points on this hike.
For me it definitely doesn't feel like the end until I actually stop walking, which is still 4-5 days away.