AT2023 Thru Hike Gear Breakdown: Spared No Expense
After a couple of months, multiple different purchases, and several "back to the drawing boards"; all my gear has arrived! The majority I've had for a couple months, but was waiting on a few custom ordered items to post the full breakdown. At the bottom of the post there is my gear list for The Trek if interested in pricing, where purchased, or weight. Lets gear up!
Murphy's Laws of Combat #6: Never Forget Your Equipment Was Built by the Lowest Bidder
This law holds true in so many aspects when utilizing mass produced gear procured through the Defense Logistics Agency. This is the first time I will not have to worry about this law. The gear I purchased may run on the expensive side (spared no expense!). I wanted gear that was top rated and had a reputation of holding up over long periods of hiking. Please let me know your thoughts if you have any suggestions! And. Here. We. Go.
Pack and Trekking Poles
As many of you know, I am using an Osprey Exos 58L. It's roomy and comfy along with a lifetime guarantee. The only complaint I did have with this pack is the Nalgene bottle drama I experienced. Happy to say I have found an innovative solution!! More on that in a minute. I also have the Osprey pack cover for heavy rainy days. Trekking poles are carbon fiber from Zpacks. Super lightweight and stiff as a board. They hold their own on multiple surfaces. I did have a few hikes adjusting the length to figure out the perfect height for me. The foam sit-pad at the bottom of the pic is from Zpacks as well, yet I decided today not to bring it along.
Tent, Pad, Quilt
For the tent I went with the Nemo Hornet 2P. The weight difference between the 2P and 1P is miniscule and I opted for some extra room (green and black bag, center of below pic; stakes are perpendicular above bag). For the pad I went with a Nemo Tensor Insulated Large Wide. I'm 5'10 and typically a side sleeper so I opted for the extra room (orange and black bag). I went with a sleeping quilt from Enlightened Equipment. It's the Revelation, 950 down, 0 degree rated, 20D Nylon on the outside. It weighs just over 2lbs so for all three items (tent, pad, quilt), I'm just over 5lbs. I also purchased a tent footprint (generic off Amazon), and Zpack pillow sack (can stuff it with a puffy jacket and it becomes a pillow), and the Airflex light/pump combo (pretty neat item; saw it on a hikers YouTube channel).
Hiking Clothes
I have two different types of pants. Northface Paramount Mens Taupe (first below blue bag) and Khul Renegade (next below). The Khul pants can double as shorts. Both are comfy and rugged. No complaints. Vouri Tech Tee's for a base layer (bottom center column) along with Smart Wool 150 1/4 zip and normal shirt (top center column). Base layer for legs I chose Smart Wool leggings and an REI Co-Op to wear in camp after a long day of hiking (far right column). For a waterproof bag I went with Wise Owls. These are great bags!! Truly waterproof and stuff sack type. I found them on Amazon (blue bag in pic).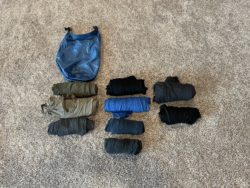 Underwear and Socks
No surprises here! Exoffico underwear (three pairs; if you haven't tried these you're missing out!) and four pairs of socks. 2x Darn Tough (midweight and lightweight) and 2x Smart Wool (same). Darn Tough are on the left and Smart Wool on the right. Logic behind 4x pairs of socks is inclement weather and having a fresh pair to sleep in. I'm using a smaller Wise Owl waterproof bag for these items as well. Pic on the right shows both bags packed with all items. To show the size in scale, the Goal Zero power bank is beside the underwear/socks bag.
Outer Wear and Rain Gear
I went with the Appalachian Gear Company Al Paca wool hoodie for an outerwear item. I have worn this already on a few hikes and it is immensely warm even when a little damp. It's lightweight and will not retain odors. Washing frequency is every 10-12 wears. It's actually recommended to just wash in a stream and let hang dry.
Altra Gaitors for my Altra Timps (center on hoodie), Smart Wool Sport 150 beanie (lower left), REI Co-Op wool shells and black fleece gloves (upper left and lower right respectively). Lastly a Smart Wool 150 neck gaitor. I've used this and the beanie a few times skiing this season and both are adequate in sub freezing temps. For rain gear options, Outdoor Research Helium rain jacket (super light, order a size larger than what the website says will fit you!) and REI Co-Op bottoms. Both in black to help with drying when the sun pops out.
Camp Gear
Who doesn't like to relax after a long day of hiking? A couple of comfort items to help with a positive mental attitude during a long trek. Men's Torrid Jacket from Enlightened Equipment (950 down). Wicked warm and excellent packability. Helinox Zero Light camp chair for sitting after a long day (gray bag). Lastly some camp shoes. I went with the OOFOS Slide Sandal (bottom of pic). They are pretty comfy! Yes open toed, but if they don't make the grade I'll switch out.
Electronics
Goal Zero Nomad solar panel (10D) along with the Goal Zero power bank. Jaybird X3s bluetooth headphones and Vista 2 wireless bluetooth headphones. X3's have a longer battery life than the Vista 2's. Nitecore NU32 head lamp 550 lumen LED. All these are rechargeable via the power bank. I will also have my iPhone and Apple watch.
First Aid Kit and 
Miscellaneous
Plastic bag on the left is packed with a small Gerber, fire starter, and waterproof matches. Flyer Light towel (right of yellow bag) for showers, light trowel (orange item far right), and compressed towels to wipe off moisture. I found those on Zpacks. The small circular item on the trowel is one of the towels packed. All items in the pic are laying on an unpacked version of the towel. Ultralight first aid kit (yellow bag) with a couple of modifications. In addition to everything it comes with, I added extra strips of mole skin, small bags of Ibuprofen, Tylenol, Pepcid, and Imodium AD. All fits in the small yellow bag.
Bear Bag, Stove, Water Filter, and Smart Water Bottle
Ursack Bear Bag (10L; black bag), Jet Boil Mini Mo, and Katadyn Be Free water filter (1L). Titanium spork for eating and some Good to Go meals on top just for show. Now to the Nalgene water bottle drama. I came up with an idea to use a Smart Water bottle due to its shape and how it will fit better on the outside of the Exos. I purchased an Osprey drinking hose with a Camelbak drinking piece. Drilled a hole in the bottle cap of the bottle and fitted the Osprey drinking hose inside of the bottle. It works great!! Nalgene bottle drama is over! I plan on fabricating a few more bottle caps for extras just in case. The pic on the right shows how the rig fits in the outer pack pocket. I'm sure others have come up with this idea before, but give me a little credit for the ingenuity!
Fully Packed Views
Below pics shows how it looks fully packed. Weight is around 28ish lbs. I have 7x Good to Go meals in the bear bag so that represents a small amount of food. Still at 28lbs gives me at least 5-7lbs to play with for food.
All in all very satisfied with the gear choices. Below is the gear list I filled out for The Trek (shows weights, prices, and where purchased). If you have any suggestions, please let me know. Thanks for following along and see you out there!
Affiliate Disclosure
This website contains affiliate links, which means The Trek may receive a percentage of any product or service you purchase using the links in the articles or advertisements. The buyer pays the same price as they would otherwise, and your purchase helps to support The Trek's ongoing goal to serve you quality backpacking advice and information. Thanks for your support!
To learn more, please visit the About This Site page.