The second installation of the Trek's annual AT Thru Hiker Survey covers all things footwear. Shoes are one of the most important gear choices to a thru-hiker's comfort, considering that they'll take over five million steps in them. We asked hikers about their footwear preferences including style, model, and brand.
The same companies you know and love are still around this year, but there's also a new brand making a big name. The results have even made me consider changing my shoe of choice, which I've been using since my own AT thru-hike in 2017. Keep on reading for all the details.
The Hiker Sample
In 2022, 403 hikers participated in the survey, all of whom hiked on the AT in 2022. Almost 90 percent were thru-hikers, and the rest were section hikers. For more details on hiker demographics, check out our first post with general information from the survey.
The data were collected from October through November of 2022 via our social media platforms, Backpacker Radio, and TheTrek.co. Some clean-up of the data was done only when necessary, mostly involving start/end dates. (There were a few time travelers who claimed to have started their hike in 2023 while still completing it this year.) No obvious duplicates were found.
Footwear Style
As in previous years, the majority of 2022 survey respondents favored trail runners. Hikers showed a strong preference for trail runners from the start: about three-quarters of hikers began the AT in trail runners compared to just 14 percent in boots.
However, some hikers who started out in boots or other footwear ultimately made the switch to Team Trail Runner. This year, 86 percent of hikers said they wore trail runners for the majority of their hikes, while only 5.5 percent said they wore hiking boots the majority of the time. Meanwhile, 7 percent of hikers ended up in hiking shoes.
Three hikers wore sandals and three wore mid-top/hybrid trail runners. All the hikers who wore mid-top runners and sandals started and ended their hikes in the same type of shoe.
We've recorded the trend towards trail runners instead of hiking boots over the years. The preference for trail runners dipped a bit from 89 percent in 2021 to 86 percent this year—the first year-to-year drop in trail runner popularity we've recorded since 2015.
However, the results still reflect significant growth in the preference for trail runners from when we started collecting the data in 2014, and they still remain by far the dominant choice among hikers in our survey. It's difficult to discern changes in the popularity of alternative footwear like sandals and hiking/hybrid shoes given the small number of survey participants who report using them each year. However, they appear to be gaining popularity year after year.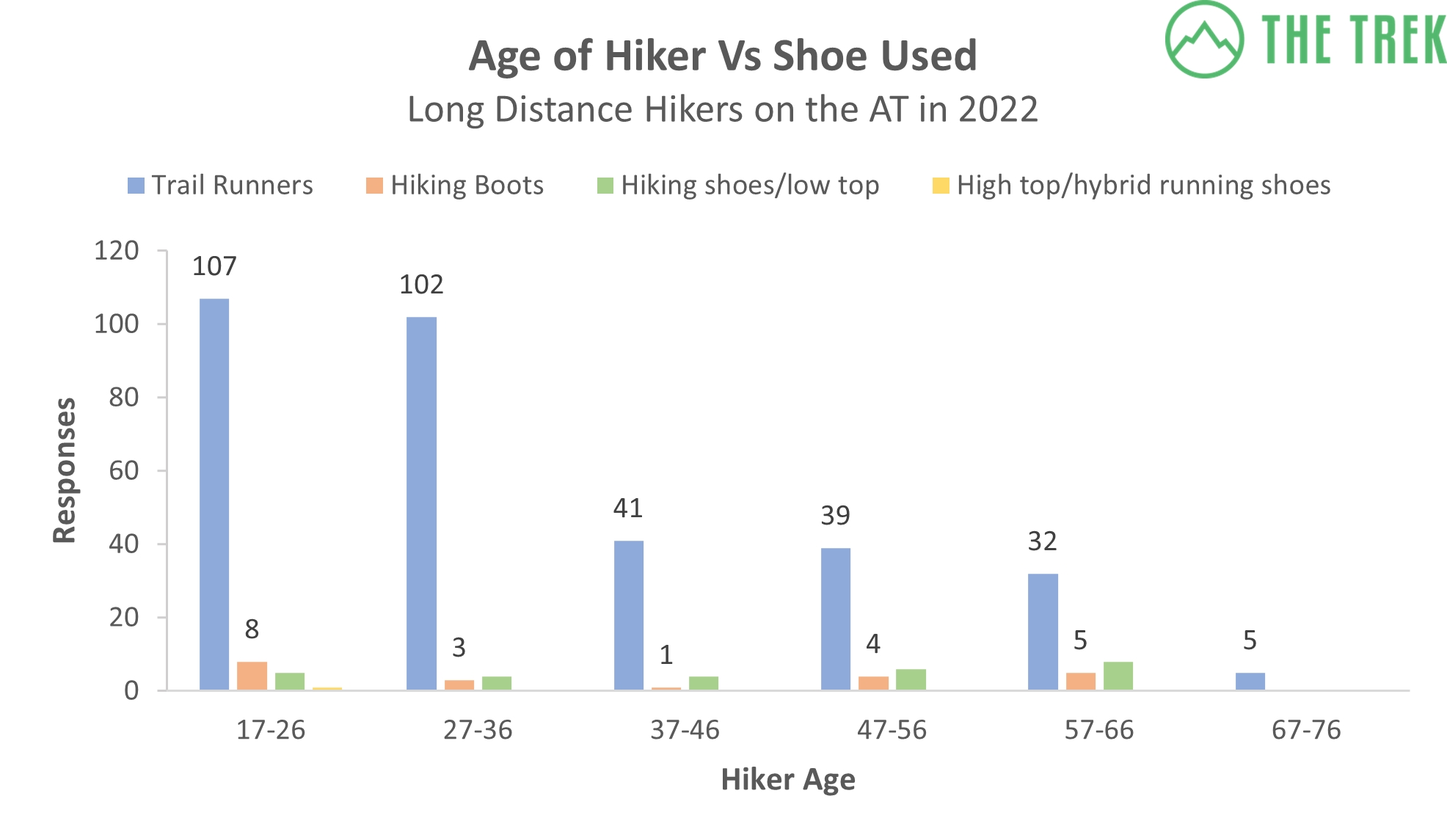 Readers have requested in the past that we look at how hikers' footwear preference changes with age. With smaller datasets in older age groups, it's difficult to parse this data. However, trail runners were clearly the dominant footwear choice in all age groups surveyed this year, and all of the oldest hikers surveyed wore trail runners.
Satisfaction
Similarly to previous surveys, those who started hiking in trail runners were considerably more satisfied with their shoes than those who started in hiking shoes or boots. 91 percent of respondents who began their hike in trail runners said they were happy with their choice. On the other hand, only 64 percent of hikers starting in hiking boots were satisfied. Low-top hiking shoes didn't have much higher satisfaction rates than hiking boots, but this category also had the fewest number of respondents.
These sentiments may help explain why more respondents ended up in trail runners than started in them.
In terms of completion rates, 90.5 percent of hikers who started in trail runners and intended to complete a thru-hike were successful compared to an 81.8 percent success rate for those who began in hiking boots.
Changes in Footwear Style
We asked hikers the reasons behind changing their footwear. Excluding wear and tear, the most common reason to switch was fit issues, pain, or blisters, cited by 53 percent of respondents. Needing to size up due to swollen feet was the next most common reason at 15 percent. A few other reasons for changing footwear were listed, including weight considerations and intentionally switching styles with the season. Notably, a few hikers said they were forced to change because the model they originally used could not be found in the US.
Replacements
We asked hikers how many pairs of shoes they used on their thru-hike. The most common answer (given by 43 percent of respondents) was four or five pairs. This lines up with what we've seen in previous years as well as conventional advice to change shoes every 300 to 400 miles.
In contrast, the majority of respondents who wore hiking boots used only two to three pairs of shoes total, implying that hiking boots do last longer.
Interestingly, four respondents who completed a thru-hike said they used only one pair of trail runners throughout their hike. However, only one respondent used a single pair of hiking boots over a thru-hike.

Top Footwear on the Appalachian Trail: Brands and Models
We asked hikers about their favorite brands and models of shoes for the AT. Altra is the top brand again this year and has two models in the top three. The Altra Lone Peak remained the most popular footwear choice overall, worn by 26 percent of respondents.
HOKA ONE ONE was again the second-most popular brand, while their Speedgoats were the second-most worn model overall with 77 hikers wearing them (almost another quarter of the total respondents).
READ NEXT – The Best Trail Runners for Thru-Hiking
A new brand has made waves this year, having never made the cut on the survey before: Topo Athletic was the third-most popular brand of shoe worn by long-distance hikers in our survey, while the Topo Ultraventure was the fourth-most worn model overall. I've been considering giving them a try for some time, and seeing these results has solidified my resolution to a pair.
Saucony also made the rankings for the first time this year, coming in at number seven in the most popular footwear brands.
The most popular sock brand was once again Darn Tough with over three-quarters of hikers wearing their socks.
Top Overall Model: Altra Lone Peak (83) (versions 5 and 6 were most popular)
Top Sock Brand: Darn Tough (302)
1) Altra (166)
2) HOKA ONE ONE (88)
3) Topo Athletic (34)

4) Brooks (22)
5) Salomon (21)
6) Merrell (16)
7) Saucony (9)
8) Oboz (9)
9) The North Face (7)
Socks
As usual, Darn Tough was the most popular sock brand by a wide margin: 75 percent of all respondents wore their socks this year. Darn Tough provides a lifetime warranty and will replace any damaged pair if you send it back. At many outfitters on the Appalachian Trail (at least when I hiked in 2017), you could give the store your damaged (clean, please wash them first) socks for a new pair of Darn Toughs on the spot. Their warranty has always made them a fan favorite.
Very few people remembered sock models, and there are so many of them that this information was not possible to report.
Almost a third (31 percent) of long-distance hikers in our survey wore sock liners. Injinji toe socks lead the sock liner brands by a landslide. Some respondents who wore regular Injinji socks may have responded to the sock liner brand question in error: 127 hikers claimed to wear Injinji sock liners, but only 122 hikers claimed to wear sock liners in the first place. Regardless, Injinji is the clear winner (its second-closest competitor was REI at six respondents).
Summary
The trend of most hikers wearing trail runners over heavier, sturdier boots continued this year; the numbers were about the same as last year with a slight (3%) dip in popularity for trail runners.
While boots may still be preferable during the snowy sections, we recommend that hikers planning thrus or long sections consider lightweight, more flexible shoes for the majority of their hikes.
In general, thru-hikers should plan to go through four to five pairs of trail runners or two to three pairs of boots.
Altra remains the top brand for trail runners, and the most popular model was the Lone Peak.
Topo Athletic made the list for the first time, ranking in the top 4 brands and boasting the third most popular model overall with the Ultraventure.
Darn Tough, Injinji, and Smartwool socks were all well-represented on the AT, but Darn Tough was by far the most popular with 75 percent of respondents using them.
Injinji is the leader in sock liners, used by almost a third of respondents.
Thank You!
Many thanks to the hikers who participated in the survey! Congratulations to you all! Check out our previous post with general hiker information. Upcoming posts from this year's survey will cover shelters, sleeping bags and pads, backpacks, and stoves/filters. To stay updated on the subsequent hiker survey posts, subscribe to The Trek newsletter.
Featured image: Graphic design by Chris Helm.