There are times when the Appalachian Trail is like a highway on foot, such as the Georgia section in March and April.  It seems like every twenty minutes or less, another hiker is bound to pass by in one direction or the other. I'm glad to have experienced this aspect of the trail and all of the cool people that come with it.
Then there are times when it's possible to go almost three days without seeing a single person, such as mid-week in Northern Virginia in early December.
What an experience. This was truly one of my favorite Appalachian Trail hikes to date, and not only because of the solitude, but because I got to bring my brother.
When I say I got to "bring my brother", I sound like the more experienced hiker. This is not the case. Although he's my little brother, he's thirty years old at this point, and he's the one that taught me to backpack. He took me on my first overnight in Idaho in 2018 where he taught me a better way to tie my hiking shoes, how to hold trekking poles properly, how to pack my pack and how to keep two cans of beer cold in the river. I've been talking about wanting him to come hike on the Appalachian Trail with me since 2019, and three years and 1,800 miles later it finally happened!
Sure, this was slightly self serving. This 54 mile section was one of three AT sections I had yet to complete, so I killed two birds with one stone by suggesting this particular hike. But it was perfect. It was a hike neither of us had done before, yet I had more knowledge than he did on the particular uniqueness of things that come with the Appalachian Trail while he had the backpacking skills to assure a smooth trip.
Day 1: 20 Miles from Lewis Mountain Campground to Pinefield Hut
Eeek! 20 miles! Don't get caught up in that number if you're reading this while planning your own hike of this section. Thru hikers who are nearly halfway through the trail by the time they get to Shenandoah can generally do this without many issues. However, I have city legs right now so this was a lot.
My brother and I felt great that day, so we decided to keep going past the 12 miles I had tentatively planned, especially because it was the only forecasted clear day. In retrospect, neither of us would do that again if we were planning to sustain a longer backpacking trip than what we did. It caught up to us two days later and we both ended the hike with very prominent aches and pains that can't be good for the long term.
The early December Virginia weather was good to us that first day, crisp and partly sunny as fall and winter took turns. My brother, with his science background, helped me put names to pieces of our surroundings I'd seen many times before but had glazed over, while I attempted my knowledge contribution by teaching him what a PUD was. (Pointless Ups and Downs – an Appalachian Trail signature).
The AT through Shenandoah came bearing gifts, as the PUDS constantly gave way to soft flat stretches of trail where it was like we were just taking a walk in the woods, chatting and simply noticing our surroundings. Well, tell this to my knees and they'll probably disagree.
The early sunset left us two choices – set up camp in the afternoon and keep warm the rest of the evening, or hike into the night. We chose the latter, guided by an almost full moon. We hoped to attempt hiking without headlamps but those pesky clouds dimmed the night sky just enough that we had to give in.
With forecasts below freezing that night, we pushed any trace of tiredness aside just a little longer so that we could warm up from a fire while we ate our dinners, consisting of Walmart-brand pulled pork packets, knorr pasta sides and a cup of tea. This awesome fire pit at Pinefield Hut gave me a shot at getting some of the moisture out of my clothes from the day's exertion while my brother admittedly did all the work getting the fire started.
Day 2: 13 Miles from Pinefield Hut to Blackrock Hut
Day two brought us drastically different weather than day one. Although the temperature was warmer than the hiking-in-a-puffy-coat weather from the first day, it felt colder as mist was left hanging in the air every time the periodic rain took a break. Whenever we left the blanket of the trees to cross a silent Skyline Drive (the road that winds through Shenandoah National Park), the wind came out of hiding and nudged us along as we scurried across to the shelter of the woods on the other side.
I reached my coldest and lowest point in the late afternoon, at the trash cans in the picture below. I feel the shivers just looking at them. This small amenity prompted a reflection on the stark contrast of this hike of Southern Shenandoah, vs. the Northern half of Shenandoah I experienced in late July.
The summer hike was full of fun amenities and everything the park offered in it's glory. Stops at waysides for hotdogs and snacks, chats with several other backpackers my hiking partner and I met along the way, and even a mid-hike coin shower and laundry break.
This time, all of the amenities were closed. There was stillness and silence occasionally broken by the creaks and waves of swaying trees in wind. The only other people we saw were three day hikers on the first day. Cars on skyline drive were so infrequent that what I first thought was sure to be the sounds of passing vehicles in the distance were actually just bursts of wind. What a blessing to experience both personalities of the park, which never would have happened had I gone all the way through the park in the summer which was intended at the time. And what a blessing to have a dry sleeping bag to climb into after chanting in my head from this moment on:
"Two miles until sleeping bag. Two miles until sleeping bag."
Whatever keeps you going, right?
Night fell with an eeriness that could not be captured by any pictures we took. My phone somehow brightened up the one below, but in reality it was so much darker. Had I not been with my brother, I would have been constantly turning around to look behind me, ready to curl into a ball until morning rather than keep walking with the feeling something could pop out of the fog ten feet from me at any moment.
But I felt safe. I wasn't alone, and we were both encapsulated by the mist surrounding us with a hue like a black and white movie with only the first hints of color present.
I admit though, reaching Blackrock Hut felt strange. Our headlamps only reflected the water droplets hanging in the air right in front of us, causing the landscape around the shelter to hide from us. Knowing it would be much warmer than the night before, I hoped to myself that that upon laying my head down I'd be tired and comfortable enough to sleep without any further thought of our surroundings. My hopes came true and I drifted off without any trouble, waking to the morning scenery of open woods lining a gentle creek that was finally fully visible.
Day 3: 13 miles from Blackrock Hut to Calf Mountain Shelter
I'm not a morning person. I'm pretty sure that part of the reason I felt pockets of pure bliss during the 3.5 days of this chilly hike is because there were no other hikers surrounding me that all seemed to be packed up as I wearily blinked my eyes open, or hiking partners that were antsy with me to get going. No one was power walking past me at 9 am with goals of big mileage for the day. I didn't have to set any alarms to beat bad weather because the lingering drizzle was already inevitable.
So I did it all. The morning stare where I sat up curled in my sleeping bag, gaze fixed at the woods already gaining a slow dawn light, for an undetermined amount of time. The hobble to the privy. The morning tea accompanied by more staring. Then the oatmeal, cold soaked in the summer but warm this time of year. The hair braiding, teeth brushing, and yelps as I changed into a cold shirt. The half pack-up, followed by light yoga and morning stretches. The rest of the pack-up. Another visit to the privy for good measure, this time the hobble turned into a slow walk. No one got antsy. No one felt we had to complete the day's hike before it got dark. It was glorious.
As for my brother, well, I would just do me and waited to see how he would deal with it. It's just the sibling way. Although I did try to put a little pep in my step while packing up camp because I didn't want to get on the annoyed side of my only human companion for a few days time.
I think it's safe to say that on day 3, we both started to feel the fatigue kick in, both mental and physical. It got up to 60 degrees with a peeking sun that was so welcomed after the previous two days, yet the scenery really left us alone to our thoughts. It felt like a continuous line of 13 miles without any breaks or points of interest. We both were starting to feel some aches in various parts of our legs. My brother walked along ahead of me, just far enough that sometimes I lost sight of him for short periods of time until coming around a bend or reaching the top of a hill. We both put audiobooks in our ears for an hour or two, the first time my headphones came out of their bag on this hike.
We relished in the peace and quiet of the woods and crunching leaves below our feet, before a discussion was eventually prompted about how this maybe wouldn't be the best hike for someone on a first time backpacking trip.
That was interesting for me, because I'd thought of Shenandoah National Park as a great place for a first backpacking trip if I had the opportunity to bring someone, due to some of the flat sections of trail and easy road access. But then I started to see my brother's point. We both had our routines down by now, had a general sense of what this would entail and we enjoy different kinds of scenery such as big misty woods.
But he mentioned that on a first time trip, you'd want to bring someone to some type of reward, like an epic view or waterfall or swimming hole. He remarked that if someone were backpacking on this day with us, for their very first time, they'd probably wonder why on earth they were laboring up and down hills for 13 miles through the trees, with no other purpose than to just walk through them. I'm not sure he's ever heard the term "Virginia Blues", but I think he was putting into words why thru-hikers have coined this term.
He had a point. I think I'd still bring someone on a first time backpacking trip to Shenandoah, but maybe just not in December and not on this particular 13 mile stretch of the Appalachian Trail.
As the sun began to fade around 5 pm, the woods and sky seemed to open up again. We had glimpses of distant ridges and occasional moonlight. We marveled at the lichens on the rocks speckled with water droplets that glowed like they were under a blacklight when we shined our headlamps at them.
The last mile or so to Calf Mountain Shelter was a climb a little steeper than we'd been dealing with, and we trudged along silently until my brother from somewhere up ahead said "This is the longest mile of my life".
Agreed. A perfectly wonderful stereotypical ending to a perfectly stereotypical Appalachian Trail day.
Day 4: 8 Miles from Calf Mountain Shelter to Rockfish Gap in Waynesboro, VA
The last day brought me mixed feelings as we had another slow morning before beginning the general downward trend towards town. The beauty of a shorter backpacking trip is that being in the woods is the novelty and being in town is the norm, not the other way around like on a long distance backpacking trip. I had this feeling that I didn't want the trip to end, rather than being really excited for a town day as if I were on a longer hike.
At the same time, I was definitely ready to just get to Waynesboro so we could warm up, have a celebratory beer and get a reprieve from the general sense of dampness, intermittent digestive discomfort, aches and pains and sleepiness that always seem to set in after a few straight days of dealing with the elements while my body is starting to figure out how to handle it. That's the downside of a short section hike – once the adjustment begins, it's time to leave.
Alas, that "just getting through it" feeling of the last eight miles was broken up about halfway. My growing annoyance with my brother's excessive use of his phone in one hand finally gave way when it helped us catch sight of some creatures that I had no idea lived in the Appalachian Mountains!
After that the rest of the mileage turned out to be a back and forth game of seeing something cool, remembering the discomfort, and then seeing something cool again. A field of color, then hastily darting off into the woods to dig an urgent hole, then some random tractor seats next to a radio tower, then the "head on trekking poles resting pose" only taken after being sure no one is around to see it, until the final glorious arrival at Rockfish Gap.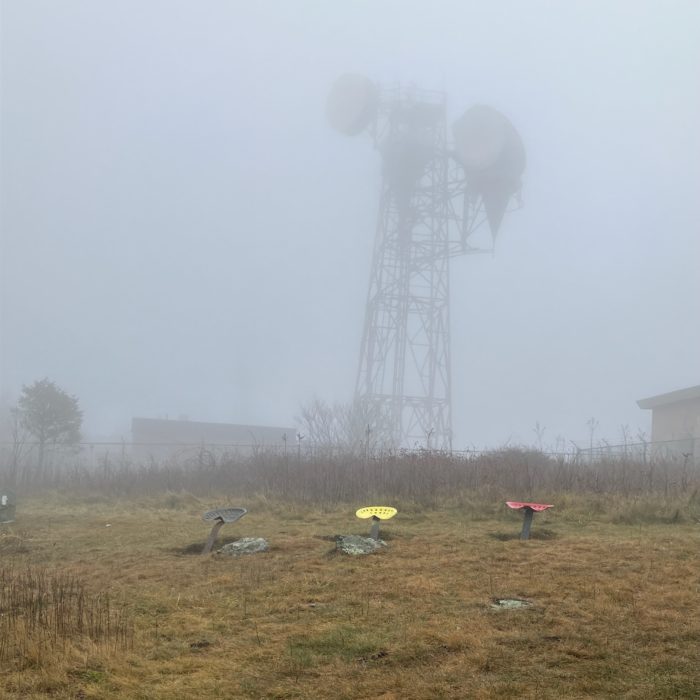 In the true spirit of an off-season hike, we pulled out layers to curb our immediate post physical activity shivers in the drizzle and strolled around looking at the closed popcorn stand and visitor's center, before resorting to the use of an open porta potty followed by my brother walking in circles around the parking lot with his head in his phone trying to catch more pokemon until the shuttle driver arrived.
I wanted to make sure my brother got an Appalachian Trail hostel experience to cap off the trip so we stayed at Stanimals in Waynesboro that night, where we had a bunkroom to ourselves. I was ready to stay off my feet for days to let my knees heal, but we pushed through just a little longer and decided it would be worth an extremely slow walk for some pizza and beer.
The more time I've spent on the Appalachian Trail over the past several years, the more the idea of what constitutes a "good hike" has changed for me. I'm not sure that much will be able to top sharing an Appalachian Trail experience with my brother. I used to always be fighting to be alone, away from the crowds, but as the trail nears an end for me, it doesn't feel like much without thinking of all the people I've met along the way and wanting to continue to share the experience with others.
The next morning, I teared up a little in a coffee shop while thinking about this before we had to head home – me to Illinois and my brother to California. I mostly blamed my tiredness, a real factor, but realized I was also just having a moment feeling the full impact of how sentimental this trail has become as a piece of my life.