The search for cheap multi-city flights, and direct flights whenever possible, is a neverending process for backpackers and all avid travelers.
Money saved on flights can be used on the ground at your destination, whether touring historic sites in Latin America, relaxing on a beach in Southeast Asia, or exploring food markets in Eastern Europe.
Many websites, apps, and tools are available today to help you find the best deal. In this article, I'll introduce you to Direct Flights and FlightRoutes.com and walk you through using them.
Booking Cheap Direct Flights
Regarding travel in the United States, I always look for cheap direct flights first. The time and energy saved by flying non-stop are worth the sometimes added cost.
Plus, you're less likely to miss a connecting flight due to the weather, system failures, or overbooking if you don't need one. If you're traveling with only a carry-on, you're also not at risk of lost luggage.
When you've got a connecting flight, there's less room for error, and given the soaring demand for air travel these days, it's best to minimize the odds of something going wrong.
Direct Flights offers the easiest way to search for more than 70,000 direct flights worldwide. And amazingly, they don't require you to set up an account or log into the website.
Austin to JFK
I'm currently researching direct flights from Austin-Bergstrom International Airport (AUS) in Texas to John F Kennedy International (JFK), a major airport in New York City.
Entering those two airport codes provides me with a wealth of data on the next screen (shown below).
I can quickly see that JetBlue (my preferred airline), American Airlines, and Delta all offer daily non-stop flights from Austin to JFK and that the flight time is typically 3 hours and 40 minutes.
A map shows the flight route from Austin to JFK.
Scrolling down on the search results page shows specific flight times for all the airlines and more information about the airline alliances, plane models, and arrival terminals.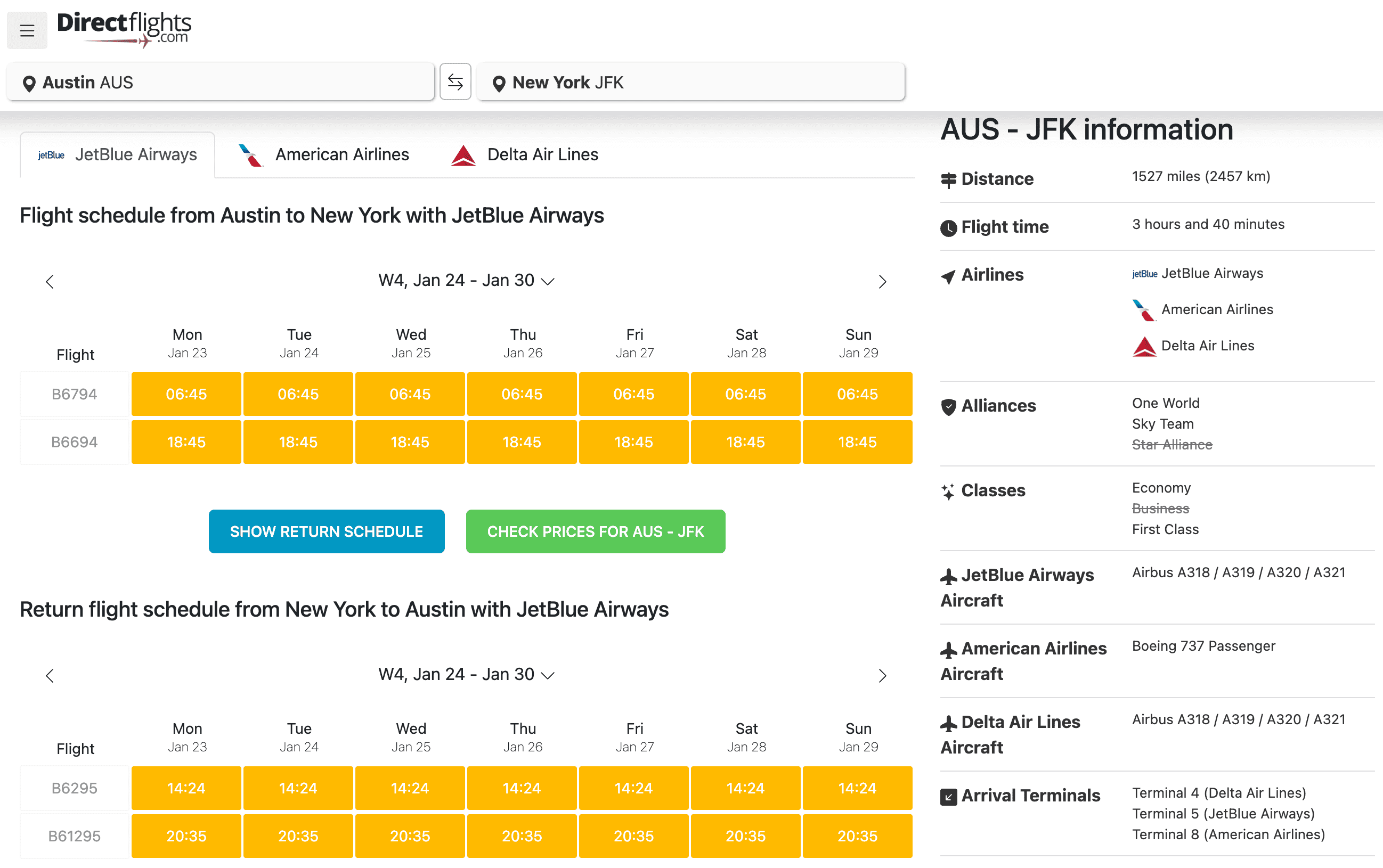 When I click the blue box labeled "show return schedule," it reveals the return flight times for me to depart JFK (New York City) for Austin, TX.
Clicking on any of the individual yellow boxes for a flight brings up an info box with additional details.
If I click the green box to "check prices for AUS – JFK," a calendar pops open, and I can select my travel dates, whether researching one-way flights or round-trip flights, number of passengers, and the seat (economy or business class).
After putting in my preferences, I click the green button to "check prices" and am redirected to Kayak.com, where I can see the cheapest flights and proceed to book the best option.
Why use Direct Flights?
The Direct Flights website is helpful in the early phase of flight research when you may only want to find out if there are direct flights between your departure city and destination.
It can be helpful whether you're looking for one-way tickets or round-trip, and you don't even need to know the date(s).
Plus, it's free, easy to use, and doesn't require you to create an account, which privacy advocates will appreciate.
Booking Cheap Multi-City Flights
International flights or journeys to smaller airports may require booking multi-stop flights.
This was the approach I needed to take after a friend invited me to attend his wedding in Ho Chi Minh City, South Vietnam.
While I've already booked those flights, I'll use them to illustrate how to find cheap multi-city flights on Flightroutes.com.
Austin to Ho Chi Minh City
I first enter my departing airport (AUS for Austin, TX) and destination airport (SGN for Ho Chi Minh City).
You can type the city name, and it'll show you the airport options there. Knowing airport codes is optional.
Make sure when the city name appears, you click on it so it auto-fills the search field. Otherwise, you'll be shown a blank screen.
The resulting page makes it easy for me to see there are five airlines and three flights traveling this route, each with one stop (layover) along the way. I can also see the minimum flight time is just under 24 hours.
A route map shows cheap multi-city flights that go eastward around the world from Austin and west across the Pacific Ocean. Either way, it'll be the longest I have ever traveled for a wedding!
Long-haul flights from Austin to Ho Chi Minh City (my final destination) include stops in:
San Francisco with United Airlines and Vietnam Airlines (22 hours 09 minutes)
London with Air France and Cambodia Angkor Air (23 h 20 m)
Frankfurt with Lufthansa and Vietnam Airlines (26 h 15 m)
Scrolling further down allows me to see each route's layover times and flight distances.
If I want to see more about the San Francisco option, I click the "schedule" button, and a pop-up shows departure days and times.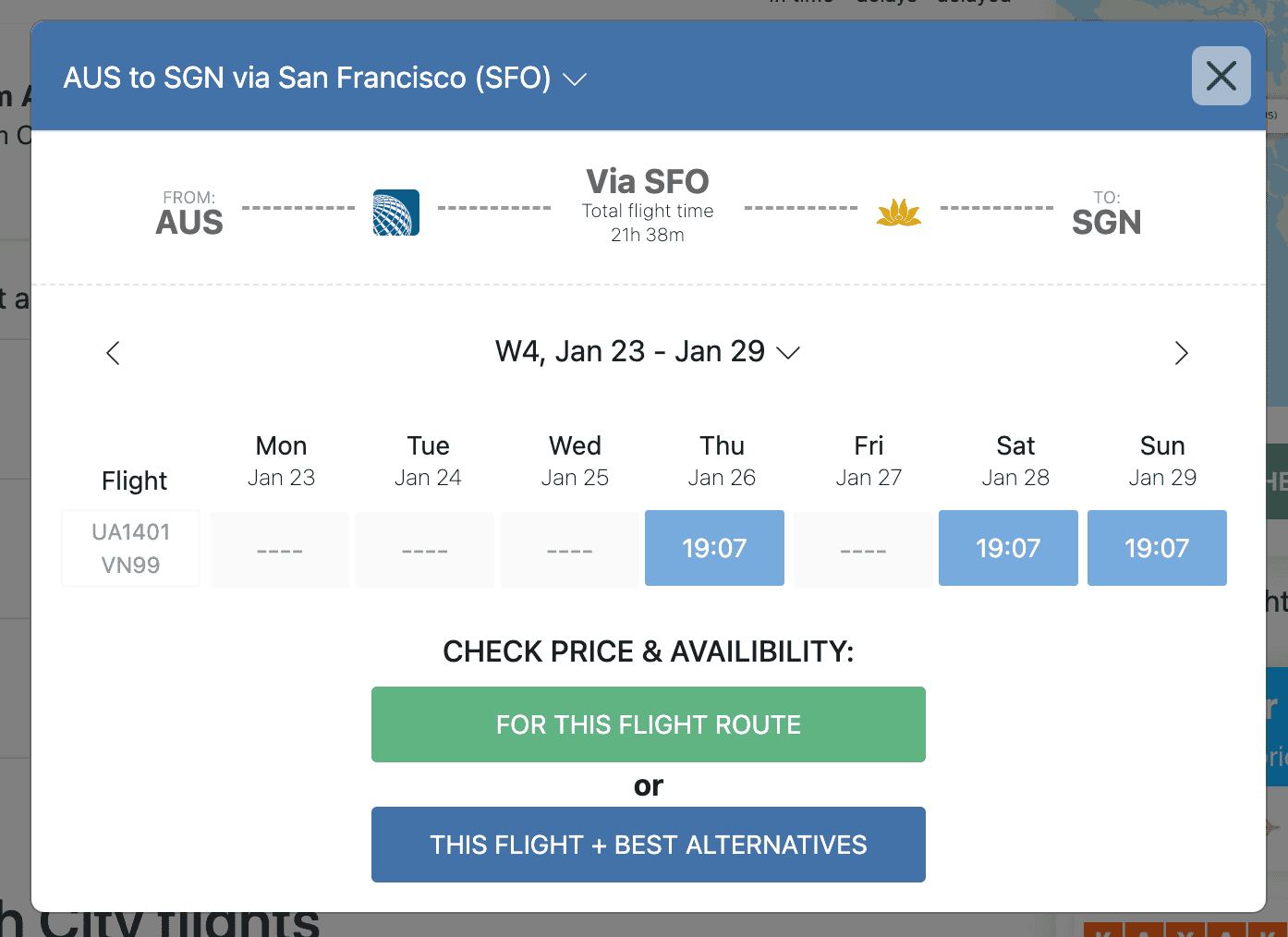 Clicking on a specific day and time loads additional information about the route and flight numbers.
If I click the green link for the flight prices and availability, I'm redirected to Kayak to continue researching those cheap flights.
Why use Flightroutes.com?
The reasons for using Flightroutes.com, run by the same Swedish company, Westcoast Digital AB, as Directflights.com, are similar.
The search engine offers a simple-to-understand user experience and fast results when researching a multi-city trip.
***
Booking cheap direct and multi-city flights isn't always fun, but the best way to go about it is finding efficient tools that can at least save you time.
And if you're like me, discovering the best prices and the cheapest days to fly can offer a little thrill now and again.
______
This story is brought to you in partnership with Flightroutes.com and Directflights.com.
Dave is the Founder and Editor in Chief of Go Backpacking and Feastio. He's been to 66 countries and lived in Colombia and Peru. Read the full story of how he became a travel blogger.
Planning a trip? Go Backpacking recommends: