Day two of my Backbone Trail (BBT) thru-hike started at Musch Camp. Spirits were high, I was excited to get on trail for my second day moving toward the Western Terminus, but little did I know the challenge ahead of me.
The good news was, there were plenty of chances for me to fill water right at the beginning of this fourteen-mile day. There's a spigot at Musch Camp, a water fountain at Trippet Ranch (mile 1), and a water fountain at the Dead Horse parking lot (mile 2.2). There's also a natural water source available between Trippet Ranch and Dead Horse that I could've filtered if these purified sources were off, but that creek does dry up in the warmer months, so I wouldn't recommend depending on it.
After the Dead Horse lot, I had to cross Topanga Canyon Boulevard to Greenleaf and then climb a steep hill to get over to Old Topanga Road, which was my second road crossing of the day. Then begins the day's first challenge, the steep switchbacks up Hondo Canyon.
Uphill First: Hondo Canyon
The hard part about leg two of a WeBo BBT attempt is that you'll have a long ascent over the first 7 miles of the day, followed by a long 4-mile descent. The ascent is known as Hondo Canyon, and I'd actually done this section years ago, so I sort of knew what to expect. I knew it would be long, I knew it would have trees that obscured my view for a long stretch, and I knew that once Hondo was over, I'd still have approximately another 1.5 miles of gradual uphill before I reached Saddle Peak.
However, Hondo Canyon was not as bad as I was anticipating it to be, and it certainly wasn't as bad as the second half of the day. The trail was pretty solid despite a wet stream crossing at the bottom of the canyon. There was very little erosion on this section, and the trail is easy to follow until after the Fossil Ridge section (immediately after Hondo Canyon).
You will want a map for after Fossil Ridge though, because the trail gets a little confusing once you pass the water tower going toward Saddle Peak. I always just looked for the trail that looked the most maintained (usually erosion control), and this helped designate it from a social trail.
The Most Eroded Downhill of My Hiking Experience
Once I passed the Saddle Peak area, I had a short section of flat, which was a welcomed relief. I felt like I was moving pretty quickly, but should've been careful about feeling too confident about my pace. While the sign said 4.1 miles to Piuma Road, it ended up being the slowest 4 miles I've ever done on any trail.
The terrain on the BBT is characteristically very rocky, very eroded, and pretty poorly maintained, especially in downhill sections. Nothing prepared me for how steep and eroded the single track trail down to Piuma Road would be.
Let me set the scene for you: you're on a skinny, single track trail that's between 8 inches and a foot and a half wide. On one side, the mountain ascends above you. On the other, the cliff drops off into fragile vegetation and wildflowers that you don't want to disturb. The trail itself is washed out and eroded, so you're walking on loose rock, large and round boulders, and occasionally have to navigate around parts of the trail that have collapsed, the biggest obstacle being a four foot deep, four foot wide sinkhole that was a result of a landslide.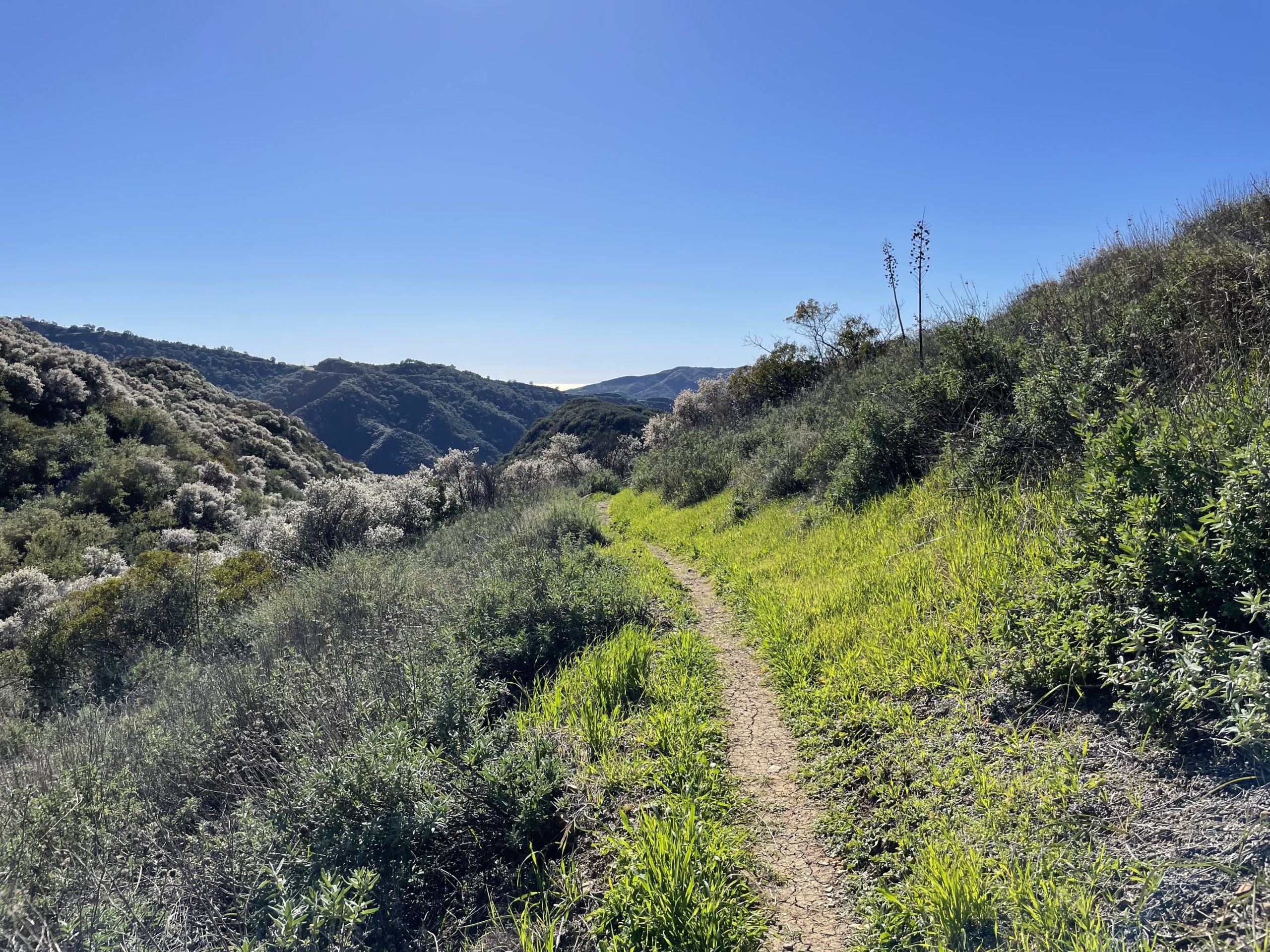 Painful Relief: Piuma Ridge Section
By the time I reached the Piuma Ridge Section, I'd already had it out with the mountain. I was in some of the worst pain I'd ever been on and I made the on-trail decision to zero on day three to give my feet time to recuperate. Something else that I was learning is super characteristic of the BBT is that the trail often sends you to the very bottom of a canyon, only to make you climb back up out of it. At the bottom of that nasty descent, the trail sent me to the bottom of the canyon, forcing me to cross a creek, before climbing up to Piuma Road.
The Piuma Ridge section was definitely better maintained, but it was difficult knowing that I still had a few miles before I could legally set up camp (at Malibu Creek Campground). The Piuma Ridge section ended with a massive creek crossing and a quarter mile long road walk to Tapia Park. From Tapia Park, I had the option to walk the 1.1 mile spur trail to the campground, but as I had friends and family nearby, I opted to get a ride from trail to camp that night. The hiker/biker site at Malibu Creek State Park cost me $10 and it is very bare bones (no picnic table!), but you'll have access to bathrooms, water, and coin showers, which made this a good place to take a zero.
Affiliate Disclosure
This website contains affiliate links, which means The Trek may receive a percentage of any product or service you purchase using the links in the articles or advertisements. The buyer pays the same price as they would otherwise, and your purchase helps to support The Trek's ongoing goal to serve you quality backpacking advice and information. Thanks for your support!
To learn more, please visit the About This Site page.