Day Zero – Day 5
There I was, riding shotgun in my husband's Ford pickup truck, rolling down interstate 40 to 81 from Asheville NC to Damascus VA. The reality of what I was about to embark upon had not yet settled into the realm of my reality – until I saw the highway sign "Damascus" with rain rolling down the passenger window. *Gulp*
The road into Damascus ~ paved with good intentions. Haha! Trail Town USA: If its main street could talk, the stories it would tell. I could only imagine the thousands of troubadours, drifters, dreamers, truth seekers, heart broken souls, and wander-lusters that have rolled into that town. It felt freeing to be back. Walking into the ATC center, I swore I caught a glimpse of my mother's silhouette in the foggy glass door. There stood my parents behind the desk pretending to work for the ATC for a surprise send off!  I felt their unconditional love and support. Their presence somehow gave me the permission I desperately needed to just let go of all of my perceived expectations. No matter what I thought others were thinking about my decision to thru-hike, I was starting to feel the weight lift.
Lucky Penny #15 to pick up a tag in Damascus and #2 registered Flip Flop Thru-Hiker
Day 1: NOBO from Elk Garden VA Parking Area
Weather: Rain, Fog, Cloudy, HIGH Wind Gusts 29- 56 mph, H 46/ L 41
Shelter: Wise Shelter (Strict "NO TENTING" around this shelter, high bear activity, bear boxes for food storage)
Other Hikers: Group of 3 passing me SOBO over-nighters during the first half mile. They had spent the night at Thomas Knob Shelter and were headed back down to Elk Garden.
The Journey: Are you kidding me?!! I'm on cloud nine. Feeling a natural high after climbing Mt. Rogers (highest elevation in VA) 
Day 2: NOBO from Wise Shelter, Grayson Highlands
Weather: Misty Rain, Partly Cloudy, Wind Gusts up to 32 mph, H 51 / L 42, 
Other Hikers: Zero 
The Journey: My first thought upon awaking was,  "I will forever be known as "the girl her burnt herself at the end of the first day of her 2023 thru-hike. NO ONE must know about this; my pride can't take it. I'm such an idiot! All of these backpacking miles under my belt,  and this is how I start my thru-hike. Seriously?!" A high wind gust blew over my stove the night before. I was happily stretching out and sitting cross legged on the picnic table bench. The wind took hold of my Jetboil and scalding water poured all over my leg.
The clinician in me immediately knew it was a 2nd degree burn. I soaked it in the freezing cold mountain creek just outside the shelter, but there was no mitigating the inevitable. I treated it with what I had in my emergency kit, but did not fall asleep until 3am because the pain was excruciating.
I believe everything happens for a reason: good, bad and indifferent.
Reason Number One: I sent a message (several messages to my husband who is following me along in our travel trailer through VA) the night before. My Garmin InReach was working (so I thought)  and showed all my messages had gone through. But, why no return messages?  I awoke to several large blisters, wrapped the burn with my buff, secured it with Leukotape, put on my backpack, and headed to The Scales. I was hoping to catch a cellphone signal as I STILL had not received return messages from my husband or other family members. Thankfully the nerve damage meant no pain (at least for the remainder of today's miles).
Despite the current situation, I enjoyed this 2nd day just as much as the first! The beauty of the Virginia Highlands takes my breath away. But I knew that I did not have enough supplies to properly care for such a sizable surface area burn. I had to get off the trail. Finally, I got through to my husband at The Scales on my cell phone. He had been on text support with Garmin ALL NIGHT.  My messages were coming through to him, he was replying but not receiving responses. I was not getting his messages. Garmin tech support was attempting to send me messages, but they were not coming through on my device either.
To put this into perspective: IF something life threatening were to have happened, My SOS button on my Garmin inReach would not have worked! I was almost 5 miles from signal, no other hikers all day, and no park rangers. This "burn incident" led to an early realization that my device was an anomaly that Garmin in turn took very seriously. They stand behind their products and their GPS service.
Though I did test my Garmin device and service prior to my departure, I encourage everyone to TEST and RE-TEST their GPS/SOS device prior to heading out on any backpacking trip. You cannot out-plan, out-prepare, out-experience, or out-wit Mother Nature. Just went you think "all bases are covered," you may quickly discover just how vulnerable you can be on the Trail.
Reason Number Two: I tend to overdo any athletic endeavor early on; this burn has FORCED me to keep my pace and mileage down early on.
My husband picked me up at Fox Creek and drove me to the urgent care in Marion, VA. They referred me to ER for burn care; 2 injections later (updated Tetanus and Toradol for pain/inflammation) + 2 weeks wound care supplies, I was back on trail the next day with the knowing that the pain would fluctuate during what will be a 2-3 week healing process.
I have seen SO MANY wounds, burns and surgical incisions turn into life-threatening sepsis as a PTA in skilled nursing, hospice, and home health settings. Infection is serious business.  
The ER staff at the Marion VA hospital had many wild AT trail stories to tell (not that I wish an ER visit for any fellow hikers) A burn blister is different than your typical friction blisters developed on toes or heels from miles of hiking. Leaving the blister alone (undrained/un-popped) allows for a natural barrier for fresh new skin to regenerate below the barrier, which can also serve to mitigate pain when the old skin sheds. The human body has an amazing ability to heal itself! The ER MD and I both agreed antibiotics were not necessary and would only serve to weaken my immune system while on trail. 
Day 3: NOBO from Fox Creek VA
Weather: Sunshine and blue skies all day, H 62 / L 47
Shelter: Travel trailer; husband met me at the trailhead to ensure sterile environment for wound redressing
Other Hikers: 2 solo section hikers- "Skittles" with over 1,000 section miles experience, and another retired gentlemen whose son thru-hiked the AT 10 years ago.
The Journey: Happy girl, and feeling grateful for the love and support of family and friends. No pain!
Day 4: NOBO from Dickey Gap VA
Weather: Sunshine and blue skies all day, H 65 / L 49
Shelter: Travel Trailer, sterile wound redressing 
Other Hikers: Zero
The Journey: Happy and enjoying perfect backpacking weather! Took my time today and had lunch at the Partnership Shelter. There were about 4 miles of trees down over the trail from a recent storm. Blister is feeling tight as it heals and bandage feels itchy (annoying with intermittent periods of pain.) It has forced me to slow down and take my time. Other than that, my legs feel great and I'm enjoying every mile!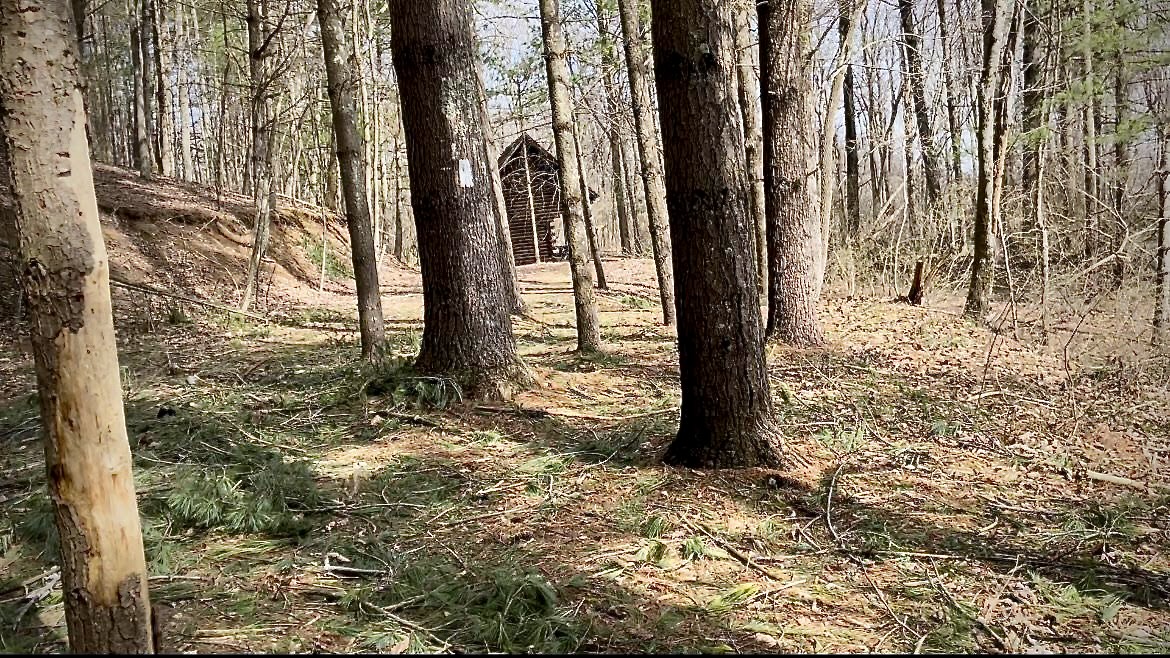 Day 5: Zero
* Washing clothes, preparing additional wound cares supplies for 4-5 days on trail
Weather: Cloudy,  H 54 / L 45
The Journey: Missing the trail, but I know I need to rest today and get my backpack re-situated to ensure dry and sterile wound care supplies for 4-5 on trail.  Leg muscles feeling tight but not hurting.
Happy Trails,
Joanne (Lucky P on the AT)
Link Tree- Click Here to Follow My Journey on Instagram, YouTube and Facebook
P.S. There's just something about small town America's "old school laundromats." 
Affiliate Disclosure
This website contains affiliate links, which means The Trek may receive a percentage of any product or service you purchase using the links in the articles or advertisements. The buyer pays the same price as they would otherwise, and your purchase helps to support The Trek's ongoing goal to serve you quality backpacking advice and information. Thanks for your support!
To learn more, please visit the About This Site page.