I just took the first step on a journey that I hope will last 5 to 6 months. It feels momentous. I am exhilarated and perhaps a bit apprehensive. This is my dream come true, but will I make it?  I  feel very emotional about finally starting the trail and actually shed a few tears.
 Before the First Step
The days leading up to this first step were packed with activity. I cleaned the house and the interior of my car, hoping my house sitters and car sitter wouldn't realize how much I detest cleaning. I also did some spring cleanup in the yard, wistfully recognizing that I won't be home to tender garden, harvest blueberries, and watch flowers and shrubs blossom. I unsuccessfully attempted to wrap up business matters that have hung over into my retirement. Urg! I've visited and communicated with friends and family one more time.
I attended a physical therapy appointment a few days before my departure. Unfortunately, I tweaked my knee. Dang! I immediately decided to taper my training. Since then,  I took only a few relatively short walks and didn't put my pack back on.
On the positive side, I took a nourishing, Feldenkrais lesson on core strength. Although  core exercises are typically physically demanding, the Feldenkrais Method is based on gentle movements to increase awareness of one's body mechanics. The movements are performed without striving or significant effort. This method is the antithesis of "no pain, no gain."
Both the new tweak and the Feldenkrais class reinforced my need to pay close attention to my body, expand my awareness in the moment, consider consequences carefully, and make appropriate decisions. I hope to find a comfortable balance between effort and ease that will allow me to enjoy and safely complete the trail.
Time to Travel
I slept somewhat fitfully that last night in my own bed. Next thing I knew, the car service was at my door to take me to the airport 15 minutes earlier that expected. Yikes! In my sleep-deprived state the trip to the airport and wait for the departure sped by quickly. Once the plane was in the air, I observed a beautiful sunrise over Mount Mansfield, the highest peak in Vermont. Then the  plane veered east over Lake Champlain to the Adirondacks in New York.
I arrived in Atlanta with time to I spend a lovely day with cousins, Helen and Howard. We took a pleasant walk along their wooded community trails, where I enjoyed the lush greenery. It was such a stark contrast to Vermont, where leaves on trees are now barely budding.

After a delicious dinner, I was ready for bed. The next day while Helen drove me back to the airport to catch MARTA to the North Springs Station, my excitement grew. It is difficult to describe my feelings. It felt like adrenaline was coursing through my body.
The Trip to Amicalola Falls State Park
Once I boarded the train, I texted Ron Brown,  with whom I made a reservation to shuttle me to the park. He replied that I should look for Alice, whom he was also shuttling to the park. Waiting with Alice was Nick. I learned that Alice planed to thru-hike, but  Nick wasn't sure how far he would go.
On our ride to the Amicalola Falls State Park, Ron educated us about bears, campsites and shelters, water sources, and more. It was a delightful ride as he's a terrific tour guide. When  Ron dropped us off at the temporary Visitor Center, he gave us each a tootsie roll lollipop to help us on the Approach Trail, especially  along the waterfalls.
At the Visitor Center,  my pack weighed in at 24 pounds (before I ate the enormous lunch Helen packed for me. Without the lunch but additional water, it still weighed 24 pounds). I enjoyed the orientation with Moxie and Fred. After the orientation, we each got our hiker tag. I am number 2624!
I had to top off my water bottles so I didn't see Alice and Nick head out. I met TJ as she was heading out and  compared pack weight with a woman whose name I later learned is Michelle. Once I made final adjustments to my pack, I walked to the Arch, where my journey began. After a gentle ascent, I reached the stairs up the falls. The hike up the waterfalls is strenuous but well worth it!
The Approach Trail dazzled me with its wildflowers, some familiar and some new to me. In another post I plan to dive deeply into wildflowers. For now, I will write that  I look forward to seeing beauties, such as this one, often.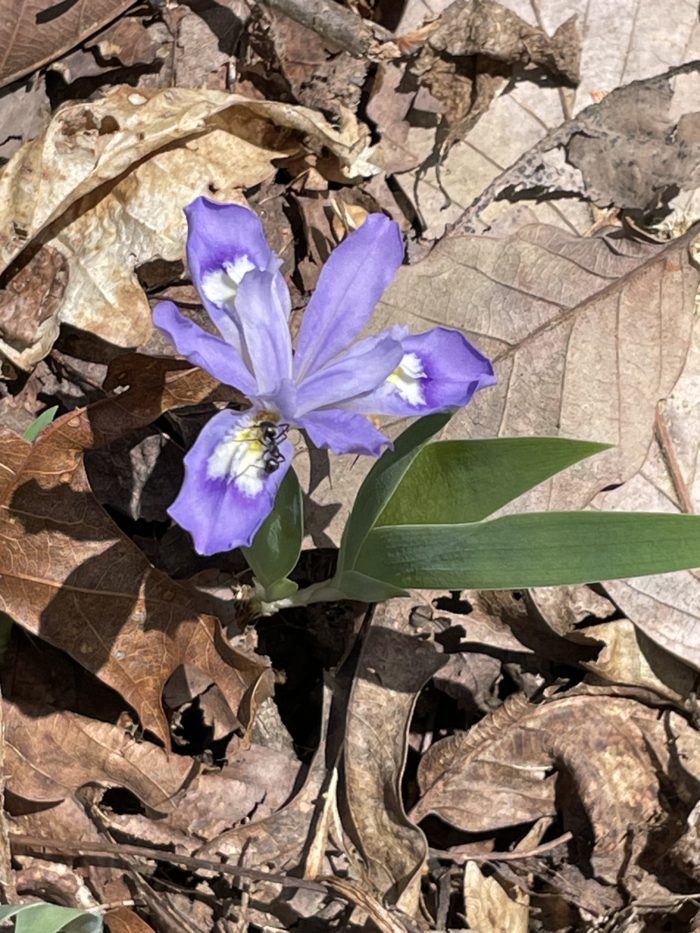 On my way up Frosty Mountain, I met Chris, The Coke Man, who delivers beverages to Mountain Crossing. He gave me a beautiful blessing  for a safe journey. I also met Erin and her dog Tucker.
For the first several days, I had planned to hike low miles. That first day I hiked 7.3 miles to Black  Gap Shelter as planned.  There I met TJ and Michelle again, as well as Barbara, Samantha, and Trey, and two families.  After  dinner  and talking with hikers, I wrote in my journal until about 8:30 p.m.  Then I headed to my tent for bed.
We all knew that rain was forecasted.   It rained fairly steadily from about 2:30 to 5 a.m.  I know I slept some, but not enough. I realize know until the morning  that I hadn't tightened my guide lines well enough and had taken in a bit of water. Ugh!
Michelle snd TJ were up before me.  As we ate breakfast, I told them I planned to camp at the Hawk Mountain Campsite, an hike of 8.9 miles. Everyone had to deal with packing up wet tents.  Barbara set off first and I was second.
As I was hiking up to Springer, I met Brian and his wife  Virginia. They charged ahead of me but I caught up to them at Springer Mountain. We continued together to the next road crossing. Brian, who is thru-hiking, stopped to wait with Virginia, who was meeting a shuttler at the road.
Next I met Phil at a campsite near a stream crossing where I spotted a hooded warbler with its brilliant yellow "hood." Although Phil went ahead, he stopped at Three  Forks Shelter. Once he caught up to me again, we hiked together to Hawk Mountain campsites, which has 30 tent sites spread apart from each other.   Those closer to the water source are in a more wooded setting. Even though they may be nicer, I  didn't want a long uphill hike in the morning!
I enjoyed a leisurely afternoon: After selecting a campsite, I  hung up my tent, sleep quilt, and pad to dry and air out. Then I walked down to the water source, a brook  flowing out of a spring. After filtering water, I soaked my feet. Did that feel good!
I returned to my campsite for lunch and walked up a small hill behind my site. When I heard voices, I returned to find Michelle and TJ. We were all so happy to see each other!  While we were visiting, I suddenly felt a drop of rain. Oh no! We all scurried to set up our tents before the deluge.  Thankfully it now has cleared. We are going to have a cool night followed by several days of  good weather!