Yearning to play by day outdoors and enjoy modern convenience at night? Overnights roughing it in the backcountry aren't the only way to experience nature. Follow along for six unique stays adjacent to some of the world's best wilderness, where you can get after it outdoors as long as you want and still return to ultimate comfort, local culture, and high quality cuisine each evening.
1. Bar Harbor Inn, Maine, United States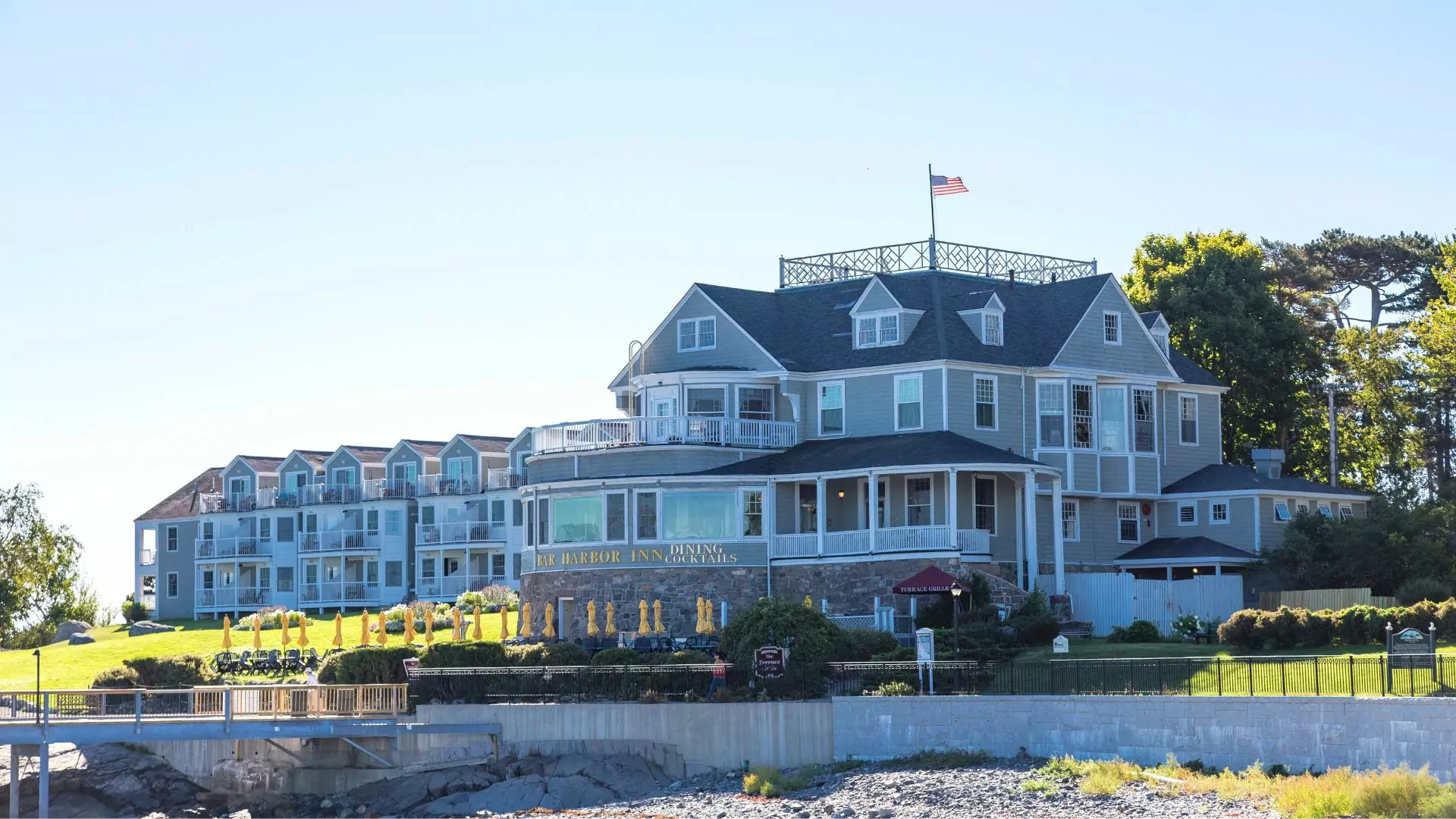 Bar Harbor is a charming resort town on Mount Desert Island in Frenchman Bay, Maine. This quaint town is surrounded by stunning scenery of mountains, rugged coastline and tranquil lakes, with a picturesque downtown. 
The inn itself is world-renowned and is considered an iconic New England vacation destination. It is family owned and operated creating a feeling of community without sacrificing hospitality and service. Located near the harbor on 8 acres, it delivers Atlantic ocean views with peaceful grounds and gardens to stroll through. With 3 different buildings to choose from, the inn offers ideal accommodations for any traveler. 
4 dining experiences exist on-site including continental breakfast service, poolside snacks, and fresh seafood fine dining. Gastronomic exploration need not be limited to the grounds itself however, as the city boasts numerous dining experiences all within a short walk from the inn.
Bar Harbor Inn also serves as a convenient springboard for Acadia National Park exploration. Cadillac Mountain, the highest point on the eastern seaboard, is a popular hike amongst visitors, offering spectacular views of lush coastal and island landscapes. A short 2.5 mile push brings you to the top of the mountain for exquisite sunrise or sunset views. Aim to arrive an hour before sunrise or sunset to secure a spot as this is a popular outing for locals and visitors alike.
The best times to visit are June through September, however the town doesn't completely shut down during the winter. Book through the Bar Harbor Inn website early to secure your dates and start planning your adventure or leave the planning and reservations to an experienced guide. Wildland Trekking offers a classic New England hiking excursion through and around Acadia National Park complete with interpretive information, transportation, and all your food and hotel reservations.
2. El Tovar Hotel, Grand Canyon South Rim, Arizona, United States

What could be grander than a historic hotel situated directly on the rim of the Grand Canyon?  Made of local landmark limestone and Oregon pine, the El Tovar design is a cross between a Swiss Chalet and a Norwegian Villa. As such, it boasts a rustic charm and unparalleled views from its prime location. Built in 1905, the hotel was once considered the most elegant hotel west of the Mississippi and is still considered the premier hotel in Grand Canyon National Park. Premium accommodations offer balcony views down the canyon, and with no two rooms alike, this place has a definitive charm. 
El Tovar is a fourteen-minute walk from Grand Canyon Village, an eight-minute walk from the Grand Canyon Railway, and less than five minutes walk from trails that lead into and around the canyon. The hotel features an art-filled lounge, gift shop, and free parking for guests. The on-site restaurant serves upscale southwest-inspired American fare. Catch the live music out on the patio as you watch the sunset behind the rim of the canyon after a long day spent exploring.
Alongside the infinite hiking trails, create an unforgettable memory by taking a mule ride! Forever the equine of choice of the Grand Canyon, mules have been used for packing here for years. If you're feeling really adventurous choose an overnight mule ride that takes you down into the canyon staying overnight at the classic Phantom Ranch. For those with less time and are weary of saddle soreness a two-hour canyon vista rim ride is available. 
The summer temperatures soar here while the winter time receives snow and ice, making the spring and fall the best times to visit. The crowds die down in October making one feel even smaller in comparison to the canyon's vast expanse. Booking in advance is highly recommended as the hotel can sell out many months in advance of peak season. If you find yourself yearning for a guided tour with challenging hikes and exclusive El Tovar reservations included, consider letting Wildland arrange the perfect trip for you!
3. Rio Serrano Hotel + Spa, Torres del Paine, Patagonia, Chile

One of the most popular places to visit in Patagonia, Chile, Torres del Paine National Park, can be accessed from our third recommended booking, the Rio Serrano Hotel + Spa. With spectacular mountainous views, this upscale rural hotel offers a rejuvenating stay when visiting the rough and rugged landscape here. The rustic chic rooms are outfitted with the necessary amenities alongside authentic Patagonian elements and color schemes to provide harmony and balance for one's stay. 
A modern spa on-site features an indoor pool, gym, sauna, and plentiful opportunities for massage bookings after long hikes and days spent outside exploring. All spa appointments infuse treatments with ancient native rituals of the area for an authentic Chilean experience. 
The KAIENK, the in-house restaurant offers upscale local fare focusing on dishes designed around nature and the rhythm of its seasons. A stay at Rio Serrano is sure to provide connection with nature both inside the hotel and out.
Situated at the entrance to Torres del Paine National Park, Rio Serrano is perfect for exploring the surrounding area. The most famous multi day hike to the namesake Torres del Pain, the three granite peaks of the Paine mountain range, can be done via horseback for a unique (and faster) experience. One would be remiss to leave the area without hiking to a glacier such as Grey Glacier. Feeling even more adventurous? Try kayaking around it!
Recommended times to visit are the spring and fall for the top weather, wildlife and foliage viewing. Rooms fill up quickly here and booking in advance is highly encouraged. If you find yourself yearning for a guided multi-sport excursion here we have an unforgettable trip.
4. The Oasis at Death Valley National Park, California, United States

Built in the 1920s with a $100 million dollar renovation since, The Oasis at Death Valley National Park in California is an esteemed Spanish Colonial Revival style hotel. This elegant hideaway is proud to be North America's only true desert oasis, and an oasis it is. The property is surrounded by lush palm trees, bougainvillea and ample greenery. There is even an 18-hole golf course, the lowest elevation golf course in the world, sitting at 215 feet below sea level! With luxurious spring-fed pools and complete dining services on premise, if you're looking for exclusivity, look no further.
Choose from two hotel options: The Four Diamond Inn, an exclusive private resort, or the family friendly Ranch at Death Valley, just across the road. The Oasis offers ample room options from hotel suites, to private cottages, and even a campground. 
Situated in the National Park, known for its salt flats, sand dunes and colorful rocks, The Oasis is a flawless landing zone for exploring Death Valley. Zibriskie Point, a beautiful rock formation that provides a stunning foreground for sunrise, is mere minutes away, along with numerous hiking trails. 
Death Valley is also known for its stargazing, and is listed in the highest tier by the International Dark-Sky Association. Many celestial objects can be seen from the park that aren't visible in other light polluted parts of the world. Top spots for stargazing include: Badwater Basin, Ubehebe Crater, and theMesquite Flat Sand Dunes.
Temperatures soar during the summer (hence the name) so it's best to visit the park during spring, fall or winter. Keep in mind the winter months have a bite to the air though, so dress warm! 
If you're keen on a more structured and guided tour, join Wildland Trekking for a Death Valley and Joshua Tree tour to get the most out of your time in southern California.
5. Alpina Champex, Valais, Switzerland

Alpina Champex in Switzerland is located in the French speaking Swiss canton of Valais, at the shore of Lake Champex and the foot of The Mont Blanc massif mountain range. Nothing says Swiss Alps like Alpina Champex with its welcoming environment, panoramic views, and charming Swiss hospitality where life seems to momentarily stand still, and everyone feels like family.
Alpina Champex offers simple rooms with modern comforts. A hotel where it's less about the place and more about the adventures you go on and the people you take with you. Breaking bread is easy with a free continental breakfast on site and various restaurants within walking distance from French patisseries to local Swiss pubs. This region is a cultural melting pot, bordered by four different countries and its culture speaks to this.
The hotel is close to museums, alpine gardens, and hiking trails literally right outside your door. Most famously it lies along the famed Tour du Mont Blanc trekking route. During the summer months music festivals light up the night skies bringing jovial sounds to visitors and locals alike. Mountain biking, fly fishing and hiking are all in ample supply here. The summer months experience the most visitors as temperature are perfect for spending time out of doors in this incredible landscape. Plan to book ahead!
If your dates aren't available Wildland offers a Tour Du Mont Blanc, 9-day guided trip.
There is no shortage of front country lodging that includes grand adventures in the wondrous natural landscapes on this planet. The hard part is choosing!