Hiking is a great way to get out into nature, exercise and explore new places, and there are many trails to explore, even in your backyard. Nothing beats traveling under your own power, carrying a daypack with just the essentials and discovering the beauty of the natural world through a new-to-you-trail. 
For someone with little to no hiking experience it can be overwhelming to know where to begin. However, hiking is one of the most accessible activities for anyone to enjoy, at whatever level they are comfortable with, whether that is a week-long expedition in the wilderness or a half hour walk in their local park. With just a little bit of preparation and planning anyone can start to enjoy the outdoors.
Getting Started:
To start hiking it's as simple as picking a destination outdoors – a park, lake, trail, or path, putting on your shoes, and heading out the door! That may be an oversimplification, but the key is getting out the door that very first time and starting to build a hiking habit. 
An important question to also ask yourself is what the goal is for your hike. This can be location based, such as wanting to travel through a forest or get to a scenic viewpoint, or it can be distance or time based such as wanting to hike a certain amount of mileage or for a certain length of time. For many, hiking serves as a way to get outside in nature, do some physical activity, and disconnect from their daily routine.
Choose and Research a Trail
The first thing you need to do is choose a trail that is suitable for beginners. Look for trails that are easy to moderate difficulty, are well-marked, and have a clear path. Many cities and towns have walkable greenways that are a great place to start, and with a little bit of searching you might be amazed how many trails there are in your own town. In addition, many state parks, nature reserves, and national parks have beginner-friendly trails to explore, often with great infrastructure, resources to help guide you, and in spectacular settings.
Once you have picked a trail, try to do some research on it. Check the trail conditions – which involves looking up its length, elevation gain, and any potential hazards. There are many websites that provide user-submitted trail reports, and if the trail is in a regional, state, or National Park it is likely that there are updates posted by the park staff. Knowing what to expect on the trail will help you to prepare better, pack the necessary equipment, stay safe, and get the most out of the experience.
Check the Weather Forecast
It goes hand in hand with picking a trail, but do also check the weather forecast. It is important to be aware of how the weather might affect trail conditions, your ability to complete the trail safely, and what gear to pack to remain comfortable. Hiking during weather such as thunderstorms, heavy rain, extreme heat, or cold are best avoided until you have gained more experience in mitigating the risks these conditions bring. It is also important to pick a trail that allows you to adjust your plans accordingly should the weather change while on your hike.
Get the Right Gear
You don't need to spend a lot of money on gear when you are getting started hiking, however, you do need some essential items to make your hike comfortable and safe. To start, having shoes that are supportive and offer good traction is very important. Running shoes can work for smoother, well maintained trails, however many choose to use trail runners or mid-weight hiking boots for more support, especially when the trail becomes more rocky, rooted, or includes more elevation gain/ loss. In addition to hiking shoes, comfortable clothing can ensure that you remain dry and comfortable if the weather changes. A backpack to carry extra water, snacks, or other clothing can be beneficial and allow you to hike for longer and more comfortably. 

Hike with a Friend or Group
Hiking with a friend or a group is not only more fun, but it's also safer. If you're a beginner, it's always better to hike with someone who has more experience. They can guide you and help you with any challenges you may face, as well as teach you valuable skills to help develop your own hiking abilities.
Additionally, joining a hiking group or tour can be a great way to start hiking, meet like-minded people, learn new skills, and gain confidence and fitness. Hiking and walking groups are plentiful in most major cities and often offer weekly or bi-weekly hiking trips for anyone to join. Perhaps even more beneficial is that hiking groups are communities of like-minded individuals who also like to hike, and want to share that with others. With the accessibility of social media, it is now easier than ever to join one of these groups or find information, meet hiking partners, and begin to build a community to venture out with.
Know Before You Go:
Staying Safe and Fit
Before hiking, it is important to do some light stretches and warm up before setting out on the trail, no matter the distance. Stretching the leg muscles including the calves, hamstrings, and quads will go a long way to reducing soreness and preventing overuse injuries, but don't overlook the upper body as well! The back and core are important muscle groups in hiking to provide balance, and can get especially engaged if you hike with trekking poles.
Most injuries from hiking are caused by overuse injuries, which result from going further, faster too soon, or taxing your muscles more than your body is used to. When you're just getting started it's important to start slowly and gradually build up your endurance. Start with shorter hikes and slowly increase the distance and difficulty level of your terrain. Listen to your body and don't push yourself too hard. If you feel tired or uncomfortable, take a break and rest.
Furthermore, trails can have hazards that can cause injuries such as rocks, roots, and unstable terrain. Here, exercising extra caution is good to avoid a twisted ankle or worse. Shoes specifically made for hiking will provide more grip and stability, and many like to use trekking poles to help with balance – but this is not at all a requirement to begin hiking. 
Follow Trail Etiquette
When hiking, it's essential to follow trail etiquette to keep yourself and others safe, as well as to respect the environment that you are in. Things like staying on the trail can be important to not get lost, as well as to reduce potential damage to the fragile vegetation or ecosystems just off the trail. Additionally, on busy trails it is important to yield to other hikers, especially those coming down as they often have less balance or control than those hiking up. Practicing other behaviors like being mindful of those around you, as well as packing out your trash are important so that all hikers can have the same access and experience to the natural world.
Be Prepared for Emergencies
Despite all the precautions, emergencies can happen, and it is important to always be prepared for emergencies like injuries, getting lost, or running out of supplies. Many hikers will carry what is referred to as the ' 10 essentials' for longer day hikes or especially trips that wander far from roads or urban centers. Without weighing much, the 10 essentials are items that search and rescue groups deem the most important to be able to deal with emergencies if they were to arise. These items include a navigation tool – such as a map, compass, or GPS – first aid kit in case of injury, a headlamp or lighting device of some sort, sun protection for your eyes, a knife, fire starter, and extra food, clothes, and water.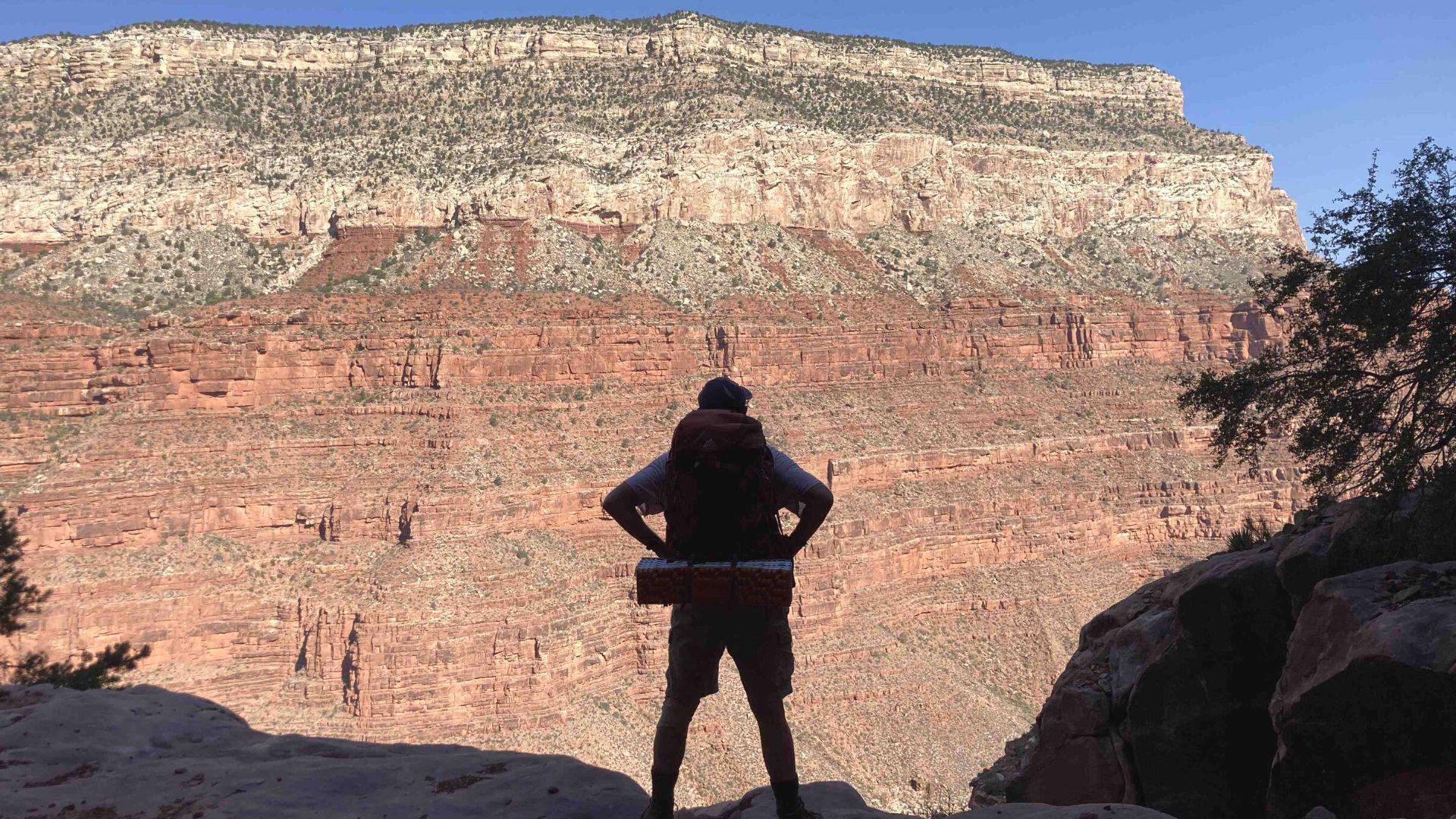 know When to Level Up
Knowing when to increase hiking difficulty in terms of distance, elevation gain, or technicality can be tricky, and there are no hard and fast rules. In general, starting slowly will allow your body time to adjust to the strain of hiking as well as build fitness for longer or more difficult trails. When researching trails, often there will be some mention of the difficulty level, however this can sometimes be misleading. The best way to know is to use hikes that you have done in the past as a reference point – meaning if you had done a hike of 3 miles successfully last weekend, you might consider trying one 5 miles the next weekend – and so on.
The most exciting progression in hiking is to transition from day-hiking to overnight hiking and backpacking. The first overnight trip for any new hiker can be an overwhelming but incredibly rewarding experience. To start, we recommend that new hikers do their first overnight trip with a guided group, or with the help of a more experienced hiking partner and friend. In addition, it is best to pick an overnight hike that you are capable of day-hiking comfortably, as carrying a heavy pack can mean moving much more slowly, and it is advisable to have the option of hiking out in case something goes awry.
Guided BACKPACKing Trips with wildland trekking 
Enjoy the Experience
As mentioned in the beginning of the article, hiking is meant to be a free and joyful experience of connecting to nature, with others, or finding yourself in solitude. It can be a grand adventure, or it can be a routine walk in the woods near your house. The important thing is to not take it for granted, to start slow, and above all – enjoy the experience, no matter what it brings.