Are you aiming for an adventurous getaway sure to provide campfire tales for trips to come? We've got you covered! Read on for some of the most exclusive backcountry accommodations in the states and abroad. These remote lodgings usually require advanced planning and additional travel to reach, such as boat, float plane, specialty snow vehicle, or long distance hike.
Adding to their exclusivity, these stays are booked months if not years in advance, and not without reason. These lodgings provide visitors with access to pristine alpine lakes, nearly empty hiking trails, endless opportunities for connecting with nature and loved ones, and a serenity that is all too foreign in the hustle and bustle of busy modern life. 
Found in the wildest natural habitats conserved on Earth, we rounded up a handful of the most exclusive backcountry accommodations sure to stir the explorer in you.
1. Phantom Ranch, The Grand Canyon, Arizona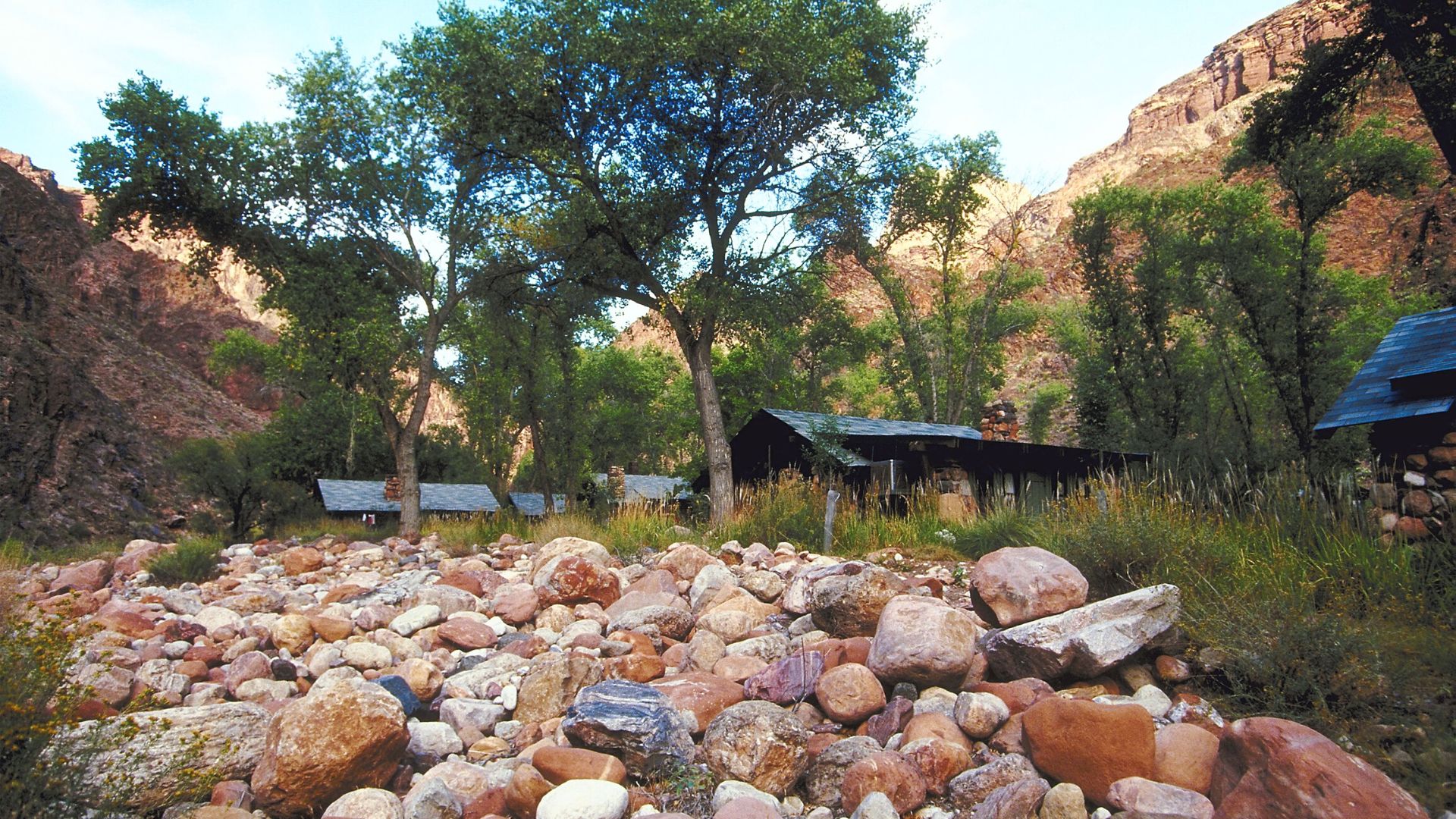 Phantom Ranch sits at the bottom of the Grand Canyon in Grand Canyon National Park. It's nestled between the confluence of Bright Angel Creek and the Colorado River. The only lodging below the canyon rim, it is a place frozen in time. Originally built in the 1920s from wood and native stone, Phantom Ranch seamlessly blends into its surroundings of Pinyon pine and Utah Juniper. The rustic cabins and main lodge serve as an oasis for hikers and rafters to dwell in a solitary serenity unlike any other.
The lodge provides cabins and dorms serving 2-10 or 1-5 guests respectively. They both provide guests with bedding, sinks, showers, and a shared restroom. Dining services can be found at the Phantom Ranch Canteen serving breakfast and dinner daily by reservation only. Beverages and snacks are available for purchase from the canteen window 8 a.m. – 8 p.m.
The only way to reach Phantom Ranch is by foot, pack mule, or rafting the Colorado River. Hiking down offers one of the most rewarding ways to see the mile-deep wondrous gorge, and it is also the most challenging option. It is 7.5 miles down the South Kaibab Trail or 10 miles down on Bright Angel Trail. (Keep in mind that for every hour down one should expect to spend about two hours on the return trip back up the canyon). Rafting the Colorado river requires winning a lottery for private trips or booking a guiding service and will require visitors to book Phantom Ranch accommodations in addition to their raft trip. 
A more novel experience is choosing the time-honored method of canyon transportation: the mule. These rugged and sure-footed animals have been carrying visitors and supplies since the late 1800s. You must be at least 9 years old to ride!
Booking the ranch is done through a lottery system and submissions open 15 months in advance of your planned stay (yes that is over a year in advance). Winners of the lottery are notified by email. You can enter the lottery here.
Guests are extremely limited each year and booking with a secondhand party can often provide an easier entry to your stay at the ranch. Wildland offers a three-day Phantom Ranch tour combining great hiking, wondrous views, and two nights at the historic ranch.
2. North Cascades Lodge at Stehekin, Lake Chelan, Washington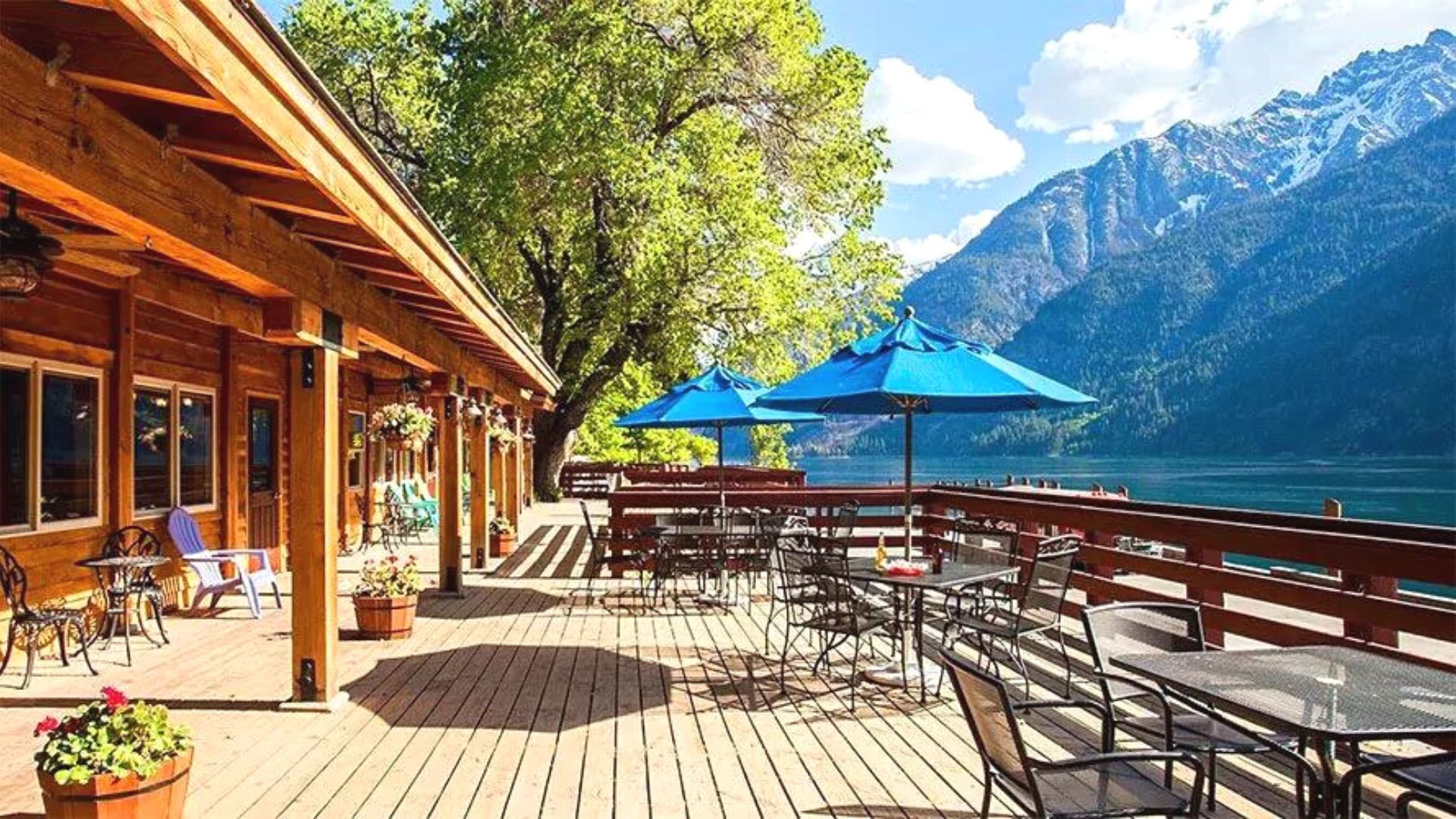 The North Cascades Lodge at Stehekin is located at the northernmost point of Lake Chelan in North Cascades National Park in Washington. The only way to experience its beauty is by passenger ferry, private vessel, or a strenuous two-day hike. Surrounded by lush Western hemlock and Douglas fir trees butting up to the pristine alpine lake, the lodge offers stunning scenic views and mountain landscapes of glacier-capped peaks and interior wilderness. Stehekin is based on an ancient native American Salishan word meaning "the way through" and the staff here aims to provide a way through to a stress-free stay.
Guests can choose from private houses, rustic cabins, or private rooms attached to the lodge. All housing options offer private bathrooms and a direct line to the beach. The on-site restaurant serves three meals a day including a hearty and delicious dinner. The full menu can be found on their website. Visitors can also choose from myriad activities including swimming, fishing, hiking, kayaking, paddle boarding, bike riding, horseback riding, or lounging by the lake. 
No roads lead to the lodge and visitors must choose to do the 23-mile hike, take The Lady of the Lake ferry boat from Chelan, or utilize personal vessels or float planes.
It is wise to book well in advance for the summer and fall months as these are the high season. During the winter months, only the cabins are open for visitors as the average snow levels reach 4-6 feet. Booking can be completed on the Stehekin website here. 
Or if you're interested in roughing it with us, join our next backpack to Stehekin Lodge!
3. Lakes of the Clouds Hut, White Mountain National Forest, New Hampshire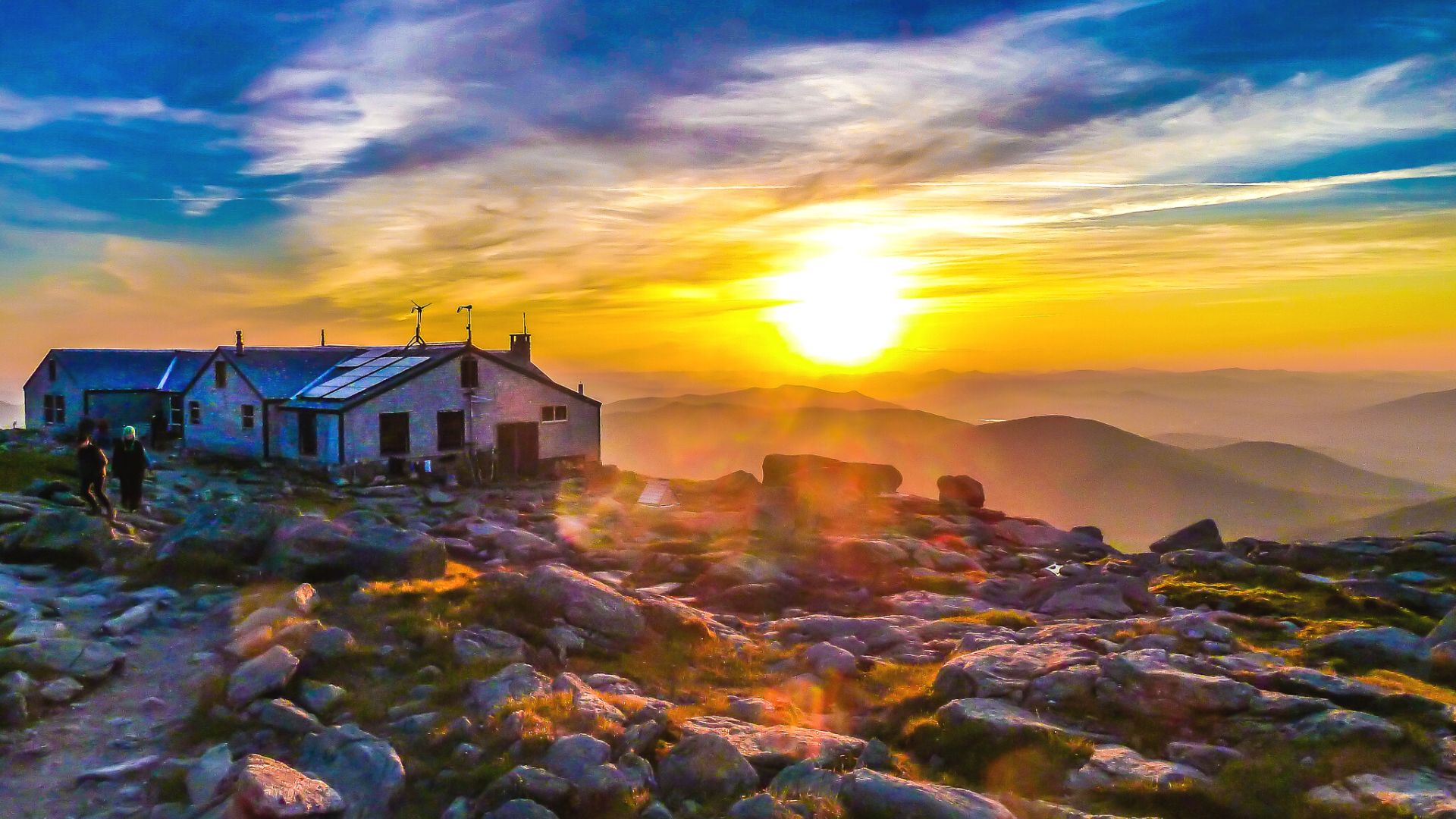 Lakes of the Clouds hut, the Appalachian Mountain Club's most popular hut, is found only steps away from one of the most iconic peaks in the White Mountains, Mount Washington. The hut sits on the saddle between Mount Washington and Mount Monroe and offers visitors the opportunity to top out at the highest point in the Northeastern mountain range at 6,288 feet.
This rugged, off-the-grid hut, is made for those who like to endure. The rooms are unheated, sleep 6-15 people, and have waterless toilets. The hut requires visitors to provide personal sleeping gear, headlamps, and appropriate backcountry gear. Leave space in your pack for your trash, as the hut has a carry-in, carry-out policy. There is no wi-fi but plenty of board games and outdoor activities to keep guests busy. 
The dining room offers water, snacks, and merchandise. Dinner and breakfast are included in your stay and served family style, while lunch is available for purchase with an additional fee from 10 a.m. – 5 p.m. daily.
The only way to get to the Lakes of Clouds Hut is by hiking the strenuous three-mile trek on the Ammonoosuc Ravine Trail, enduring 2,600 feet of elevation gain for about 3-4 hours. There are plenty of waterfalls and picnic stops along the way to enjoy the beautiful scenery. The Appalachian Mountain Club provides a shuttle to the Ammonoosuc trailhead running daily for most of the season, and reservations are highly recommended. 
While here guests can choose from a variety of excursions such as to the hut's namesake lakes. These are two small alpine lakes that provide a perfect spot to catch the sunset or for views of the Northern Presidential Range. Hiking the Presidential Range is an option itself, and the summer months provide the best time for alpine flower peeping! 
Hut-to-hut hiking is another way to see the epic scenery of this area, and since the Lakes of Clouds Hut was voted one of America's best huts by Backpacker Magazine it will require ample preparation. Reservations should be made in advance on their website. Come soak in the expansive views with us on an excursion through the centerpiece of the White Mountains, the Presidential Range.
4. Kebnekaise Mountain Station, Mount Kebnekaise, Sweden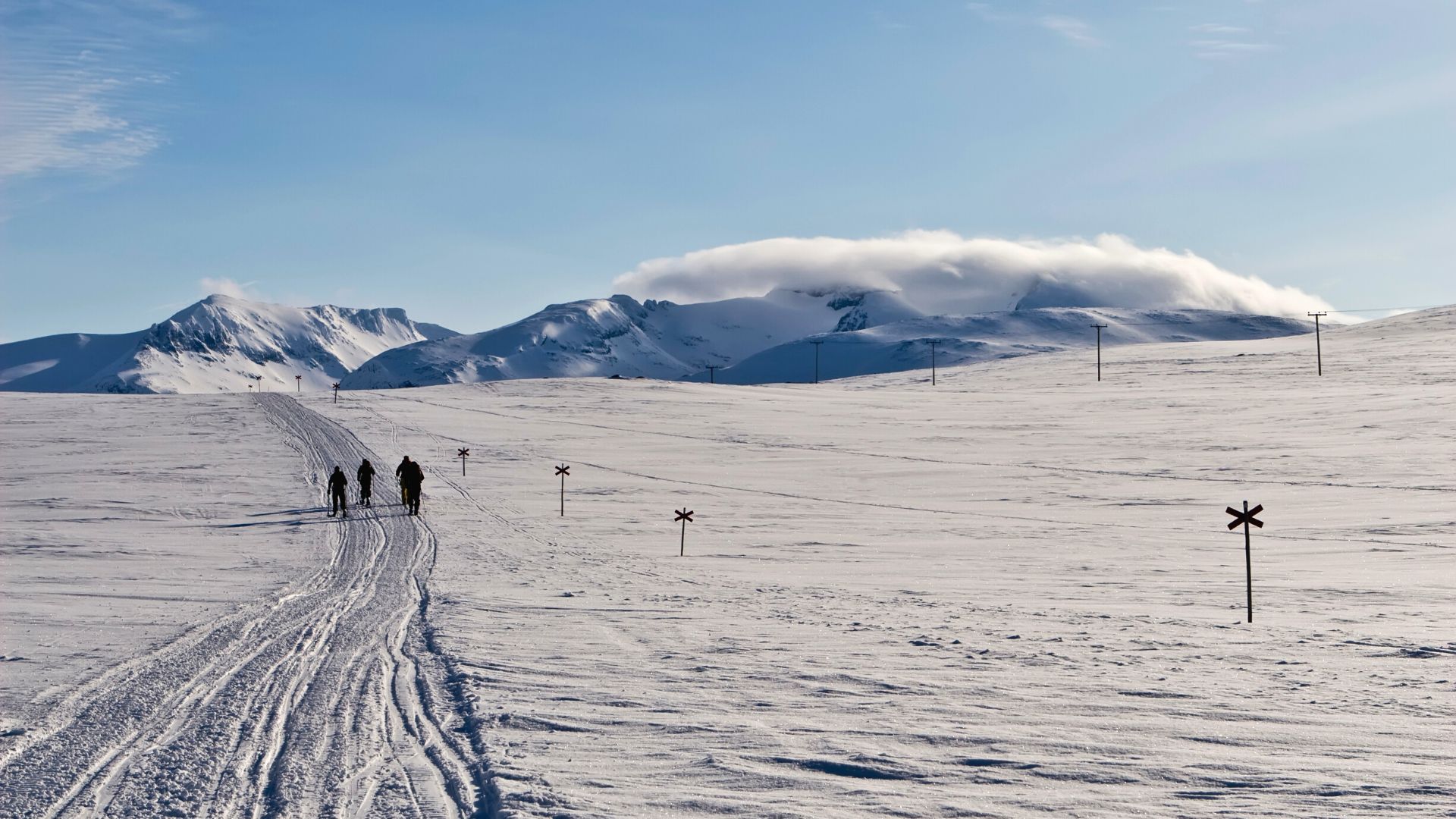 At the base of Sweden's highest mountain sits Kebnekaise Mountain Station, a rustic lodge serving up some of the best local fare and scenic views around. Visitors soak in the wild and barren mountain landscape of northern Lapland while relaxing before their next day's adventures. Situated in the far north of Sweden, Kebnekaise Mountain Station is twelve miles from the nearest road and requires visitors to ski in, or prepare travel accommodations by snowmobile, sled dogs, or helicopter. The pay off if you're lucky? A the chance to catch a glimpse of the colorful Aurora Borealis
The station itself is a mix between hostel and hotel with both dorm rooms and private rooms available. The dorms sleep up to 15 and include bedding, shared toilets, and showers. If you'd like to bring your tent instead, no reservations are required and travelers are welcome to pitch it on-site on a first come first serve basis. The station's restaurant provides breakfast, lunch and dinner and reviewers rave about the traditional fare served here. In traditional Scandinavian fashion, a sauna and relaxation room are found on the premises as well.
Visitors come from all over to climb the mountain, ski, hike to glaciers, or simply take in the majestic scenery. The station is open from March to April and from mid-June to mid-September. Keep in mind that even in the summer months there is a high chance of snow and pack accordingly! Booking can be done in advance on their website or is included in any guided tour.
Arctic Circle Winter Traverse with Wildland Trekking 
Leaving the hustle and bustle of everyday life does wonders for the soul. The added adventure entailed to reach these out of the way gems only makes the relaxation to be had at them, all the more fulfilling. Backcountry excursions aren't for everyone but accommodations like these allow a delicate balance between wilderness and respite.