Cycling the Schoodic Peninsula, a part of Acadia National Park offers visitors a peaceful introduction to Maine's most popular recreation area.
In 2021 and 2022, approximately 4 million visitors entered Acadia National Park, located midway up the coast of Maine.
The park is nearly 50,000 acres and includes half Mount Desert Island, the southern part of the Schoodic Peninsula, and some outlying islands.
Most of those visitors spend their time on Mt. Desert Island's roads and hiking trails.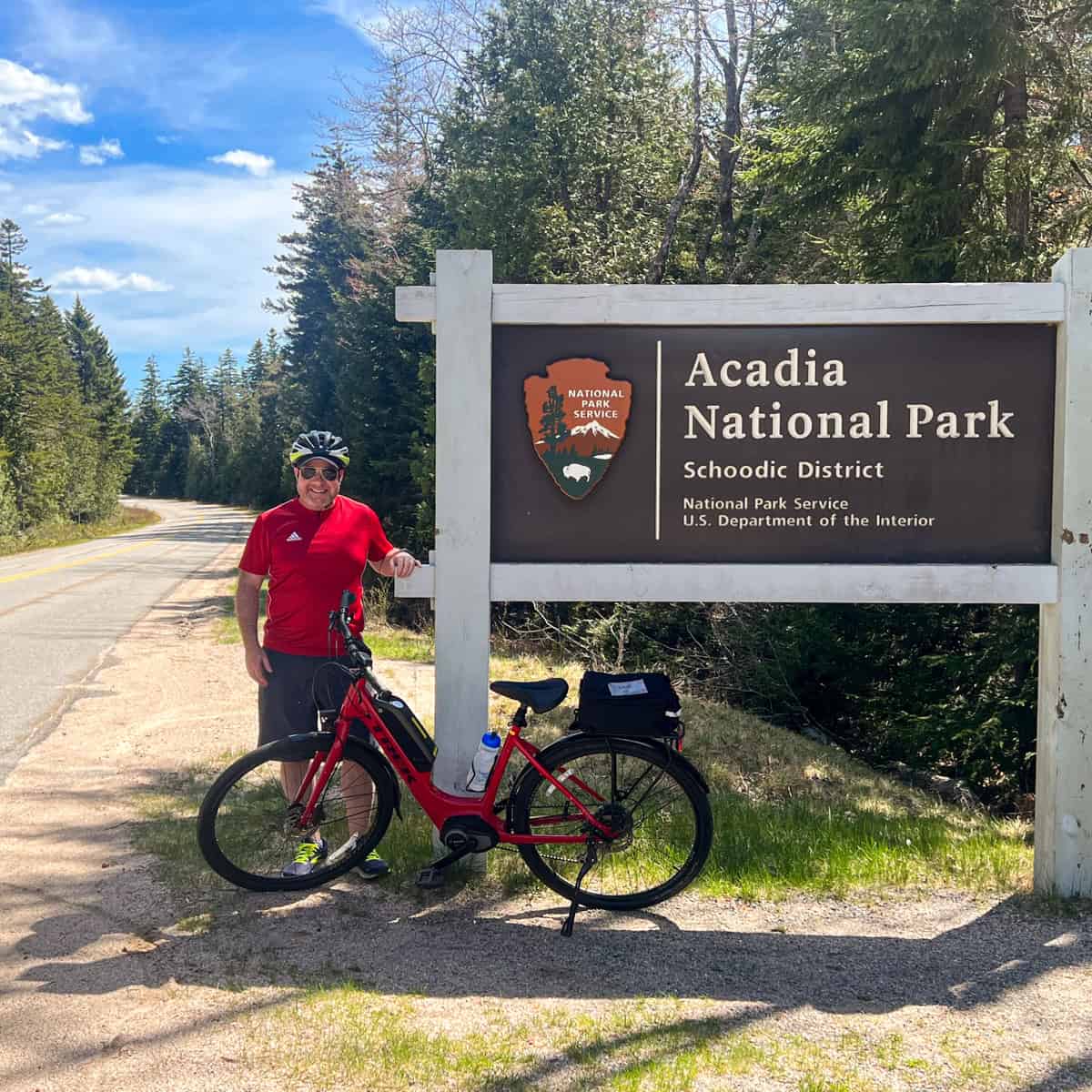 On the other hand, the Schoodic Peninsula is part of the U.S. mainland. It's a bit further north of Mt. Desert Island and is easily accessible via car or ferry from Bar Harbor.
It offers a more serene setting with rugged cliffs, dramatic granite shorelines, and pristine forests. With its diverse ecosystems and abundant wildlife, the peninsula is a haven for nature enthusiasts and outdoor adventurers.
Visitors can cycle the six-mile Schoodic Loop Road, explore scenic hiking trails, observe seabirds and marine life, and immerse themselves in the tranquility of the natural environment.
Cycling Tour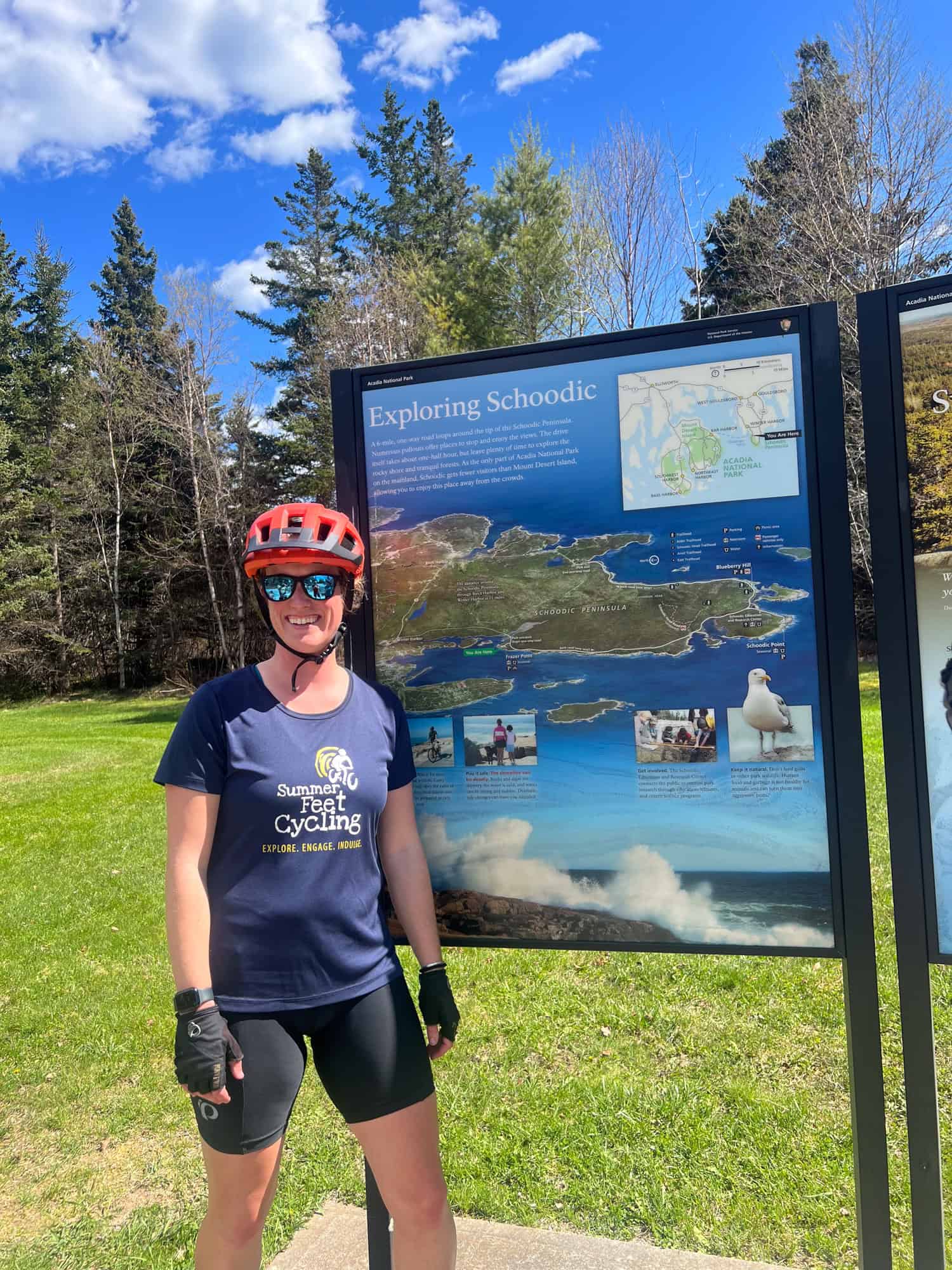 As a part of my attendance at Adventure ELEVATE North America, a conference organized by the Adventure Travel Trade Association, I had the chance to go on a three-day cycling tour of Maine.
On our first day with Summer Feet Cycling, we departed the Old Port in Portland for the three-hour scenic drive to Acadia National Park.
Along the way, we stopped in Belfast for coffee and Chase's Restaurant in the town of Winter Harbor for lunch.
The guides for our Maine bike tour were Norman Patry, owner of Summer Feet Cycling, and Mackenzie. They were both knowledgeable and good-natured, which made for an enjoyable experience.
Each day we cycled in Acadia National Park; one would cycle with us while the other drove a support van full of snacks and drinking water.
Every participant in our group had a choice of bikes: hybrid, gravel, or e-bike. I chose the e-bike by Trek, which was easy to use and a lot of fun.
Summer Feet provided helmets and either flat or clip-in pedals. All bikes were equipped with trunk packs for carrying items while cycling. I used the storage bag for my iPhone, which I didn't want to slip out of my pocket accidentally.
Schoodic Peninsula Attractions
We began our cycling tour of Schoodic Peninsula from the parking lot of Chase's Restaurant in Winter Harbor.
We only rode east on Main Street for a few minutes when we turned right (south) onto Schoodic Loop Road.
A few minutes down the road, we passed the National Park Service sign marking the Schoodic District of Acadia National Park entrance.
About 1.5 miles into our ride, we rode past the Schoodic Woods Ranger Station on our left. Just beyond the ranger station is the Schoodic Woods Campground, the newest campground in Acadia National Park.
Frazer Point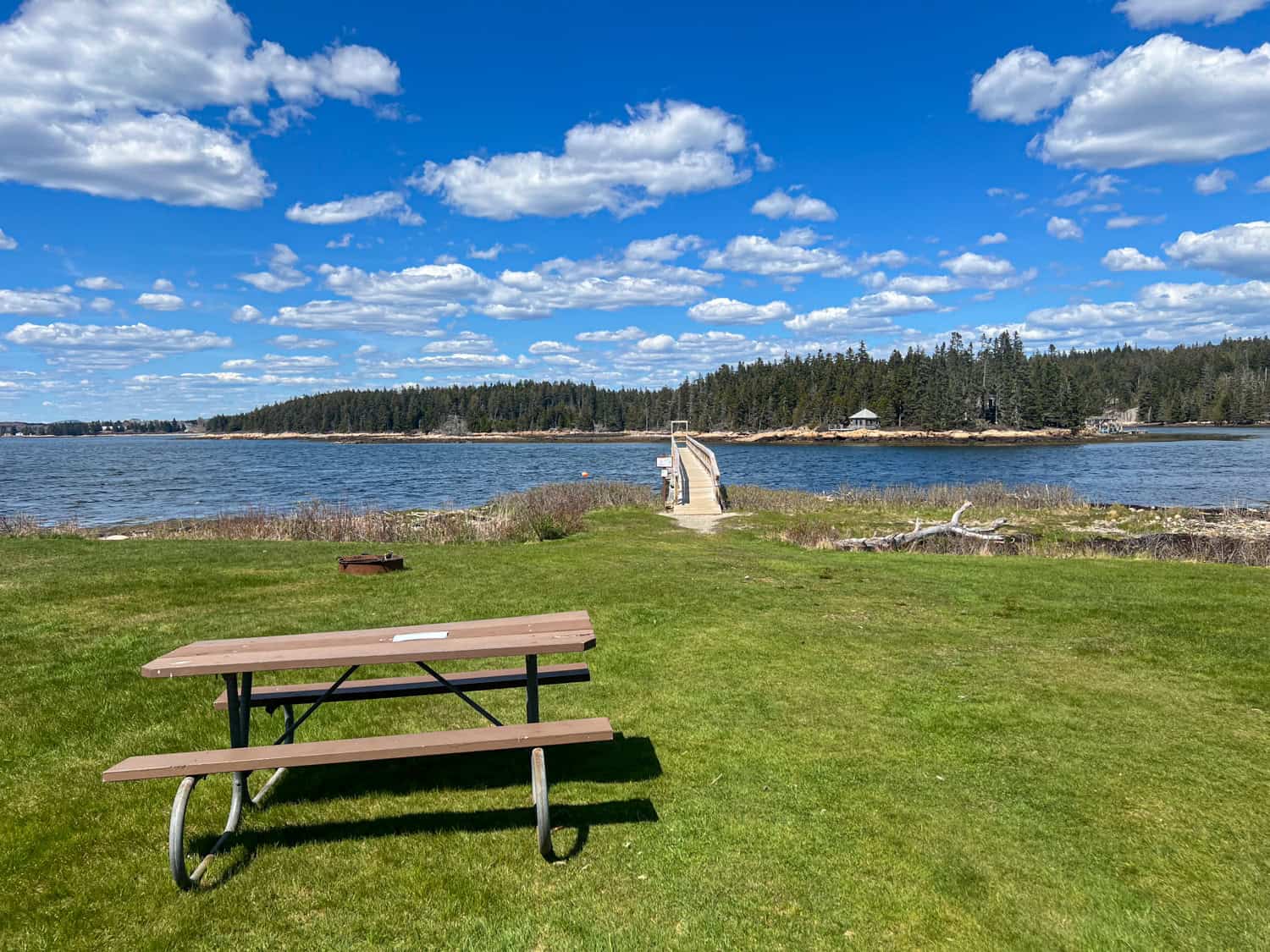 The beautiful Frazer Point Park and Picnic Area are a few minutes south of the ranger station.
The park looks out over a confluence of waters. Mosquito Harbor to the northeast and Mt. Desert Narrows to the north and west.
Both are a part of the larger Frenchman Bay that spans the distance from Mt. Desert Island to the Schoodic Peninsula.
It was a spectacularly clear day when we were there, and it couldn't have looked prettier.
Across the water in the distance, we could see Cadillac Mountain. At 1,527 feet above sea level, it's the highest point on the East Coast of the United States.
We walked out along the public dock; it was low tide, exposing tide pools and seaweed amid the rocky shore. The difference between low and high tides ranges from eight to 12 feet.
The Frazer Point picnic area features picnic tables, grills, and fire pits for those who want to cook here.
After Frazer Point Park, the Schoodic Loop Road becomes one-way, which makes an already fairly easy road to cycle even safer and more accessible.
Winter Harbor Lighthouse
We continued cycling south toward Schoodic Point at the peninsula's southern tip. Along the way, I saw the Winter Harbor Lighthouse on Ned Island.
There are more than 60 lighthouses along the coast of Maine, and seeing how many you can spot makes for a fun game.
Schoodic Institute
We passed the Schoodic Institute on our right just before we arrived at the parking lot for Schoodic Point.
The Schoodic Institute is a non-profit organization with a mission of "inspiring science, learning, and community for a changing world." The campus includes classrooms, laboratories, and an auditorium.
The research center is partnered with the National Parks Service and Acadia National Park to conduct scientific research and provide educational opportunities.
For example, the Schoodic Education Adventure (SEA) program is a multi-day, residential outdoor program giving middle school students hands-on experience in the field.
The Schoodic Institute is open to the public, and the Acadia National Park Welcome Center is in the historic Rockefeller Hall.
John D. Rockefeller helped popularize this region of Maine as a vacation destination. From 1915 to 1940, he financed and oversaw the construction of the historic carriage roads in Acadia National Park.
Schoodic Point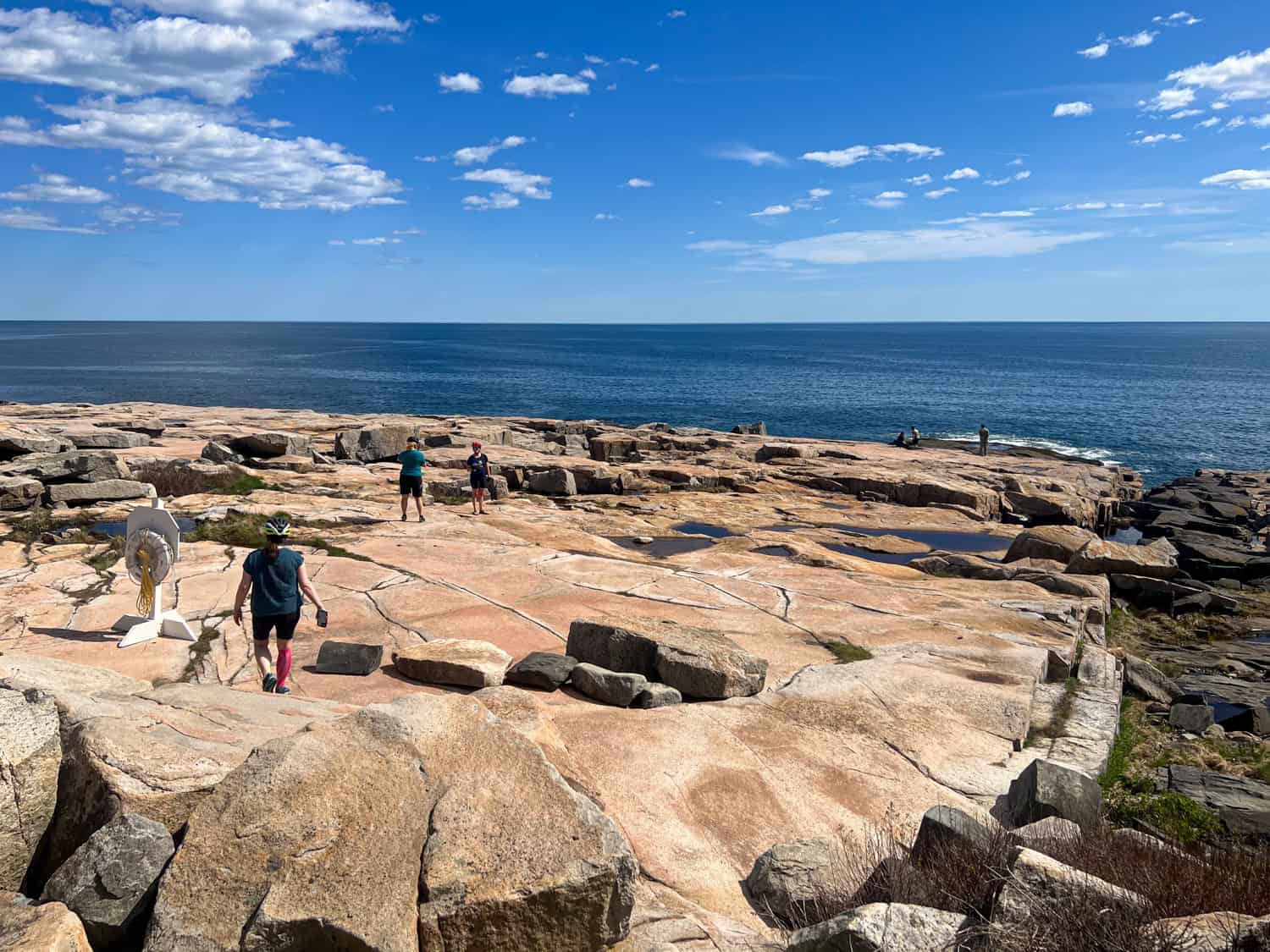 Schoodic Point marks the southern tip of the Schoodic Peninsula. From here, you can enjoy the Atlantic Ocean views.
For thousands of years, this land was used by the Wabanaki, a term that includes Maine's four Native American populations:
Maliseet
Micmac
Passamaquoddy
Penobscot
By the 1890s, it had been acquired by John Moore, a wealthy businessman from Maine. In 1929, he donated it to Acadia National Park to benefit everyone visiting.
The craggy coast of Maine, along with the seafloor of the Gulf of Maine, was carved by glaciers about two million years ago.
Today, the Atlantic Coast is full of life, including waterfowl, harbor porpoises, and many lobsters, crabs, and scallops.
Blueberry Hill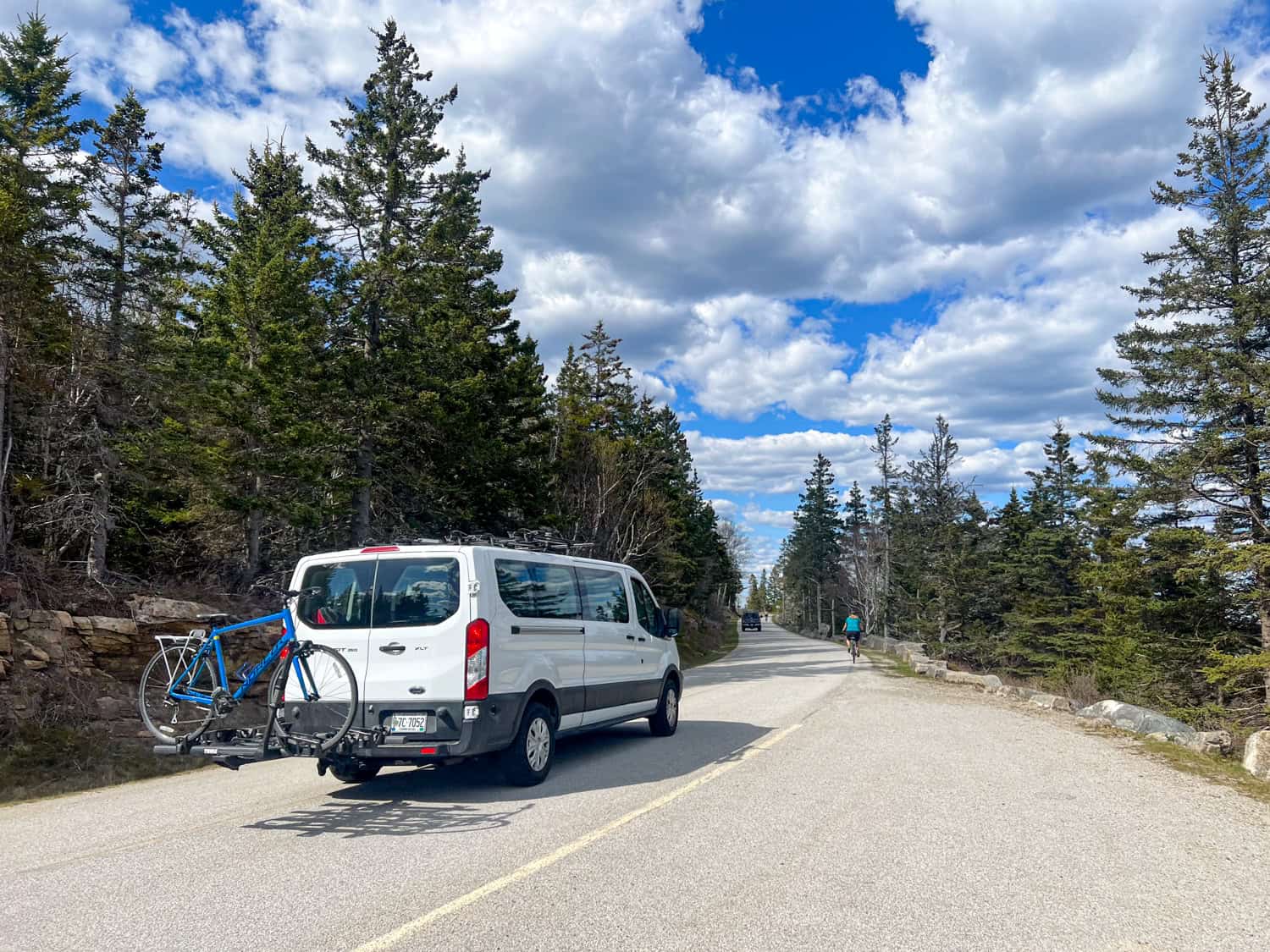 After cycling past the Schoodic Institute again, we turned right on Schoodic Loop Road to continue east and north. A hair past Little Moose Island is the Blueberry Hill parking lot.
Maine is known for its blueberries; however, we were there too early in the season to see any in the wild.
Schoodic Head
If you're driving and can find a spot in Blueberry Hill's small parking area, it's an excellent spot to begin hiking to Schoodic Head, the peninsula's high point.
There are two approaches. You can take Alder Trail to Schoodic Head Trail or the more direct Anvil Trail. You can find maps and trail info on National Park Planner.
If hiking doesn't fit your plans, you can cycle or drive up Mountain Road and get close to the top before walking.
Birch Harbor
We didn't have time for hiking and continued northward on Schoodic Loop Road. Midway up the east side of the peninsula, the one-way loop road switched back to two-lane traffic.
After that, it wasn't long before we reached the parking lot of The Pickled Wrinkle restaurant in Birch Harbor.
Here, a few of my fellow cyclists chose to end their day on the bikes and hopped in the Summer Feet Cycling van.
If we had more time, I would've liked to cycle the two miles northeast to the Prospect Harbor Lighthouse.
Winter Harbor
Mackenzie and a few of us on the e-bikes continued the additional 2.5 miles along Route 186, the main road between Birch Harbor and Winter Harbor. And we arrived back where we began.
The circle around Schoodic Peninsula was about 13.5 miles and took about two hours and fifteen minutes. However, much of that time was spent taking photos and exploring on foot.
According to my watch, I only actively cycled for about 75 minutes. My top speed was 26 miles per hour. The road was relatively flat, with only minor elevation gains and losses (about 100-200 feet).
_____
My tour with Summer Feet Cycling was arranged in partnership with the Adventure Travel Trade Association, Maine Office of Tourism, and Sand Bar Cottage as part of my attendance at the 2023 Adventure ELEVATE North America conference.
Dave is the Founder and Editor in Chief of Go Backpacking and Feastio. He's been to 66 countries and lived in Colombia and Peru. Read the full story of how he became a travel blogger.
Planning a trip? Go Backpacking recommends: