The 27-mile Park Loop Road offers visitors to Acadia National Park on Mount Desert Island a chance to immerse themselves in Maine's rugged beauty.
This scenic paved road goes through the eastern half of Mt. Desert Island, offering views of the coastline, forests, and Cadillac Mountain. At 1,527 feet, it's the highest point on the United States East Coast.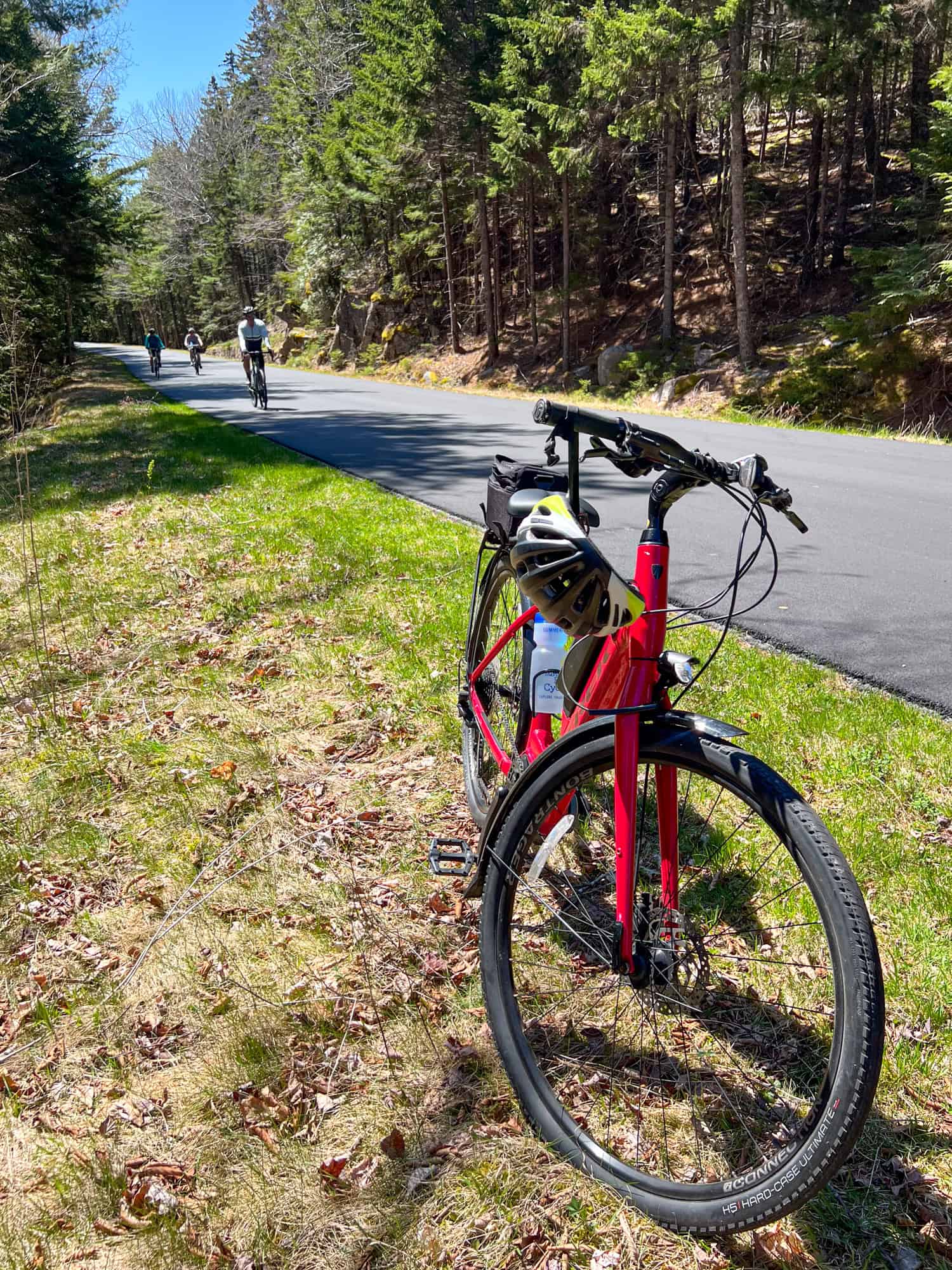 The day after cycling Schoodic Peninsula, my tour with Summer Feet Cycling continued with a morning ride along Acadia's Park Loop Road.
We began our day at the Sand Bar Cottage, a charming B&B in the town of Bar Harbor, and rode south along Great Meadow Drive. We were turning left (east) onto Park Loop Road within minutes.
If this entry point south of Bar Harbor were "12" on a clock, our turn to the left would take us in a clockwise direction.
We planned to ride along the coast and soak up the Atlantic views before following Park Loop Road inland to our endpoint at Jordan Pond.
In a little over two hours, we covered half the 27-mile road. The remainder was driven in Summer Feet Cycling's van.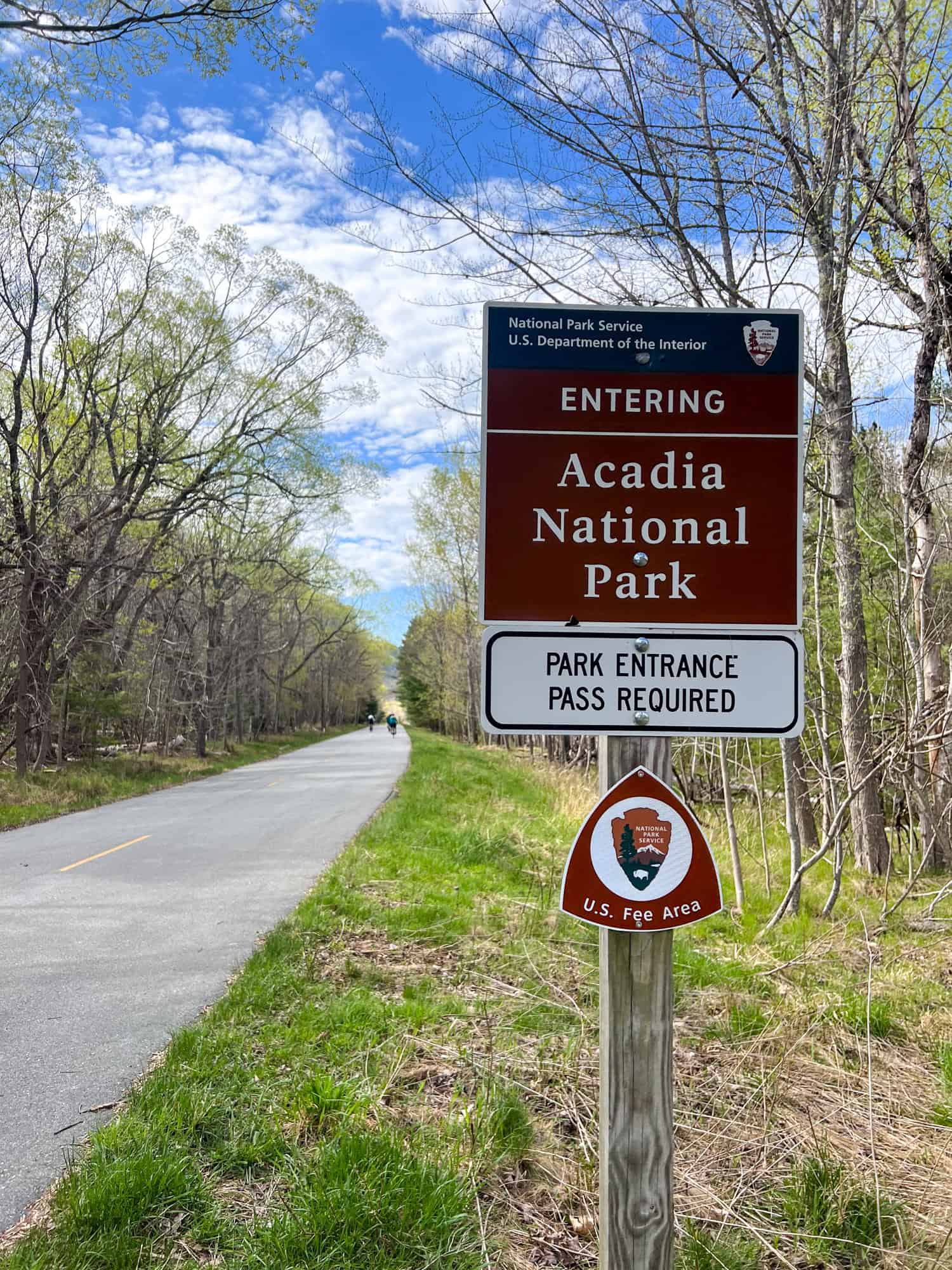 The reason we didn't complete the entire Park Loop Road had to do with our scheduling. We needed to return to Bar Harbor for lunch and a lobster boat tour in the afternoon.
That and our guide, Norman, said we'd be cycling the more scenic section of the road, and it's primarily uphill at that point. As it turned out, 13 miles on an e-bike was plenty of time for me to enjoy nature.
Here are the highlights from our second day of cycling in Acadia.
Where To Stop on Park Loop Road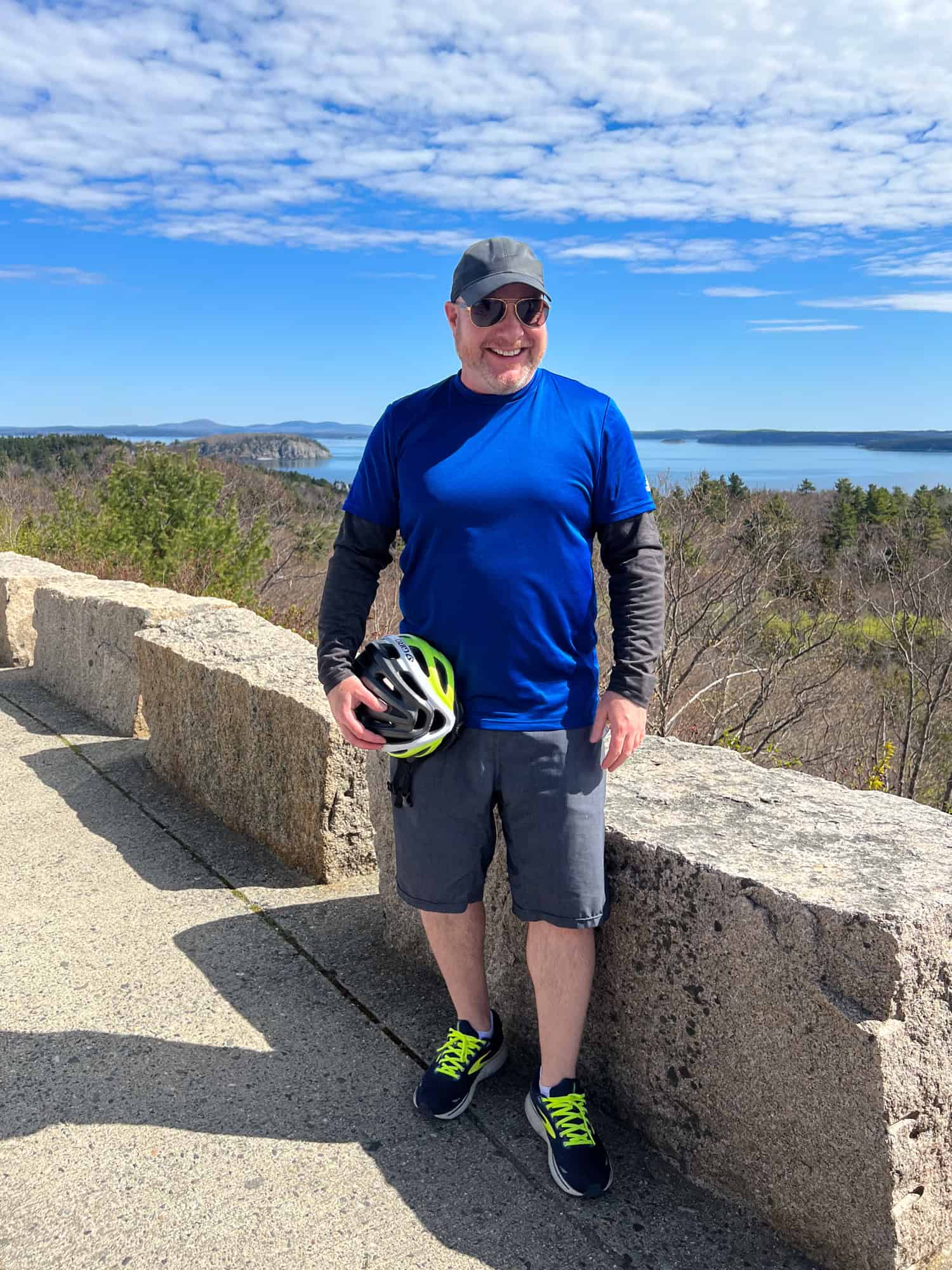 Our first few minutes cycling Park Loop Road were pretty flat. It was still early spring in Maine, and many trees lacked full-sized leaves for the year.
This allowed us to see further into the dense forest than we might've experienced otherwise.
More importantly, the sun was out, and the temperatures were cool. There were fewer visitors, and the roads weren't too busy since it wasn't peak season (July and August).
Park Loop Road lacks dedicated bike lanes, and cars are allowed to park on the side of the road in addition to designated parking areas, which can be a hazard to cyclists. Fewer cars meant our ride was safer and more enjoyable.
The posted speed limit for everyone is between 25 and 35 miles per hour. The fastest I went on my Trek e-bike was about 33 mph on a downhill section.
Sieur de Monts Nature Center
The first point of interest we passed was Sieur de Monts Nature Center, which includes exhibits on Acadia National Park and its history.
The Wild Gardens of Acadia offers a chance to learn about native trees and wildlife on easy walking trails like Jesup Path.
Founded in 1926, the Abbe Museum at Sieur de Monts showcases a collection of Native American artifacts found in the area and throughout Maine. Admission is $10, as it's not a part of the national parks system.
Egg Rock Overlook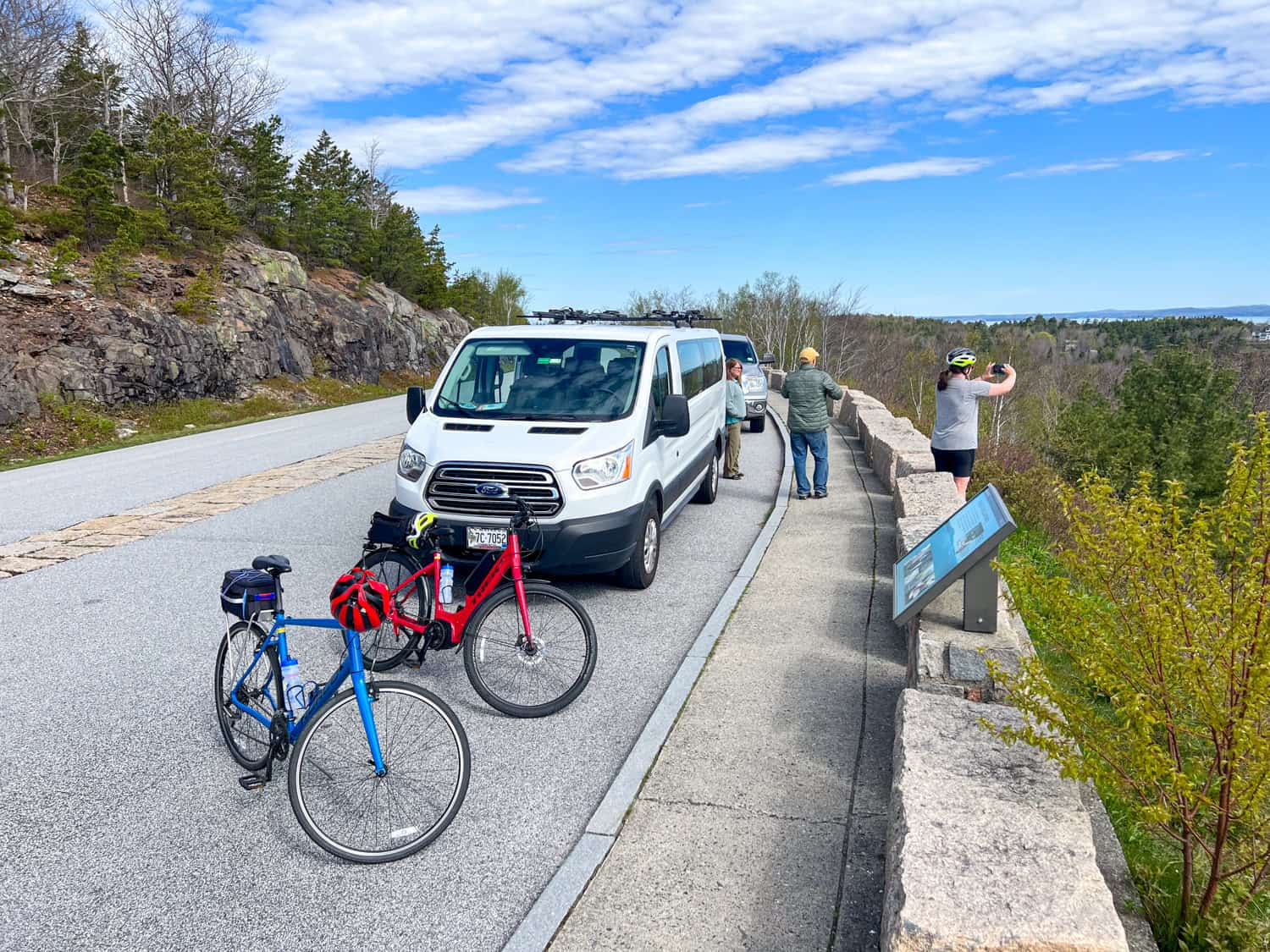 We continued eastward and up a steep incline to Egg Rock Overlook. This was the first place we pulled over for a break. I took photos of Frenchman Bay, now visible beyond the budding trees.
In the distance, we could see Egg Rock Lighthouse on a small island (Egg Rock) popular with nesting seabirds.
These include the double-crested cormorants, common eiders, and herring gulls. Harbor seals also like to hang out on the rocks here.
Egg Rock Island is a part of the Maine Coastal Islands National Wildlife Refuge and is therefore protected territory.
Precipice Trailhead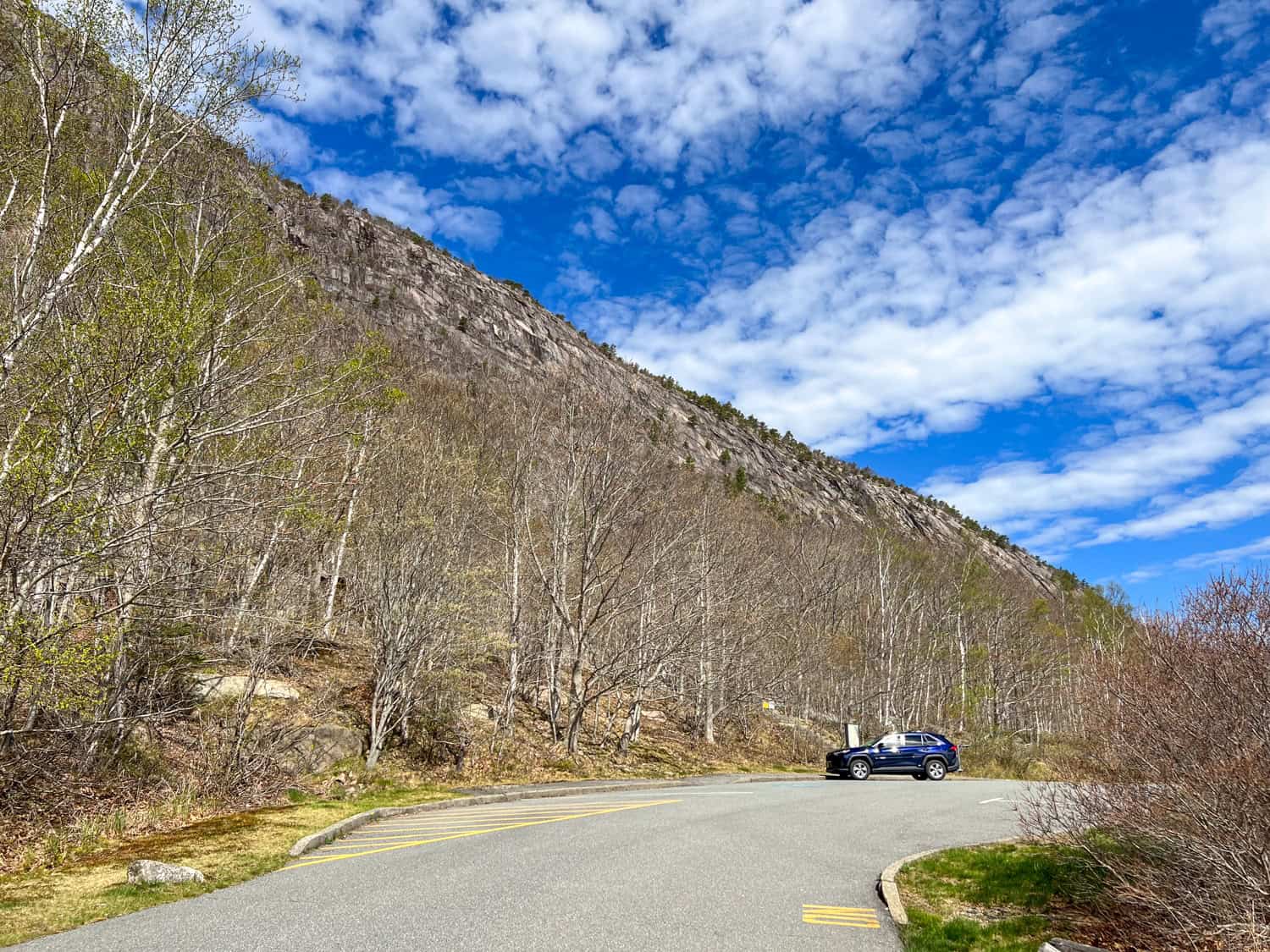 We continued cycling uphill to the parking lot for Precipice Trail, which offers a direct but steep and rocky climb to reach Champlain Mountain Summit (elevation 1,058 feet). Peregrine falcons can be spotted along the way if you're lucky.
Beyond the parking lot for Precipice Trail is a turnoff to the east for Schooner Head Overlook, which offers similar views of Egg Rock Island as the previous overlook.
Sand Beach
Just south of the Schooner Head Overlook is the Sand Beach Entrance Station. Here, all visitors, whether arriving by bike, foot, or car, need to show their Acadia entrance pass to the park rangers.
The price is $20 per person with no car (cyclist, hiker, pedestrian) and is valid for seven days.
A park entrance pass can be purchased online via the National Park Service website or in person at Hulls Cove Visitor Center, located off Route 3 in Bar Harbor. Private vehicles are $35.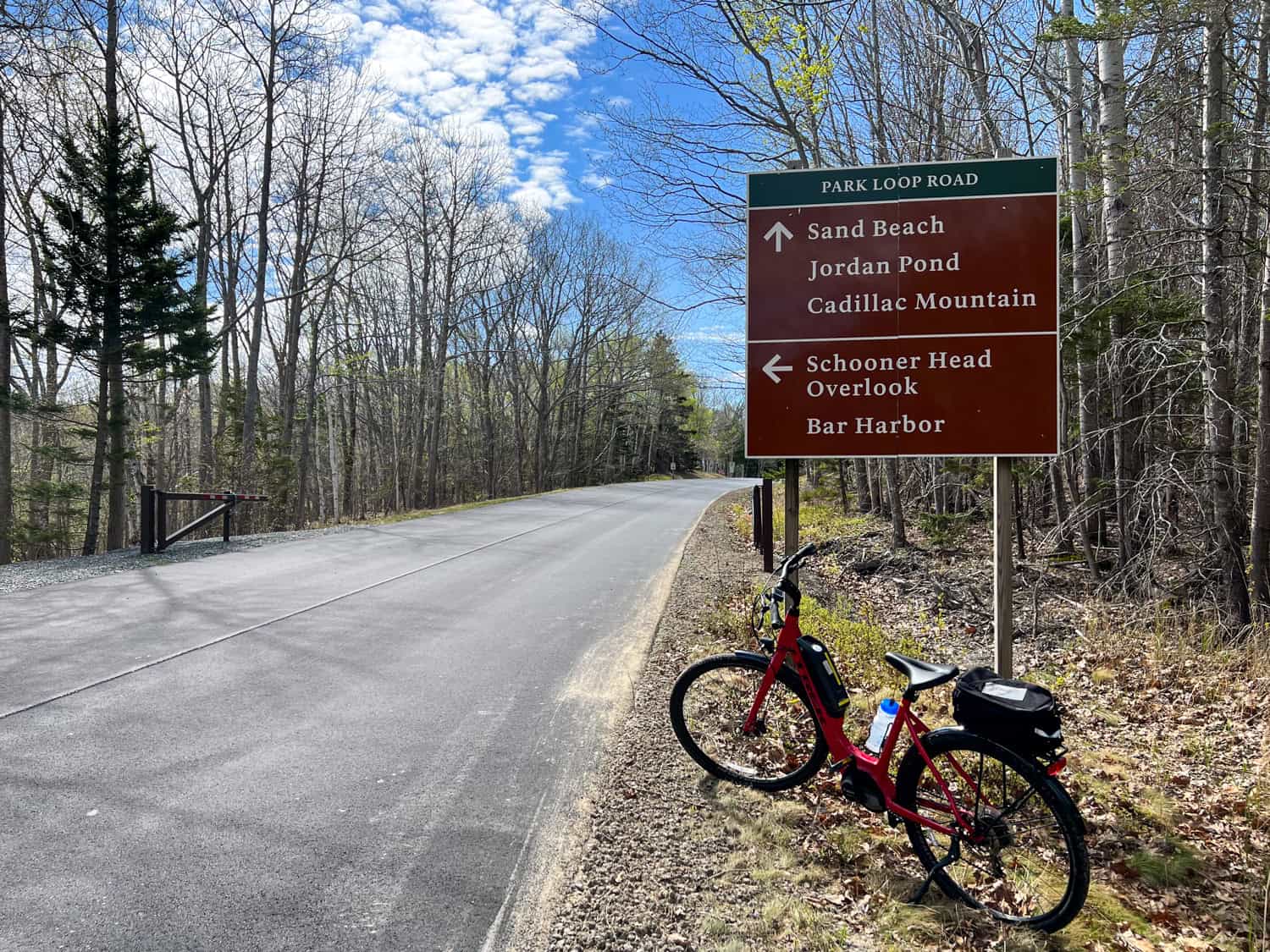 Beyond the entrance station, there's a sign for some of Park Loop Road's main attractions:
Sand Beach
Jordan Pond
Cadillac Mountain
We exited Park Loop Road with a turn left into the parking lot for Sand Beach. Facilities here include bathrooms and changing rooms for when the weather is warm enough to sunbathe and, possibly, swim (July and August).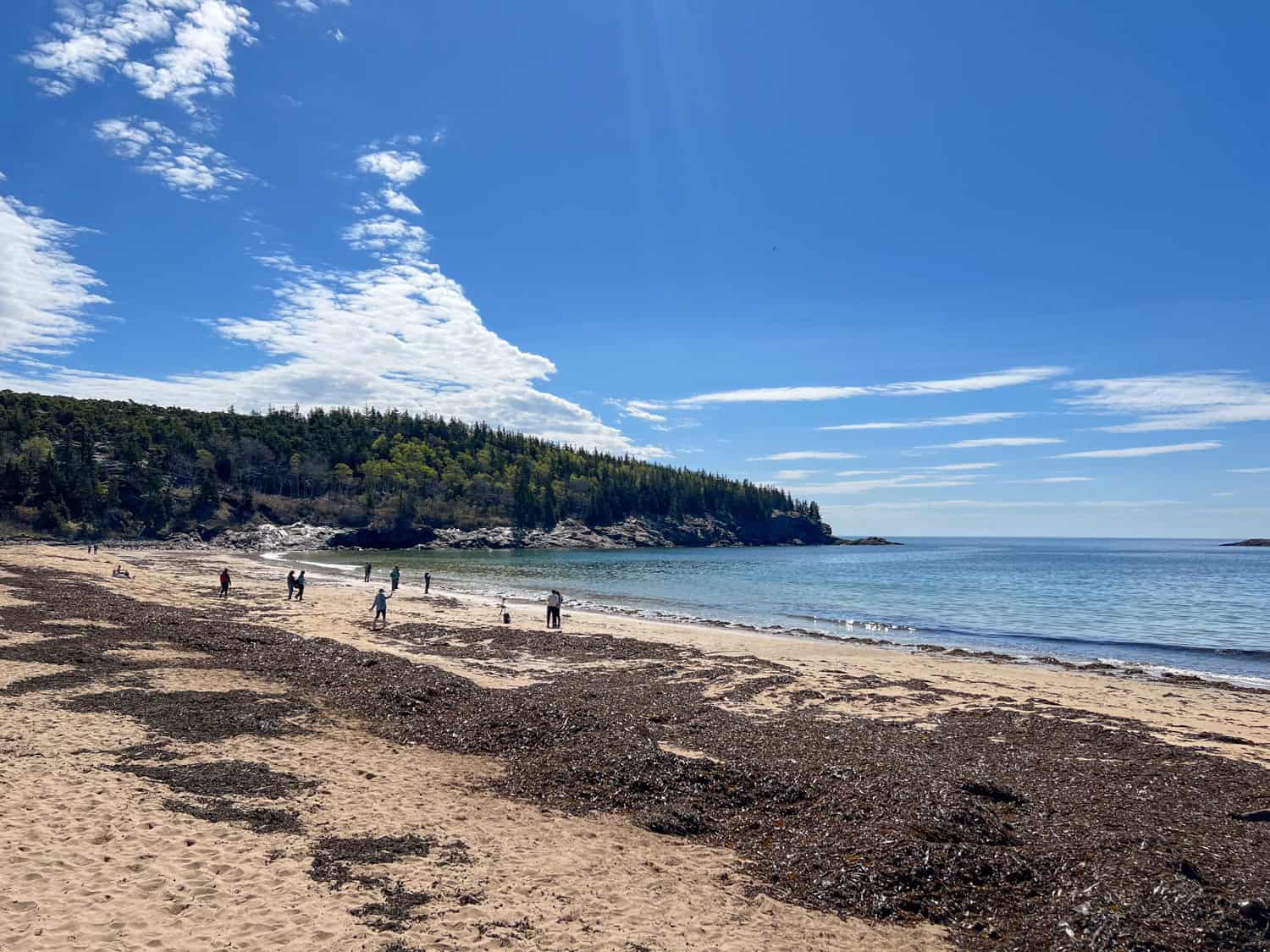 It was still much too chilly for that, so the curious among us were content to walk down to the beach and look out at Newport Cove. What we found was a lot of seaweed!
At the far end of Sand Beach is the Great Head Trail. This hike takes you around a small peninsula, offering views of the beach from above and more of Acadia's interior woodlands.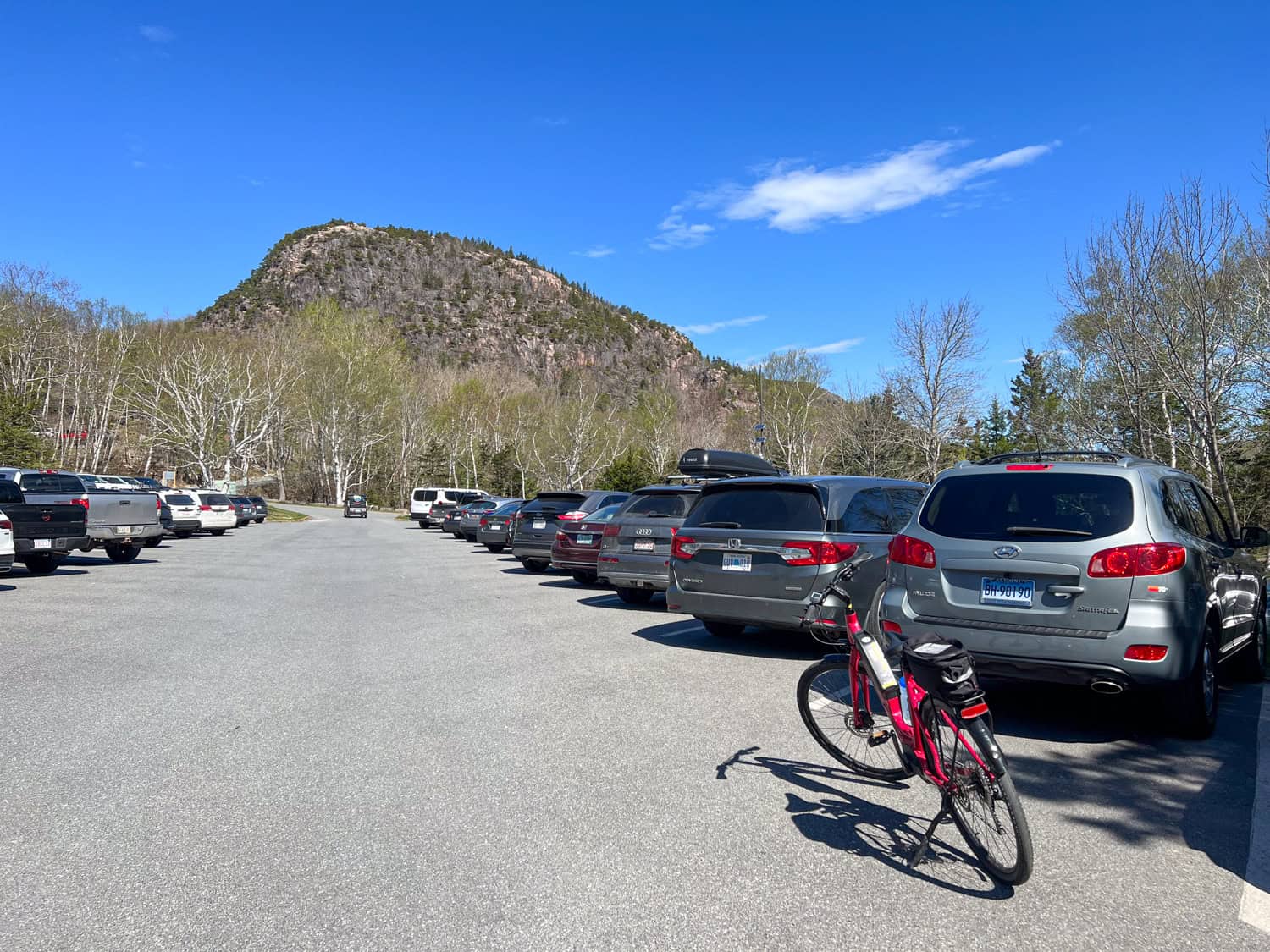 Behind the beach is Beehive Lagoon and access to the Beehive Trail, a 1.4-mile loop that ascends a 450-foot cliff face. Iron rungs and granite staircases help hikers climb this trail. The reward for their effort is sweeping ocean views.
From the Sand Beach parking lot, I could see tiny figures climbing along the tops of the cliffs.
Thunder Hole
Another of the park's most popular attractions is Thunder Hole, soon after the stop for Sand Beach.
You can park your bike or car in the lot with the gift shop and walk the short Thunder Hole Path to the water's edge.
According to the sign, the best time to hear the thunderous water smashing against the glacier-carved granite is two hours before high tide. Being there during a storm probably helps.
When I pulled over and parked my e-bike on the shoulder of Park Loop Road, the Atlantic waters along Acadia were calm. And I believe it was still low tide, and all I heard and saw was some light splashing against the rocks.
Otter Point Overlook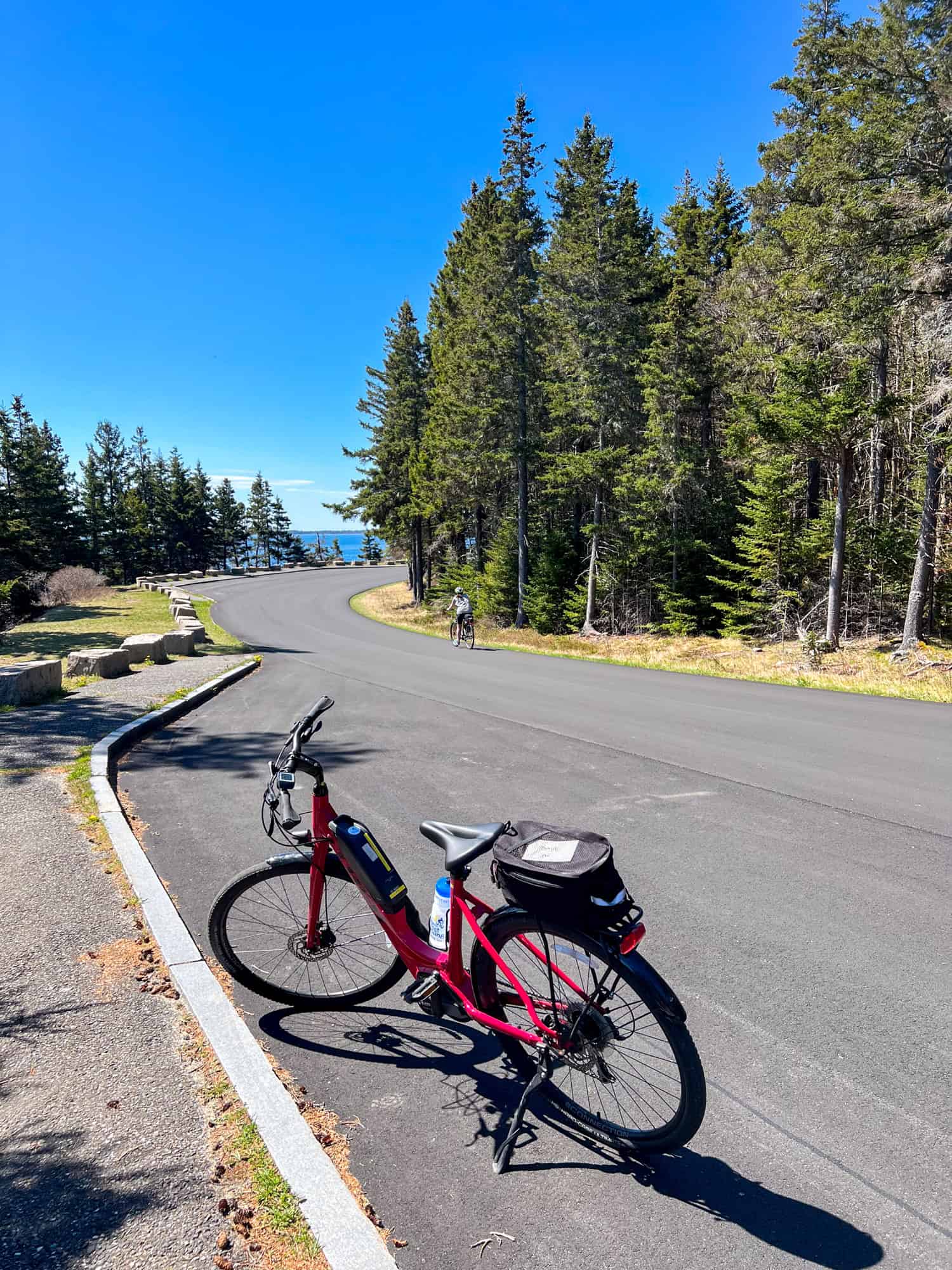 Continuing south of Thunder Hole, you'll pass Monument Cove and Boulder Beach on the lefthand side.
Then the road splits at Otter Cliffs. If you're in a car or want to pull over safely, there's a small parking lot accessible from the right lane. The left lane is for those who don't want to stop.
The Ocean Path hiking trail is accessible from here and leads to the Otter Cliff Rock Climbing Area. The hiking trail follows the curve of the peninsula to its southern point at Otter Point Overlook.
Otter Cove Bridge & Causeway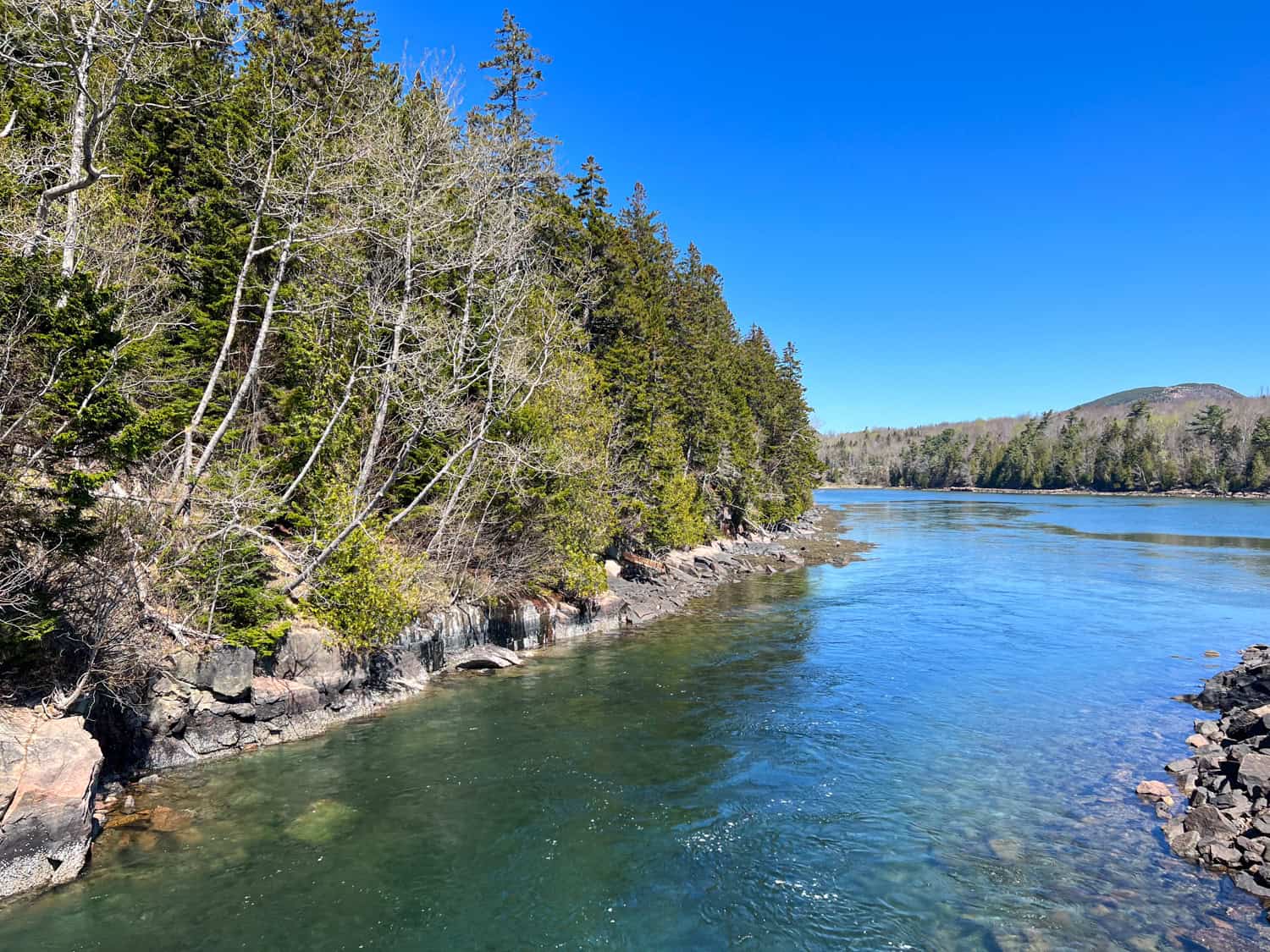 Once you head north up the peninsula's west side, you'll pass Otter Cove Overlook on your left and cross Otter Cove Bridge. This is a pretty area to stop and take a break to enjoy the scenery.
Hunters Beach Overlook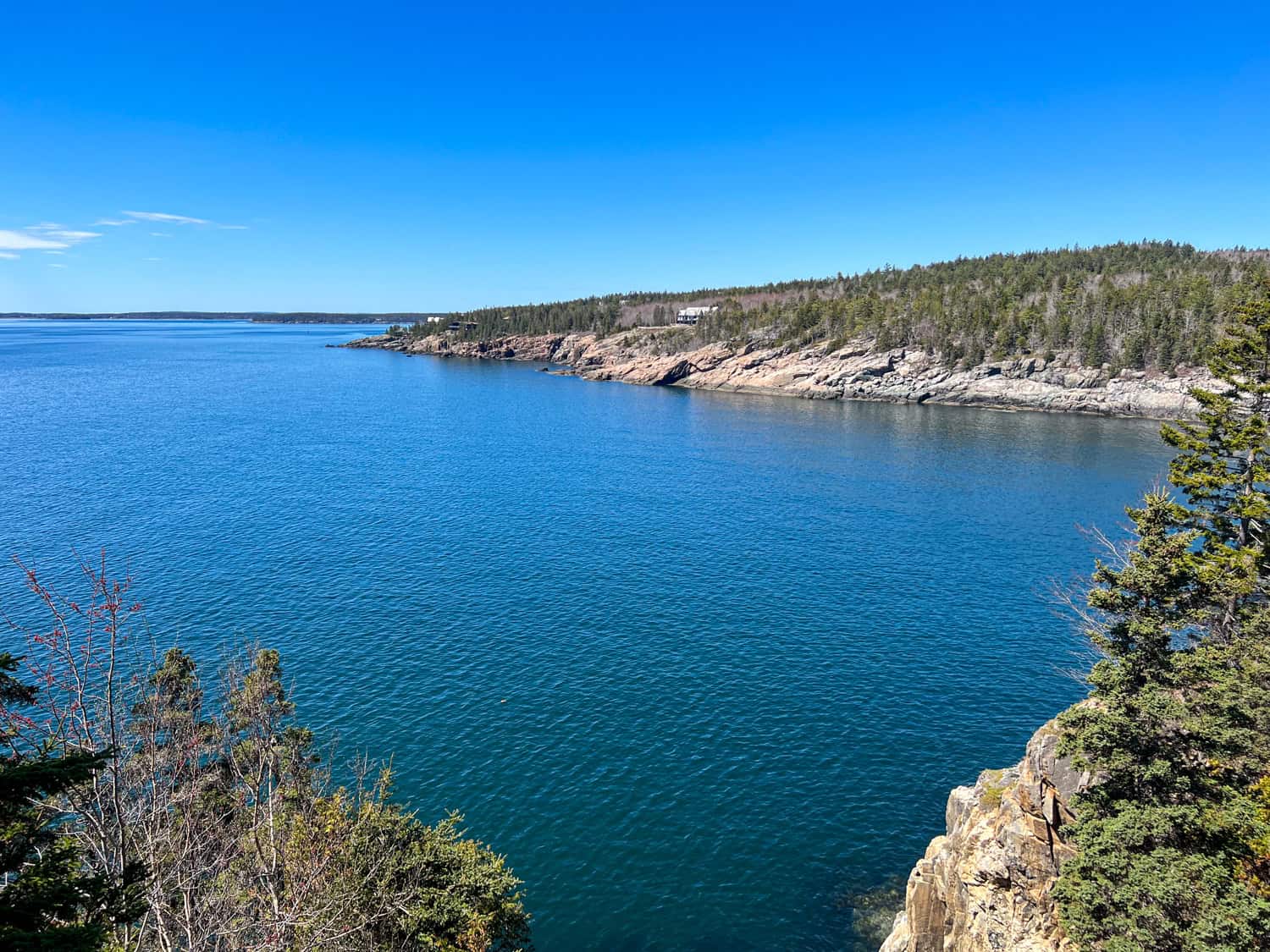 The Park Loop Road continues along the southeast coast of Mt. Desert Island. The Hunters Beach Overlook lies between Little Hunters Beach to the east and Hunters Beach to the west.
You've got a nice view across the water from the overlook to someone's well-placed mansion. There's a lot of old money on the island, and large homes dot the rough coastline, ensuring ocean views.
After this point, Acadia's Park Loop Road heads north and inland, away from the coastal views.
Jordan Pond House Restaurant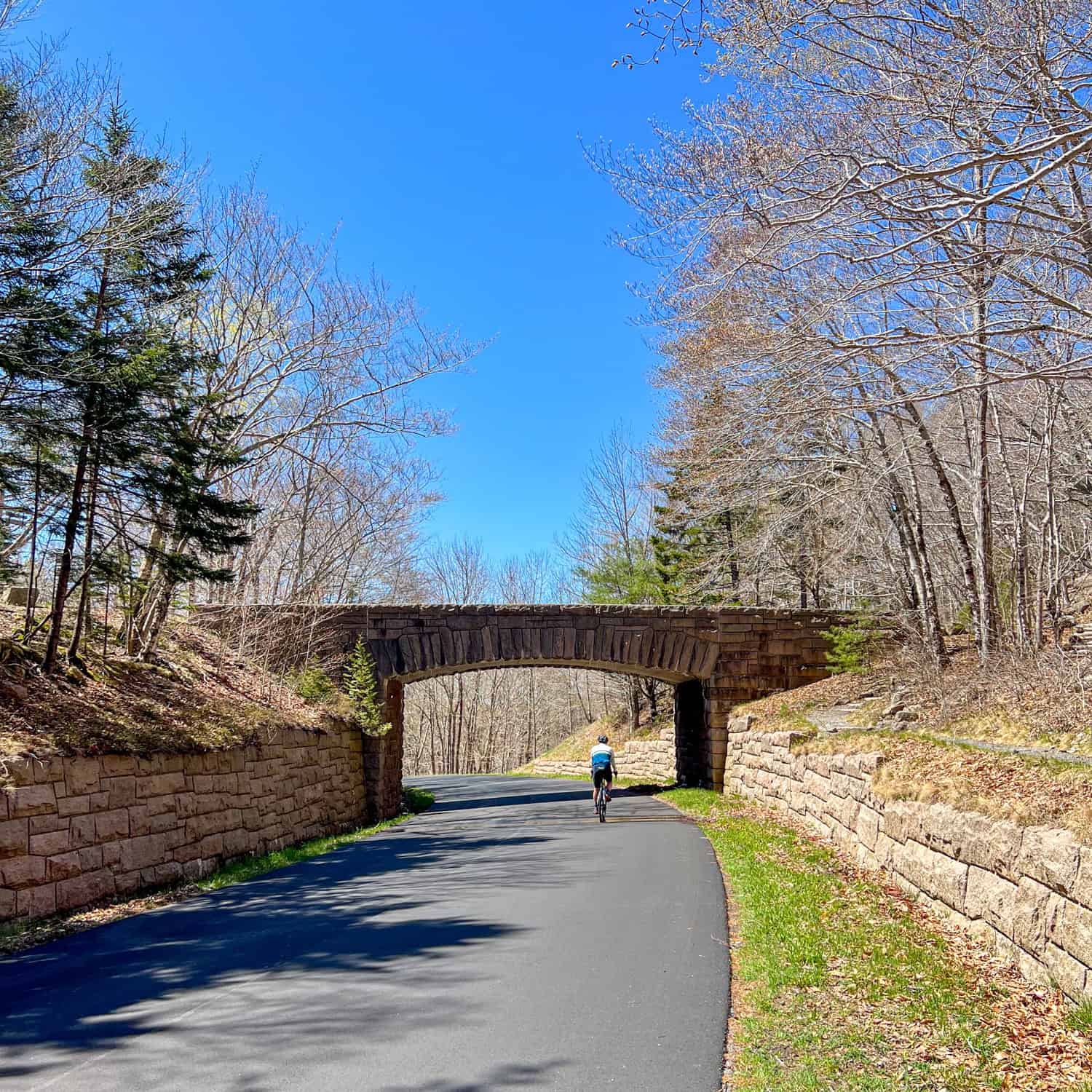 It's about a 3.5-mile ride through forests to reach the Jordan Pond area. This a good place for park visitors to stop and explore.
There's a large parking lot, restaurant, restrooms, and access to the Jordan Pond Trailhead. There are also entry points to the gravel carriage roads built by John D. Rockefeller.
Unfortunately, the Jordan Pond Path that encircles the large pond was closed to hikers while we were there. I believe this part of Maine had received a lot of rain in prior weeks, and it was probably to prevent damage to the trail.
Carriage Roads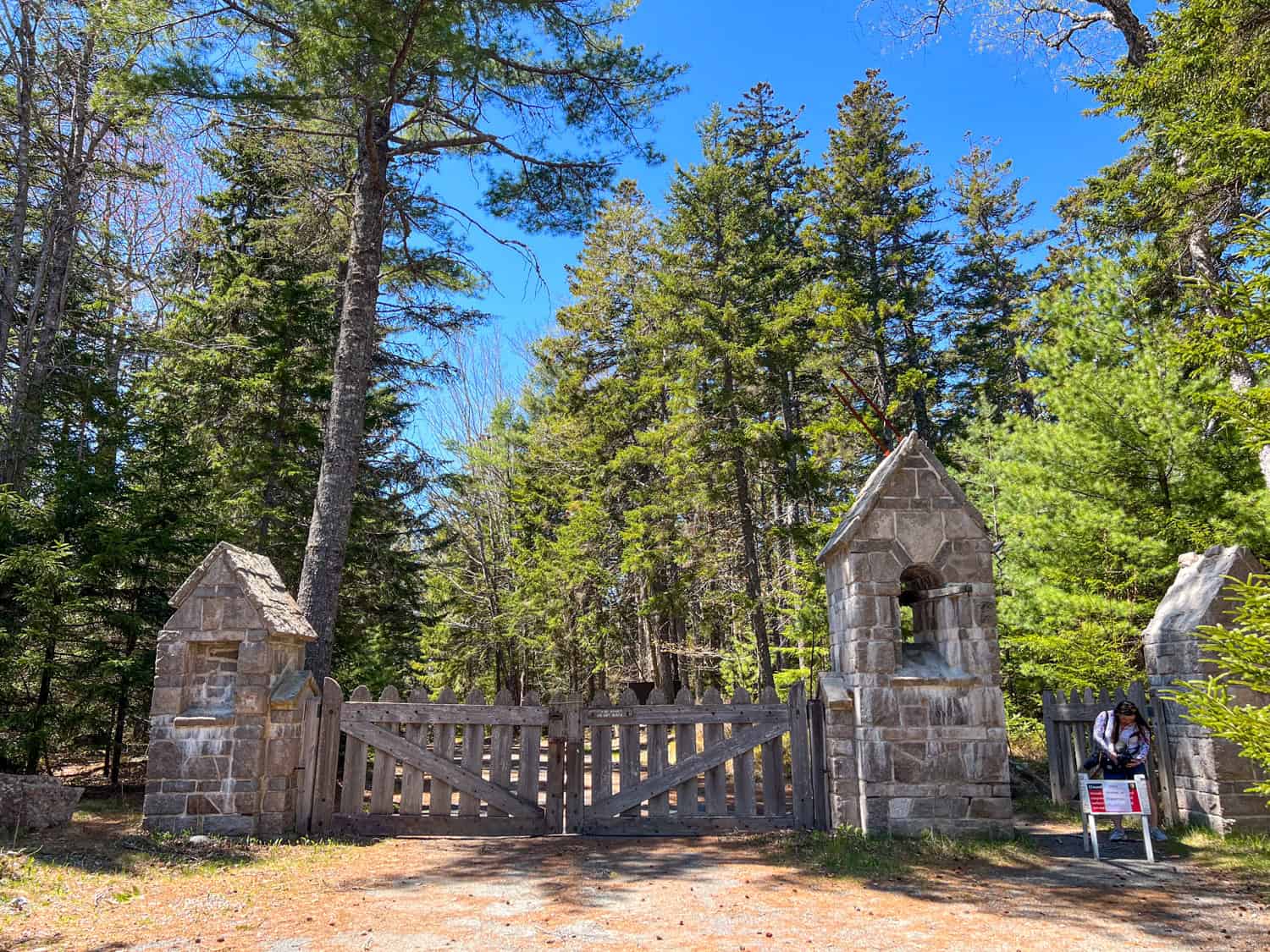 Also closed, at least to cyclists, were the carriage roads of Acadia National Park.
This network of dirt roads was financed by John D. Rockefeller between 1915 to 1940. Rockefeller enjoyed vacationing in this part of Maine and invested heavily in providing the forest trails, many of which are still in use today.
Our itinerary originally had us spending some time cycling on the carriage roads. However, as the region was still experiencing its annual "spring thaw," they were only open to pedestrians.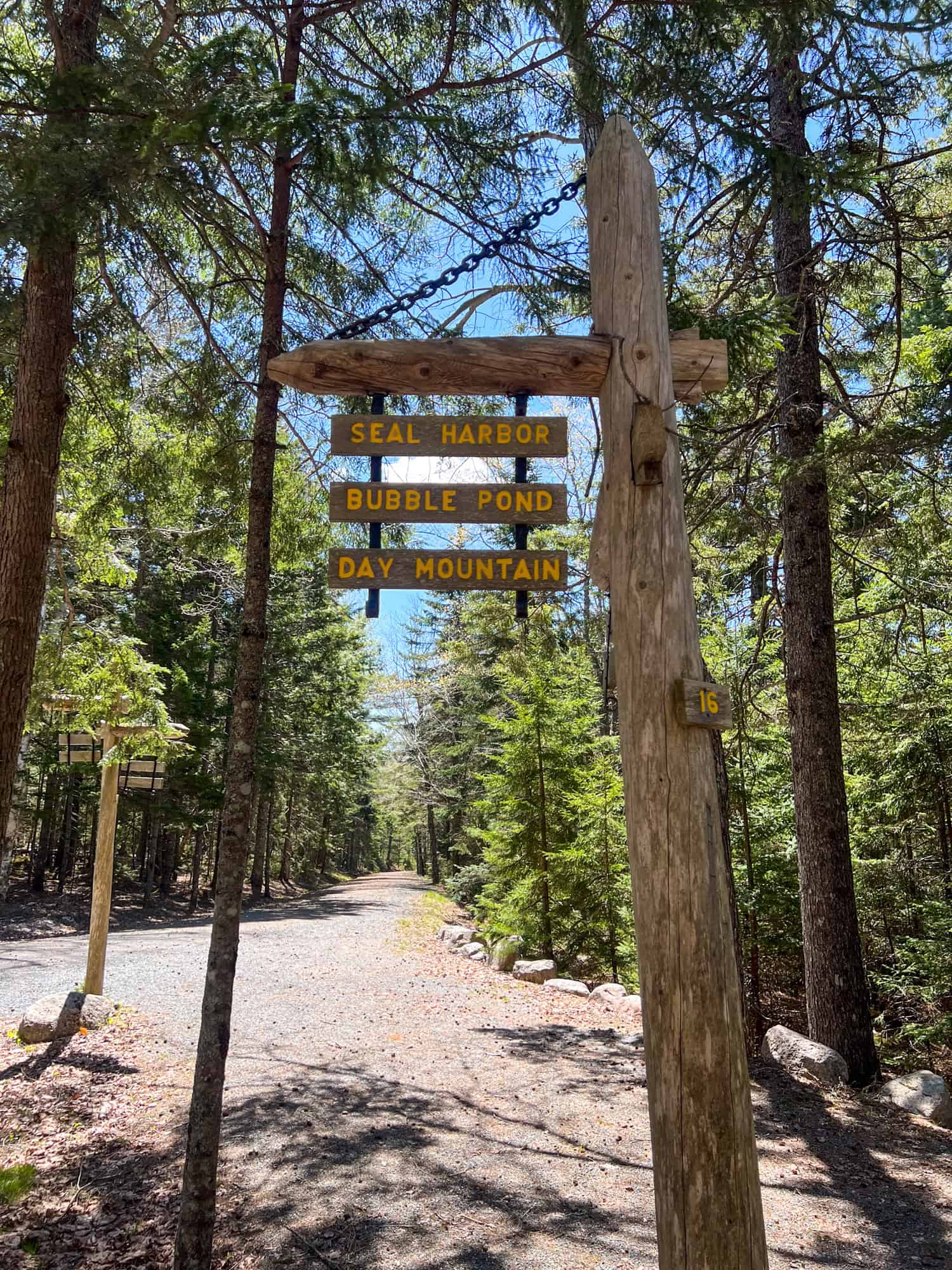 As a result, we had to settle for a brief walk in the woods. I want to return to this part of Acadia National Park one day, and walking the carriage trails tops my to-do list.
Cadillac Mountain
Access to the summit of Cadillac Mountain is available via hiking trails and Cadillac Summit Road. However, while we were there, the road was closed due to construction.
The gap between the winter months, when the weather won't allow for road work, and the summer months, when Acadia is flooded with tourists, is small. Visit in the shoulder season, and you may run into road closures.
Conclusion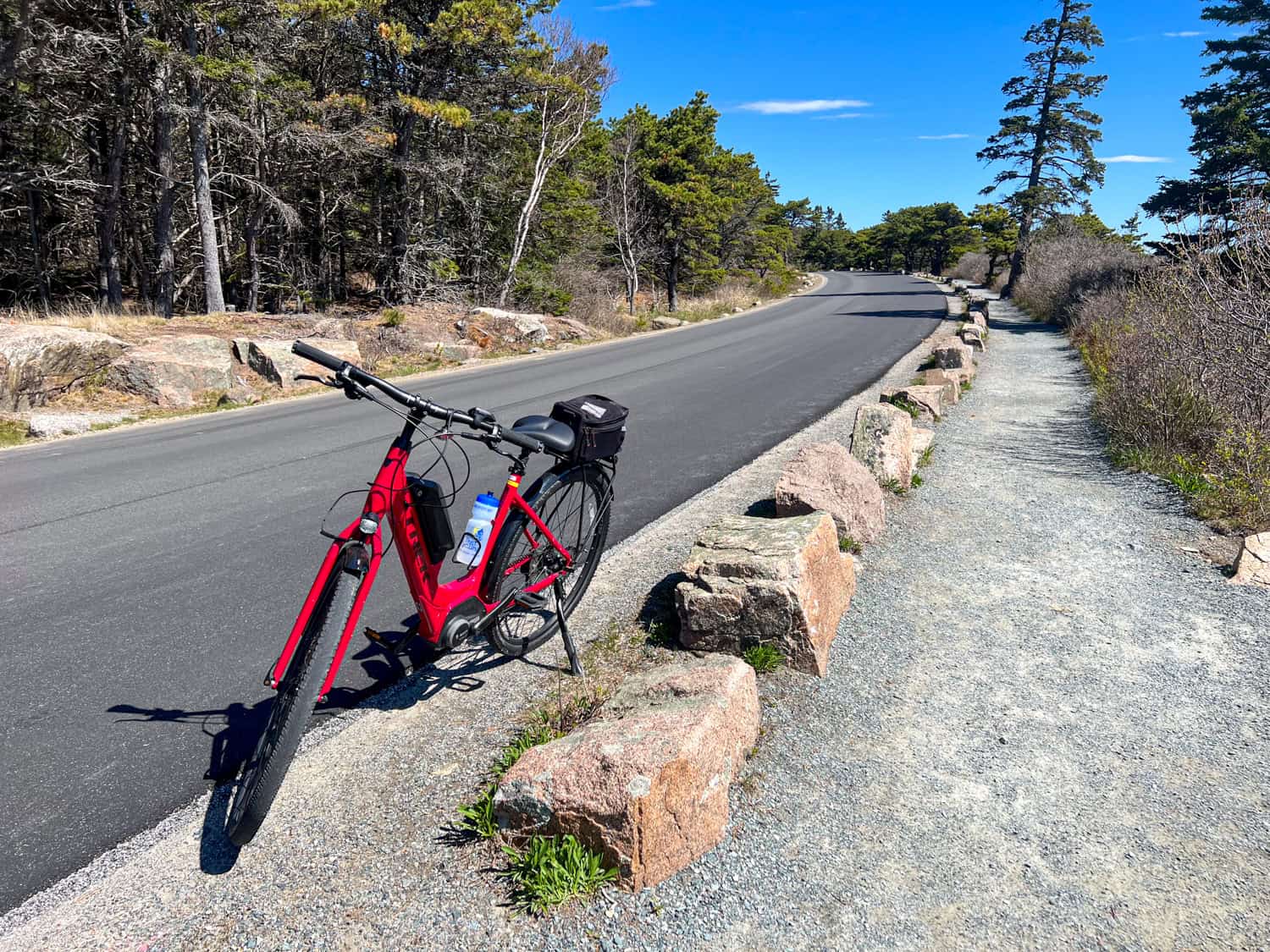 After more than two hours cycling the Park Loop Road in Acadia, we returned to Bar Harbor by van.
I was excited by what we'd seen in the morning and looking forward to a tasty lunch before learning about Maine's lobster industry.
_____
My tour with Summer Feet Cycling was arranged in partnership with the Adventure Travel Trade Association, Maine Office of Tourism, and Sand Bar Cottage as part of my attendance at the 2023 AdventureELEVATE North America conference.
Dave is the Founder and Editor in Chief of Go Backpacking and Feastio. He's been to 66 countries and lived in Colombia and Peru. Read the full story of how he became a travel blogger.
Planning a trip? Go Backpacking recommends: