Autumn is a special time in the mountains, and especially in Washington's North Cascades. The winter's first snowfall dusts the peaks, animals ready themselves for winter, and the trees put on a spectacularly colorful array of changing fall foliage. The maples, aspens, and cottonwoods burst with oranges, yellows, and reds, but the most impressive display is reserved for the larches. These coniferous trees are deciduous, and in the fall, their needles turn a brilliant golden hue, painting the slopes in shades of yellow and gold. The sight of the bright yellow-gold larches ablaze on the dark and snow covered mountains of the North Cascades is unlike anything else.
What Are Larch Trees?
The larch, also known as the tamarack, is a deciduous conifer that is native to the colder regions of the Northern Hemisphere. Unlike most conifers, which are evergreen, larches shed their needles in the fall, just like deciduous trees. Before they do, however, they put on a dazzling display of golden-yellow color that is sure to take your breath away. In North Cascades National Park, there are several places where you can witness this stunning show of autumn color.
Why Should You See Them
Each fall, the larch trees turning from bright green to golden is an annual must-see spectacle  for hikers, photographers, and artists. Unique to our hemisphere, the larch trees are abundant in the sub-alpine regions of the North Cascades. Just a short drive away from the metropolitan area of Seattle, they are well worth an excursion. With many trails in the area, there are abundant hikes accessible during the fall months for any ability level. It is possible to see the golden larches without having to embark on an epic journey.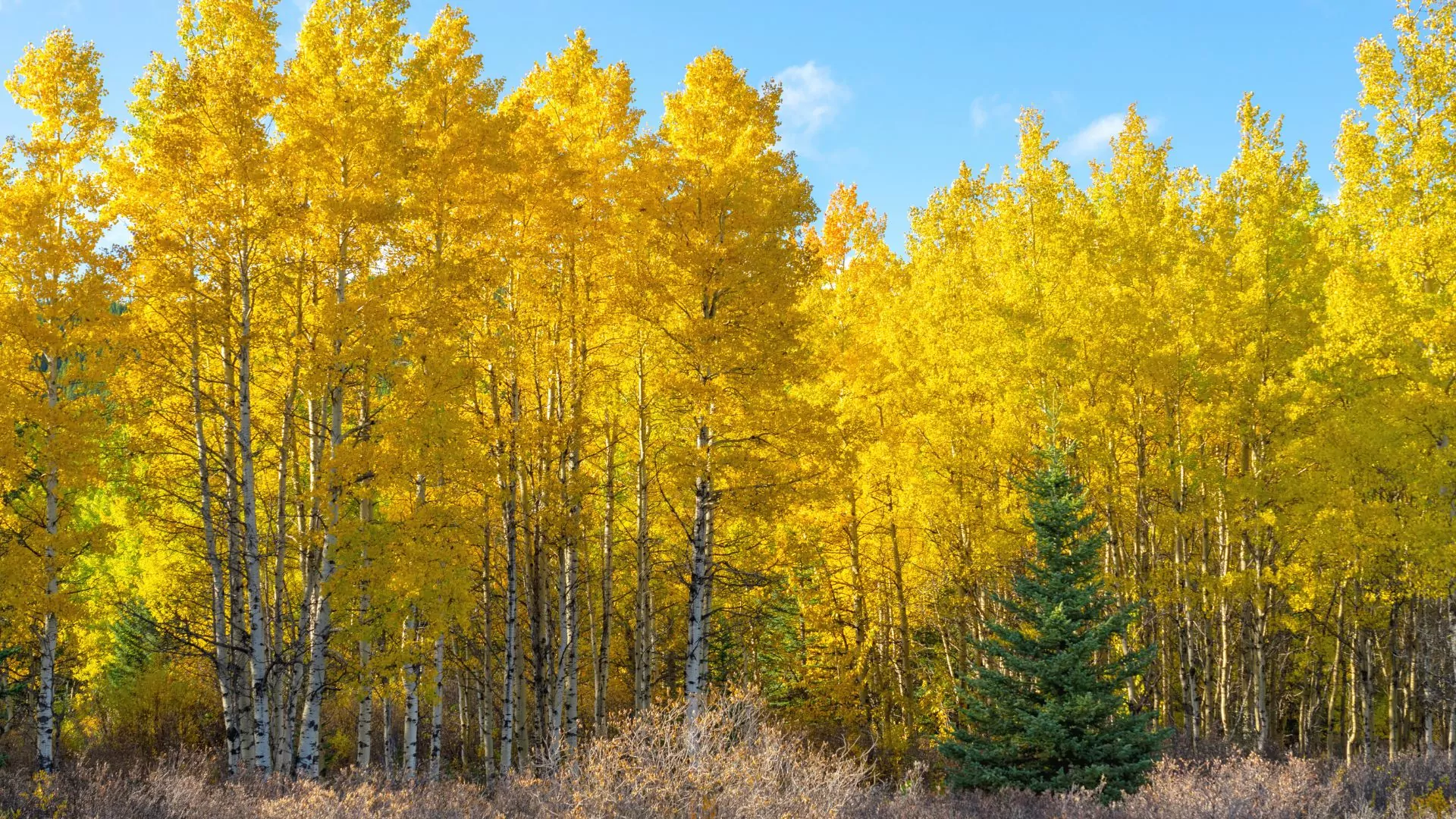 Getting there
The easiest way to access the North Cascades is by car from the city of Seattle. Head North on I-5 to the town of Burlington, where the freeway is bisected by Highway 20. Turn East on Highway 20, driving through the lush farmland of the Skagit Valley until it gives way to dense coastal rainforests and the road climbs, winding steeply into the mountainous area of the North Cascades.
Accommodations
While there are plenty of day trip hikes using Seattle as the jumping-off point, many visitors choose to stay closer to the trailheads in towns such as Marblemount or Mazama; car camp at one of the many campgrounds throughout the park; or spend as much time in the wilderness as possible by backpacking (backcountry permit required here).
Need to Know:
Permits and Regulations
The North Cascades refers to the park and wilderness areas in North Central Washington and includes North Cascades National Park, Okanogan-Wenatchee National Forest, and Lake Chelan-Sawtooth Wilderness. Because this area and the following hikes are located within National Parks, National Forests, and Wilderness areas, it is essential to be mindful of the permitting regulations. 
While it is free to enter North Cascades National Park, it is a good idea to purchase an Annual Pass which allows access to all National Parks in the U.S., many of which require an entrance fee. Additionally, a Northwest Forest Pass is required for many areas and trailheads that are adjacent to the National Park boundary and can be purchased as a day pass for $5 or an annual pass for $30. Many travelers will stop in at the Marblemount Ranger Station where a Northwest Forest Pass and backcountry permits for camping can be obtained.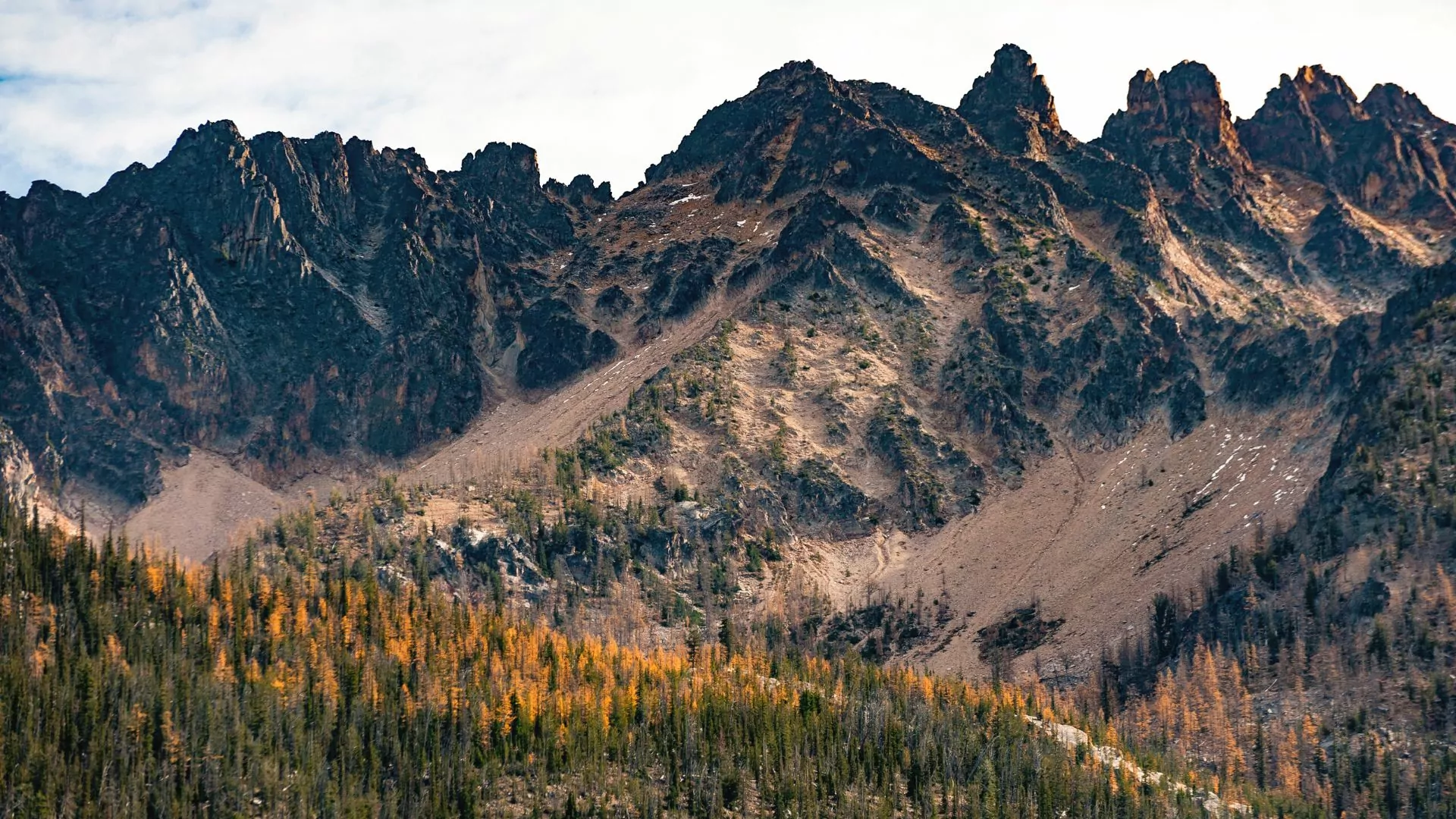 Best Times to Visit
To see Larches, the best time to visit is in the fall months of September and October. During this time, be mindful it is generally much cooler, and the trails may be snow covered, especially at higher elevations. Carrying micro-spikes, hiking poles, and even snowshoes can be beneficial at this time of year, as well as plenty of warm clothing and extra food. Additionally, the highway closes seasonally each year once the road becomes too hazardous to drive, usually closing in late October and re-opening again in May.
Weather
The weather in the North Cascades can be unpredictable and challenging, especially during the shoulder-season months. Snow can be a frequent occurrence in the fall months, and what may begin as a sunny, warm day can turn cold and stormy with little notice. That said, with adequate spare clothing, rain gear, and good planning, it is easy to avoid poor weather most of the time.
Wildlife
Because the North Cascades are so remote, they offer excellent wildlife viewing opportunities, from birds to small mammals, and even larger animals such as deer, elk, moose, bears, wolves, and cougars. Though the likelihood of seeing a large predator is rare, it is always a good idea to practice safe wildlife habits and leave no trace principles. This includes carrying bear spray with you on all hikes, packing out all of your trash, burying human waste properly, and not leaving any food or attractants unattended while camping overnight. 
Guided or UnGuided
It is possible to hike in the North Cascades without a guide, and this is especially true for day hikers. For overnight hikes or backpacking trips, we recommend the use of a guide for a variety of reasons. Firstly – guides will arrange all the logistics necessary for your trip, including food, transportation, gear, and even accommodations near the trails or in a city or town nearby. In addition, using a guide means that all entrance fees, permits, and passes will be taken care of. Finally, local guides are able to provide natural history interpretation, teach skills, and impart experience and knowledge that are incredibly useful.
Visit The North Casecades with Wildland Trekking 
Best Hikes:
Washington Pass Overlook
For a more relaxed way to see the larches, head up to the Washington Pass Overlook. This viewpoint is accessible by car, with no hiking required. Located along the North Cascades Highway, it offers sweeping views of the rugged peaks and valleys of the park, including the rugged mountains of Liberty Bell and Early Winter Spires. In the fall, the larches on the slopes below the overlook turn a beautiful golden yellow, contrasting with the deep greens and blues of the surrounding mountains and valleys. This is a popular location for artists, painters, and sightseers to take in the scenery with minimal effort.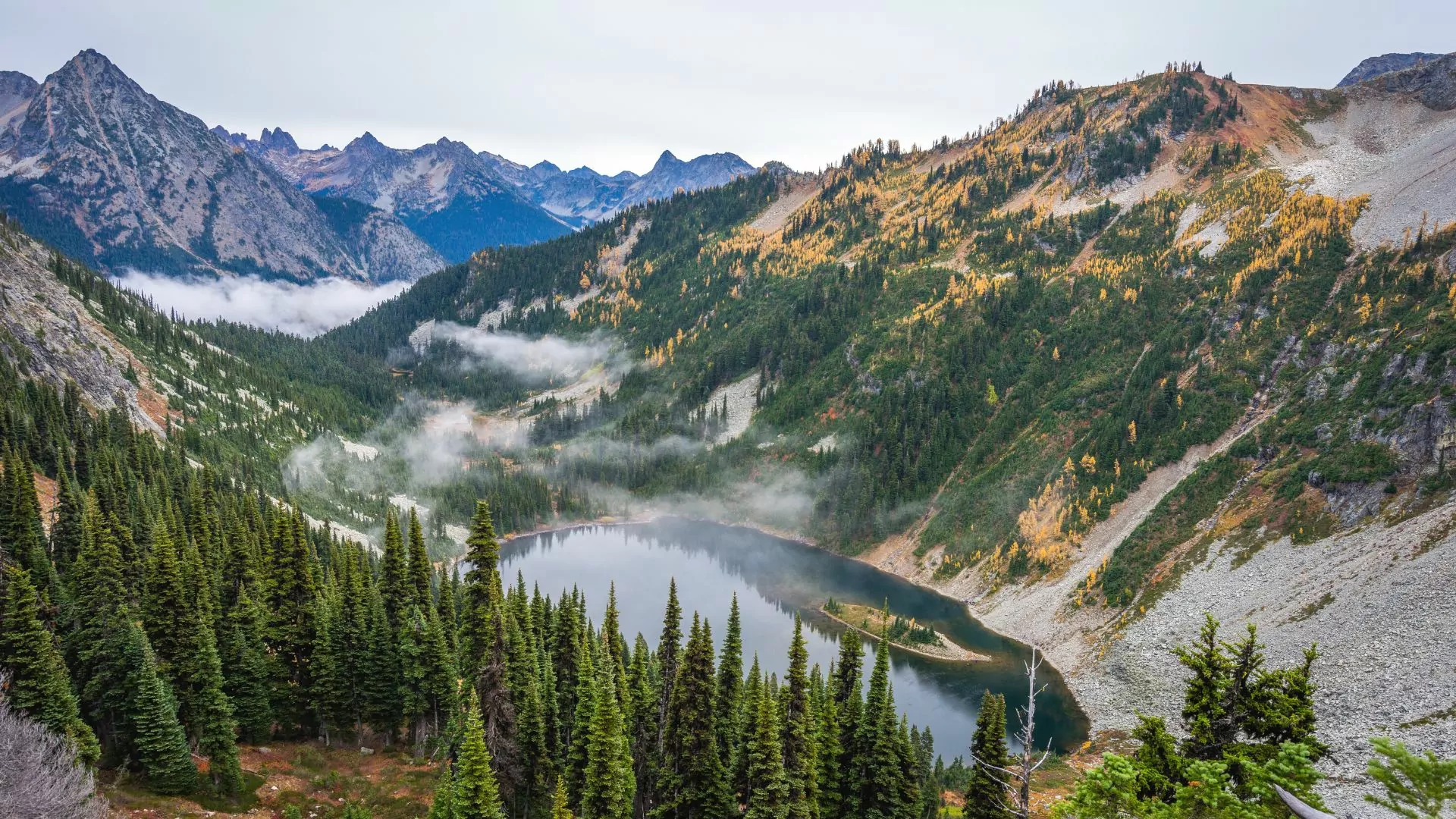 Blue Lake Trail | Distance: 5 miles | Time: 2-3 hours | Elevation Gain/Loss: 900ft
Located just off highway 20, the Blue Lake Trail is a great hike whether you're a seasoned hiker or novice. Known for its stunning alpine scenery and breathtaking views with moderate effort, the Blue Lake trail is especially popular in the fall when the larches are at their most vibrant.
As you hike along the trail, you'll be surrounded by the rugged beauty of the North Cascades. The mountains rise up on all sides, and the air is crisp and clear. Along the way, you'll pass through dense forests, cross streams and bridges, and enjoy stunning views of the surrounding peaks. As you approach the lake, the scenery becomes even more dramatic. The blue waters of the lake are framed by towering mountains, and the golden larches create a striking contrast. It's a perfect spot to take a break, have a picnic, and soak up the natural beauty.
Maple Pass Loop | Distance: 7 miles | Time: 4-5 hours | Elevation Gain/Loss: 2000 ft
The Maple Pass Loop is one of the most popular hikes in North Cascades National Park, and for good reason. This trail, which is about seven miles long, winds through meadows, forests, and alpine tundra, offering stunning views of the North Cascades. Be prepared for some steep climbs and rocky terrain, but the views are more than worth it. During the months of September and October the larches here are particularly impressive and memorable. With many viewpoints along the hike there are ample opportunities to see the golden needles of the larches set against the clear sky and the rocky peaks. Our favorite part is roughly halfway through the hike when you will be treated to a stunning view of the sapphire waters of Lake Ann nestled below steep granite cliffs adorned with golden larches. Because this hike is more challenging and at a higher elevation, hikers should be prepared for the weather and potential of snow and ice on the trail.
Cutthroat Lake and Cutthroat Pass | Distance: 4 miles / 11.4 miles | Time: 2-3 hours / 5-7 hours | Elevation Gain/Loss: 400 ft / 2300 ft
The Trail to Cutthroat Lake and Cutthroat pass is another popular option to see stunning views of the fall foliage. With two options, the trail is great for all ability types. The first trail, which is just 2 miles one way, gently meanders through beautiful ponderosa pine forests and climbs gently before arriving at its terminus – Cutthroat Lake. Despite its very approachable length and difficulty, the trail still delivers outstanding views, taking hikers through beautiful ponderosa forests before arriving at Cutthroat Lake – a shallow, deep-emerald-colored lake. In the fall, it is a particularly impressive sight with golden larches surrounding the lake and the ridges above.
For a more challenging hike, the trail to Cutthroat Pass branches off to the North, climbing steadily toward over 6 miles and 2300 feet of elevation gain. While it is significantly longer and more challenging, the trail is well-maintained, and the switchbacks are constructed in such a way that it never feels too steep or too strenuous. As the trail gains elevation, the forests of thick pine trees gradually give way to larch forests, and views of the surrounding valley and Cutthroat Lake begin to open up below. This is a great option for hikers that want to be in and amongst the forest of larches rather than seeing them from below, and once at the top, offers a fantastic vantage point from which to appreciate the surrounding valleys and peaks.
Easy Pass Trail | Distance: 8 miles | Time: 4-6 hours | Elevation Gain/Loss: 2800 ft
Contrary to its name, this hike on the Easy Pass Trail is a little more challenging than the Maple Pass Loop or Cutthroat Pass. Offering a more remote, rugged feeling than other hikes in the North Cascades, this hike travels from the lush valley bottom, climbing steadily into expansive alpine valleys with views of glaciers, waterfalls, and mountain peaks. Once in the alpine, the larches are particularly abundant, and their golden needles create a warm glow in the late afternoon sun. 
It is important to note that this is a strenuous hike that requires good physical condition and hiking experience. Hikers should also be prepared with proper gear and clothing for fall or winter conditions, including sturdy hiking boots and plenty of water and snacks.