Welcome to the coastal paradise of Bar Harbor, Maine. The best things to do in Bar Harbor range from enjoying the local seafood, such as fresh lobster rolls, to hiking rugged trails for mountaintop vistas.
Immerse yourself in the history of downtown Bar Harbor and Acadia National Park on Mount Desert Island, where the natural scenery is spectacular.
Whether you're seeking to hike the highest peak on the East Coast (Cadillac Mountain) or yearn for tranquility amid quaint gift shops and cozy cafes, Bar Harbor is the ultimate summer destination.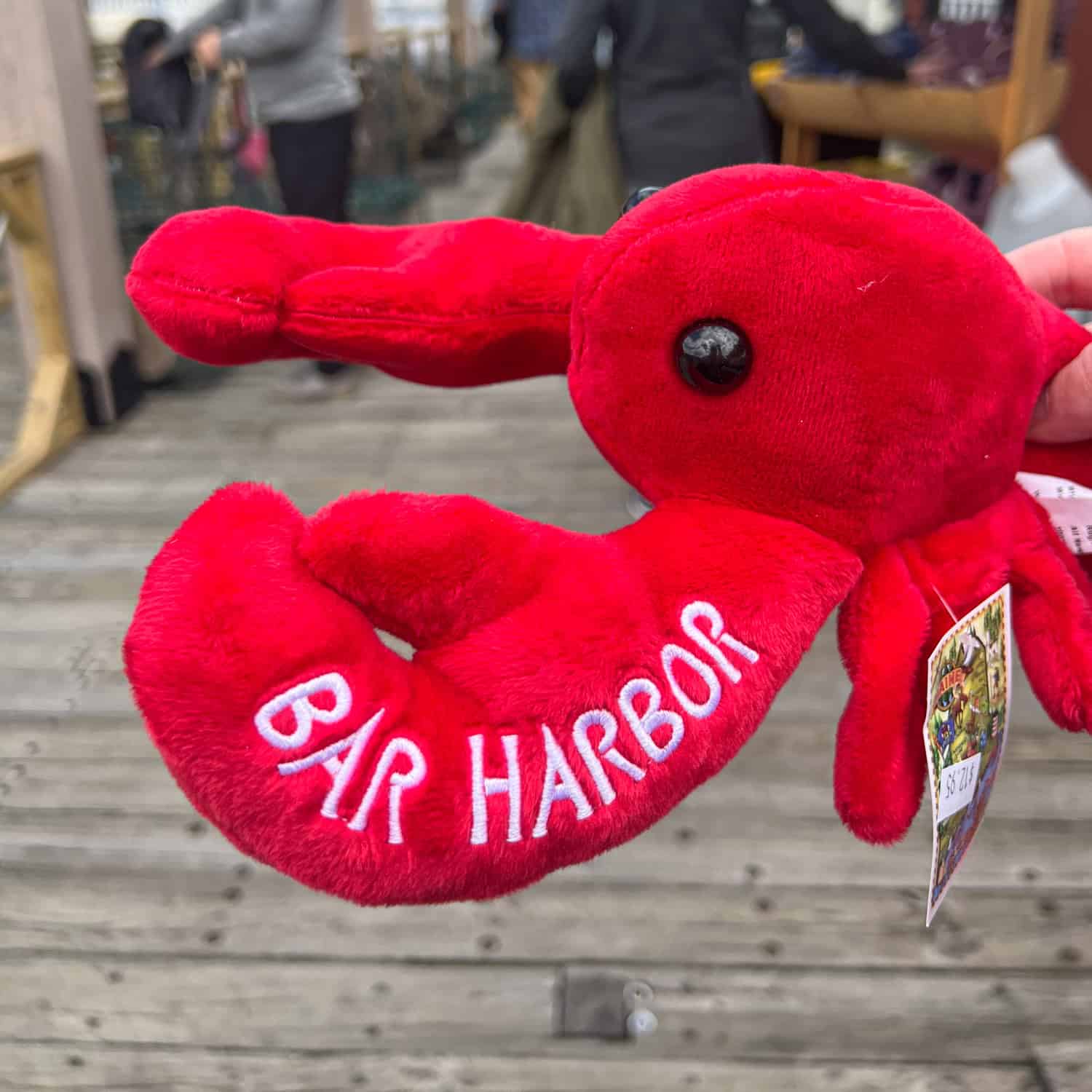 This list of the best things to do in Bar Harbor, Maine, begins with what you'll find in town. Then I'll share top tours and day trips, including the best places in nearby Acadia National Park. And we'll wrap up with a few of Bar Harbor's best bites.
Before we begin, I'd like to acknowledge that the land on which Bar Harbor and Acadia were founded is the traditional territory of the Wabanaki, including the Penobscot, Passamaquoddy, Maliseet, and Micmac Nations.
Let's recognize and honor the Indigenous peoples who have stewarded this land for thousands of years before European settlers arrived.
Bar Harbor Activities
1. West Street Historic District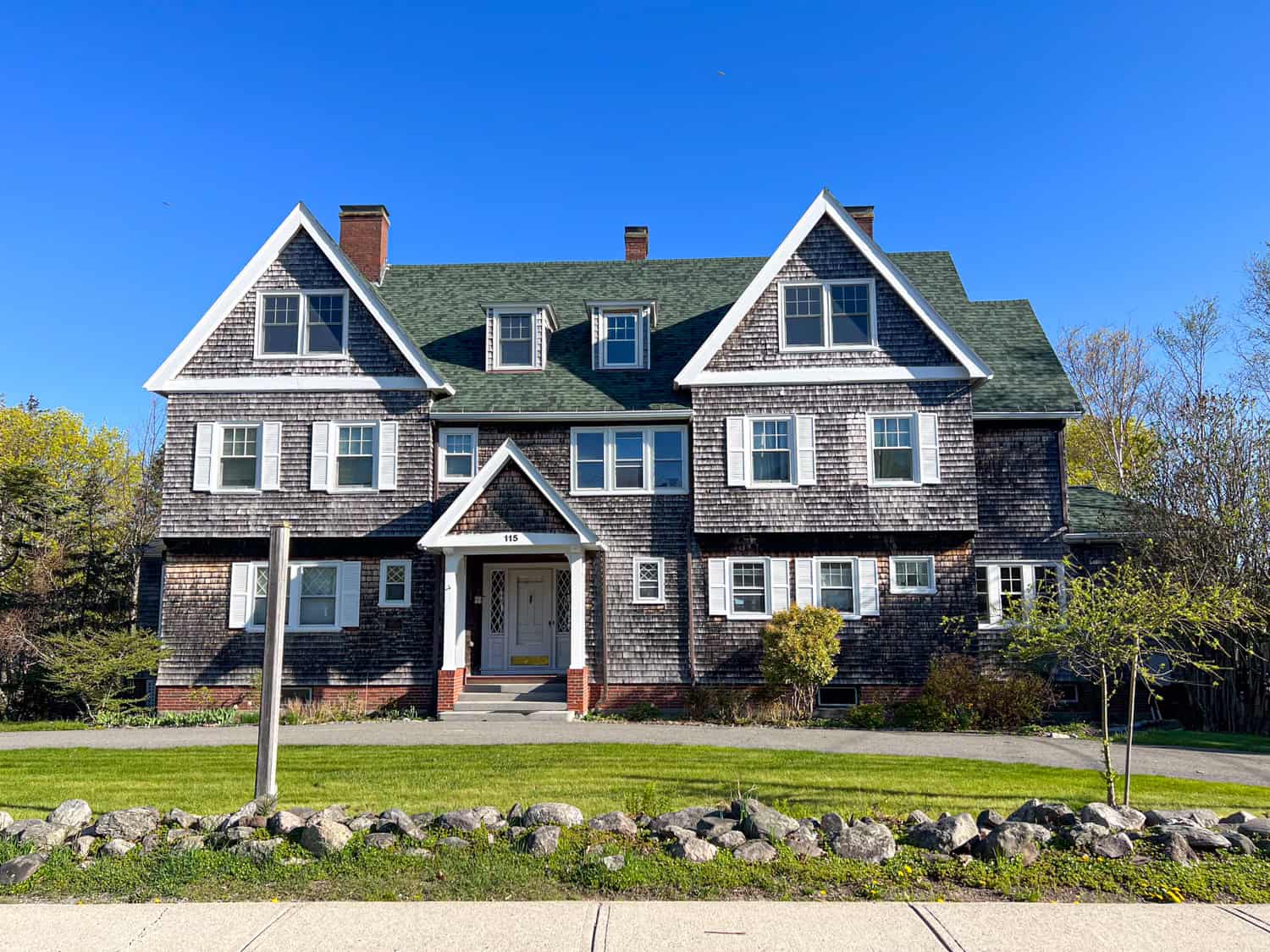 The West Street Historic District is a well-preserved area that exudes affluence and charm.
Located along the north coast of downtown Bar Harbor, from Eden Avenue to Billings Avenue, this district showcases a collection of 17 historic buildings, including Late Victorian mansions and stylish inns.
The district's tree-lined streets and meticulously manicured gardens create a tranquil atmosphere, inviting visitors to take strolls and admire the architectural beauty.
All the buildings were initially used as summer cottages by wealthy families during the late 19th and early 20th centuries.
Of particular note is "La Rochelle," a 41-room red brick mansion built in the style of a French Chateau and belonging to an heir to the Campbell Soup Company fortune.
As of 2019, it's home to the Bar Harbor Historical Society and opens to the public seasonally.
2. Bar Island
The waterfront buildings of the West Street Historic District face north toward Bar Island, the only one of the nearby islands accessible on foot. Low tide and a sandbar named Bar Island Land Bridge make this possible.
Warning signs remind visitors that the best time to cross is within 90 minutes of low tide (either before or after). Otherwise, the water will be too high, or one risks being trapped on the island as high tide rolls in.
Visiting Bar Island offers a good vantage point for taking photos of the town from across the water.
3. Agamont Park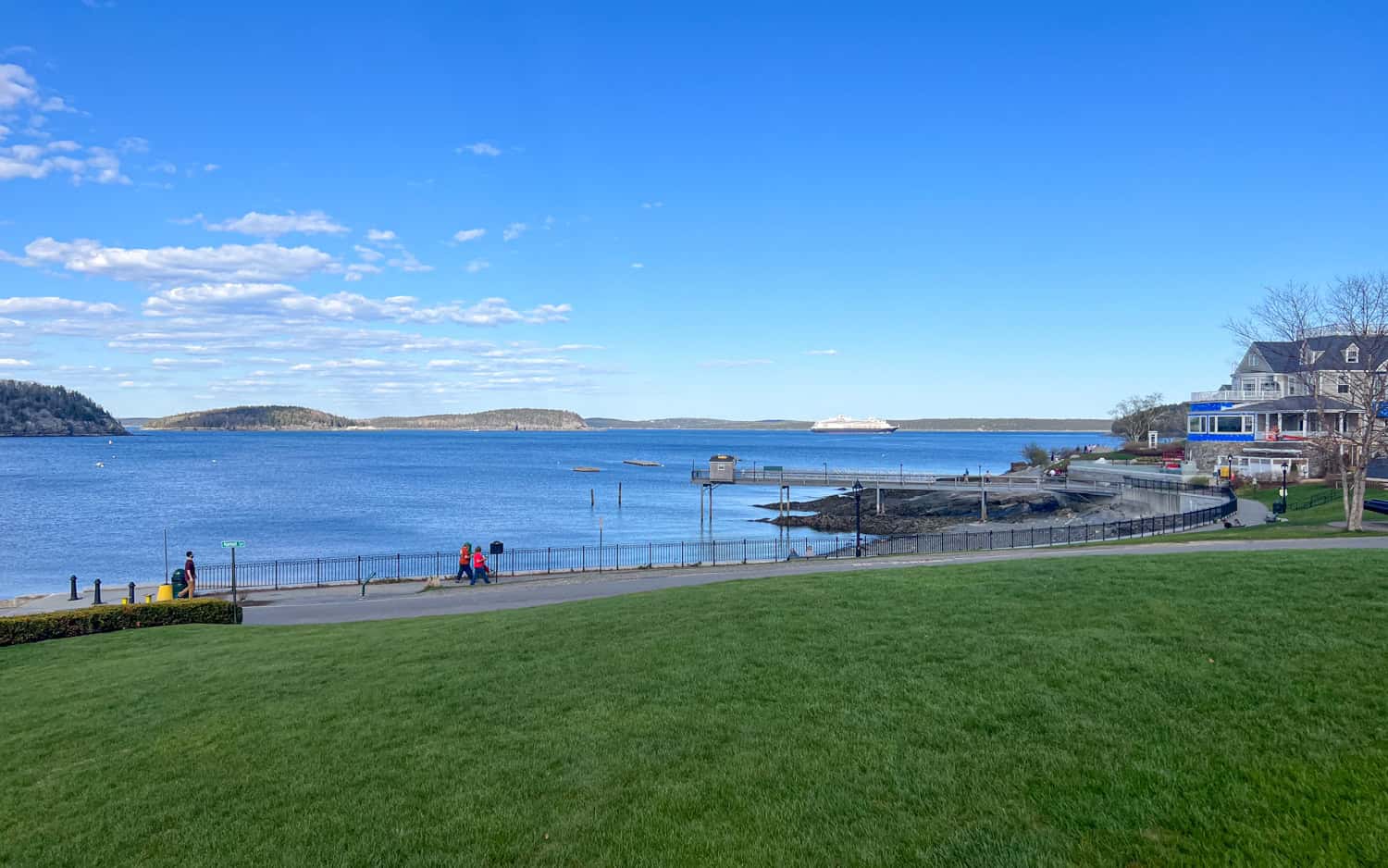 Speaking of water, Agamont Park offers a great place to see Frenchman Bay. The green space occupies a small hill in the downtown area of Bar Harbor, overlooking the water and town pier.
Agamont Park is dog and family-friendly, making it the perfect place for picnics during the summer months. The park regularly hosts live events.
4. Shore Path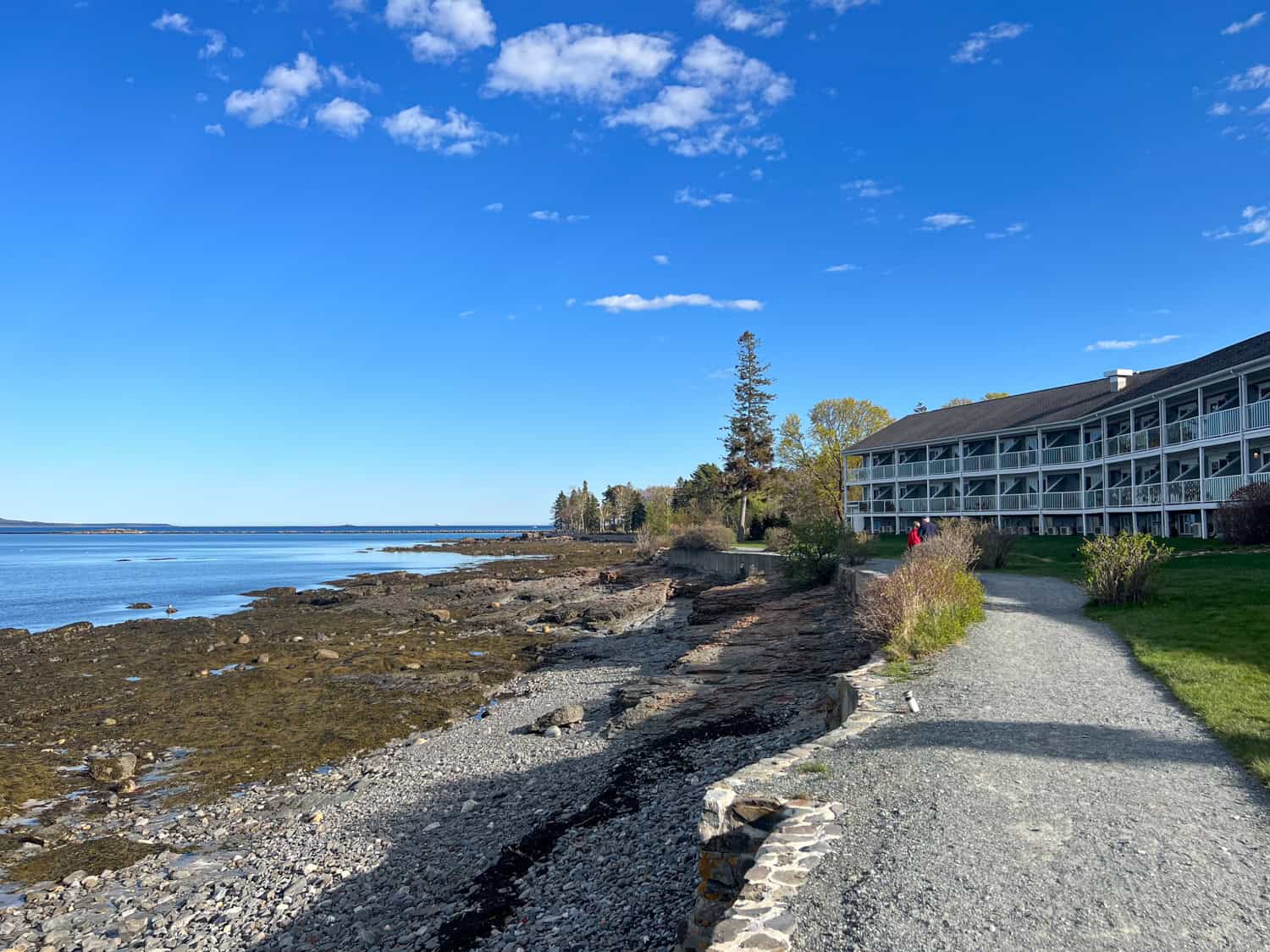 For more than 100 years, the short walk along Shore Path has been one of the top things to do in Bar Harbor, Maine.
Easy access to the gravel trail begins at the town pier near Agamont Park. And it extends for half a mile along the town's east coast. Signs are posted along the way, sharing stories from the town's past.
The first building you'll walk by on your right is the historic Bar Harbor Inn, a luxury hotel that has been hosting guests since 1887. Next to it is Grant Park, a beautiful green space with water views.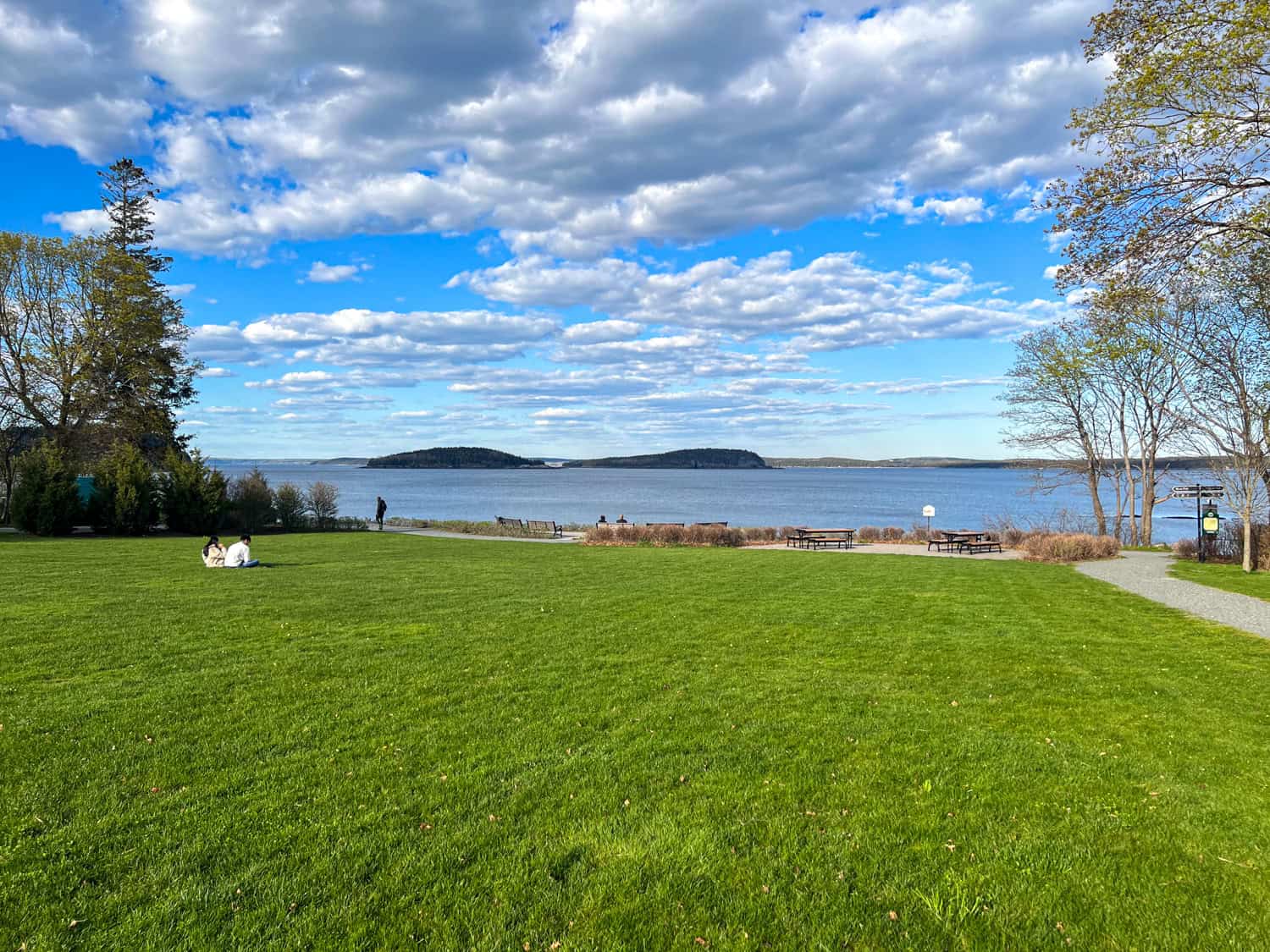 Adjacent to the park is Balance Rock Inn, another luxury hotel with oceanfront views.
It takes its name from a large boulder on the shoreline, a remnant of the last Ice Age over 10,000 years ago.
The Bar Harbor Shore Path sign indicates it was picked up by a glacier about 40 miles from where it now rests.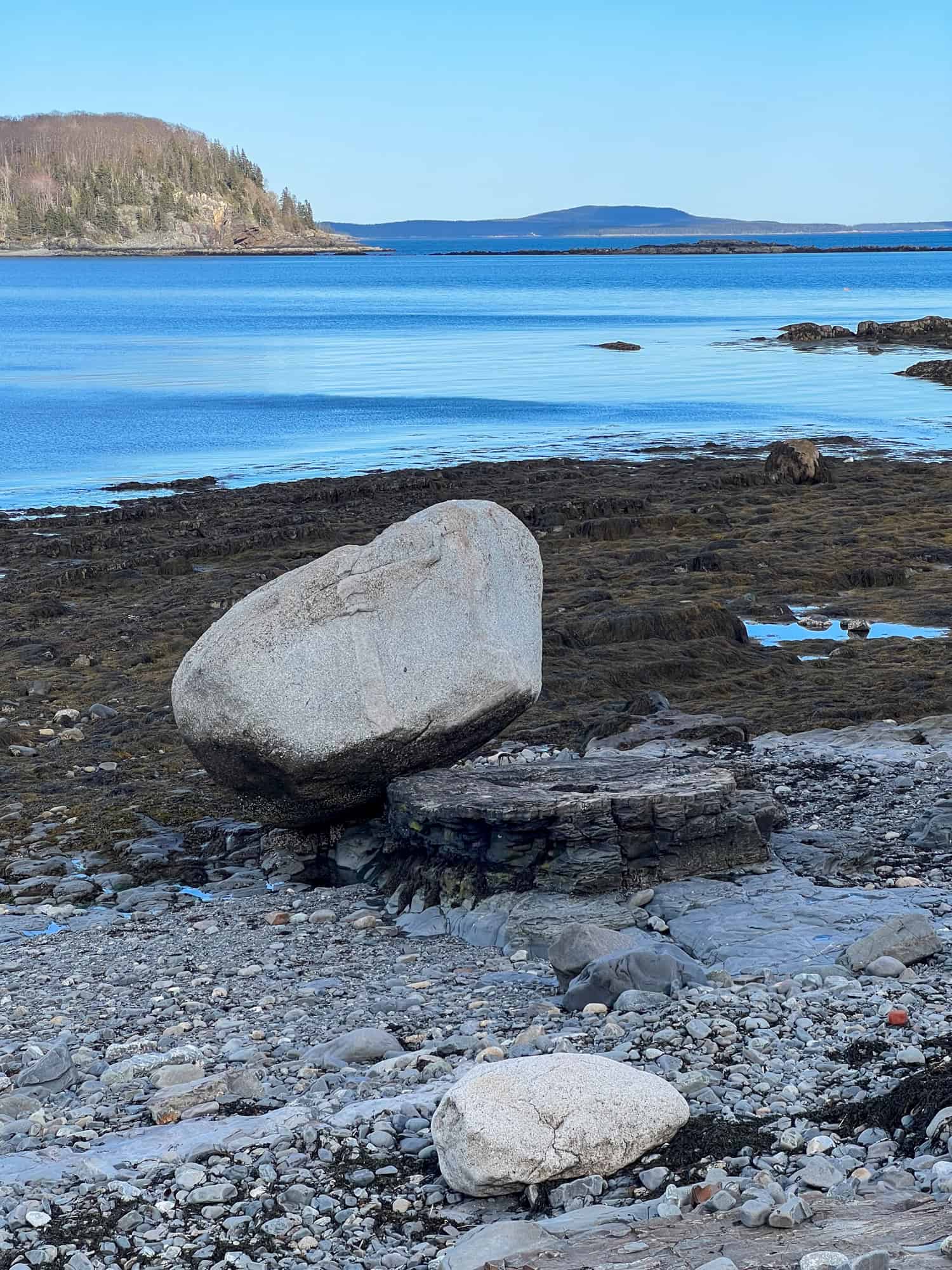 The remainder of Shore Path will take you past some of the elegant summer homes, though most are hard to see behind their landscaped yards.
At the end of Shore Path, you can either turn right and walk back to Main Street in town or return the way you came.
5. Abbe Museum
The Abbe Museum in Bar Harbor is a cultural institution dedicated to preserving and promoting the history and culture of the Wabanaki, the Indigenous people of Maine.
It offers visitors a unique opportunity to learn about the rich heritage of the Wabanaki people and their enduring presence in the region. The museum is located one block from the Village Green.
6. George B. Dorr Museum of Natural History
Another noteworthy museum in Bar Harbor is the George B. Dorr Museum of Natural History at the College of the Atlantic (COA).
Located in Acadia National Park's original headquarters, this museum educates visitors on Maine's wildlife. The students of COA design all of the exhibits.
7. The 1932 Criterion Theater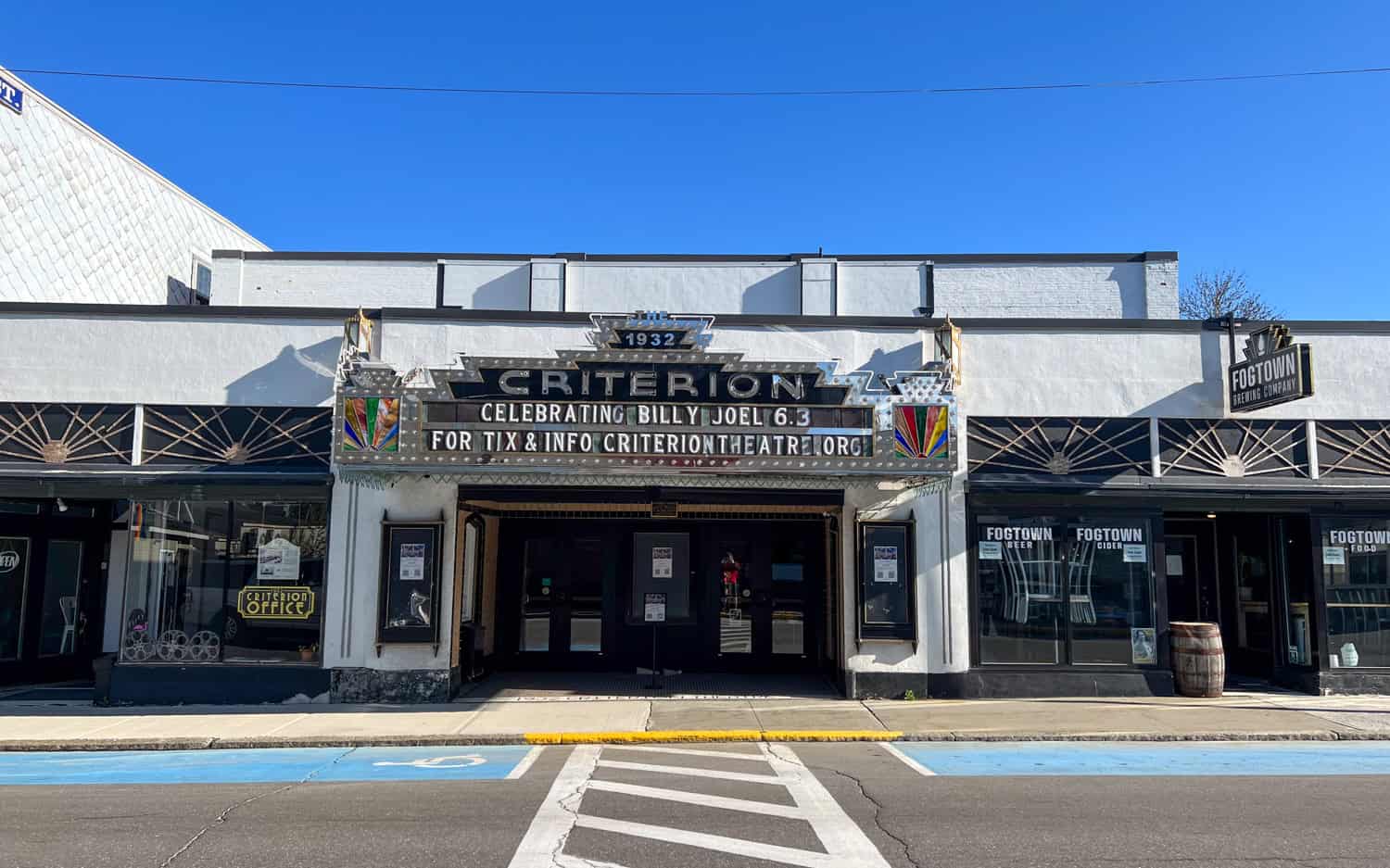 The arts are celebrated in Bar Harbor at the wonderfully-preserved 1932 Criterion Theater on Cottage Street. A floating balcony is one of the auditorium's original features.
This Art Deco theater offers a curated schedule of movies, plus live acts, including plays, musicals, concerts, and stand-up comedians.
Tours and Day Trips
Now that we've covered the best things to do in Bar Harbor let's look at some of the Maine adventures that await in the surrounding area.
8. Acadia National Park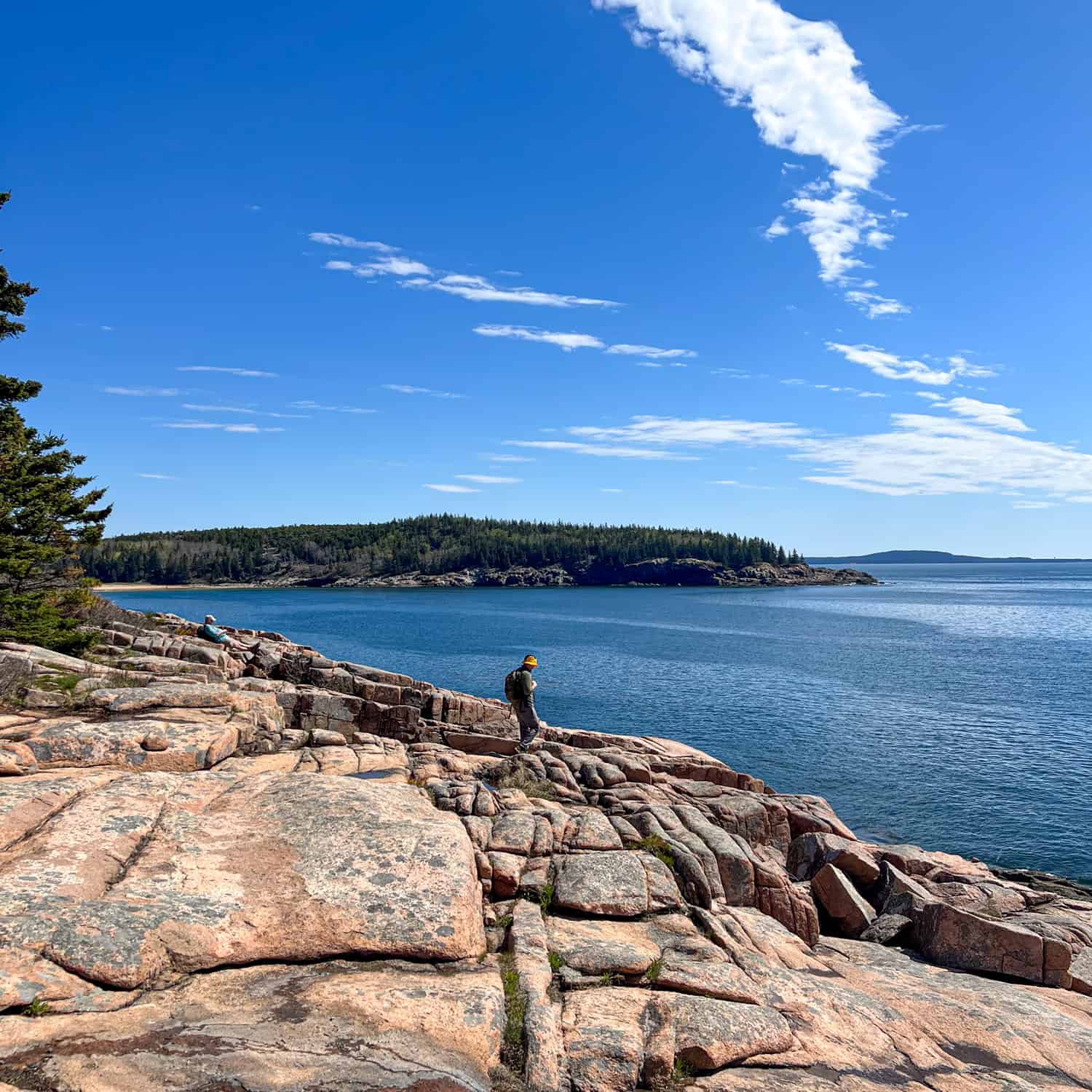 The biggest attraction near Bar Harbor is Acadia National Park. You can get there by car, bicycle, or even on foot.
Acadia is the only United States National Park in New England, and with approximately 4 million visitors annually, it's the country's fifth most popular national park.
Encompassing over 49,000 acres, this forest park is renowned for its attractive coastal landscapes, pristine forests, and granite mountain peaks.
Visitors can explore an extensive network of hiking trails, bike along picturesque carriage roads, or embark on a scenic drive via Park Loop Road.
Park Loop Road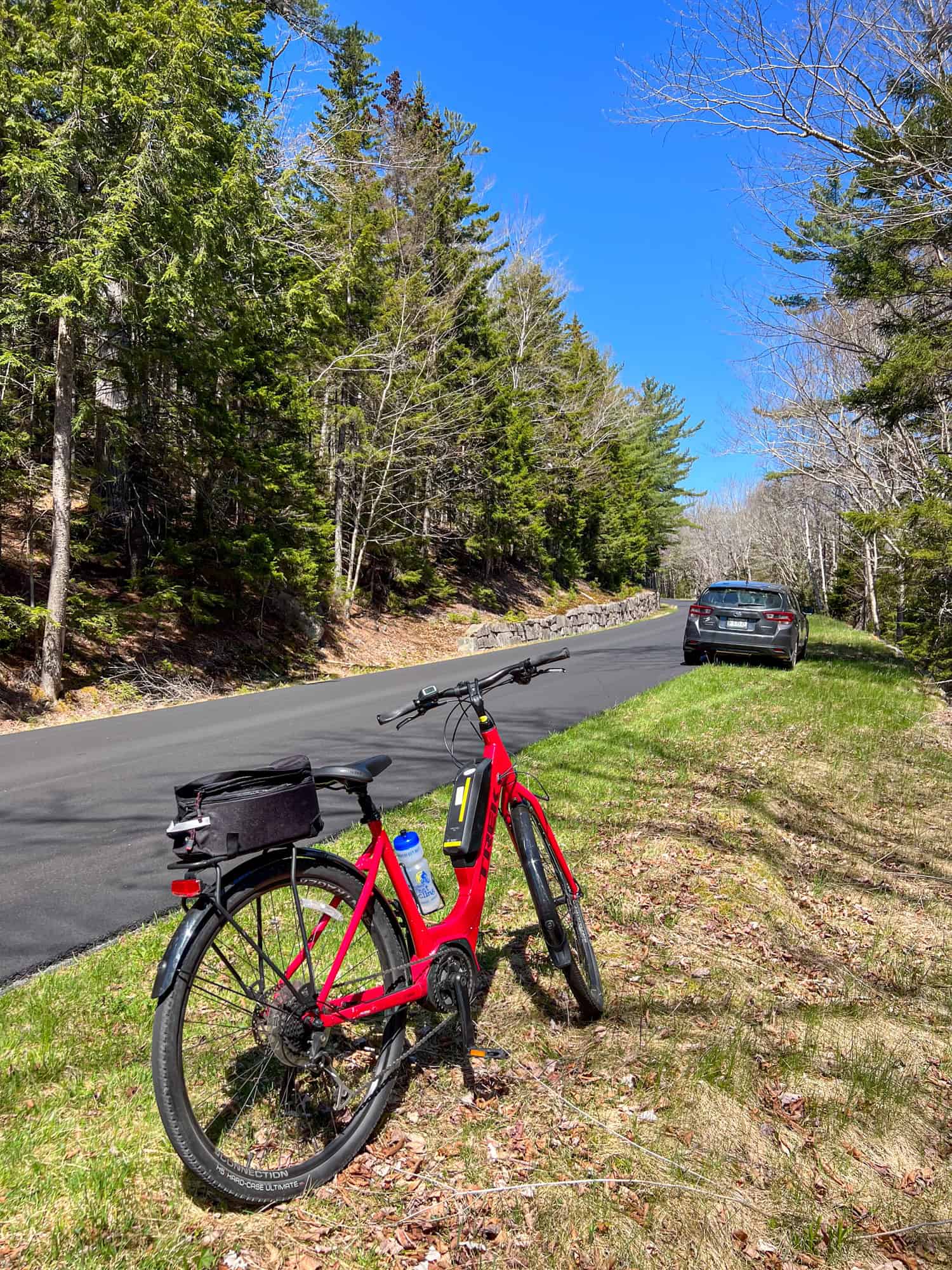 The 27-mile Park Loop Road offers visitors to Acadia National Park an easy way to get around.
The loop is fully-paved, and there are plenty of signs and areas to park at scenic overlooks and trailheads. Cars can also park on the side of the road in designated places.
The main attractions in Acadia National Park include:
Sand Beach – A sandy beach that attracts visitors in the summer months. When I saw the beach in May, however, it was covered in seaweed.
Thunder Hole – If you visit at high tide and the conditions are right, waves hit this rocky area and can create a big splash and booming sound.
Cadillac Mountain – Hike or drive up to the tallest mountain on the eastern seaboard for the best views of the Atlantic Ocean. The summit is 1,530 feet (466 meters).
Ferry to Schoodic Peninsula
Acadia National Park also has some territory on the Schoodic Peninsula, which I cycled on my first day in Bar Harbor. This peninsula across Frenchman Bay from Bar Harbor is accessible via car, or you can take a ferry from Bar Harbor.
9. Oli's Trolley
If you'd prefer a guided tour of the attractions in Acadia National Park, pay for a ride on Oli's Trolley. There are two options: a 2.5-hour tour for $58 and a 4-hour tour for $85.
During the Acadia tours, you'll learn about the region's rich history and see the same incredible forest and ocean scenery as if you were to drive yourself.
Tours include the 3.5-mile road to the summit of Cadillac Mountain, the Jordan Pond House, Thunder Hole, Sand Beach, and the Otter Cliffs overlook.
10. Lulu Lobster Boat Ride
I highly recommend a Lulu lobster boat tour if you'd rather be on the water. These two-hour guided tours depart from the Harborside Hotel & Marina throughout the day.
During your time at sea, you'll have the chance to see:
The Porcupine Islands around Frenchman Bay.
Historic summer cottages along the coast of Maine.
Egg Rock Lighthouse and the protected wildlife on this small island.
Harbor porpoises
Harbor and gray seals
Bald eagles
Lobsters
Crabs
One of the things I learned on the tour was that the lobster population in Maine's waters is stable and healthy. If they face a threat, it's not overfishing but habitat loss due to ocean warming caused by climate change.
If learning about the lobster industry before your next lobster dinner sounds like a good use of time, then take advantage of this fascinating tour.
11. Whale Watching
Once you've learned about Maine lobsters, consider upping the ante with a whale-watching tour.
The Bar Harbor Whale Watch Company provides a variety of tours, including:
Whale watching cruise
Puffin lighthouse cruise
Historical lighthouse cruise
From late May to early October, you can leave Bar Harbor for the Gulf of Maine in search of humpback, finback, and minke whales.
Along the way, you may also see other forms of marine life, including porpoises, dolphins, seals, and sharks. Great white sharks are known to visit these waters.
Food and Drink
12. Happy Hour at Ivy Manor Inn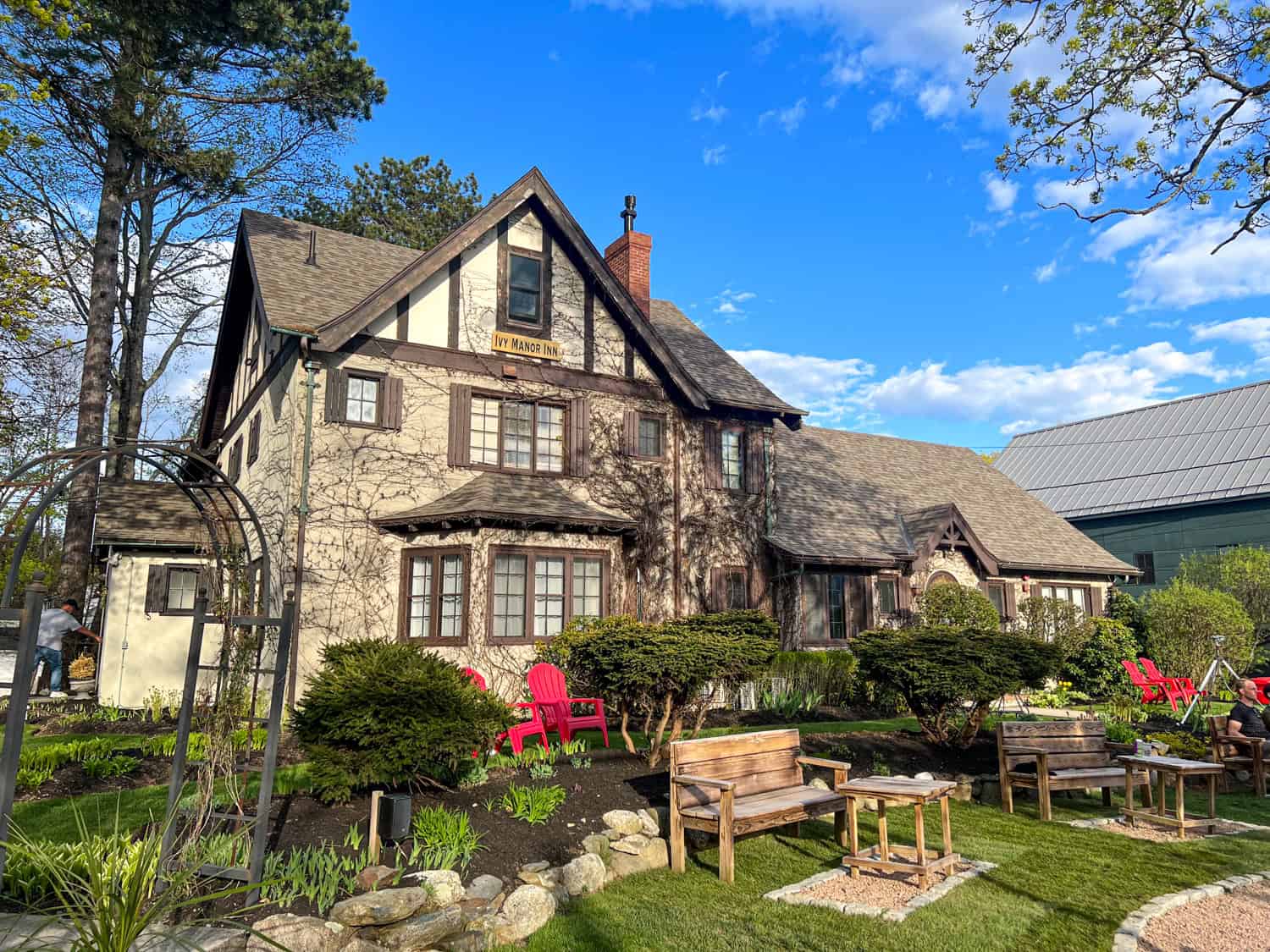 The town of Bar Harbor may be small, but it offers no shortage of places to enjoy a delicious drink at the end of the day. One of my favorites is the front lawn of the Ivy Manor Inn.
The afternoon my Summer Feet Cycling tour group arrived, we walked past the Ivy Manor Inn on our way to dinner, and a Kentucky Derby watch party was happening.
The following day, I returned to buy a beverage and relax after my lobster boat ride.
13. Eat Lobster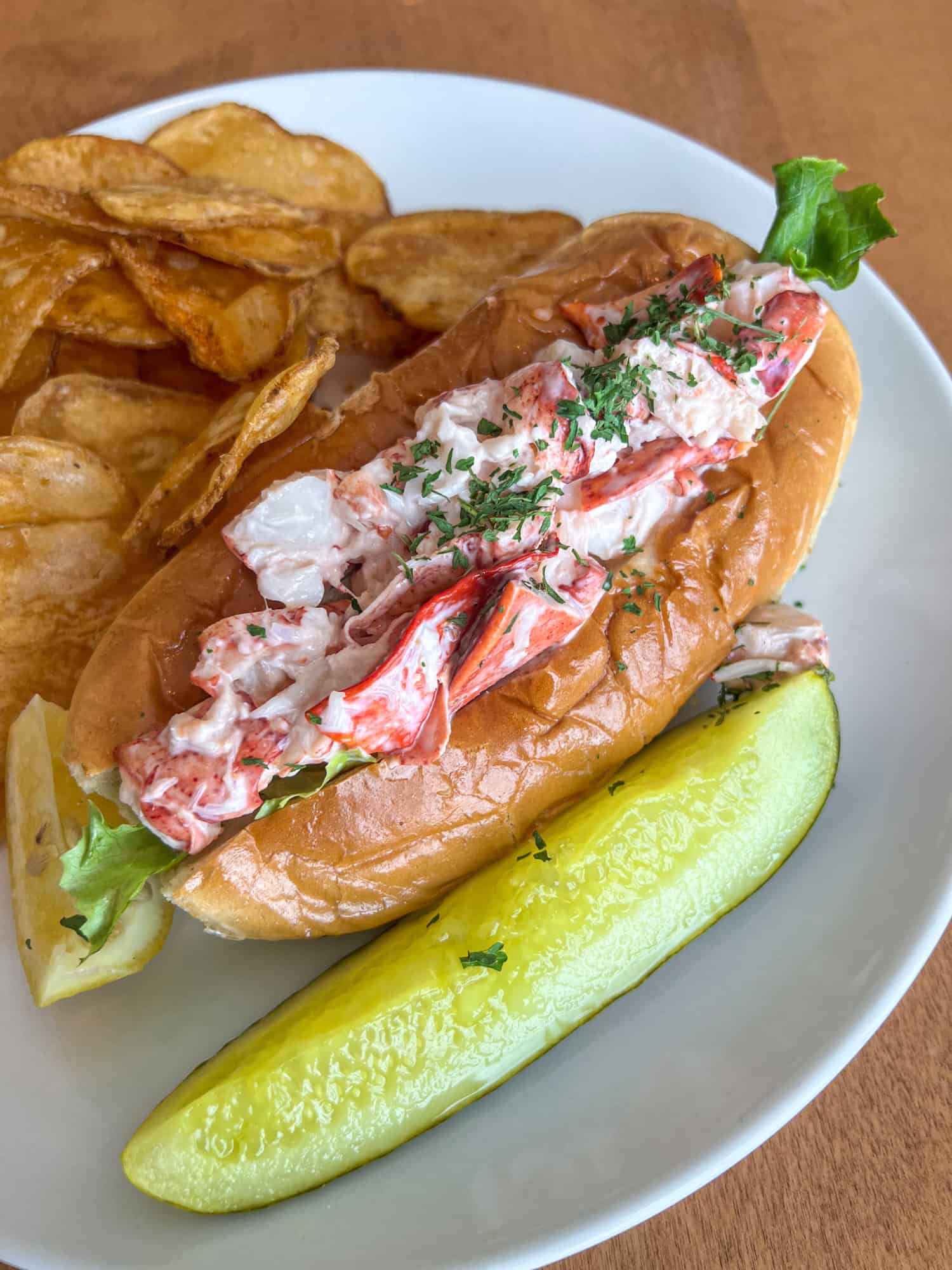 Fresh seafood is on most menus at the restaurants in Bar Harbor. After a morning spent cycling in Acadia National Park, I indulged in a cold lobster roll at West Street Cafe.
If you prefer your lobster whole, they're also easy to find. My friend Jules ordered the one below during our dinner at Galyn's.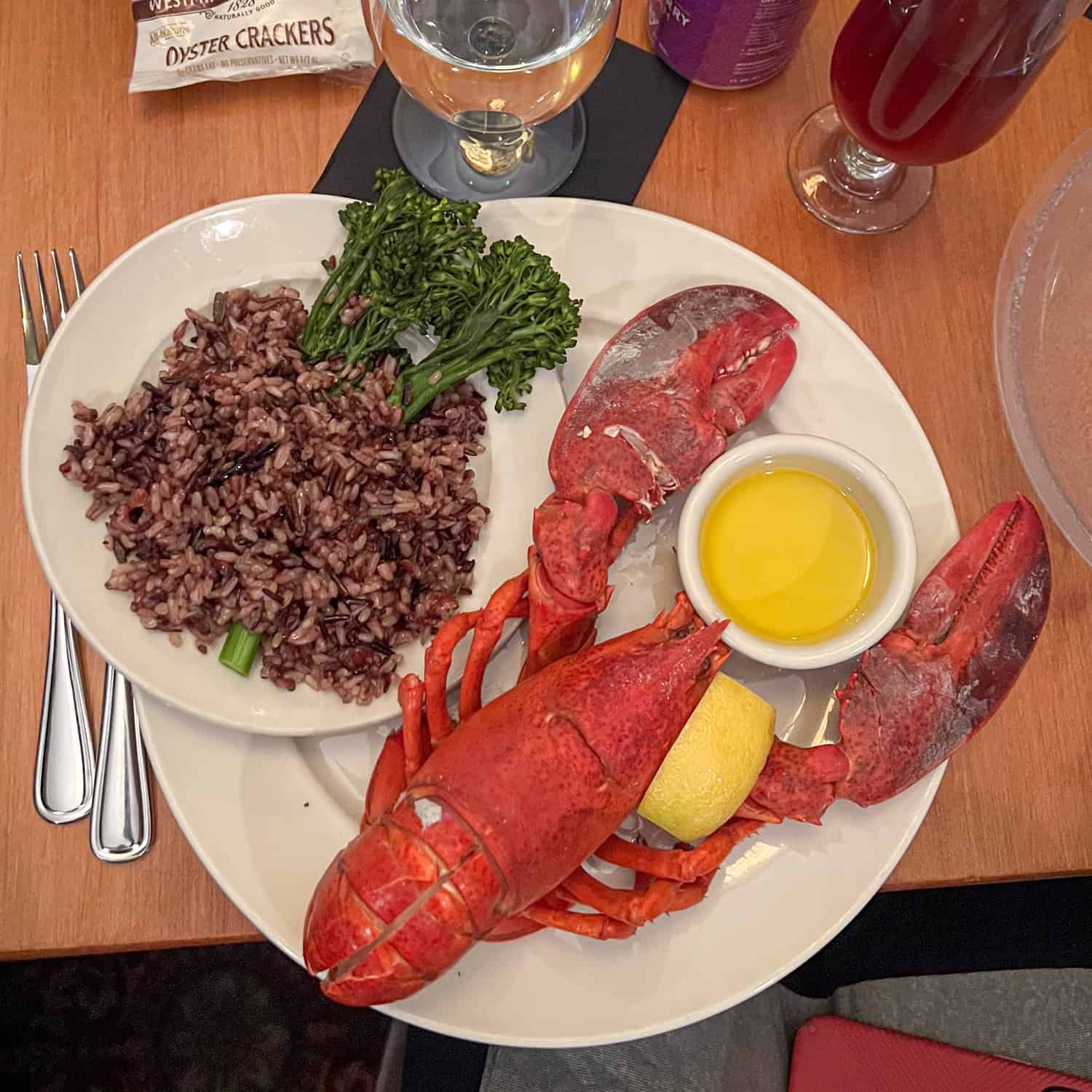 Many Bar Harbor restaurants also offer the option to get "lazy lobster," meaning the meat is taken out of the shell before it's served.
This makes enjoying it that much easier. Just dip the lobster meat in the melted butter and enjoy!
For a free sample of lobster ice cream, head to Ben & Bill's Chocolate Emporium.
14. Blueberry Pie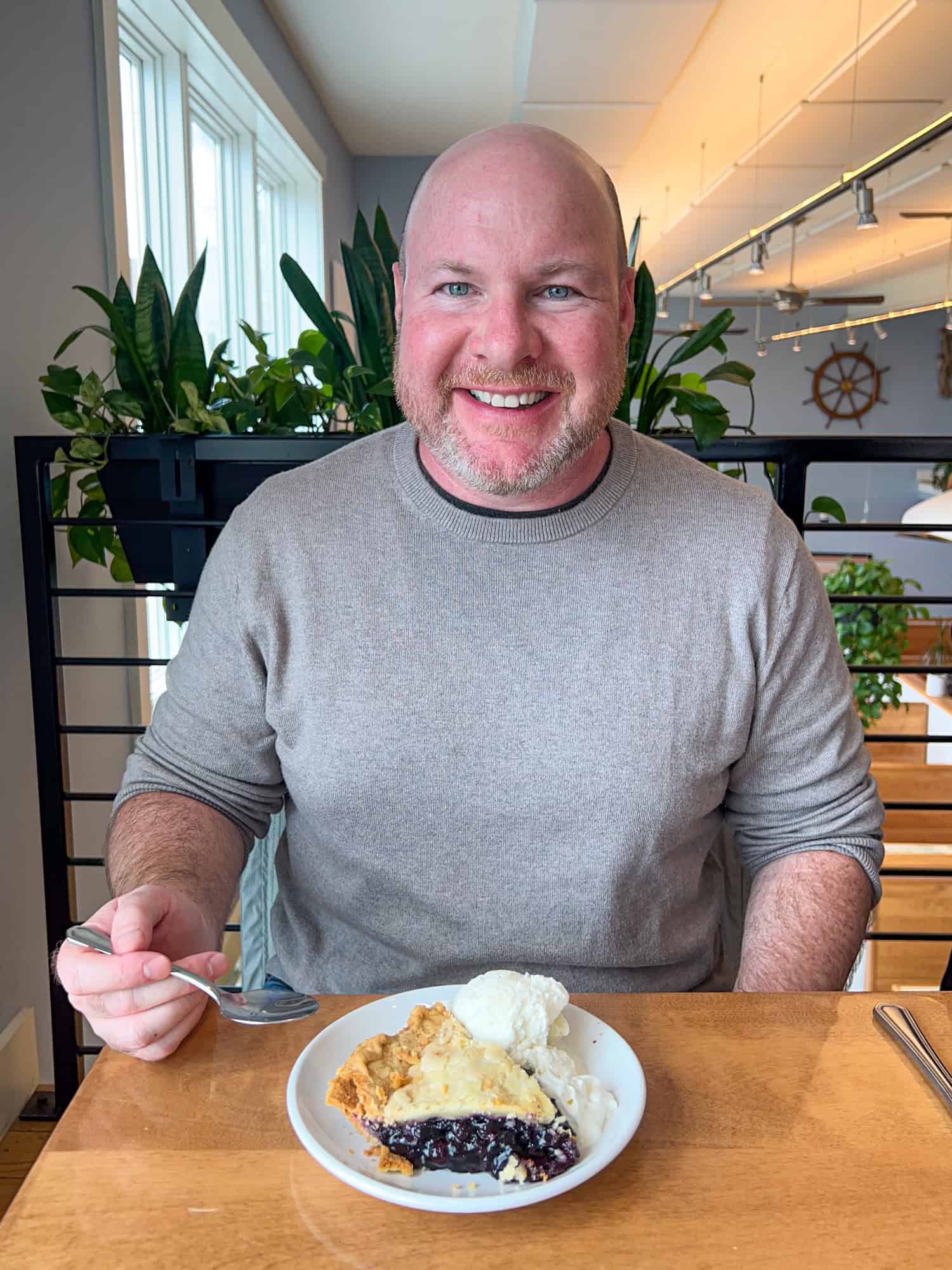 One of the best ways to end any meal in Bar Harbor is with a warm slice of blueberry pie a la mode. That was my dessert choice after the lobster for lunch at West Street Cafe.
The most delicious and freshly-baked pie was delivered to the table. It was oozing with Maine blueberries, and I savored every bite.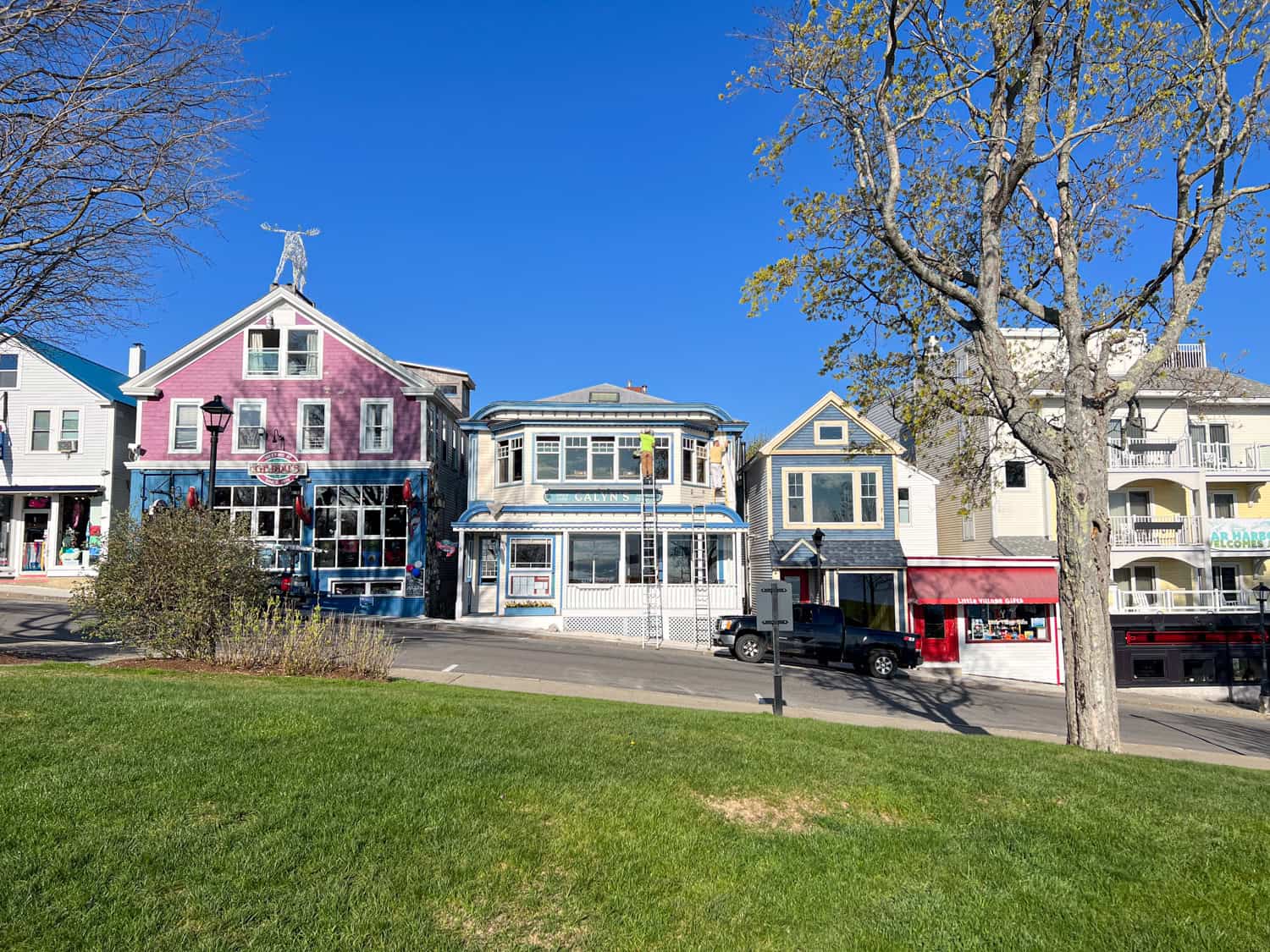 Exploring the many things to do in Bar Harbor, Maine, and the surrounding area was great fun. We were blessed with gorgeous weather and plenty of sun for our outdoor activities. I wish the same for you!
_____
My stay at Sand Bar Cottage in Bar Harbor and tour with Summer Feet Cycling were organized by the Adventure Travel Trade Association and Maine Office of Tourism as part of my attendance at AdventureELEVATE North America.
Dave is the Founder and Editor in Chief of Go Backpacking and Feastio. He's been to 66 countries and lived in Colombia and Peru. Read the full story of how he became a travel blogger.
Planning a trip? Go Backpacking recommends: