Breckenridge is known as a world-class ski resort, but when the snow melts, and the skis are put away, the mountains become an incredible host of summer activities.
The slopes shift from snowy ribbons to wildflower-filled meadows, and temperatures rarely get above 80 degrees.
The sun shines bright and warm, and there's an endless amount of fun to be had in the Breckenridge area.
Whether you want to time your visit with one of Breckenridge's many festivals or just to show up and have a blast, here's everything you should do while you're there.
So what exactly should you do when visiting in the summertime? Here's a list of our ten favorite Breckenridge summer activities, ranked in no particular order.
Summer Activities in Breckenridge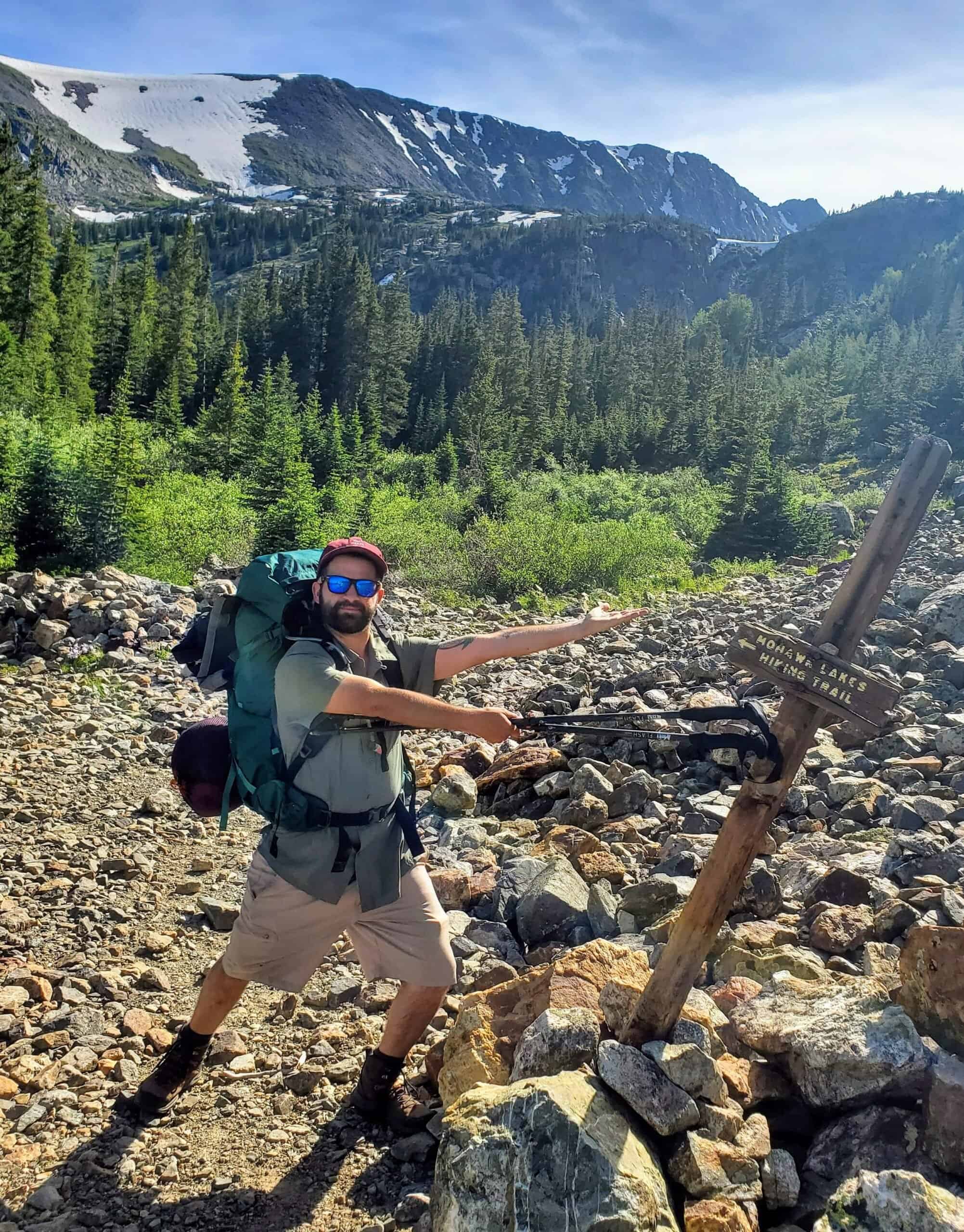 1. Go Hiking
First and foremost, hiking is easily one of the best things to do in Breckenridge. The mountains have countless miles of hiking trails just waiting to be explored.
They feature wildflowers, pine forests, alpine lakes, aspens, rivers, and streams. Their difficulty ranges from easy walks in the woods to strenuous treks that summit mountains and everything in between.
Here are our favorite Breckenridge hiking trails:
For a short walk for the whole family, see the Breckenridge troll, Isak Heartstone, a 15-foot wooden sculpture nestled among pine trees.
For something a little longer, visit Blue Lakes north of town, and explore the two alpine lakes connected by a beautiful waterfall.
If you're in good shape and want to challenge yourself, seek new heights by summiting Black Powder Pass or trekking to Mohawk Lakes. 
If you want a once-in-a-lifetime experience, train to summit a 14er and climb to the top of Quandary Peak, Breckenridge's local 14,000-foot peak.
2. Drive Boreas Pass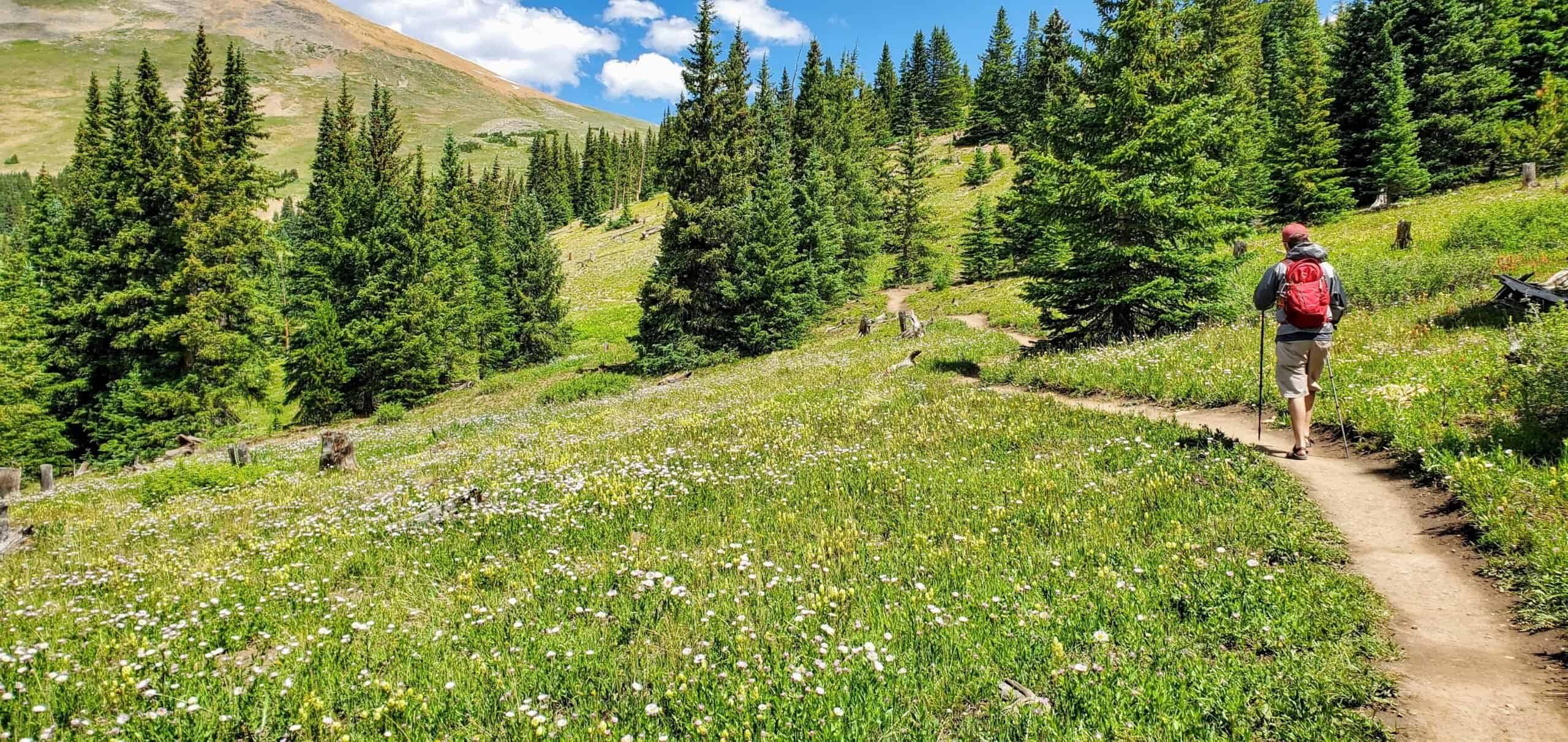 The best scenic drive near Breckenridge is Boreas Pass, a dirt and gravel road that takes you up to the historic town of Boreas, which was thriving in the late 1800s and early 1900s.
The road is very rich in history, and you'll see evidence of its past as a Gold Rush trail, then a railroad, and now as a scenic drive.
Starting in Breckenridge, it's about nine miles one way to the summit of the pass, which is also part of the Great Continental Divide.
You can either turn around at that point or continue over into the town of Como, then take the highway back to Breckenridge. 
We recommend stopping at any overlooks that catch your attention along the way. There are several that offer incredible views of the surrounding mountains and valleys.
If hiking is one of the summer activities in Breckenridge you'd enjoy, some of our favorite hikes start from this road.
Once you reach the summit, there are lots of signs about the history of the old town, and it's worth walking around and exploring.
3. Time Your Visit with a Festival
Breckenridge is a bustling and exciting mountain town home to several yearly festivals. We love attending their summer festivals, an eclectic mix ranging from monthly art festivals to wine and food events.
Some examples include the Food & Wine Festival, the Breckenridge Bourbon & Bacon Festival, the Summer Beer Festival, and the nearby Blue Grass & Beer in Keystone.
Even if you don't time your visit with one of these events, you should check the calendar and see what's going on that week or weekend. There's always something happening in downtown Breckenridge or the surrounding area of Summit County.
4. Take a Walk Through Time
If you enjoy history, especially the Gold Rush and gold mining, the Breckenridge Heritage Alliance offers several walking tours and museums that are very engaging and informative.
Our favorite tour is their Walk Through History Tour that covers downtown Breckenridge and we also highly recommend visiting the High Line Railroad Park and Barney Ford Museum.
For more information, visit their website at BreckHistory.org or see them in person at the Breckenridge Welcome Center in Blue River Plaza (downtown Breckenridge). If you want a spooky and unique experience, take a ghost tour!
5. Discover Something Epic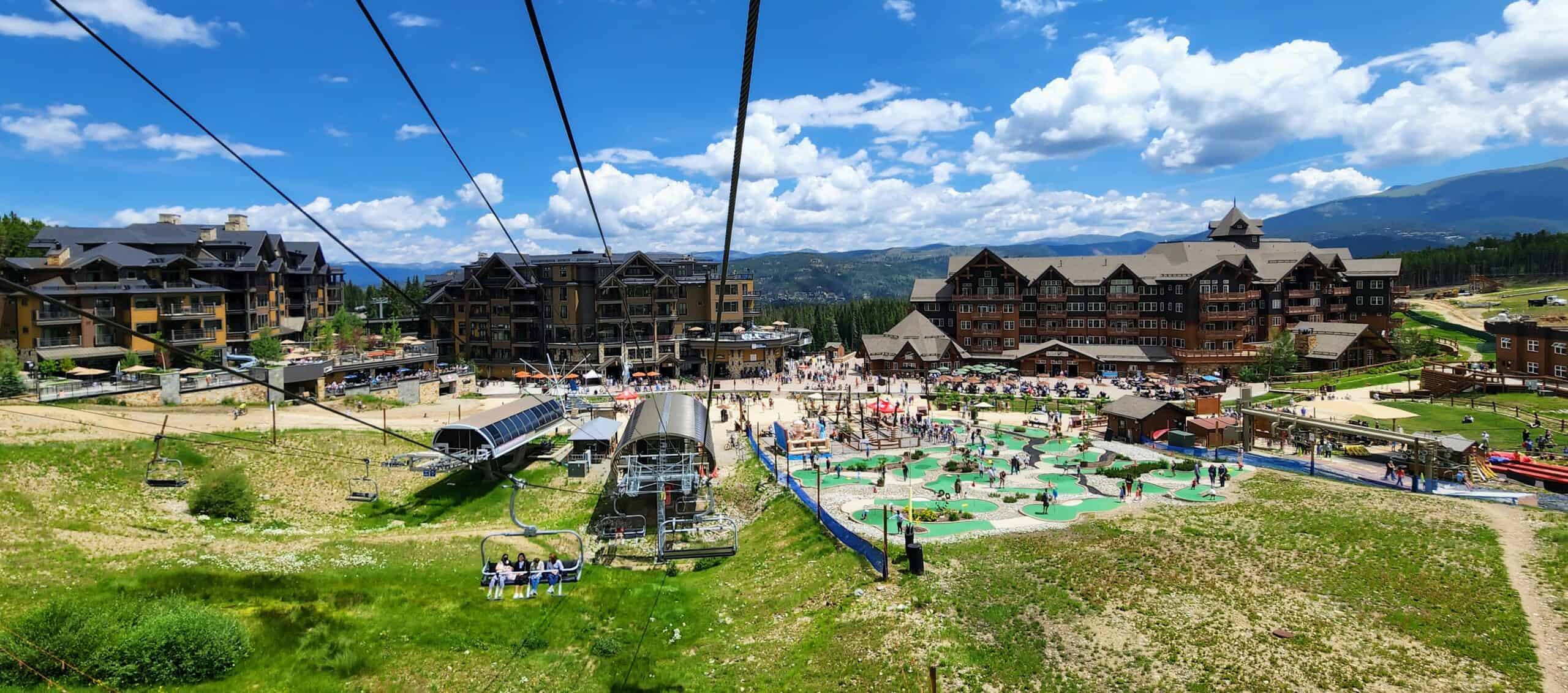 During the peak summer months, Breckenridge Ski Resort transforms into an activity area called Epic Discovery, and it's home to some of the best outdoor activities in the area.
Start by taking the gondola from town to the base of Peak 8, then visit a ticket window to purchase tickets (or purchase ahead of time online). 
You'll find mini golf, bungee trampolines, and restaurants in the base area. You can speed down the mountain on the GoldRunner Coaster, accessed by taking a ski lift.
One of our favorite things to do is the scenic ride on the Colorado Superchair up to 11,000 feet.
Up there, there are even more activities, like a climbing wall for rock climbing, gemstone panning, a ropes course, and several hiking trails. 
If you're into mountain biking, there are many bike-specific trails here.
Simply rent a mountain bike from the gear shop at the base, then take the lift up. There's no pedaling uphill, so you can focus on having fun flying down the ski slopes.
This could easily be made into an all-day activity, but save it for a day with perfect weather. Otherwise, some activities could be closed. Get there early to beat the crowds!
6. Shop 'Til You Drop
The historic Main Street in the town of Breckenridge is beautiful and picturesque, and each colorful building that lines the street is just waiting to be explored.
There are countless small boutique shops, jewelry stores, rock shops, an olive oil store, and several outdoor gear brands.
Most buildings are historic, so you'll hear floorboards creak at each store you enter. If shopping is one of your favorite summer activities, make time for it in Breckenridge.
7. Get Wet on Lake Dillon (Or a River)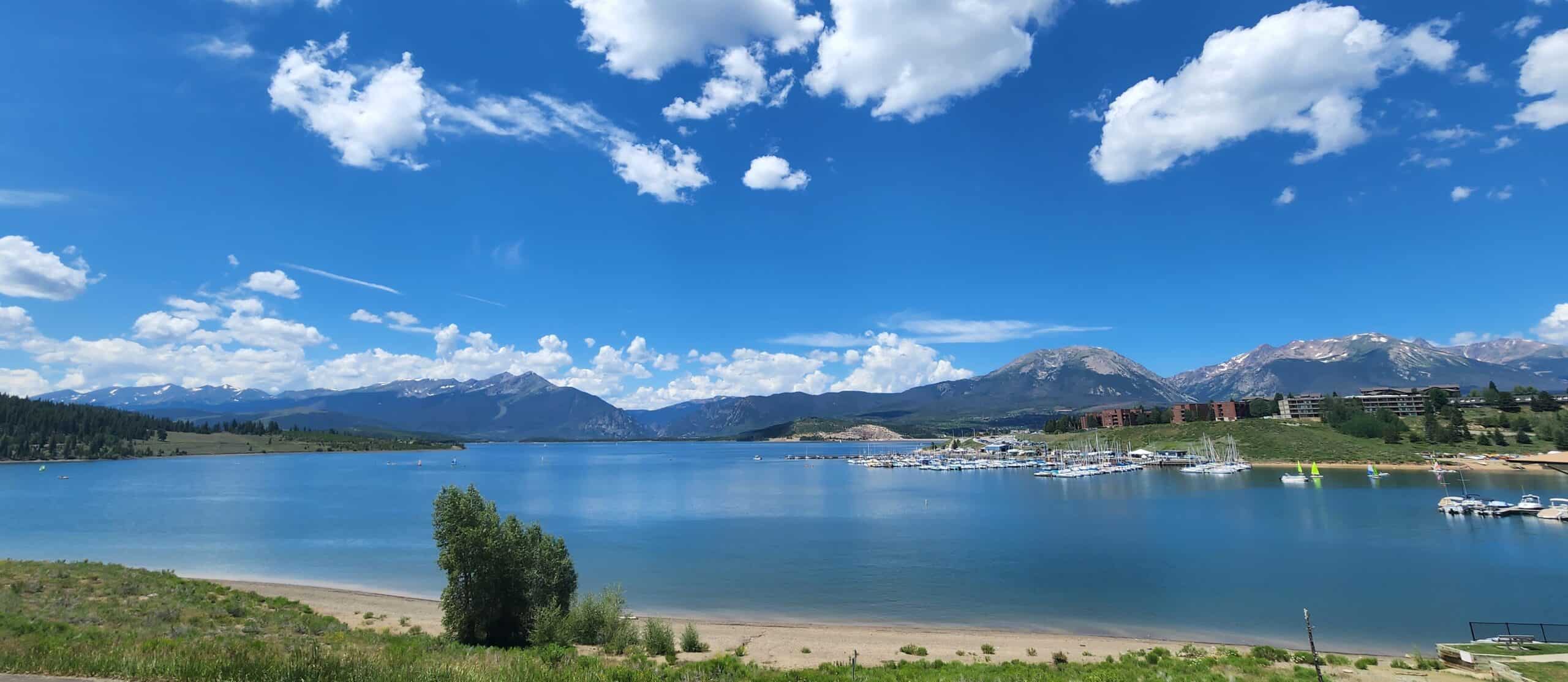 Just ten minutes outside Breckenridge is Dillon Reservoir, a beautiful lake surrounded by mountain peaks.
The Dillon Marina is the world's highest deep-water marina and offers lakeside dining and sailing tours, as well as a pontoon boat, SUP, and kayak rentals.
There's a beach that's a great place for launching small watercraft, but know that the water is too cold for swimming, and you're only allowed to wade in shallow water.
Stop at nearby Sapphire Point Overlook and hike the 1-mile loop for an incredible view of the lake from above.
Another great way to get in the water is by booking a white water rafting trip with a local outfitter.
The rivers in Colorado offer some of the best places to raft in the country, and there's something for all skill levels. There are adventures on the Colorado River, Arkansas River, Browns Canyon, and more.
8. Explore Summit County
Breckenridge is located in an amazing region of the Rocky Mountains, where several towns are within a short drive of each other, and each has its fun activities.
Use Breckenridge as a base camp, and take the time to explore the other small towns like Keystone, Copper Mountain, Vail, Frisco, Dillon, and Silverthorne.
If you don't have a vehicle, you could still get around Breckenridge and the surrounding area by taking the Free Ride bus or Summit Stage bus.
If you go over Hoosier Pass south of town, you can access even more outdoor recreation like fly fishing, horseback riding trail rides, ATVing, and more.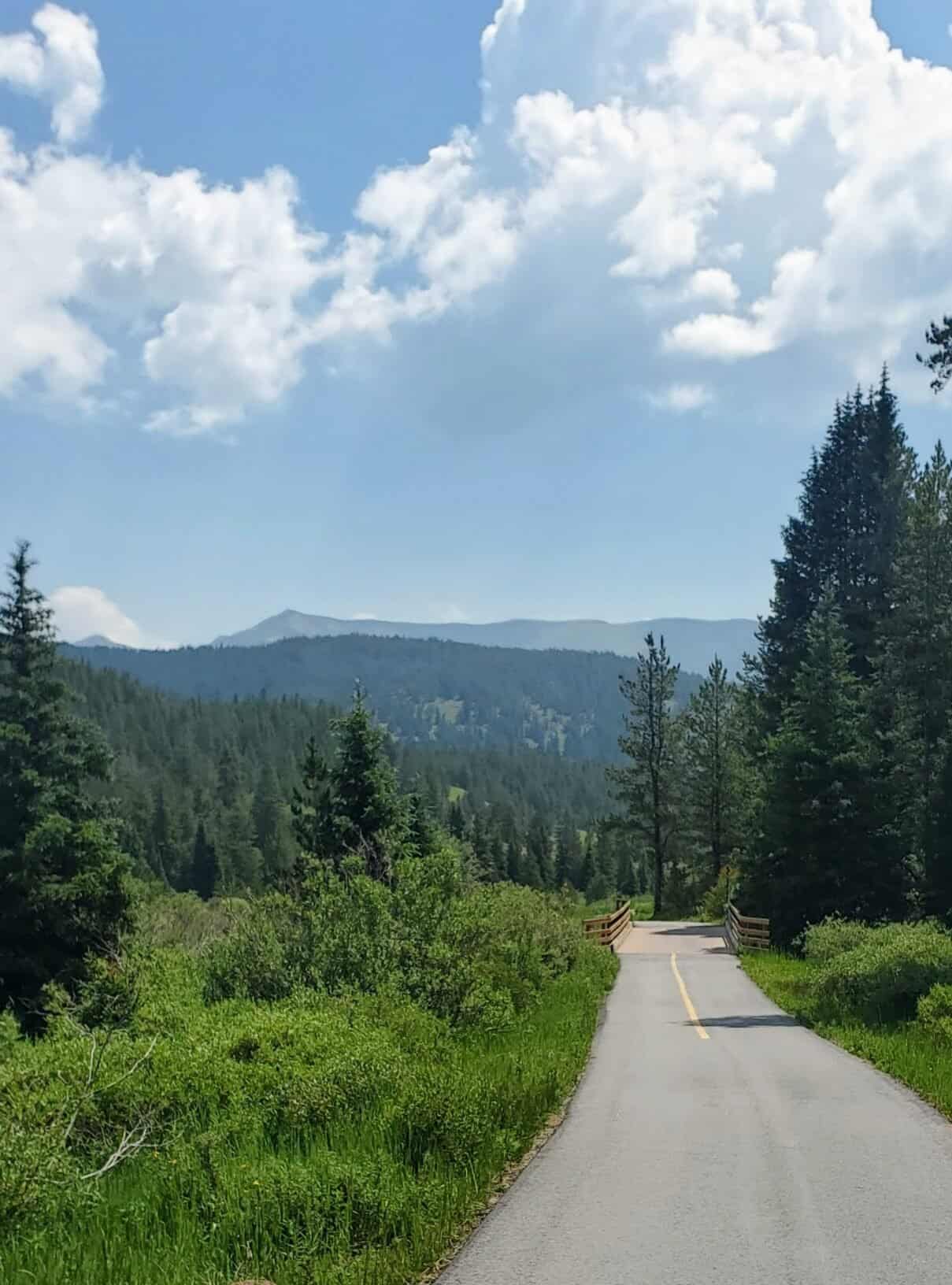 9. Rent Bikes
Several outfitters in Breckenridge and Frisco offer bike rentals for both regular pedal bikes and e-bikes.
This has become one of our favorite summer activities in Breckenridge because of all the paved bike trails around Dillon Reservoir and the surrounding towns.
One of our favorite bike routes is booking a Vail Pass bike ride with an outfitter like Rebel Sports in Frisco.
They will shuttle you and your bike to the top of Vail Pass, and then you get to ride 14 miles downhill back into town.
If you want to rent e-bikes, you can ride that route yourself, but we prefer taking them around Lake Dillon, which is an 18-mile loop; it's the best way to see the lake without getting in the water.
10. Go Tasting
No matter which type of food or alcohol you enjoy, there's sure to be something for you. This could be a great indoor activity for a rainy day, but most places also have outdoor patios perfect for ideal weather. 
For wine tasting, visit Carboy Winery, Continental Divide Winery, and Ridge Street Wine. For spirits, the Breckenridge Distillery has a tasting room downtown or a fantastic restaurant outside town.
If you enjoy beer, our favorite places are Breckenridge Brewery, Broken Compass, and the Breckenridge Tap House. 
If food is more your style, there are several options for high-class dining that will make your taste buds go wild.
Our favorite restaurants are Rootstalk, Briar Rose, the Breckenridge Distillery restaurant, and Aurum.
If you're on Main Street, we highly recommend grabbing a crepe at the Crepe Cart but know that the line gets super long, so go early in the day to beat the crowd.
For Rainy Days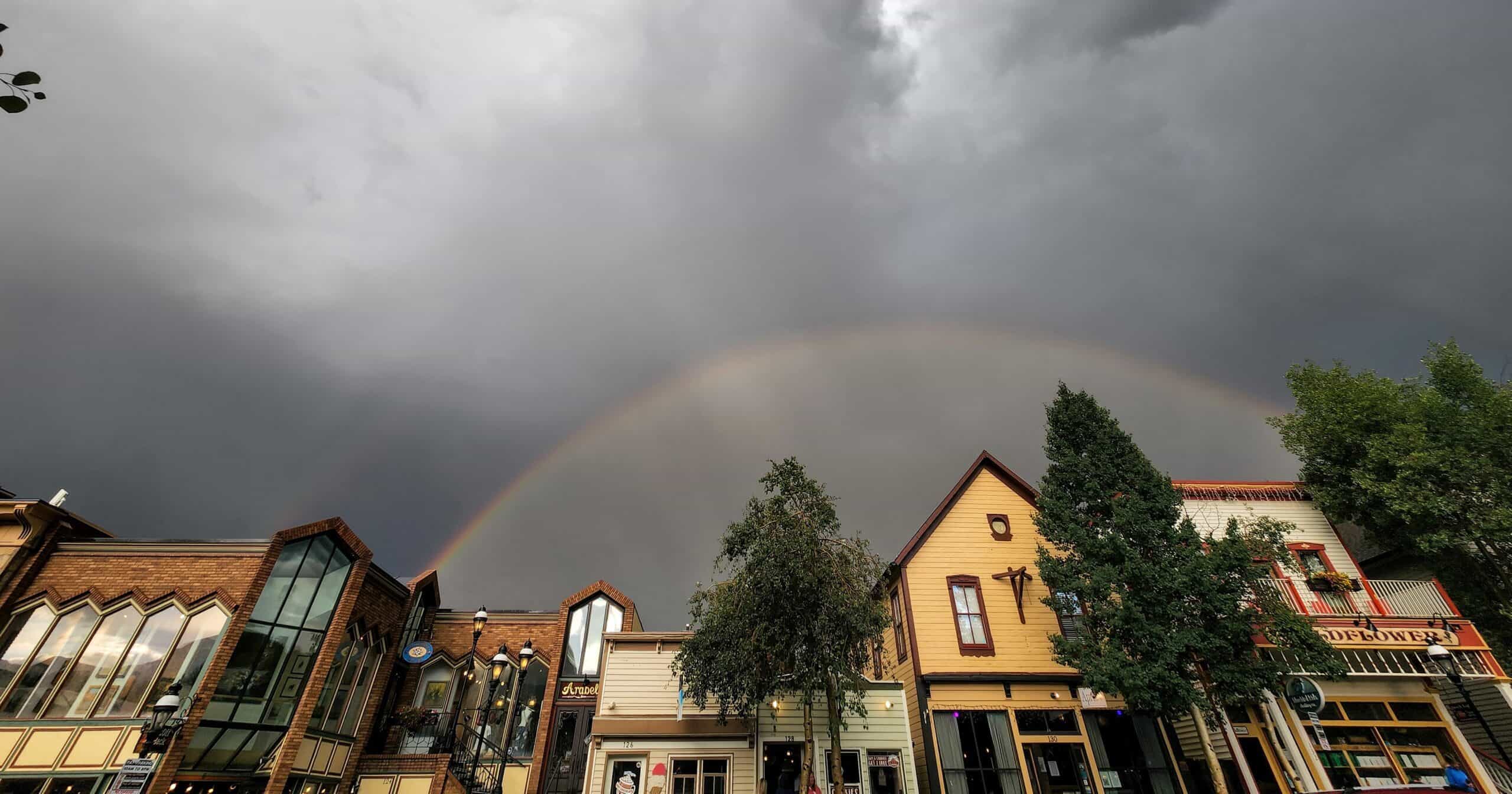 It rains almost every day in the summer, but that's what makes the mountains so green and full of life. When the weather keeps you indoors, there's still lots to do!
The Stephen C. West Ice Arena offers public ice skating and disco skating on select Friday nights.
This is the home of the Breckenridge Vipers, a semi-professional hockey team. If they're playing during your visit, it's a must-see! 
The Breckenridge Recreation Center has a fun indoor water park that's a great spot for the entire family. It includes a water slide, hot tubs, and a lap pool.
Your day pass would include access to the other facilities to work out, swim laps, take a group class, play racquetball, and more.
Some other activities include axe throwing, an escape room, a treasure hunt at Country Boy Mine, live music at a bar in the evenings, and seeing a movie at the local Eclipse Theater.
Final Thoughts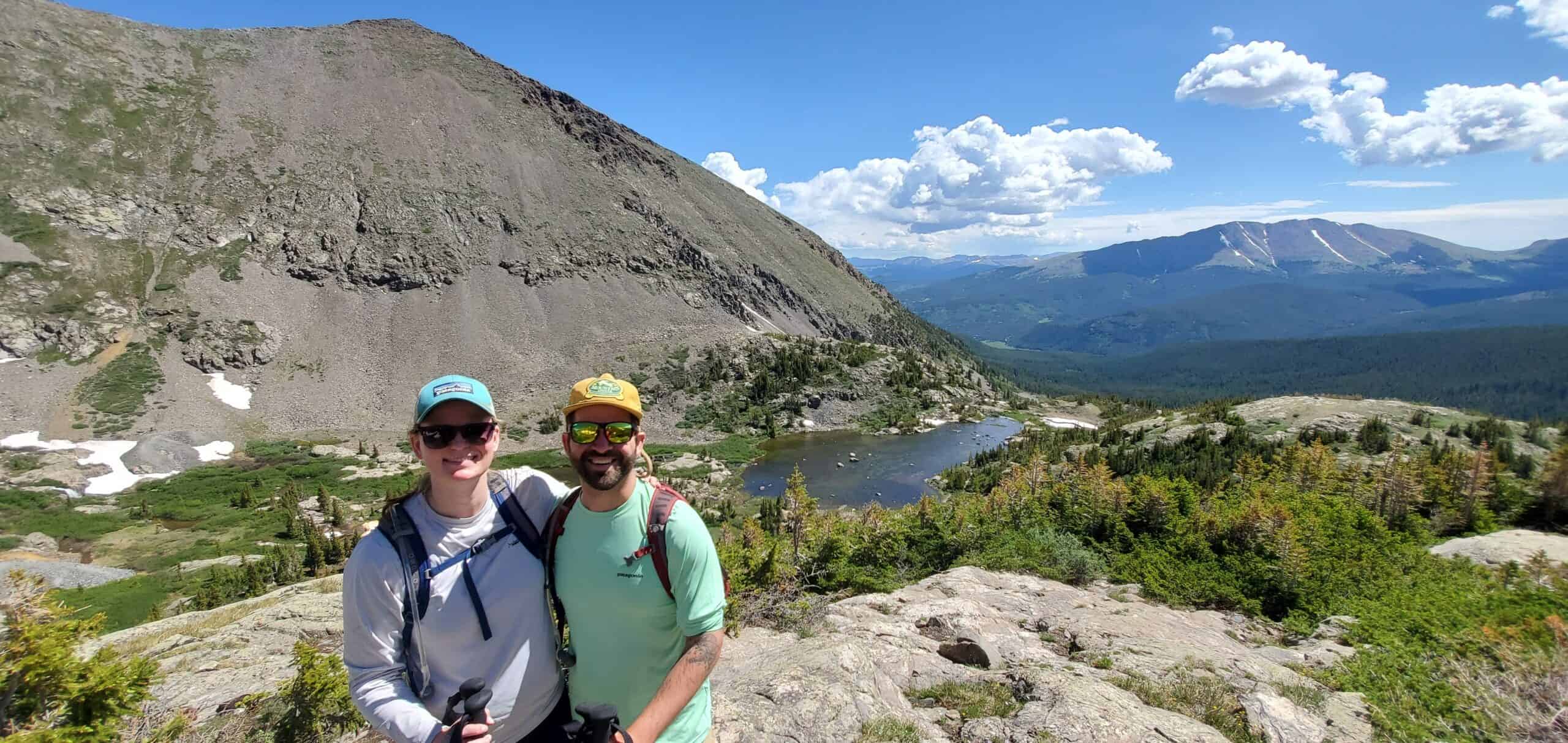 The best time to visit Breckenridge for summer activities is mid-June through August. For incredible fall colors, go in late September and early October. It's the perfect place to get outside, with natural beauty everywhere you look.
We hope this has convinced you to visit Breckenridge – it's one of the best places in the country for a summer vacation, and there's so much to do and see.
You will love it! So what are you waiting for? Get online and book your summer vacation to Breckenridge.
Check out a local vacation rental or hotel, and book your flight to Denver. If you're already booked for a visit, start planning your days using this guide above, and we hope to see you there soon!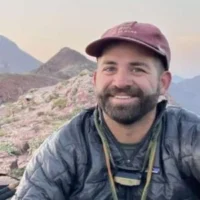 Derek is the Co-Founder of Know Nothing Nomads with his wife Ashley. He loves to share his passions of hiking, camping, and a love of the outdoors with anyone willing to listen. When he's not writing here, you can find him on a trail, in a forest, or next to a river with hiking shoes on my feet and a fly rod somewhere close by.
Planning a trip? Go Backpacking recommends: