The country of South Africa is blessed with a wide variety of terrains and some of the best hiking trails in the world, offering year-round opportunities to get back into nature.
Whether you tackle the stunning mountains of the Drakensberg or hope to escape into the rich underbelly of sprawling forests, there is plenty to choose from for beginners and experts alike.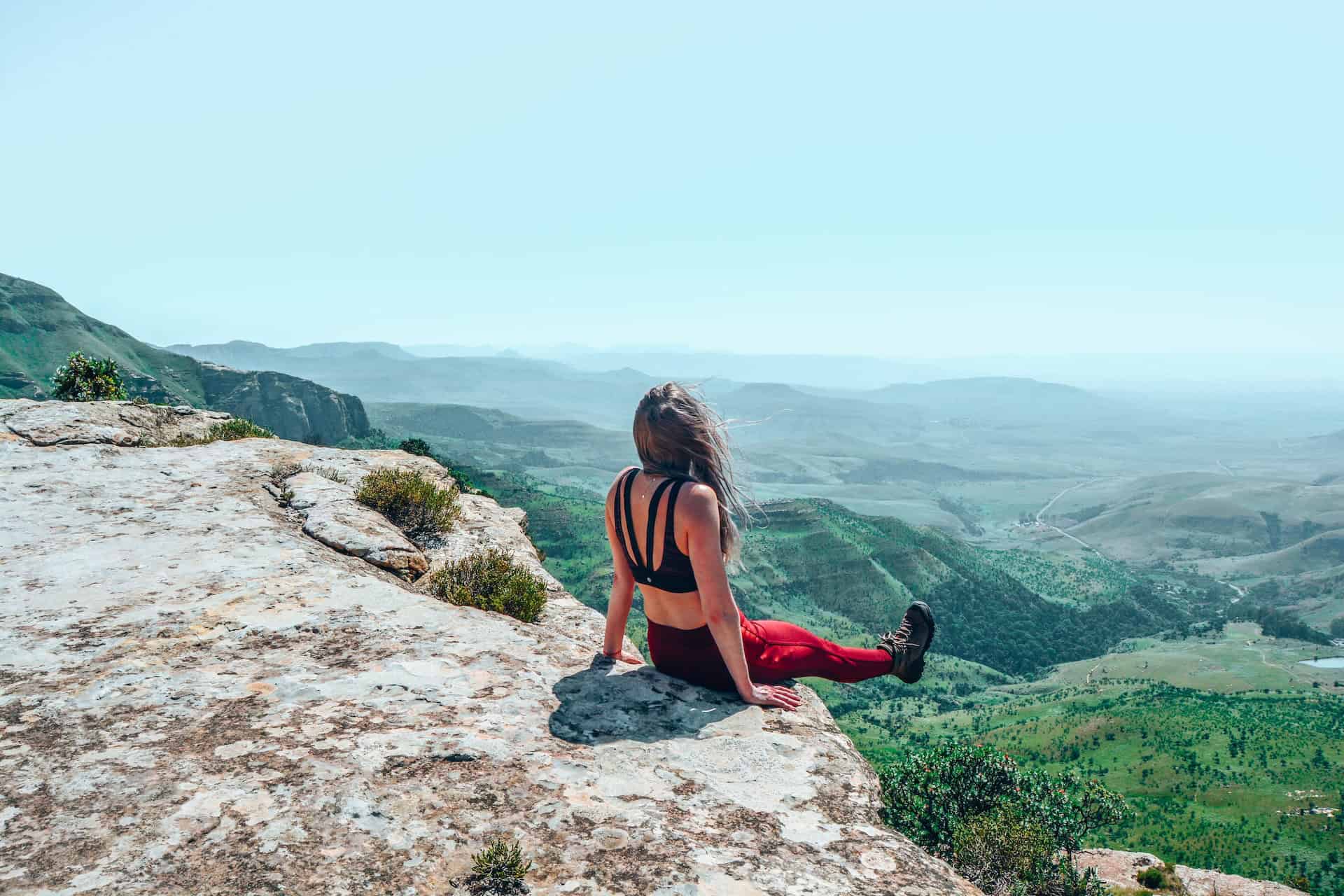 If you are a foreign visitor traveling from overseas, be sure to buy foreign currency from S Money before you leave home to ensure you have no money-related issues once you enter the Rainbow Nation. 
Hiking in South Africa
1. Pondo Trail
A hidden secret in the wilderness of South Africa, the Pondo Trail is located in the wildest part of the Wild Coast.
From Mtentu to Manteku, with rivers meeting the coastline every 1.25 miles (two kilometers), this spectacular trail offers something new every day. 
Hikers will experience the perfect mix of grasslands, ravines, sweeping cliffs, and stretches of glorious beaches. But the show stealer of the entire trail is Waterfall Bluff.
A rare phenomenon of waterfalls tumbling straight into the ocean, you will find it difficult to move on. 
The hike is fully catered, with local seafood, cold drinks, and plenty of other delicious food waiting for you at the end of the day. 
2. Otter Trail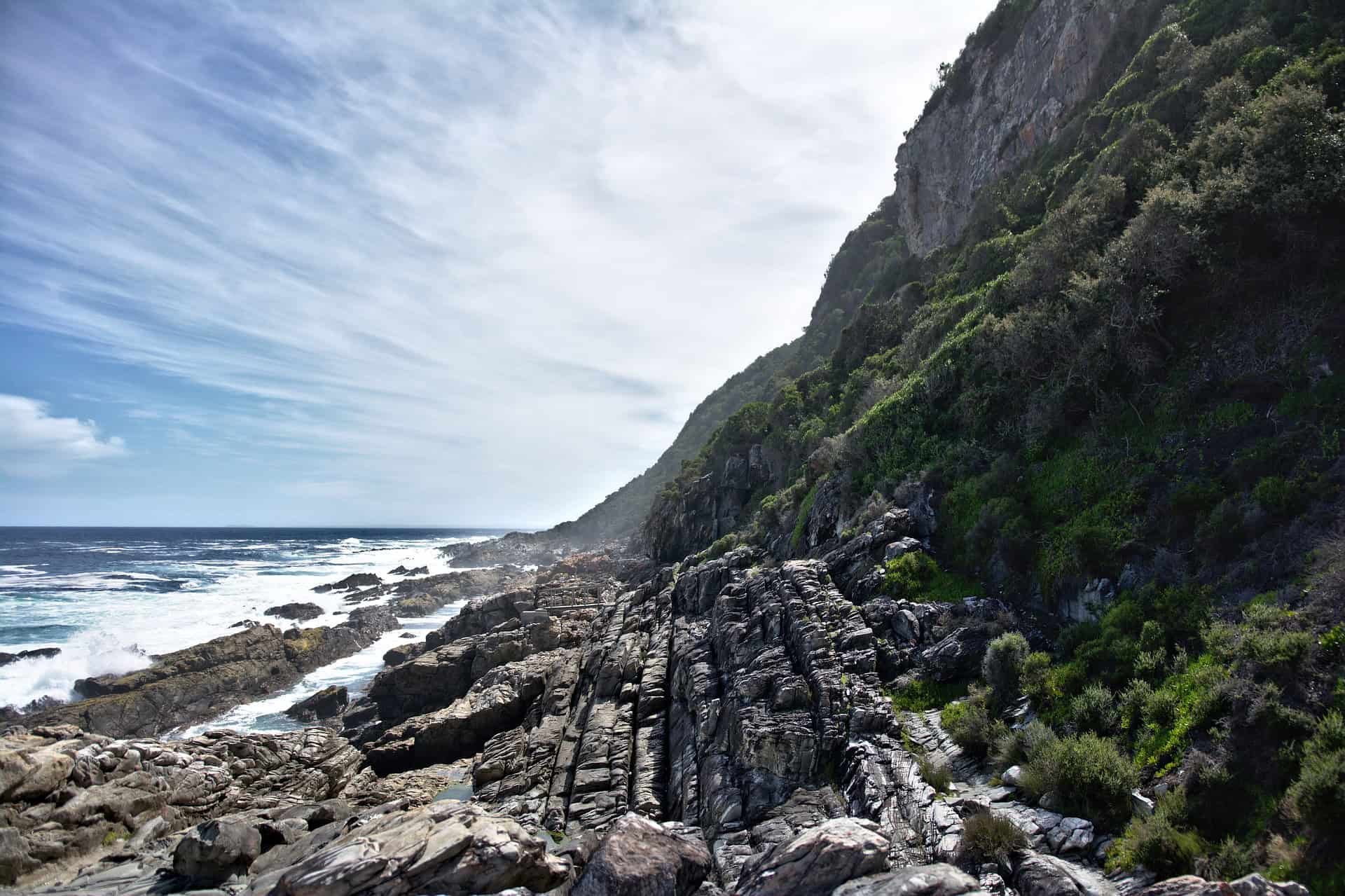 The Otter Trail is considered by many as one of the best hiking trails in South Africa and the world.
Also known as the "The Prince of Trails," this 28-mile (45-kilometer) coastal walk from Storms River to Nature's Valley will leave you speechless.
Enchanting rockpools, secluded huts, and a breathtaking coastline will stop you in your tracks for the ultimate view. 
The trail route does offer some challenges along the way, including steep climbs, secret waterfalls, and a midnight river crossing to keep things fun.
But once you have secured your permit, which sadly sells out a year in advance, you will not regret a single second you spend in this fantastic environment. 
3. Amatola Trail
If you are a seasoned hiker looking for a challenge, the Amatola Trail will become your new favorite location.
Often called the most demanding hiking trail in South Africa, this forest footpath is lined with tiny luminescent ferns, towering moss-covered trees, and an endless canopy of leaves enclosing the cavern. 
It is a six-day hike, with ten daily hours of climbs, and descends through lush valleys, flower-filled grasslands, and the imposing peaks of the Amatola Range.
It is a self-guided, challenging hike suited only for experienced and fully-equipped travelers, as civilization is far away.
4. Giant's Cup Trail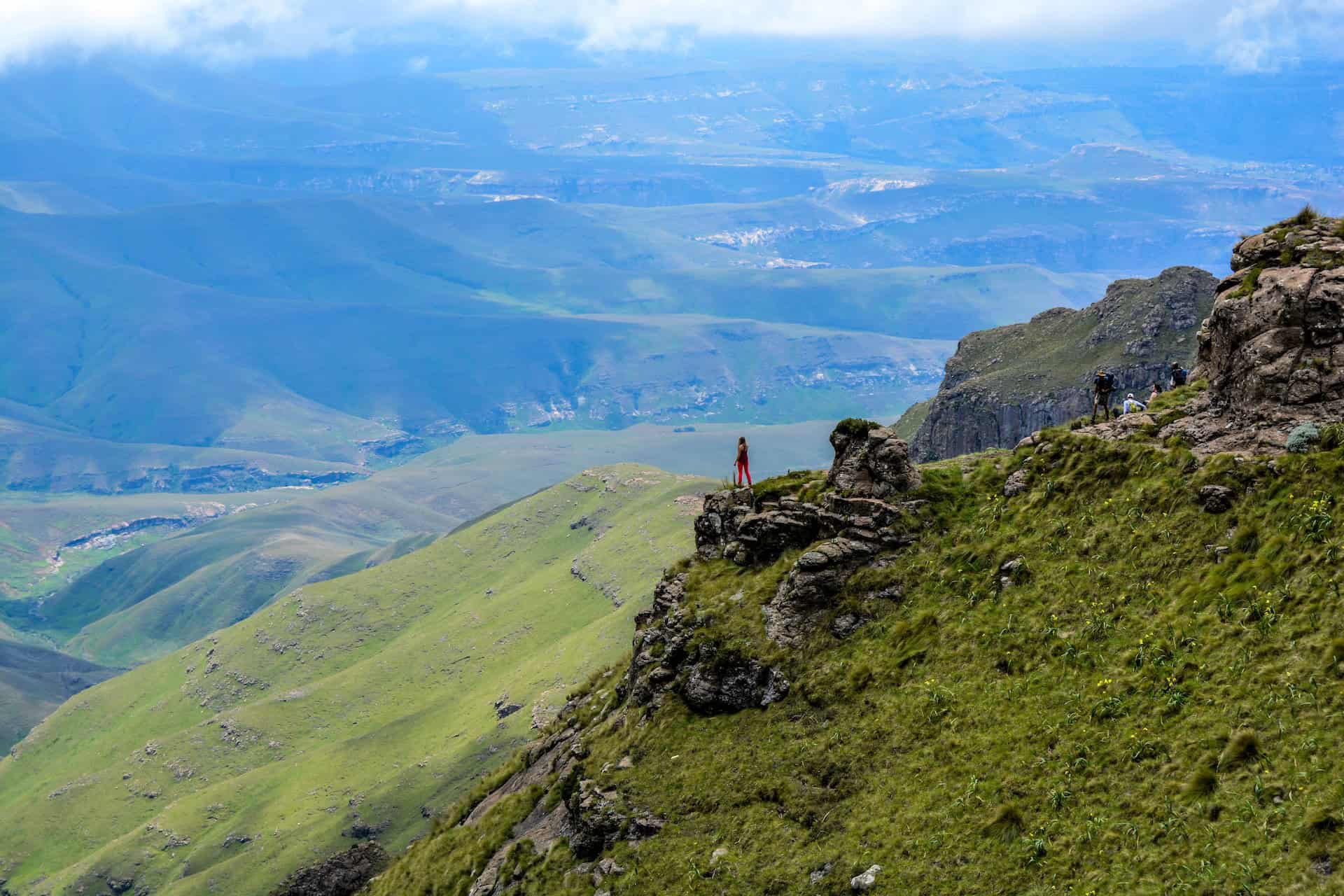 While plenty of hiking opportunities exist in the Drakensberg Mountain range, the Giant's Cup Trail is the only fully hutted experience.
It's the ideal way for backpackers to experience the wonders of the lower Berg, serving up spectacular panoramic views, lush plains, and winding valleys filled with streams and ponds.
The trail is well laid out, offering a varied terrain perfect for first-time visitors. Additionally, it will allow you to understand your surroundings better, making it the perfect stepping stone for future hikes in this region of South Africa.
5. Central Cederberg Circuit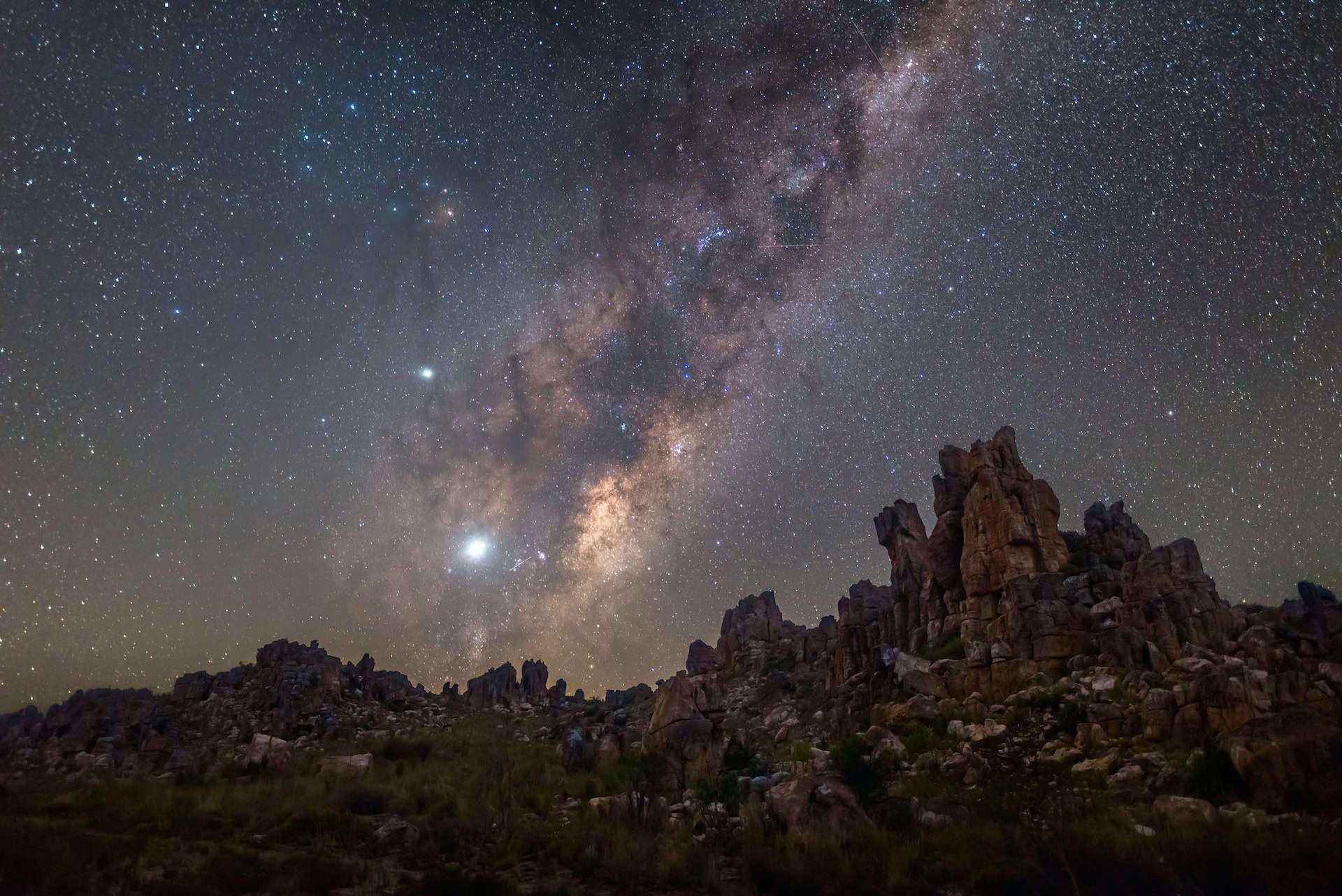 For first-time visitors, the Cederberg can be tricky to navigate. Understanding where it starts and ends and, more importantly, the best places to hike can feel daunting.
The Central Cederberg Circuit's five-day route is an excellent place to start. This incredible trail will take you past the Crystal Pools, Welbedacht Cave, the Wolfberg Arch and Cracks, the Maltese Cross, and Sneeuberg.
For many experienced hiking experts, it is one of the best five-day hikes they have embarked on. 
6. Leopard Trail
A visit to the magnificent Baviaanskloof Nature Reserve, a UNESCO World Heritage Site, will allow you to hike the Leopard Trail.
It has quickly grown in popularity since opening in 2016, with a narrow valley filled with pristine nature, gorges, streams, steep mountain passes, and vast stretches of grassland plains. 
At just under 125 miles (200 kilometers), the Leopard Trail is circular in shape and a catered hike. Furthermore, it is located at a lower altitude, meaning trekkers will enjoy the lush landscape with various flora and fauna. 
7. Hluhluwe-iMfolozi Primitive Wilderness Trail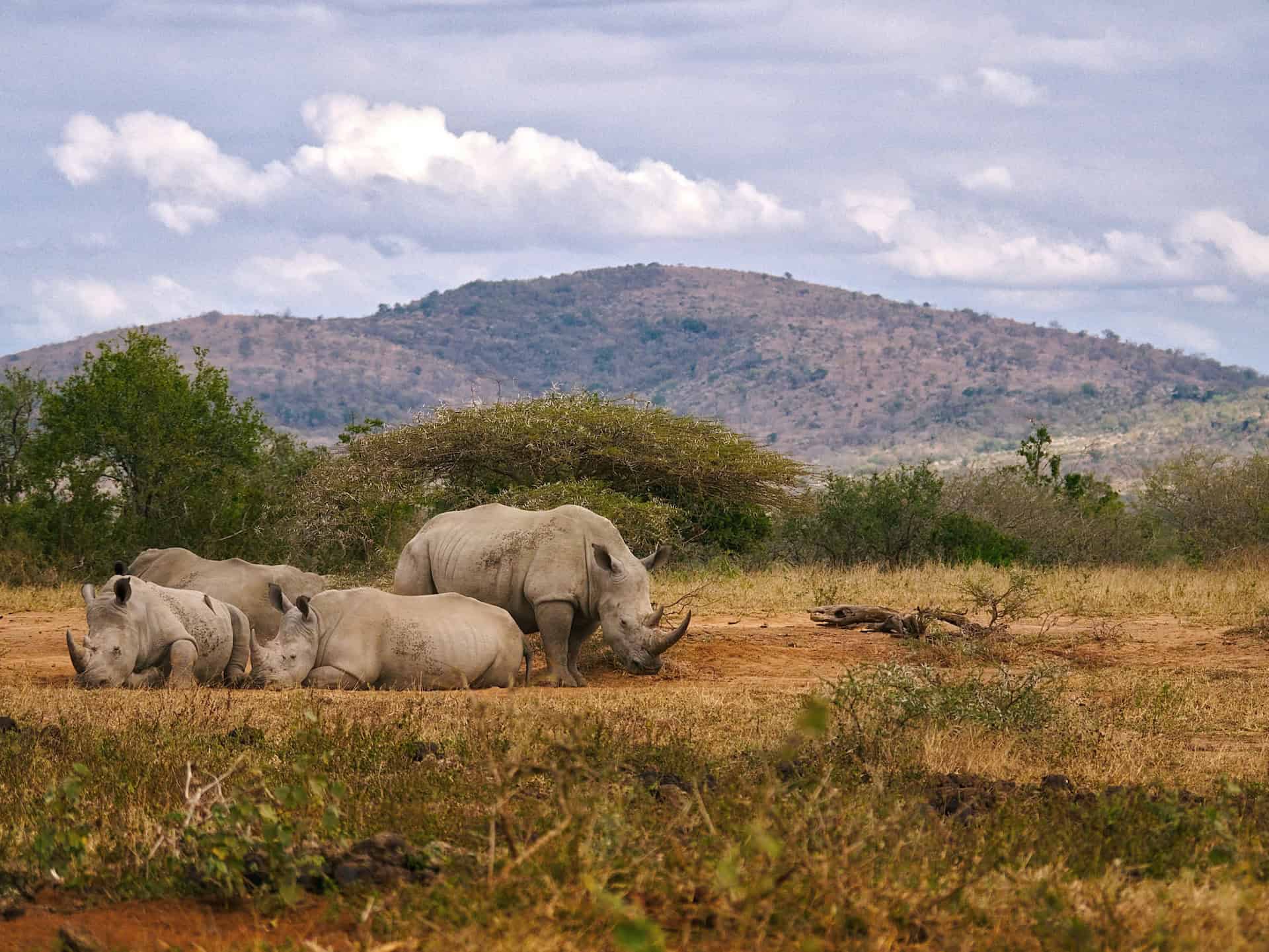 If you are looking for a South Africa hike like no other, a wilderness trail will tick all the boxes for you.
The Hluhluwe-iMfolozi Primitive Wilderness Trail allows you to travel, by foot, through the wilderness filled with the historic Big 5, amongst other animals. 
These trails were first introduced over 60 years ago by Ian Player, the man behind Operation Rhino.
He intended to introduce people from around the world and from all walks of life to the life-changing experience of walking through nature and experiencing its beauty firsthand. 
The Ezemvelo KZN wildlife offers a range of trails from which to choose, each offering the raw bush experience filled with sleeping under the stars and plenty of opportunities to view the incredible wild animals that call this location home.
_____
This story is brought to you in partnership with S Money.
Planning a trip? Go Backpacking recommends: