Setting the summit of Mt Kilimanjaro as a goal awakens within the adventurous spirit a powerful desire to test one's will against the might of Mother Nature.
This might seem a staggering challenge, even daunting to a beginner climber.
But it can – and has – been accomplished by countless aspirants and novice expeditioners, armed solely with the right equipment and determined attitude.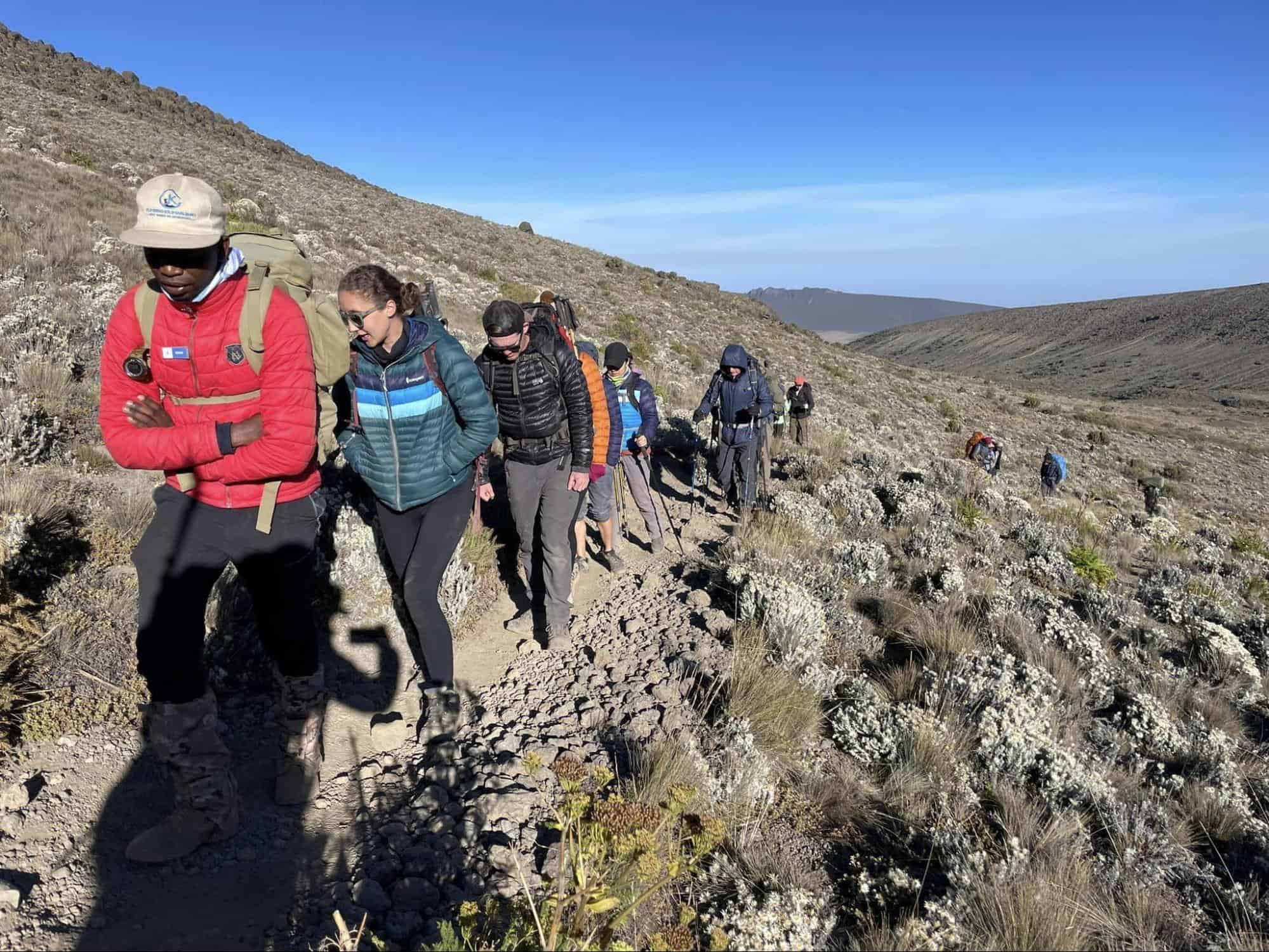 Preparing for the Challenge: Essentials for a Beginner Kilimanjaro Climb
Whether it's the high altitudes that attract you to Kilimanjaro or the thrill of finally standing on the highest peak in Africa, building a sense of preparedness is the first step.
Consistent physical and mental training, acclimatization, and the right equipment and packing list are all equally important to assuring success.
Physical Training: Building Your Strength
Simply put, climbing Kilimanjaro is a physical challenge. To reach the summit, you must be in good physical condition.
And while there is no single recipe for success, a steady cardiovascular and strength training routine is recommended.
Mental Fortitude: Mustering Your Resolve
The mental aspect of a Kilimanjaro climb is just as important as the physical. With an altitude-gaining rate of up to 1,000 meters daily, altitude sickness is always possible.
That's why it's essential to have the willpower and mental fortitude for a successful experience—to push yourself further when the going gets tough.
Acclimatization: Getting Used to the Environmental Changes
When climbing such a significant mountain, allowing yourself time to acclimate is essential.
Proper acclimatization starts with understanding low and high-altitude sickness, forbidden zones, and symptoms that may signal trouble in the air.
Equipment and Packing List: Know What You Need
No matter your climbing route, having the right equipment is a surefire way to stay safe and have maximum fun during your journey.
Such items include proper mountain clothing, sturdy hiking boots, and a pair of poles for balance.
A good Kilimanjaro reputable operator will make a difference in helping ensure the success of the climb.
They will provide a complete packing list of all the items and preparation information needed for success.
Best Time to Climb Kilimanjaro
The weather on Kilimanjaro can be unpredictable, so planning your trip well in advance is essential.
The dry season, in general, is the best for climbing, as it offers the least amount of precipitation and an overall more comfortable temperature range. 
From December to mid-March and mid-June to the end of October, you will have the most pleasant experience as you make your ascent.
Near the summit, however, the temperature can drop well below freezing. 
Kilimanjaro Routes
Different routes offer various levels of difficulty, and depending on your ability, some may prove to be more harrowing than others.
Marangu Route: The easiest and most crowded route and the only one with a hut system.
Machame Route: Popular and scenic, and considered the best overall route. 
Umbwe Route: This difficult and direct route is not as popular but is the quickest way to the summit. 
Rongai Route: This slightly easier, scenic route takes six days to reach the summit from a different side of the mountain. 
Lemosho Route: Relatively low-trafficked route with excellent wildlife viewing. 
Shira Route: Mostly hiked in combination with the Lemosho Route; it starts at a higher altitude than other routes. 
Northern Circuit Route: This is the longest route around the mountain and provides different perspectives of the summit.
Conclusion: A Beginner Kilimanjaro Climb Is Possible
Reaching the summit of Kilimanjaro is a formidable feat, and it won't be a walk in the park for novice climbers.
But with the proper preparation and attitude, it is absolutely possible for a beginner to reach the peak.
So, if you find yourself ready to realize such an achievement, go forth and climb cautiously, and reward yourself with an African Safari afterward.
_____
This story is brought to you in partnership with Climbing Kilimanjaro.
Planning a trip? Go Backpacking recommends: