Exploring the wilderness means more than just lacing up your boots – it's also about the sustenance you carry along. The food you pack for your backcountry adventure can affect everything from your taste buds to your energy levels, not to mention the heft of your backpack and how much you relish the journey itself. But don't be surprised if you hear ten different meal plans from ten different hikers. From pre-packaged freeze-dried feasts to hauling the entire kitchen cupboard, the options for outdoor dining are as vast as the landscapes.
Figuring out the ideal culinary approach in the backcountry is a lot like choosing your trail mix – it's personal. While we can't dish out a one-size-fits-all menu, we've cooked up some backcountry culinary tips and recipes. Our goal? Whipping up meals that are a treat for your taste buds while still being conscious of weight, simplicity, and longevity. After all, great food isn't just about what's on the menu – it's about savoring the journey bite by bite.
Eating Well Without the Weight
Ask any seasoned backpacker, and they'll tell you that the weight of your pack can make or break your hiking experience. Just as some hikers are willing to invest a pretty penny in ultralight gear that shaves off a few ounces, many outdoor enthusiasts prioritize carrying lightweight food when hitting the trails. This is where dehydrated and freeze-dried meals come in, as they're easy on the scale and quick to prepare. But, let's be honest, these meals often fall flat in flavor, packing a salty punch and a mushy texture.
On the flip side, loading up your pack with fresh produce or water-heavy canned goods might turn your adventure into a grueling weightlifting session. The secret is to strike a harmony between adding more substantial, flavorful ingredients and opting for convenient, lightweight alternatives. Think of it as crafting a menu that tantalizes your taste buds without burdening your back.

To strike that sweet balance, consider sticking to one to three fresh ingredients per meal and swapping in lightweight substitutes when possible. Take the scenario of crafting a mouthwatering pesto pasta. Imagine sautéing fresh onion and bell pepper in a drizzle of olive oil—their flavors alone are worth the extra ounces. Pair that with store-bought pesto packets that are a featherweight alternative to the jarred version. Throw in some block cheese and a sprinkle of powdered parmesan, and you've got a bowl of deliciousness that won't tip the scales.
How to Keep it Fresh
Now that we've established that bringing some fresh items into the backcountry with you is a great way to improve the flavor and quality of your meal, you might be wondering how to keep these items fresh since even the nicest backpacks don't have built-in fridges. The key to preserving your perishable ingredients is simple: choose wisely and plan properly. 
The first tip may be a little obvious: don't bring ingredients that spoil easily. Leave raw meat, delicate veggies, and most dairy behind. They won't fare well without refrigeration, and the last thing you want is a bout of food poisoning interrupting your adventure.
Thankfully, plenty of items hold their own without chilling. Bell peppers, cauliflower, and cucumbers can hang in there for 2-3 days, while onions and other root veggies stay sturdy for weeks. When it comes to protein, shelf-stable champs like sealed tofu or cured salami can stay fresh for a good while and aged or block cheeses are your friends, lasting several days. Remember, weather plays a role—hotter climates speed up spoilage. 
After choosing the ingredients that work best for your menu, plan your meals to utilize the ingredients in an order that uses the least stable ingredients first. Let's say you have a three night backpack: one meal is a curry with lots of fresh vegetables and one is the pesto pasta dinner mentioned above. Knowing that the limited vegetables in the pasta will likely last longer, saving that meal for later in the trip and eating the curry first will ensure your ingredients (and your appetite) won't spoil.
Tried and True Backcountry Delights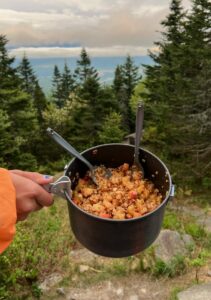 With the groundwork laid, here are some lip-smacking backcountry meal ideas that never fail to hit the spot. Keep in mind that a few of these recipes might call for dehydrated ingredients that can be a tad tricky to source. Some outdoorsy-focused stores might stock them, or you can turn to online hunting. 
Feeling overwhelmed? Going with a guide can be a great way to learn more camp craft and see backcountry cooking in action. A passionate outdoor chef will talk endlessly about their favorite methods, tools, and recipes with anyone who listens.
Consider a guided backpacking trip
Deeper Dive: Pad Thai | Serves 4-6

Ingredients:

1 box (14 oz) rice noodles

1 yellow onion

1 red pepper

2 packets cooked chicken / 1 container tofu

Optional garnish

¼ cup chopped peanuts

¼ cup sliced green onion

1 lime

Pad Thai Sauce

½ cup peanut butter

¼ cup soy sauce

1 tablespoon fish sauce

1 teaspoon sriracha

½ teaspoon garlic powder

½ teaspoon ginger powder

½ cup water

Instructions:

Mix the sauce ingredients (excluding water) and stash in a sealed container.

Boil water and add noodles, covering for 8-10 minutes.

Dice onion and pepper while noodles soak.

Sauté onion and pepper, warm up the protein.

Combine noodles, onion, pepper, protein, sauce, and water. Cook until hot, and garnish for extra flair.
Deeper Dive: Chili and Cornbread Pancakes | Serves 4

Ingredients:

4 cups water

2 cups instant rice

1 cup instant black beans

1 onion

1 can/tube tomato paste

1-2 bouillon cubes

Cheese of choice for topping

Spice Mix: 

2 tablespoons cumin

1 tablespoon chili powder

1 tablespoon garlic powder

2 teaspoons salt

1 teaspoon black pepper

½ teaspoon cayenne (optional)

Cornbread: 

½ box cornbread mix

Powdered milk

Egg replacement powder

Butter

Instructions:

Blend spices and prep cornbread mix as per the instructions.

Sauté onion, tomato paste, and spice mix.

Add water, bouillon, rice, beans, then cover.

Make cornbread pancakes and top with butter.

Reheat chili if needed, serve with pancakes and cheese.
Deeper Dive: Apple Crumble Dessert | Serves 4

Ingredients:

2 small apples (like granny smith, gala, fuji, or honeycrisp)

You can sub 1 cup dried apples for weight savings

1 cup honey almond granola or similar

1/3 cup brown sugar

1 tablespoon cinnamon

Instructions:

Dice apples and sauté in butter or a drizzle of oil.

Add brown sugar and cinnamon, cook until syrupy.

Mix in granola, heat through, and dig in.
A Note on Nutrition
While making a perfectly balanced meal that gets you a full dose of micronutrients is probably not the most realistic on day 4 of a backcountry trip, that doesn't mean nutrition shouldn't be a consideration at all. Boost your vitamin intake by tossing in dried veggies. Sprinkle some nuts or peanut butter into your morning oatmeal for a protein punch. That fresh bell pepper in your lunch wrap is not just tasty—it's a nutritional bonus. If you're fretting about nutrition, consider ultralight multivitamin pills or supplements to bridge the gap when there's less room for added ingredients in your pack.
So, venture into the great outdoors with a menu that excites your palate and keeps your backpack manageable. Your taste buds—and your shoulders—will thank you for it!
To learn more about backcountry meals, coffee, and more consider the following blog posts: