Calling all CrossFit athletes, Spartan racers, and climbing gym rats! Who needs entry fees and obstacle courses when canyons and mountains exist? We've got a new kind of physical challenge for you and they all take place outdoors.
Looking to test your mettle? We've compiled a list of the hardest hikes in the US and Canada. From altitude and elevation change, to unpredictable weather, rugged terrain, and technical challenges, these hikes will test your strength and stamina as well as whether you're scared of heights.
1. Angel's Landing, Zion National Park, Utah, USA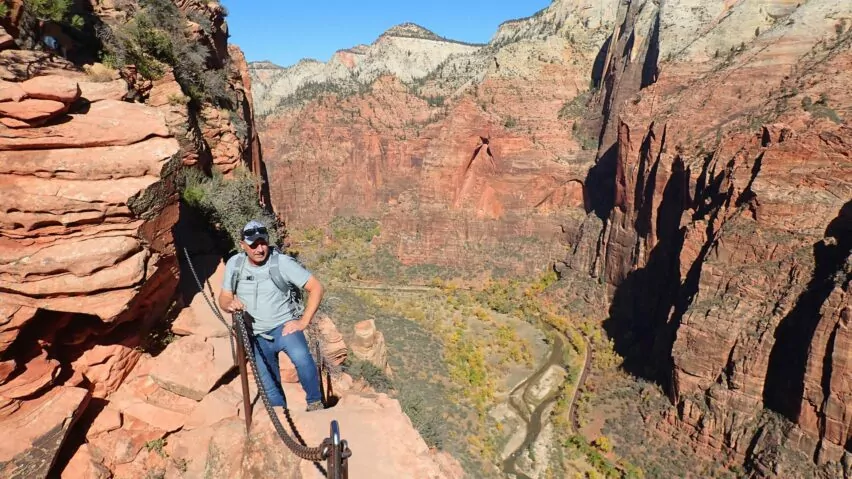 Bragging rights: Series of 21 switchbacks | knife's edge ridge | precipitous drop offs
Tackle on one of America's most iconic hikes within the National Park system, and brace yourself for one of the most exhilarating and challenging experiences. This 4.8-mile roundtrip journey will leave your legs and lungs ablaze as you climb to the breathtaking summit of Angel's Landing at 5,790 feet. This day hike is renowned for its unparalleled views of Zion Canyon, Observation Point, Cable Mountain, and the meandering Virgin River.
Upon reaching the summit, prepare for a jaw-dropping spectacle: 1,000-foot precipitous drops on all sides. 
The trail commences with gentle inclines and well-maintained paths, lulling hikers into a false sense of security. However, the latter half of the hike presents relentless switchbacks and steep ascents. Most seasoned hikers agree that reserving some energy for the final ascent is the wisest approach. The concluding sections of the trail, characterized by their steep and exposed nature, have witnessed many Search and Rescue events. Don't become a statistic!
The hike's immense popularity contributes to its allure but also heightens its risks, as the summit can become crowded. Exercise patience during the last leg of the climb, bearing in mind that this hike requires permits and is consistently fully booked. Intimidated? Join us for a guided expedition to Angel's Landing, ensuring a safe, hassle-free and unforgettable adventure.
2. Mist Trail to Half Dome, Yosemite National Park, California, USA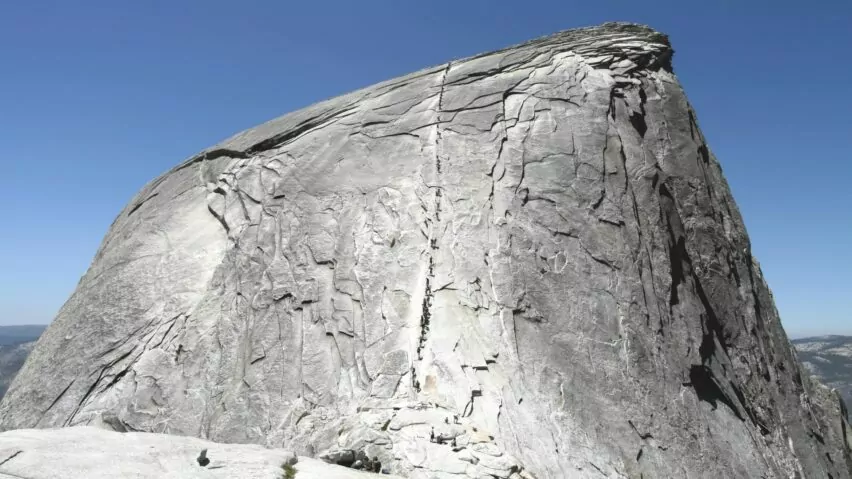 Bragging rights: 14.2 mile day hike | makeshift ladders | steep 400ft climb with cables
Embark on an epic journey to conquer one of the hardest hikes in the Western US – the 14.2-mile roundtrip adventure to the summit of Yosemite's Half Dome. This hike is celebrated for its thrilling climax, where intrepid hikers must ascend the "Half Dome Cables," a daring ascent of 400 feet up a slippery granite façade. Utilizing steel cables and wooden planks as a makeshift ladder, hikers make their final push to the top. Many visitors bring gloves, harnesses, and carabiners to secure themselves to the cables in case the exposure and height become overwhelming. Proper footwear is essential; avoid worn-out shoes, as good rubber soles provide crucial traction on the granite, ensuring a safer and more enjoyable climb.
The Mist Trail, although the shortest path to the summit, packs a punch, demanding over 4,500 feet of elevation gain and a time commitment of 10-12 hours, depending on fitness levels. Beginning with steep steps by Vernal Falls, it ascends rapidly toward Nevada Falls, where the terrain becomes more forgiving, allowing hikers to stroll along the Merced River amidst ancient forests and lush flora. The final stretch is a rigorous ascent, commencing at Sub Dome, where the iconic cables await. Keep in mind that the cables do not guarantee safety; it's the hiker's responsibility to safely ascend and descend.
The payoff at the summit is nothing short of spectacular, offering panoramic vistas of Yosemite Valley and the majestic High Sierra. The National Park Service emphatically advises that this hike is not suitable for those lacking physical fitness or proper preparation. If you're ready for the adventure of a lifetime, we invite you to join us on our guided Half Dome trek.
3. The West Coast Trail, Vancouver Island, British Columbia, Canada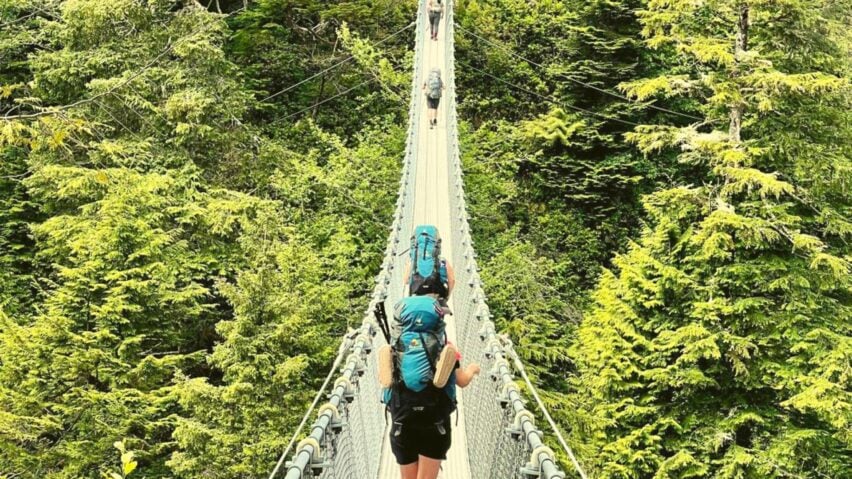 Bragging rights: 47 mile backpack | steep ladders | narrow bridges | human-powered cable cars
The notorious West Coast Trail spans 47 miles (85 km) along the southwest coast of Vancouver Island within Pacific Rim National Park. It stands as Vancouver Island's most renowned and challenging coastal trek, often hailed as one of the finest coastal journeys available. Embark on a picturesque journey along sandy beaches, through river crossings, and amidst dense old-growth rainforests. Conquer more than seventy steep ladders that ascend through the rainforest, cross several suspension bridges and even traverse a couple of cable cars. This adventure is truly unforgettable. 
Many adventurers describe it as more of a climbing expedition than a typical hike, given that over 5,400 feet of elevation is gained through ladders and rock scrambles.  The effort expended is undoubtedly rewarded by the enchanting experience of beachside camping, exploring tidal pools, and observing the abundant wildlife including whales and sea otters! It's also known as the 'Graveyard of the Pacific Ocean' due to the numerous shipwrecks that dot the coastline. 
This seven-day journey may appear magical, and it indeed is, but it is certainly not for the faint of heart. The forces of nature and extreme weather conditions can take their toll, with rain potentially causing trail deterioration and deep mud, demanding solid route-finding skills. Be prepared to ascend numerous steep ladders with a loaded backpack and to overcome any fear of heights during suspension bridge crossings. If you're psyched about these challenges we invite you to join us on our guided exploration of The West Coast Trail!
4. Grandview Trek, Grand Canyon National Park (South Rim), Arizona, USA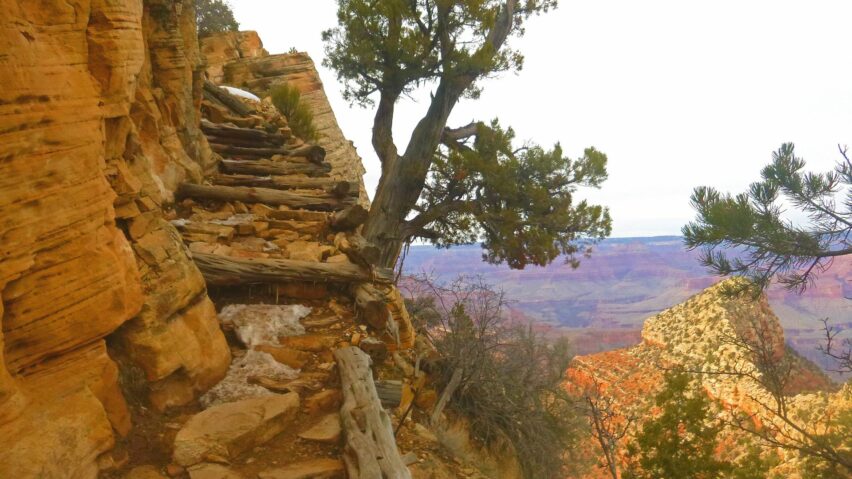 Bragging rights: Elevation change | remote location | steep & unmaintained | desert conditions
For those seeking solitude and a truly adventurous experience, the Grandview Trail in the Grand Canyon beckons. This 4.4-mile point-to-point hike on the South Rim, accessible via a rugged 12-mile 4×4 dirt road, promises a thrilling journey. Beginning at an elevation of 7,400 feet, hikers embark on a daring descent into the canyon along an ancient miners' trail. The upper portions of the path are held together by weathered logs and sturdy steel rods, while other sections consist of uneven, cobblestone-like terrain, rendering much of the trail steep and challenging.
The National Park Service website underscores that this trail is reserved for seasoned desert hikers, emphasizing the absence of reliable water sources along the route and the necessity of bringing water purification equipment. Infrequently maintained, the trail is strewn with loose rocks, boasts precipitous slopes, and offers little protection from sheer drops. Furthermore, its remote location means that in the event of an emergency, help may be some distance away. 
Approach this adventure with utmost caution and thorough preparedness, for it rewards those who dare to conquer it. Intrepid hikers are treated to awe-inspiring panoramic vistas of the Grand Canyon and the iconic Horseshoe Mesa along the way. Throughout the journey, ecosystems and geology evolve continuously with changing elevations, providing a sensory-rich experience. As a rare bonus, visitors are granted decadent views into the upper valley of Hance Creek, a sight few have the privilege to witness. If the idea of preparing for and descending this extraordinary trail is your kind of adventure, consider joining us for a guided expedition.
5. Camp Muir, Mount Rainier National Park, Washington, USA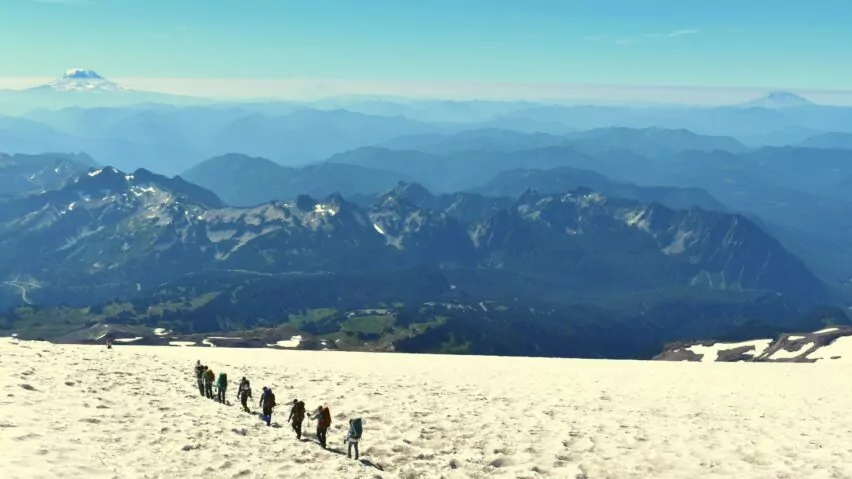 Bragging rights: high altitude | extreme weather | rugged terrain | route finding
Mount Rainier, Washington state's majestic crown jewel, offers a thrilling array of rugged backpacking and hiking adventures. Among them, Camp Muir stands out as a worthy destination for hearty hikers and a popular basecamp for bolder mountaineers bound for Rainier's summit. The journey to Camp Muir commences with a captivating ascent through an upland paradise, where vibrant wildflowers, pristine meadows, and native wildlife greet hikers for the initial two miles. It's a serene introduction before the adventure truly unfolds in the latter half of the hike. The final stretch spans more than two miles and a grueling 2,900-foot elevation gain across unmarked, snow-covered terrain, promising a true alpine challenge.
Preparation is key. This undertaking necessitates proper equipment such as an ice ax, crampons, and suitable attire, along with a profound awareness of one's limits. Exceptional route-finding skills are also required, as a misstep too far off the unmarked trail can lead to perilous drop-offs, steep crevasses and cliffs. Mount Rainier has many claimed lives, and a cautious and thorough understanding of mountain safety is critical.
For those willing to confront this formidable challenge, the reward is nothing short of spectacular – breathtaking panoramic views of the Nisqually Glacier and other glacial wonders like icefalls, crevasses, and seracs. High alpine wildlife, including marmots and pikas, add to the allure. On clear days, a sweeping vista unfolds, revealing Mt. Hood, Mt. Adams, Mt. St. Helens, the Cascade Range, the Olympic Mountains, and Myrtle Falls. 
Completing the trek to Camp Muir is a monumental achievement and a prized feather in the cap of any outdoor enthusiast. For a confidence-inspiring journey, consider joining a guided expedition.
6. New Hance Loop, Grand Canyon National Park (South Rim), Arizona, USA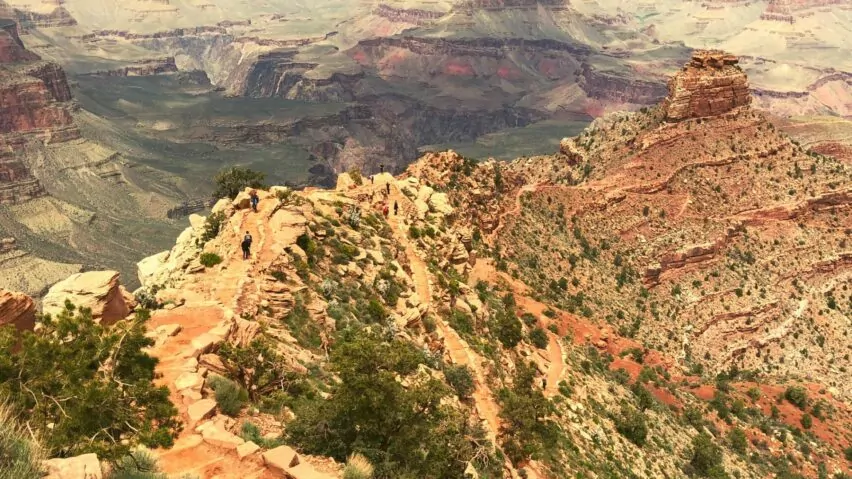 Bragging rights: 23 mile backpack | steep trail | changing weather conditions | exposure
Nestled near Moran Point along Desert View Drive, the New Hance Loop has earned a legendary reputation for its formidable nature, as vividly described by its namesake, John Hance, the Grand Canyon's first European American settler: 
"Some men may ride nonchalantly down Hance's Trail, but I must confess, I am not among them. My purpose in descending required living to recount the tale. Thus, I summoned the moral courage to dismount and navigate the steepest and most daunting stretches of the path, not on horseback, but on my own two feet, employing hands and knees, sometimes resembling a child descending a flight of stairs. The path, it seemed, defied possibility. The initial mile's incline was nothing short of terrifying, and to our astonished, inexperienced minds, it appeared to intensify, as if the canyon walls themselves were slowly converging."
Spanning 23 miles, this trail has remained largely unaltered, characterized by its steep, rugged terrain, lack of maintenance, exposure to the elements, and susceptibility to rapid weather shifts. However, for those prepared to tread this challenging path, the rewards are boundless. Along the route, adventurers have the chance to explore century-old mining ruins known as cave domes. Geologically, the journey unfolds amidst the mesmerizing rock layers of the Supergroup, late Precambrian sedimentary and volcanic rock layers that tell the story of Earth's history over hundreds of millions of years, with the resplendent crimson hue of hakatai shale stealing the spotlight.
Witness the mighty Hance Rapids, among the park's most formidable whitewater challenges, and savor the solitude found in one of the park's less-traveled corners. Keep in mind that this hike requires a permit and adherence to a strict pack-out policy for trash and human waste. If this adventure excited you but you're unsure where to start, consider joining our guided New Hance Loop excursion, promising unforgettable memories.
7. Sourdough Mountain Trail via Pierce Mtn, North Cascades National Park, Washington, USA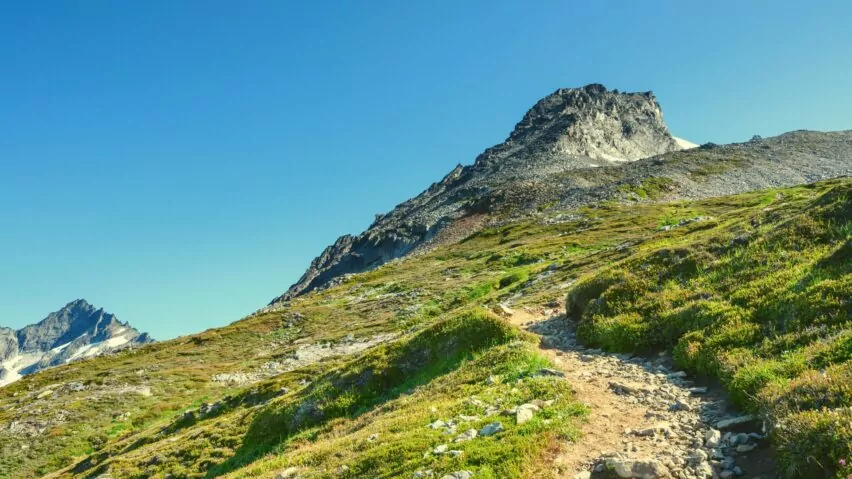 Bragging rights: elevation gain, remote location, loose rocks, route finding
Often overlooked within the National Park system, the North Cascades conceal over 500,000 acres of unparalleled wilderness and solitude. Among its treasures lies the Sourdough Mountain Trail, leading intrepid hikers to the historic Sourdough Lookout Site, one of the original Forest Service lookout points dating back to 1915. It's a place that has inspired poets like Gary Snyder, whose sojourns in the lookout are immortalized in the book "Poets on the Peaks."
This 10.4-mile roundtrip hike stands as one of the park's most demanding, challenging adventurers with over five thousand feet of elevation gain in just five miles. Picture relentless switchbacks offering minimal shelter from the elements, and segments of the trail where footing becomes precarious, posing life-threatening risks. Emergency response times are long and communication difficult, necessitating that hikers be self-reliant and risk-aware. The unforgiving terrain is uneven, rugged, and strewn with rocky obstacles, necessitating strong route-finding skills.
Yet, the endeavor is richly rewarding. Abundant wildlife graces the journey, with regular sightings of bears, pikas, mountain goats, hummingbirds, marmots, and deer. Alpine lakes punctuate the summit's 360-degree panorama, offering views of the North Cascade Range, Glacier Point, Diablo Lake, the Pickets, and the volcanic dome of Mount Baker. Throughout the ascent, hikers are treated to an array of scenic overlooks.
The Sourdough Mountain Trail serves as a crucible to test your inner resilience and savor the serenity of the mountainous wilderness.
NOTH CASCADES GUIDED BACKPACK TRIP
We hope you're inspired to test your spirit and grit! There's no need to go at it alone. Wildland offers plenty of challenging hiking and backpacking experiences in intimate group settings. Grow with us as we tackle some of the hardest hikes in the US (and beyond) together.